SSL unavailable: what is it and solutions by Shopify experts
SSL (Secure Sockets Layer) is a fantastic technology for ensuring the security of Internet access. It is an important part of the Shopify merchant's operation. As a result, when SSL is removed from their Shopify sites, store owners may become very worried. So, in this blog, Arrowtheme will explain more about the SSL certificate, SSL unavailable and how to solve this problem.
What is an SSL certificate?
In the first place, we need to understand what SSL is. SSL means Secure Sockets Layer. An SSL certificate is a digital certificate that verifies the identity of a website and allows for a secure connection. Secure Sockets Layer (SSL) is a security protocol that establishes an encrypted connection between a web server and a web browser.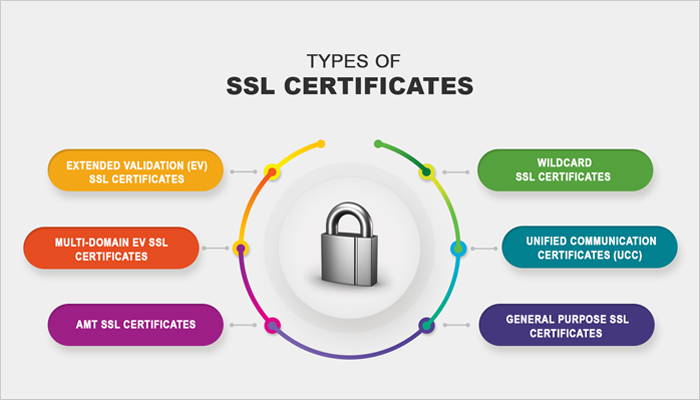 In eCommerce, store owners must store a large number of data. So using SSL to protect private information is crucial. SSL offers you authentication and trust. It means SSL ensures the right destination of information without being stolen. Also, SSL helps you gain more trust from customers because SSL suppliers will provide you with a trust seal, which will increase your clients' trust in you. For example, in case you own an SSL certificate, your HTTP will be added an "s" (HTTPs) to prove security. In addition, SSL is compulsory when you comply with Payment Card Industry (PCI) standards.
How does SSL work?
A browser or server tries to connect to an SSL-secured website (for example a web server). The web server is asked to identify itself by the browser/server.
The web server delivers a copy of its SSL certificate to the browser/server.
The browser/server determines whether or not the SSL certificate is trusted. If this is the case, a message is sent to the webserver.
To begin an SSL encrypted session, the web server responds with a digitally signed acknowledgement.
The browser/server and the web server both share encrypted data.

What does SSL unavailable mean?
SSL unavailable appears on Shopify means that SSL hasn't worked. So your connection between a web server and a visitor's browser is not secure anymore. To solve this problem, you have to find out the roots.
Why does SSL unavailable?
Whenever you custom your domain, you will receive a new SSL certificate. It takes up to 2 days to create a new one automatically. So during this process, you will receive a popup message about "SSL unavailable". Also, your browser may show one of the below security errors:
Your connection is not private – Google Chrome
Your connection is not secure – Mozilla Firefox
There is a problem when you connect in security to this website – Microsoft Edge.
Solutions for SSL unavailable by Shopify experts
If you face SSL errors, check your domain record settings. There are some common problems with domain settings, such as:
Your A record isn't pointing to Shopify's address (which is 23.227.38.65.)
Your domain has more than one A record
You are using an AAAA record
You are using a CAA record
DNSSEC is enabled for your domain
Check if your A record points to Shopify
How to connect custom domain name on Shopify
#Step 1: Go on Online store>Domain names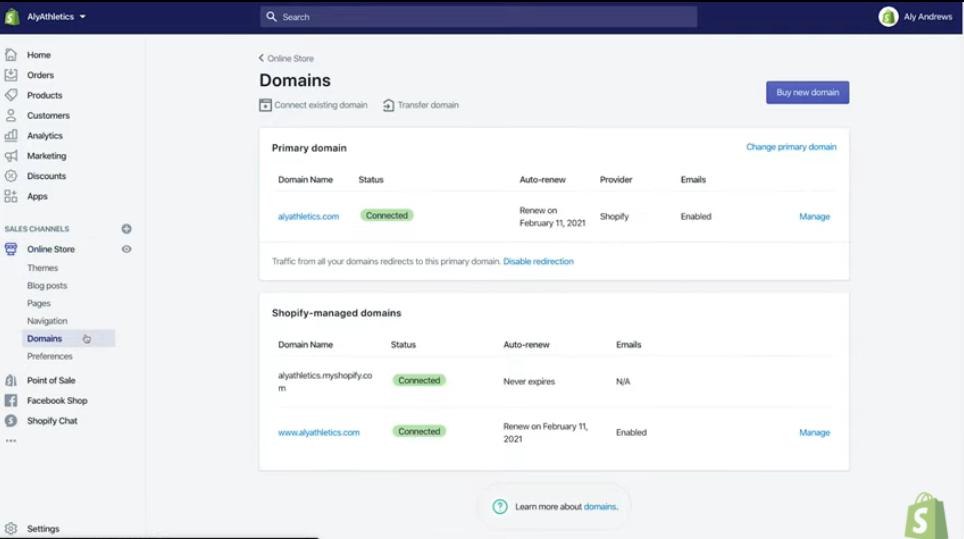 #Step 2: Click on "connect existing domain"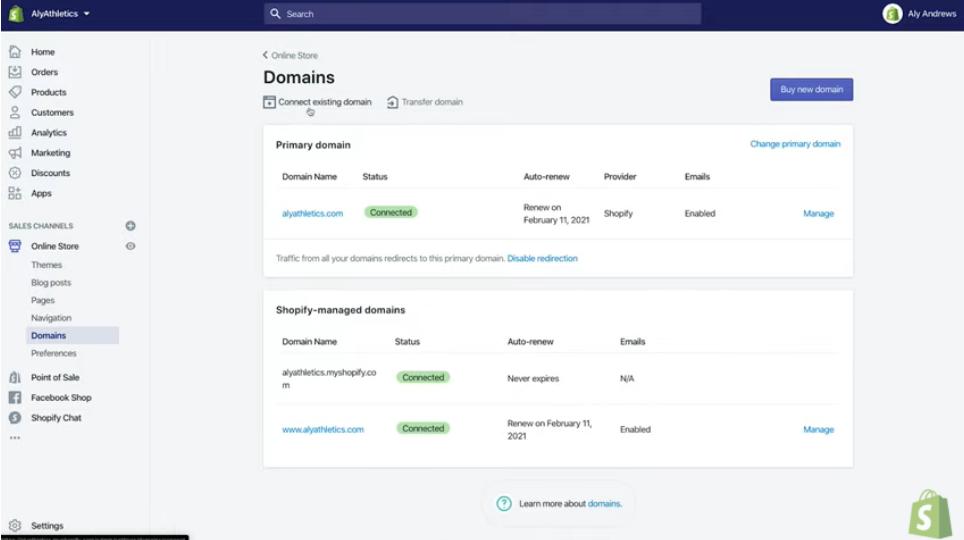 #Step 3: Type the name of the domain you want to connect and click "Next"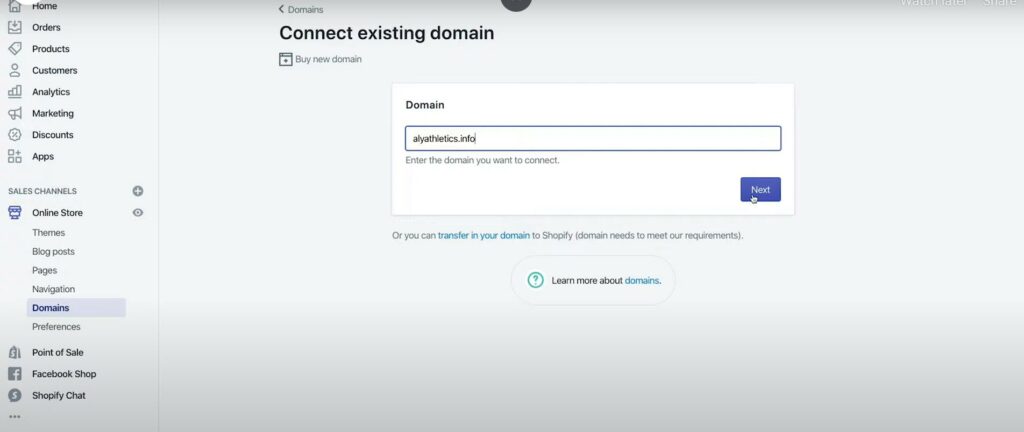 #Step 4: Click on "Connect Automatically"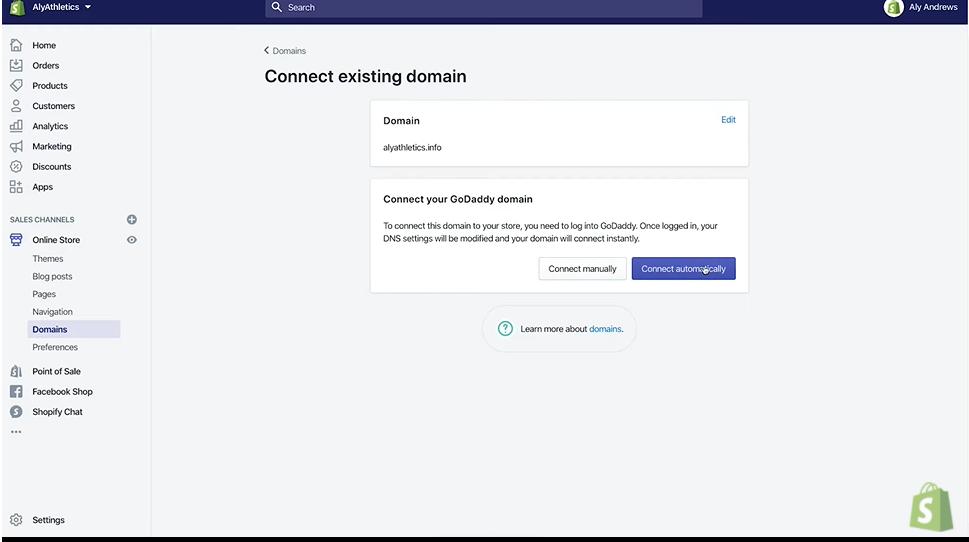 Configure your existing domain to work with Shopify
If you bought your domain from a third party, you'll need to change the DNS settings shown below:
Your A record should direct to Shopify's IP address 23.227.38.65.
Your www CNAME should direct to shops.myshopify.com.
Other items, such as email forwarding, may be affected while you update these settings. You can contact your domain registrar to see how your DNS settings have changed or been affected.
There is a note that every domain connects with only one A record. So if you currently have an A record associated with your domain, erase it before changing your DNS settings to point your A record to Shopify's IP address.
Here are the steps to edit the DNS settings.
#1 Firstly, Login to the account you register with the domain supply
#2 Secondly, Open DNS settings to find your domain management area.
#3 Thirdly, Change your A record to 23.227.38.65 (Shopify's IP address). To find your A record, enter A record or select the @symbol.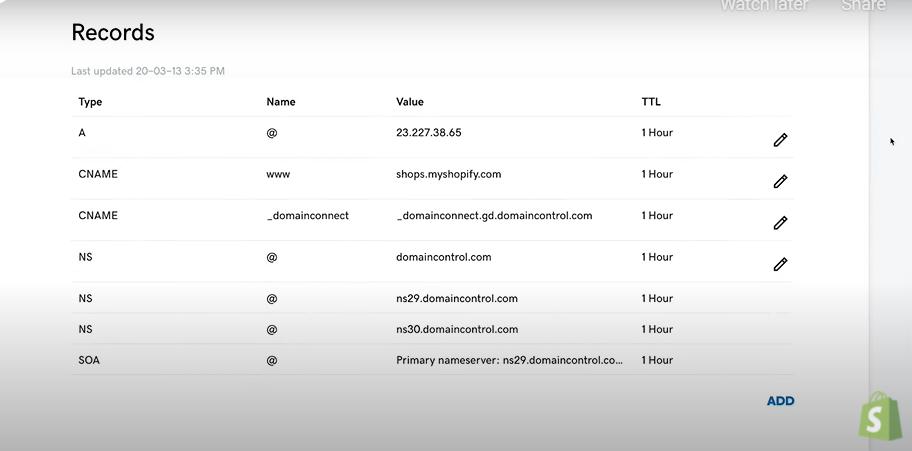 #4 After that, Save the record
#5 Then, Find the CNAME records to change from "www CNAME" record to direct to "shops.myshopify.com."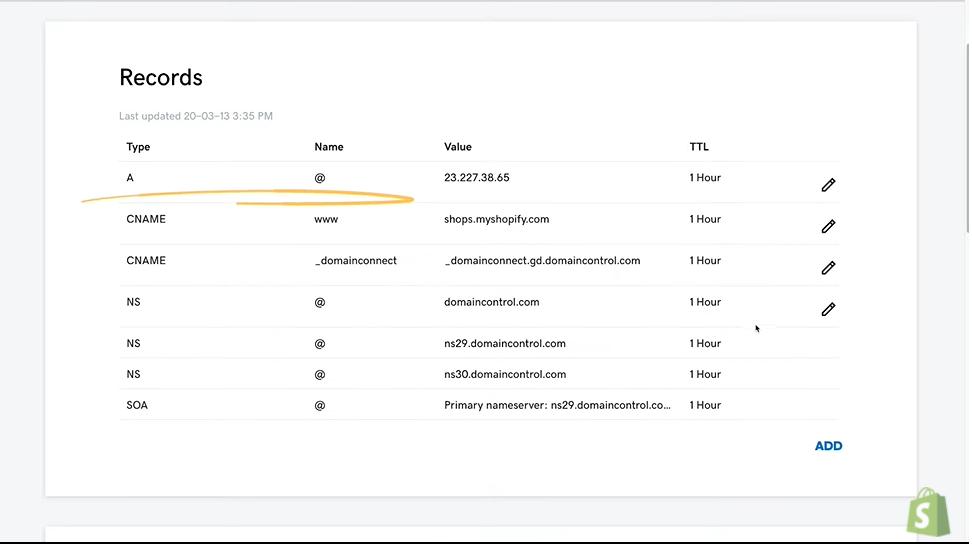 #6 Save the records
After that, you have to verify the connection. Click at "Verify connection" to complete the process.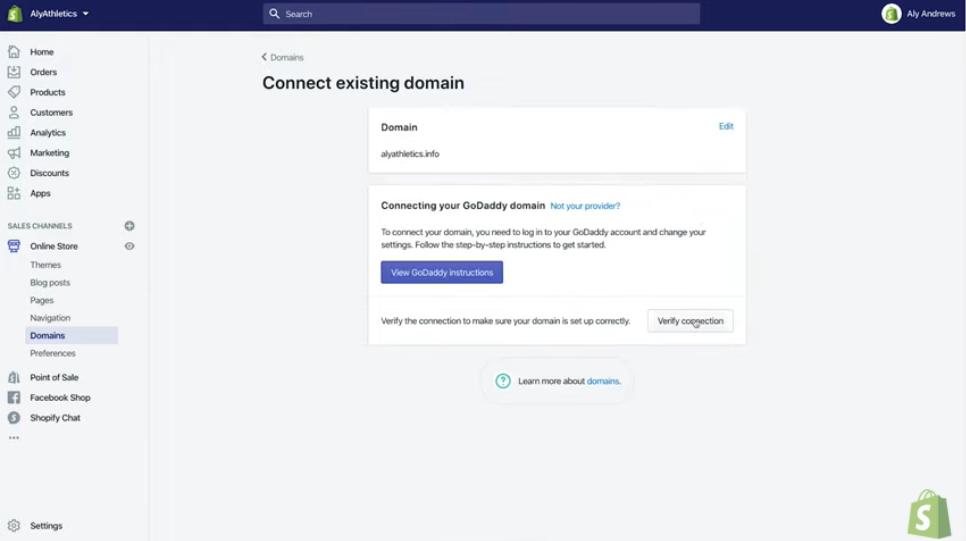 Make changes to your domain's DNS settings
From the Domains panel, you can see and edit the DNS settings:
A Record
CNAME Record
MX Record
TXT Record
AAAA Record
SRV Record
Shopify will configure your domain's A record and CNAME record. So if you want to use other records, you have to update the DNS settings. In case you use a third-party service on your domain or wish to redirect a subdomain to another website or if you want to use third-party assistance to verify information, you'll need to change these records.
In addition, before making any modifications, you must first grasp the A Record and the CNAME Record. Your domain is no longer associated with Shopify after these records are erased. As a consequence, visitors to your web store will be unable to reach it at your domain name.
Here are the steps to edit the DNS setting.
#1 Go on Online Store> Domain Sections
#2 Select the name of the domain that you want to change
#3 Go on DNS settings and edit. There are 3 options for you
Firstly, Add a new record. You click at Add custom record, select type and enter the information.
Secondly, if you want to edit current records, click Actions> Edit> Enter.
Thirdly, in case you want to delete a record, click Actions> Remove> Remove again to confirm
Suggestions for security
Firstly, Shopify or a webserver that serves over HTTPS should handle all of your online store's content.
Secondly, Keep your video files on a provider that uses HTTPS to publish them.
Thirdly, If you're going to use webfonts, make sure they're published over HTTPS from the source.
In conclusion, the three Shopify plans have all include the SSL certificate. So it is important to know how to address the SSL unavailable problems. Arrowtheme hopes that you can solve these problems well with our blog. More importantly, in case your ar seeking the fully solution for your wensite. So don't miss our Shopify Packages. Our Packages will make your ecommerce business easier. Because we offer three distinct packages: Basic, Standard, and Advance. As a result, you can pick the most suitable one for you. Our Basic package is for you if you want to create a stunning and more useful online store at a low cost. Furthermore, the Standard and Advance packages are advanced versions of the Basic package. They will increase your pleasure with your web store. So, let's get started on your Ecommerce Website! We will not let you down. Besides, if you need any technical support, contact us here.