Lastest Update: The best selling themes list on Themeforest April 2021
Magento is one of the leading open-source platforms that has made tremendous strides in progress in recent years. Above all, a Magento 2 theme is well known to improve a better customer experience and interactive platform. Hence, we are going to introduce the best- selling Magento 2 theme list on Themeforest, until April 2021.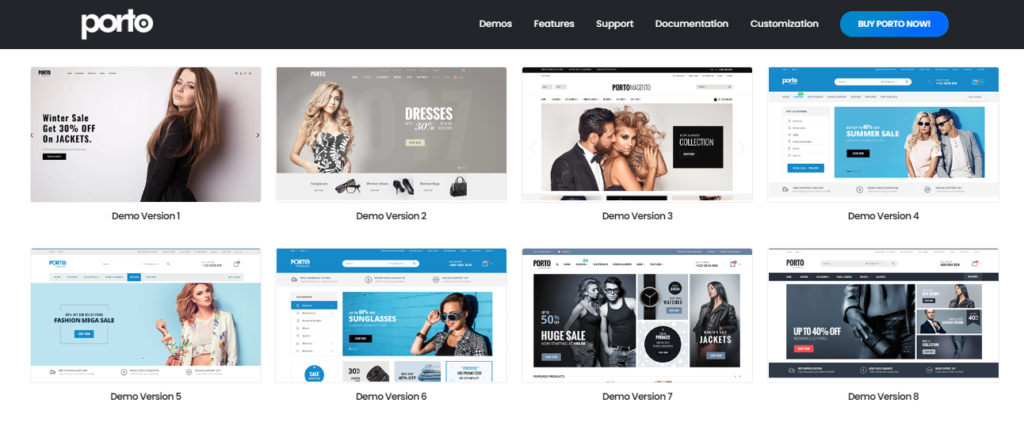 Why should choose/Highlight features:
Super Optimized for Site Performance
Top 1 selling magento theme since 2014
Bootstrap4 based Magento theme
Responsive Magento Theme & Retina Ready
Unlimited Color Options
Only free Google Fonts over 300
Easy Install Sample Data
Fluid Product Grid 2 – 8 Columns
Unlimited Header Types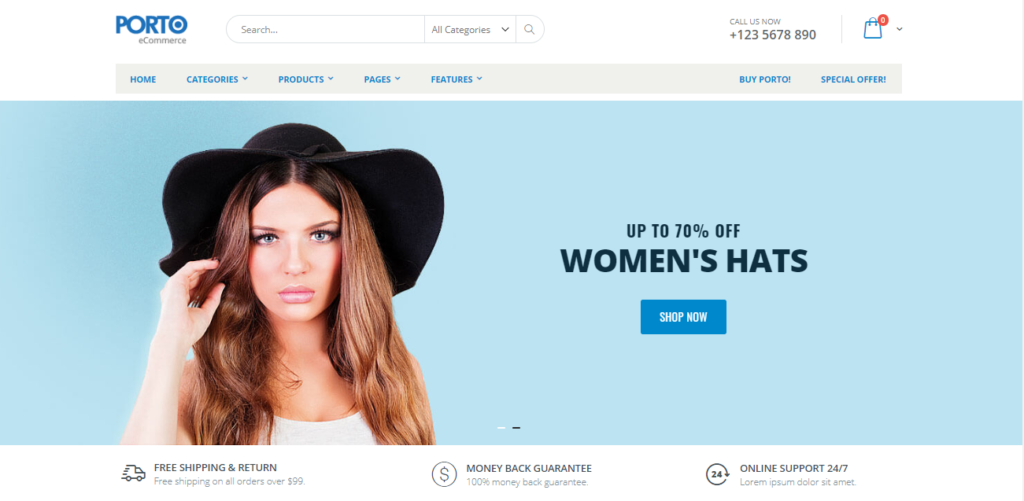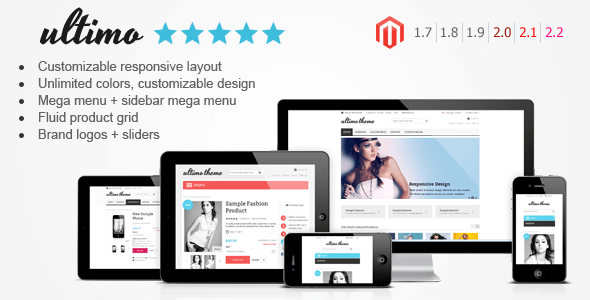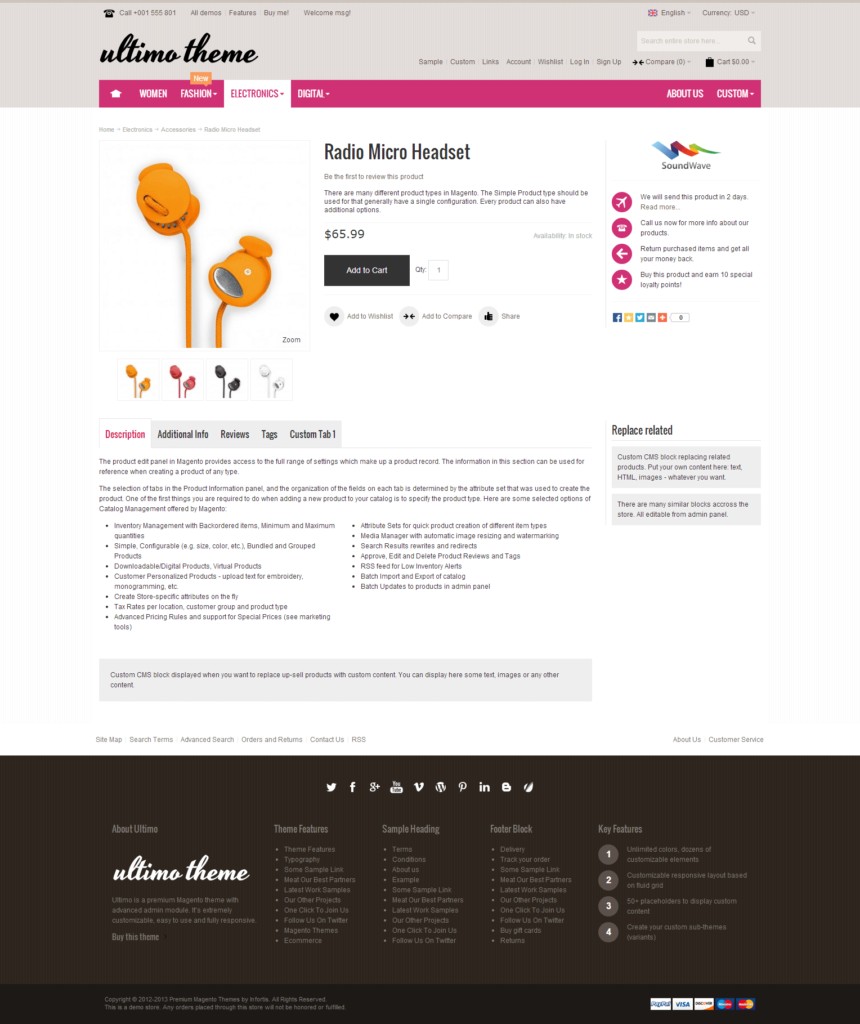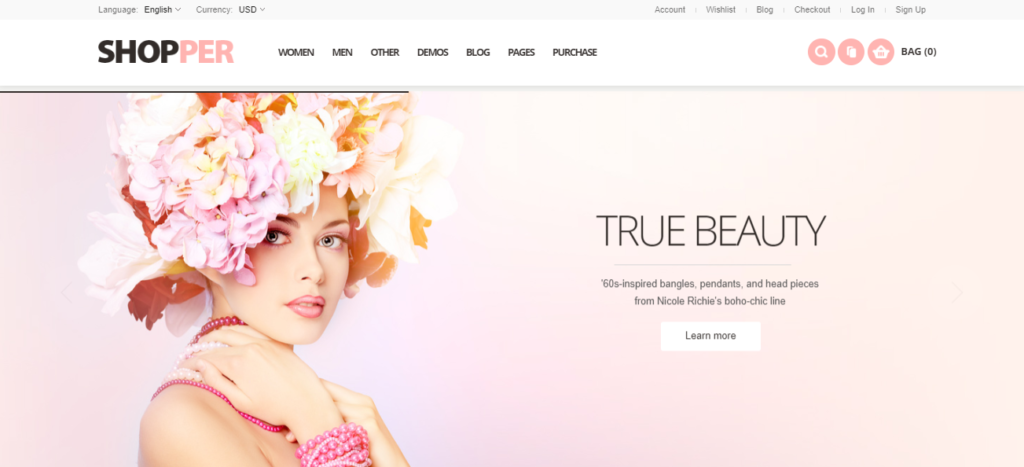 Highlight Features:
Responsive and Retina ready
Unlimited colors
Unique colors for categories
Easy Install sample data
Ajax shop by price slider.
Ajax Add to Cart, Compare, Wishlist
Flexible frontpage
Front page made using static cms page and it comes in too layout variation: full width or with sidebar.
Custom admin module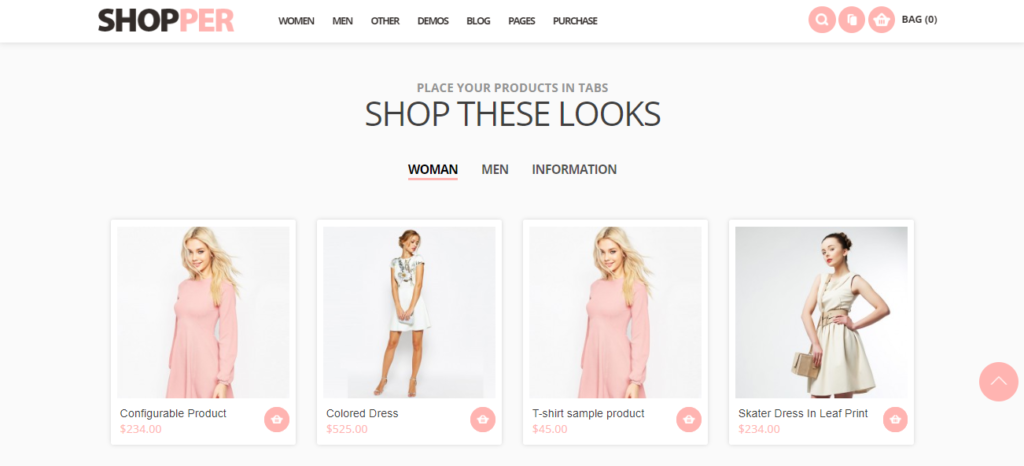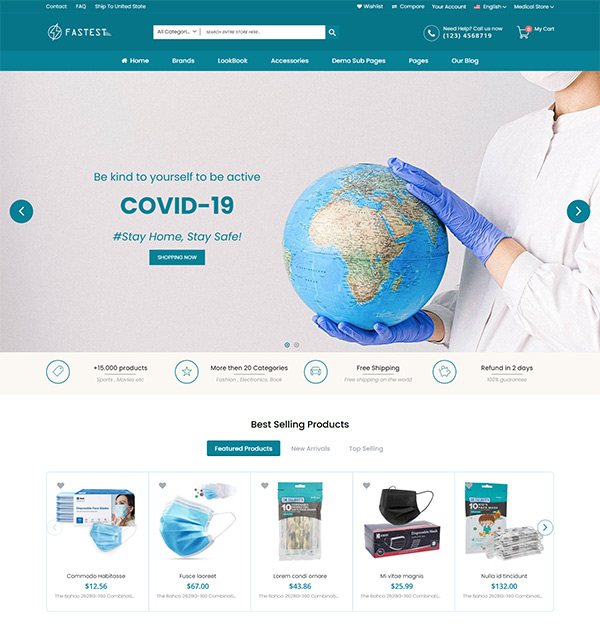 Highlight Features:
Webkul Marketplace Compatibility
Multiple pre-demos website (20+ Unique design)
Multiple layouts as well as setting options for Category page, product page
Then, mobile theme is optimized for mobile devices
Include .PSD files
Static Block Mega menu

Above all, Claue – Clean, Minimal Magento 2&1 Theme is an excellent template for a modern and clean eCommerce store with 20+ homepage layouts and tons of options for shop, blog, portfolio, store locator layouts, and other useful pages. So, Claue will meet & fit any kind of eCommerce sites as you imagine.
Most important, with a 96% speed score, Magento Claue Theme has a foundation of a highly efficient system, all frameworks rely on efficiency as their key point. The optimization of the Magento Claue theme is also quite simple. Moreover, targeting the advantages of that website traffic on smart devices, Magento 2 Claue theme is built to operate well on all screen sizes and mobile devices to obtain more access to the wider audience.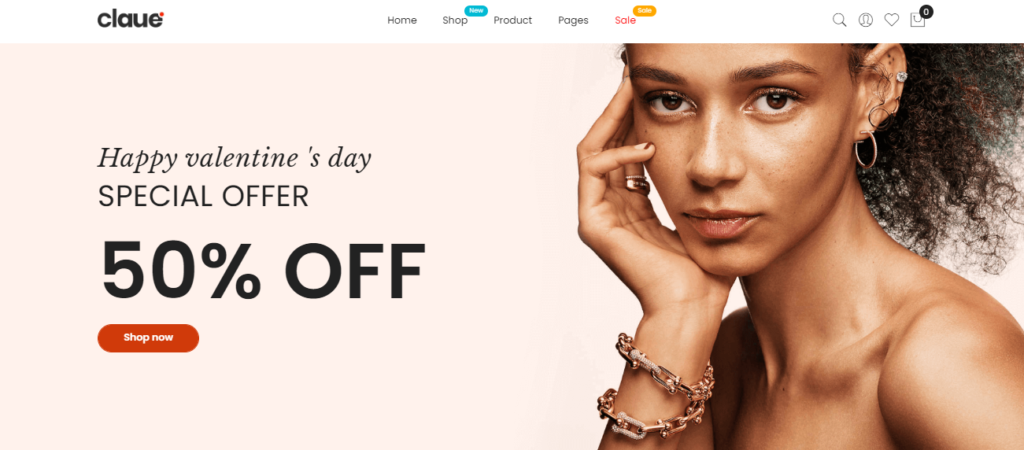 All the models as well as layouts extracted from the UI and UX eCommerce background for the Magento 2 Claue theme. Also, it has been enjoyed by 65+ Claue eCommerce stores ever. This is beneficial when it comes to Magento eCommerce development.
Highlight Features:
Firstly, multiple Google fonts available & add custom font types
Secondly, social login (Facebook, Twitter, Google): allow user can register and login via Facebook account, Twtter account, or Google account
Thirdly, Social Share with Share This
Unlimited Colors
Google rich snippets
Moreover, multiple type of static blocks are defined for homepage layouts: about us, services, counter, workspace, business hours,…
Too easy to Install Sample Data
Allow to configure Product Grid 2 to 8 Columns
Market is a Responsive Magento 2 & 1.9 Theme which is fully customizable and suitable for online stores, especially for multi-category store with multiple branches and products such as online market store, supermarket store, digital store, hi-tech store, watch store, fashion store, clothing store, furniture store, book store, cosmetics shop, luxury jewelry & accessories store or mega stores.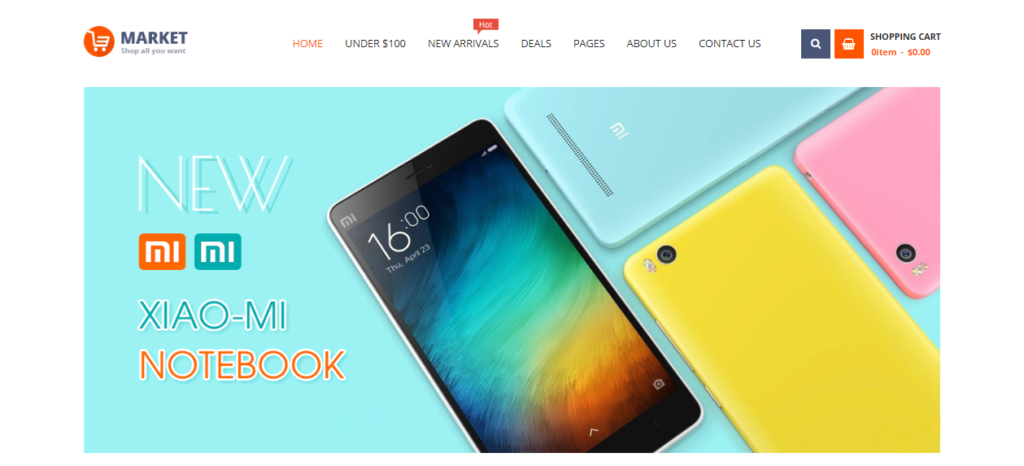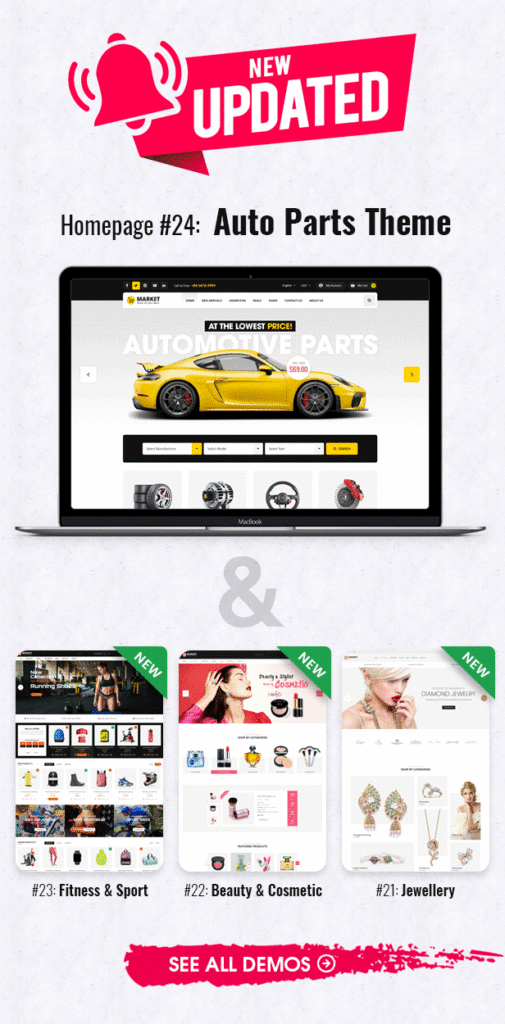 Fortis 2 is fully responsive Magento theme with dozens of features and hundreds of customization possibilities, suitable for every type of products. It was also designed with focus on user experience and usability, to make shopping quick, easy and fun.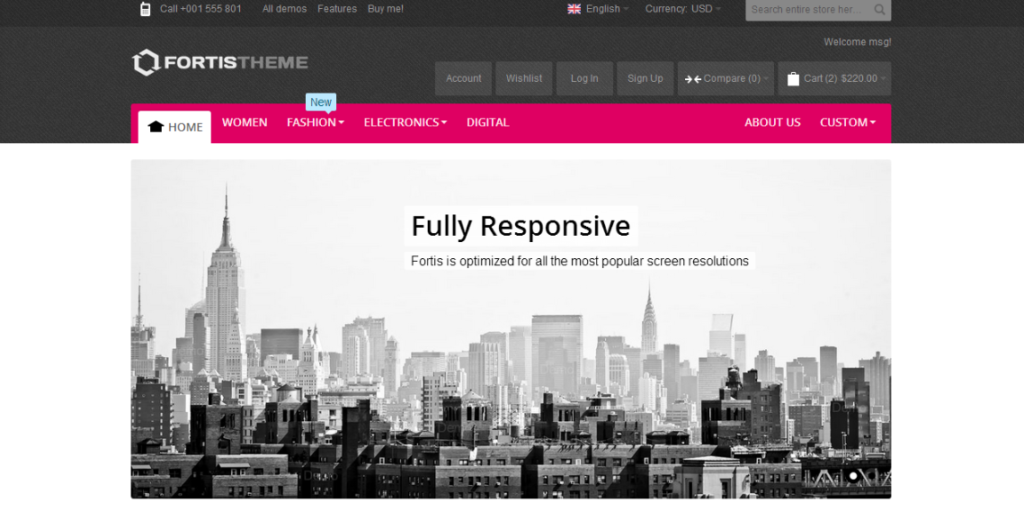 Everything is a bundle of 50+ Best Premium Magento 1.9 Themes and Multipurpose Magento 2 Themes. Designed & developed by Top Elite Author.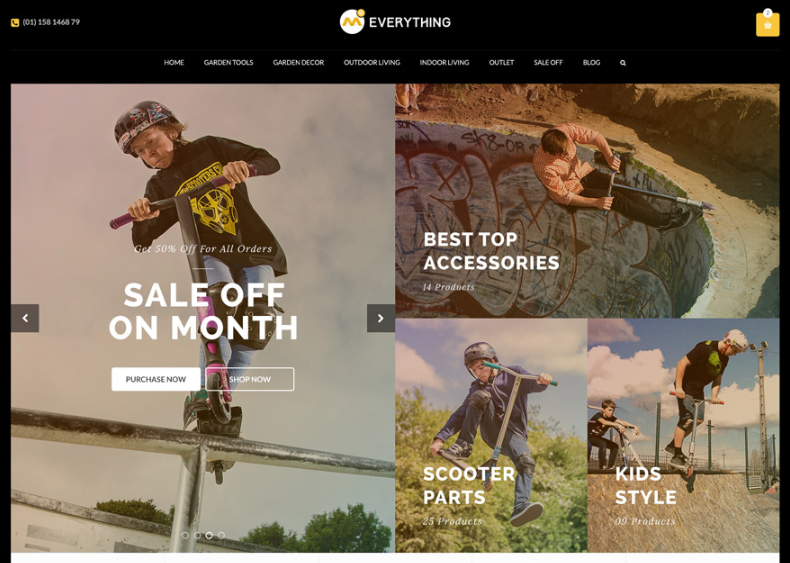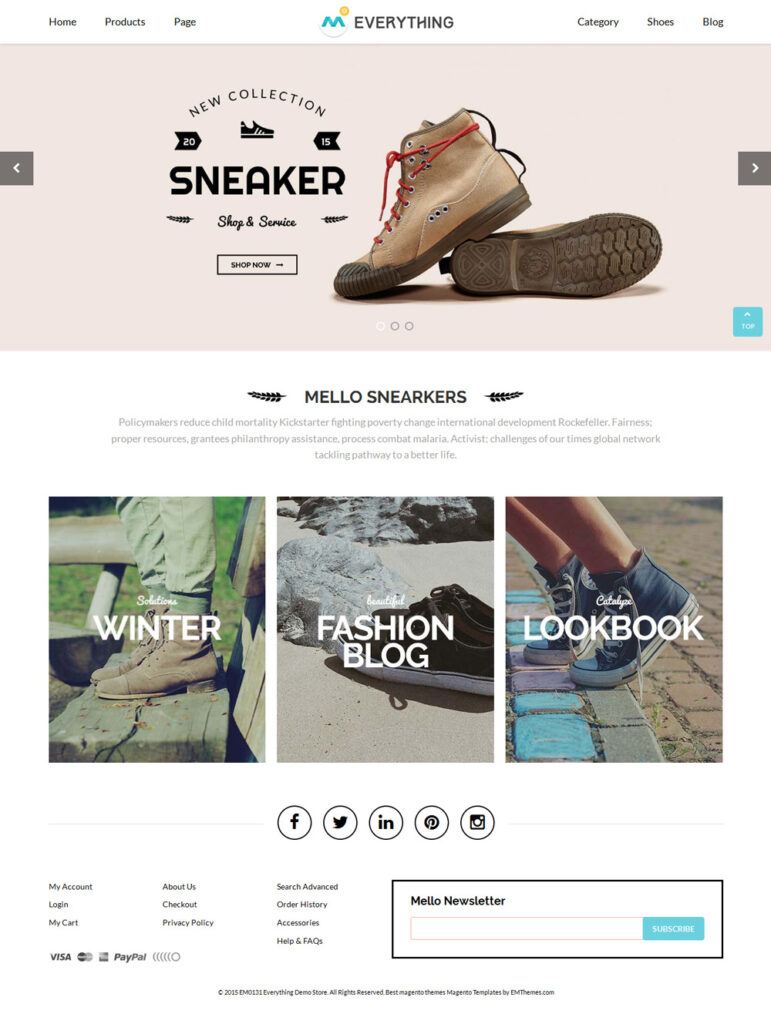 Highlight Features:
Firstly, responsive design, Bootrap 3, Retina Image.
Secondly, support Right to Left design.
Thirdly, support On/Off Reponsive.
Powerful theme settings lets you change colors, font, typography as well as other styling flexibility.
Box/wide style for theme
Moreover, Drag & Drop Mega Menu builder, build your multiple column menu never been easier.
Enable/Disable Default Navigation
Edit frontend directly with admin toolbar
On/off setting for more animation when loading elements
Included Revolution Slideshow with more effect and display method.
Show pop up advertisement and newsletter or login form when loading.
Select header style for your site with Multi header
Option pop up for login form, wishlist as well as compare product
Select Currency – Language style.
Sahara, the newest design from Plazathemes, has been created as a mega store Magento eCommerce solution for online stores. This magento theme shows a sophisticated look, well-structured layout and most powerful features of a ecommerce store.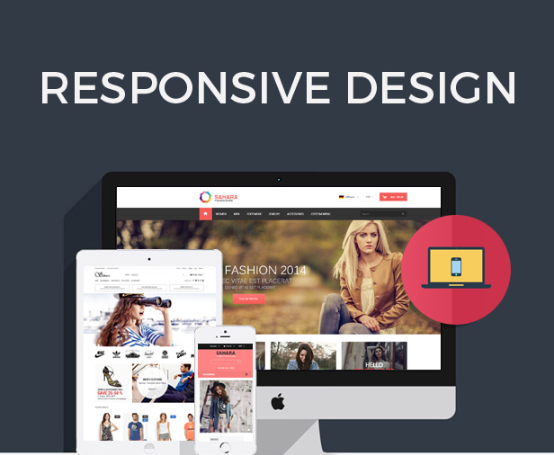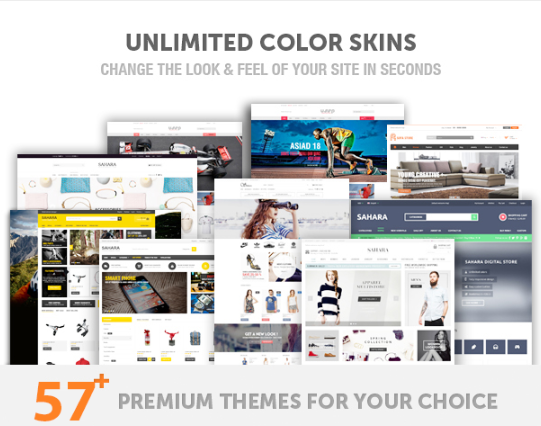 Athlete is Fully Customizable, Fluid Magento Theme with Responsive & Retina Ready Design. This theme is perfect for any type of store and comes with lots of awesome features, such as: fluid width, color swatches, custom grid modes, banner widgets, revolution slider, quick install package, one step checkout and etc.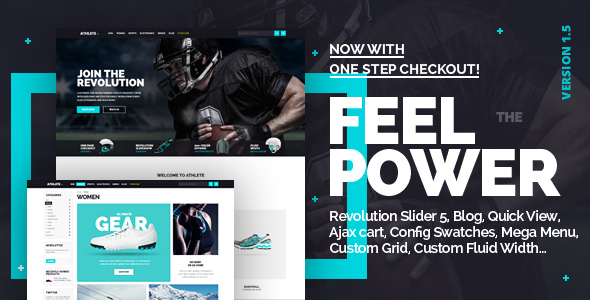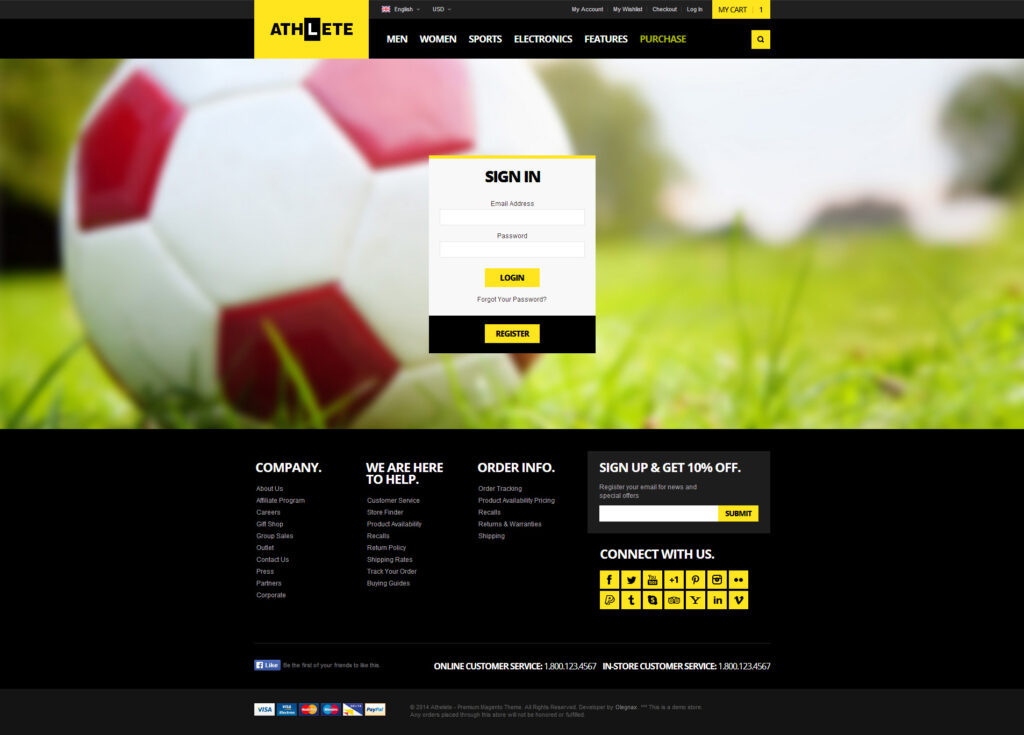 Acumen is a powerfully flexible, grid-based Magento theme. It was designed specifically for easy customization and to fit a wide range of stores. Its minimal layout puts maximum attention on products, while keeping a clean and modern aesthetic throughout.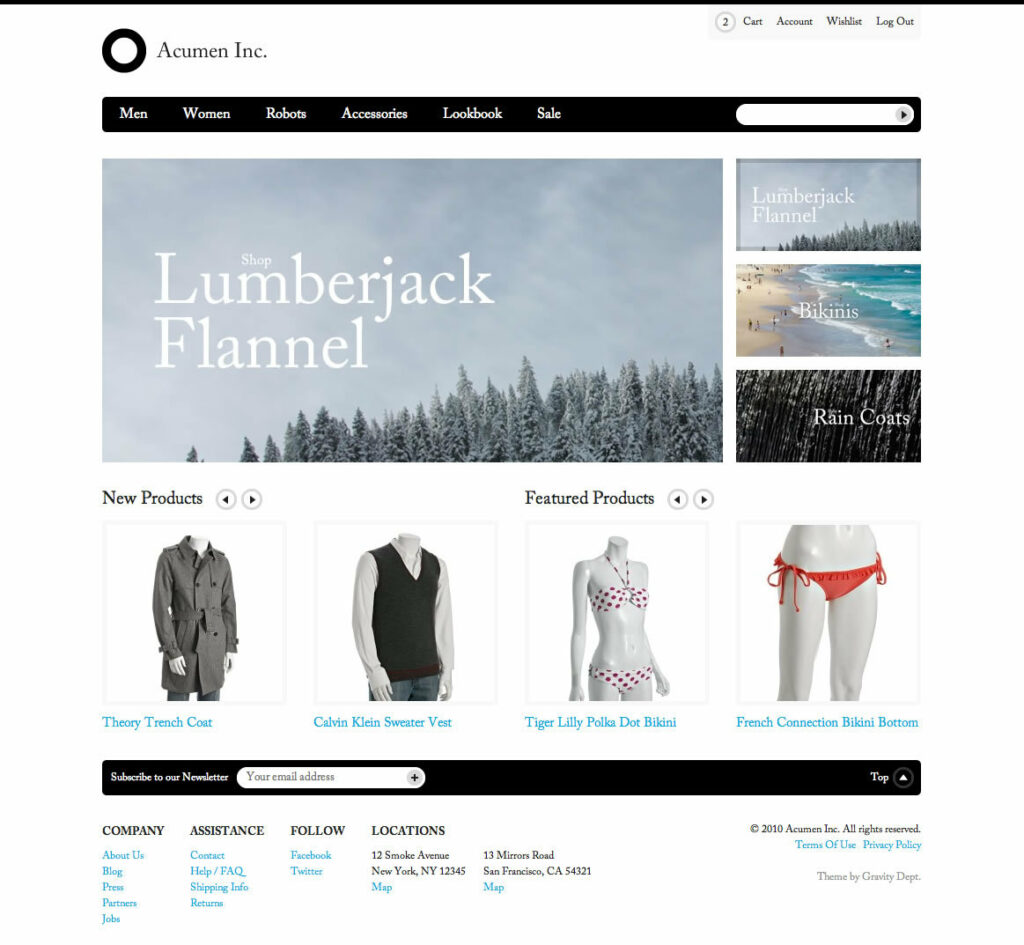 Infinit Magento 2 & Magento 1 theme is designed with intelligent and good UX design for all mobile devices. Furthermore, Infinit Magento 2 & Magento 1 themes provides you abilities to choose a fully responsive website or a mobile optimization theme for mobile devices.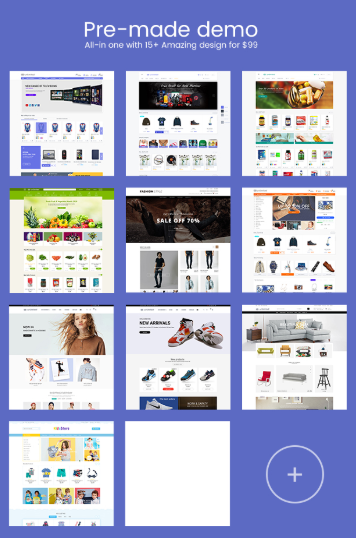 Top Features:
Firstly, visual Page Builder
Secondly, Webkul Marketplace Compatibility
Thirdly, multiple pre-demos website (20+ Unique design)
Then, multiple layouts and setting options for Category page, product page
Mobile theme is optimized for mobile devices
Include .PSD files, Please contact us to get .psd files after you purchased theme
Magento 2 Mega menu, Magento 2 Megamenu as well as Magento 2.2 Megamenu Drag & Drop
Ves Fashion is a fully responsive magento 2 & theme which is perfectly designed for both magento 2 and magento 1.9.x. This theme is also perfect for any kind of Fashion Shop, Mobile Shop, Computer Store, Hightech Store, Gift Shop, Electronics, etc.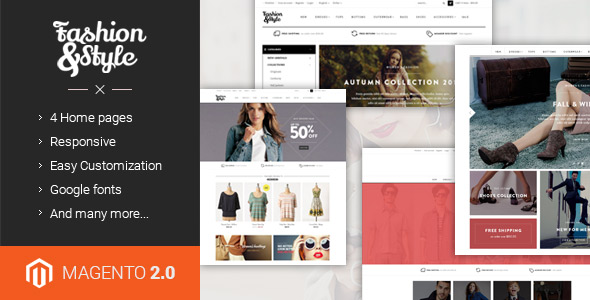 Newest Features:
Firstly, support Install Themes And Module Via Local Magento Connect For Easy Installing, Uninstalling, Upgrading Without Upload Via FTP
Secondly, support Right To Left language
Thirdly, support Sass Development
Then, Implemented Quickview Feature
Next, Integrate Blog Module
Integrate Brands Module
Moreover, it supports Add Custom Css In the Theme Control Module
Google Font Support
Implemented Live Theme Editor allow creating as well as customizing Unlimited Skins
Implemented Product Zoom Feature in product page
Multiple Color Skins support (White, Black…)
Support Adding Custom Css as well as JS Code In Theme Control Module
This Magento Template is specialized for auto part product store named Carstore. It is also really suitable with online shop with massive products and huge categories. Above all, its neat and clean layout is specially designed to have the best display for your massive products. White background sets off your products to make it even more impressive.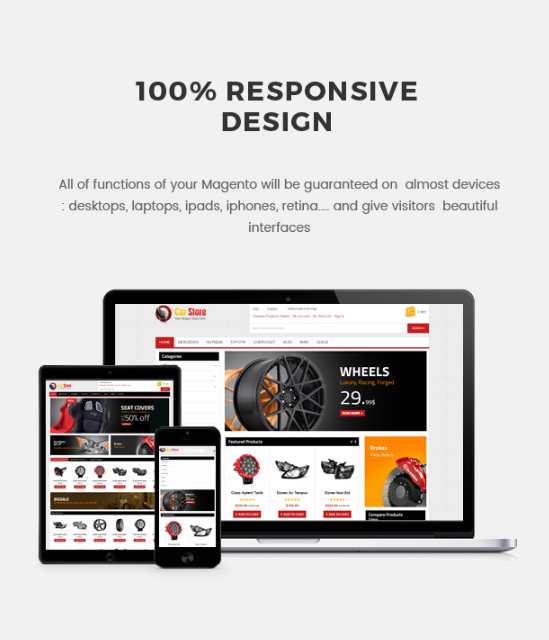 Theme Features:
Firstly, it has 8 theme skin colors.
Secondly, responsive design
Thirdly, unlimited background image and background color
It is also clear, easy to customize Magento template.
Slide show banner with admin panel with many effect yo can choose
It also has 2 menu variants (wide menu, fish menu) with admin panel
Featured Product Slider extension
Next, new Product in home page
BestSeller Product Vertical Scroller( Show top seller product)
Vertical menu ( dropdown menu, accordion menu or tree menu)
Then, scroller Thumbnail images in product page
Cloud zoom Images with lightbox
Editable Size of Images on the product page
Milano is a Premium Responsive Magento Theme with extremely customizable admin settings. If you are looking for a minimal theme for your online store but still full of must-have features, Milano will be an ideal choice. Milano also comes with: Perfect responsive multistore, 9+ Demo, unlimited color options, the power Admin Panel, 10+ extensions, RTL Magento 2 supported, etc.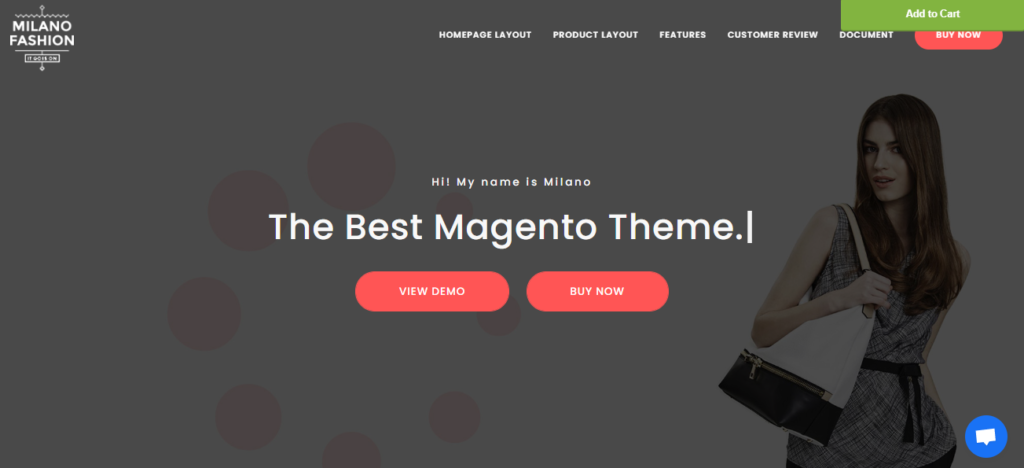 Main Features:
Fully Responsive
20+ home page layout
Unlimited Colors
Support & Update
Ajaxcart
Quickview
Elevatezoom
Fancybox Lightbox
Thumbslider Image Product
Hover for Product Image(custom)
Social Icon
Latest Tweets(custom)
Magento 2 Theme: The best-selling theme list on Themeforest will be updated
A suitable Magento 2 theme will boost your performance enormously as well as leave a lasting impression on your user. Don't over-focus on your backend then completely forget your website interface. Everything needs to be balanced for the maximum success of your Magento store.
>>> Explore more about Magento 2 theme lists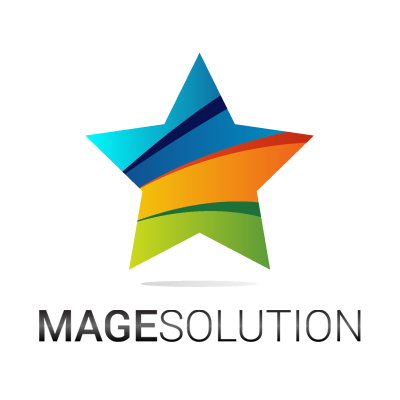 Magesolution provides high-quality Magento 2 extensions that are compatible with all Magento 2 themes. You can boost your frontend with our useful and attractive integrations. Visit our store right now for more powerful tools and explore huge deals everyday!