Shopify invoice app: Top 10 professional apps to create great looking invoice for Shopify stores
Although the Shopify platform provides a lot of useful features for people to sell products online, it still has some limitations. One of the most important functions for store owners that Shopify does not support us is a default invoice. Therefore, many Shopify invoice apps were born to solve this problem. In case you consider an app for your business, let's Arrowtheme review the top 10 best Shopify Invoice App 2021 for you.
What is a Shopify invoice app?

Firstly, let's understand the meaning of an invoice app. An invoice means the confirmation from the sellers to customers about their orders. It is very important because we need to confirm our transactions with customers and manage our orders.
Hence, a Shopify invoice app helps you to send an invoice by default to your buyers. And, it follows all of your orders when selling in Shopify.
Then, based on 4 criteria: outstanding features, prices, ratings and reviews on Shopify, our experts recommend the top 10 best Shopify Invoice App 2021.

Printout Designer is an invoice app that assigns steps to utilize times for your shipping process. Particularly, it helps you create invoices, packing slips and labels. Besides, Printout Designer configures easily so you are able to create texts, images, QR codes and so on. Another benefit of this app is to synchronize all your copies related to your stores. In addition, it allows store owners to download, email and print out easily all copies related to your invoice in a few second.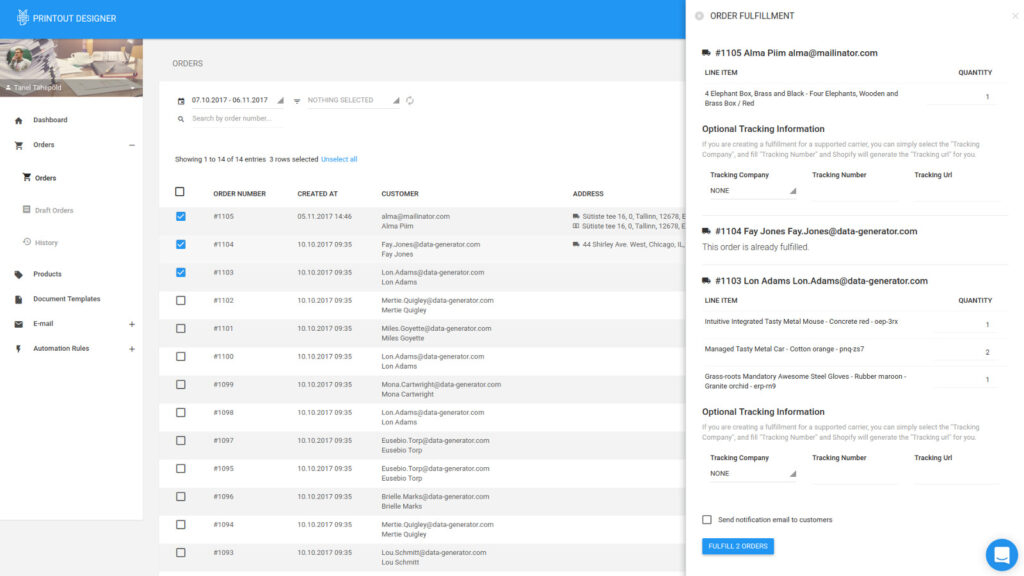 Outstanding features:
Firstly, the ability to switch among templates
Secondly, support translation into many languages
Thirdly, outstanding print functions for invoices, packing slips, labels.
Next, invoices customization
Then, brand printed on printouts
Free download and email invoices
Immediate e-mail and invoices reply
At last, multi-tasking form label
Prices: From $4.99/month (14-day free trial)
Sufio Professional Invoices provides customers with an automatic process invoice. It responds to the customers and keeps track of all packing slips when selling in Shopify. Therefore, it creates a professional image and shows a powerful custom workflow. In addition, financial documents provided by Sufio Professional Invoices were qualified by many trustworthy accountants all over the world. Moreover, this app focused much on your store design printed on invoices to make it impressive to your customers.
Outstanding features:
Firstly, automatic steps for invoices
Secondly, ideal for B2B stores
Thirdly, many languages and currencies provided
Next, easy use for low-tech users
Then, adapt legislation of accounting documents
At last, customer support through live chat and email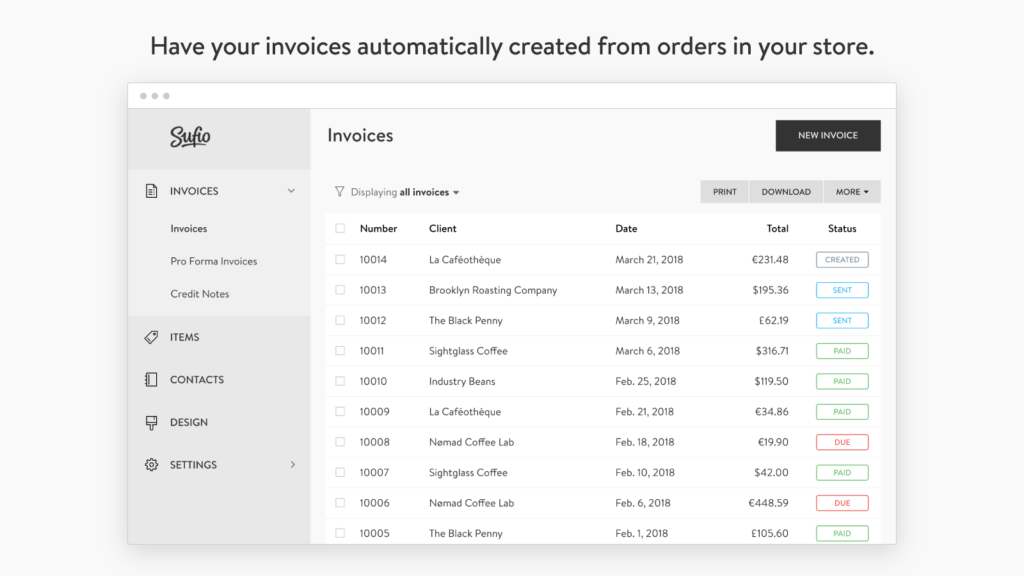 Prices: From $19/month (14-day free trial)
Invoicify ‑ Automatic Invoices supports Shopify customers with a lot of invoice choices from pretty available templates to customized documents. Also, you can both use defaults response and set your own invoices for selected orders. Then, the delighted point of this app is wonderful customer services. For example, If you are not able to install this app in just 5 minutes, contact Invoicify ‑ Automatic Invoices 24/7 for help.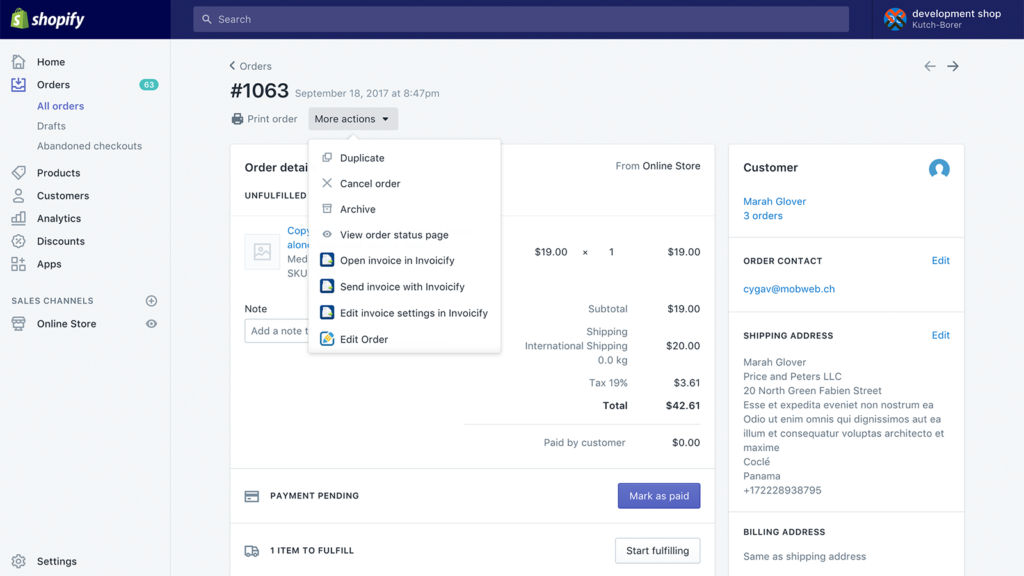 Outstanding features:
Firstly, Excellent customer support
Secondly, No limited function among plans
Thirdly, Multiple languages and additional language support
Then Available plan with no more charges
Next, Account manager support
Various currencies
At last, Quick installatio
Prices: Free plan available (30-day free trial)

Invoice Falcon is an invoice app that installs a fast invoice to your customer in a professional way. Therefore, you no longer have to send responses manually. Every order of customers will automatically receive a PDF document. In addition, this app also supports you with tax invoice provided that you give it your tax information. Another special function of this app is to remind Shopify customers of unfull payment. Hence, this is very useful for forgetful owners.
Outstanding features:
Convenient dashboards
Various languages choices
Able to print draft orders
Good support service
Easily instalment and use
Prices: Free plan available, 7-day free trial and additional charges may apply.
Easy Invoice brings to Shopify customers a solution of automatic invoices. Particularly, by sending all invoices automatically, this app saves times for Shopify store owners. Furthermore, you do not need to have technical skills requirements to use this app. Although this process of invoices is automatic, you are still able to send out messages to customers if you want. Besides, a variety of languages and currencies is also a bonus of this app.
Outstanding features:
Multiple languages and currencies
Easy control button
Diverse option
Wholesales Invoice
Compliant with legislation

Price: From $14.95/month. 21-day free trial.

PDF Invoice: Order Printer+ is one of the Shopify invoice apps that provides you with a free invoice edition. In spite of the free edition, their templates (from order, invoice to shipping labels and refunds) and order prints are unlimited and easily used. Besides, this app allows stores owners to edit the available PDF templates. Customers also can download or print out invoices in a matter of second. Moreover, with 70 languages supported you can easily set up default invoice for customers in your nations. In addition, it supports you print a large number of PDF invoice and send to Google Drive, FTP, or SFTP.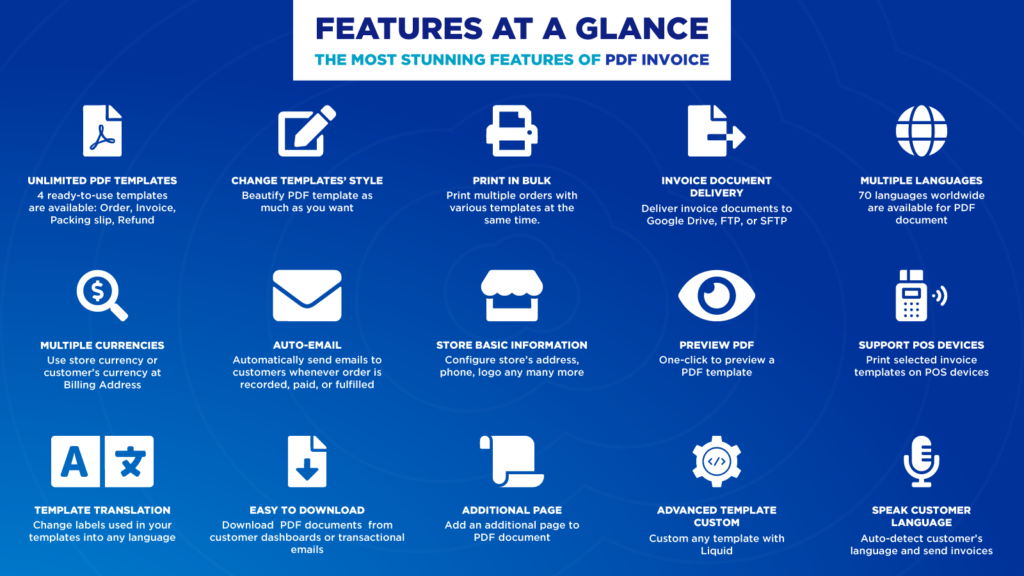 Outstanding features:
Free edition
Multiple languages and currencies
Customized templates for customers
Support for a large number of printout
Auto-translate into customers' languages
Attach PDF with email response
Great customer support
Price: Free plan available or $9/month for pro option

GST Invoice India is an invoice app that helps you calculate and generate both GST (Good and services tax) invoices and IGST, SGST, CGST automatically for each customer. In addition, this app customized your invoice by adding fully your logo, brand name, address and contact numbers into premade documents. Especially, the most interesting function of this app is providing detailed GST invoice and GST shipping without a third party. You are also able to adjust the percentage of GST shipping separately.
Outstanding features:
Available download for suppliers, transporters and buyers
Synchronize your data automatically
Strong customer support
Detail GST report
HSN Code for products
Wise GST for products
Useful for Indian companies
Price: Free plan available, From $9.90/month
Ordersify: Easy Order Printer was built by Odersify to assist you with easy PDF invoices without typing. This app allows you to professionalize your invoice with an impressive identity. In addition, you can choose between premade templates and templates designed by yourself. Besides, by supporting POS devices, you can easily create your invoices wherever you are. Invoices are automatically created and easily printed out. You can also separately print fulfil items for preparing.
Outstanding features:
Effective support for customer
POS optimization
Customized templates
Easily print documents online for customers
Packing slips for separate shipping
Multiple languages and currencies
Price: Available free plan and $8.99/month for professional plan
Invoice Hero: Invoicing App was created by MLVeda for Shopify store owners to utilizing the time by sending invoice automatically. Especially, it is easy for you to install this Shopify app and use its functions. Your invoices are sent automatically in many languages to your customers. Besides, you can download PDF files or print out them if necessary. A special benefit of Invoice Hero is that the tax information is shown in detail. Therefore, your accounts will save a lot of time and increase productivity.
Outstanding features:
Easy use and install
Multiple languages and currencies
Tax-Compliant Invoices
Download a large number of your orders at once
Beautiful templates
Price: Free available plan, from $3/month for a better version
OrderlyPrint is a great invoice app that brings you all the documents related to your customer orders fastly and structured. Thank to using the picking list for your invoice, this app decreases the errors and save your money. If you need to do a large number of orders, this app will be very useful. Because it organized your invoice well with order tabs and effective filters. In addition, it created an automatic response to your customers about their orders. And, it sent them a notification about shipping.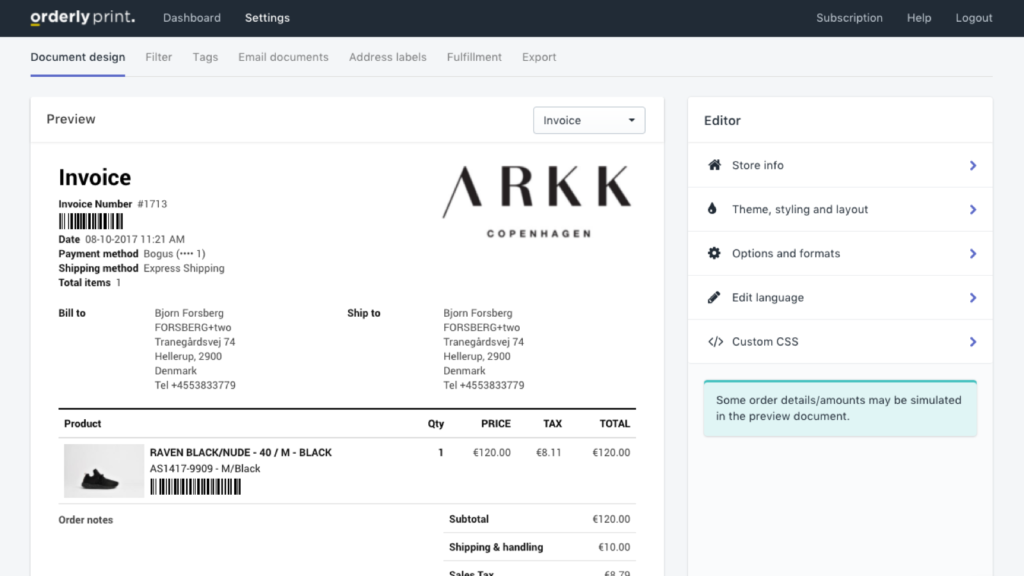 Outstanding features:
Fulfil orders in bulk
Organized picking list
Auto-sync
Automatic response to customer
Customized templates
Automatic emails with PDF invoices
Translate into 18 languages
Price: From $29/month. 15-day free trial.
In conclusion, hopefully, this information is useful for you and your business. You can also read more review about Shopify apps here. Furthermore, if you are looking for the comprehend solutions for your business, our Shopify Packages are the perfect choices for you. With 3 packages from Basic, Standard to Advance, our services inside them won't make you disappointed. If you need a beautiful and functional online store, but you don't want to pay for the additional features in the more expensive Shopify packages, our Basic package is the sweet spot for you. Moreover, as the most popular Shopify solution, our Standard and Advance package is quite the jump up from the Basic package, yet you receive pretty much every feature Shopify has to offer. So let's catch this opportunity right now!