Top 35 + perfect beauty magento theme to sell makeup online
In reality, not only women but also men are interested in beauty. Trading in beauty products is considered as a potential business and brings big profits. Nowadays, as you know, technology is more and more developing. And, online business becomes popular and extremely more effective than traditional business. Therefore, if you want to do beauty online shops, you have to choose the suitable Beauty magento Theme.
But which theme is good and attractive? In this blog, we will summarize for us Top 35 + perfect themes to sell makeup online. All of these below beauty magento themes were ranked by Arrrowtheme, search results and so on. Let's explore now!
Top 35 beauty magento theme to sell makeup online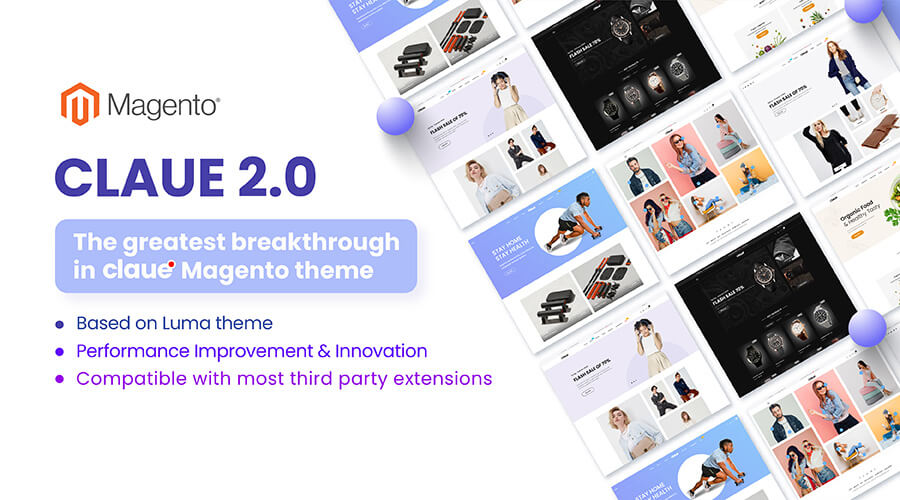 The first beauty magento theme in Arrowtheme's list is Claue 2.0. Truely, the position in this ranking also determines its quality. Claue 2.0 is one of the most suitable themes for organic products. Why is Claue 2.0 so special? This is the advanced verison of Claue 1.0. Because of the updating, this version has more features than the last version. However, you can not update your store from the Claue 1.0 to Claue 2.0. So you have to recreat your new store with Claue 2.0. More importantly, this version provides a lot of high – level features and advanced extensions. Thus, your website will look very unique and friendly to customers.
Other highlight features of Claue 2.0:
One Click Installation
Dedicated Support
Various homepage layouts
Mega menu – mobile menu
Fully compatible with Magento 2.4.x
Based on Luma theme.
The first Beauty magento theme in the top is Arrangi by ArrowTheme. This theme has a modern and fresh design with elegant colors. Besides, it also has a new UI, UX graphic style. 
Moreover, it provides many layouts suits with different organic goods. Once you look at the theme, you can see the freshness and friendliness. With the optimization feature, your website will get to the top of search engines easily.
Outstanding features of Arangi:
Front-end CMS Page Builder
8+ homepage layouts
Theme settings customization
5+ footer versions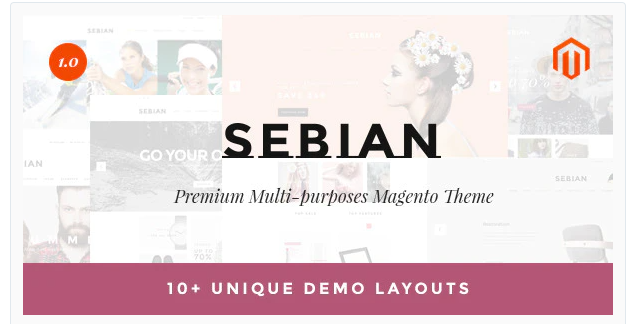 Another very popular theme for beauty products is Sebian. At first, with the bootstrap technology foundation, this theme is very friendly to mobile. Sebian has more than 10 layout types with excellent colors. As a result, you can design your website to be unique in your way. What's more, when using Sebian, you also have an opportunity to approach many modern features. Even, the error 404 page is designed beautifully.
There is no denying the correspondence of Havina with beauty products. Owing to the Bootstrap foundation, your website will work perfect on every type of device. Don't worry about SEO friendliness, Mobile optimization and so much more. Because this theme will take care of it all. Moreover, Havina also has many advanced extensions. Hence, it makes your website more modern compared to competitors'. Besides, with this theme, you can ask for the help of the Magento 2 Theme Builder. Then, your website will be established quickly and create many outstanding content layouts.
Natural is one of the most wonderful Beauty magento themes. Firstly, this theme has clean and clear homepages styles. With responsive layouts, your clients can easily access your website whenever they want and by any devices.
Besides, this theme provides 3 product available layouts such as: left sidebar, full width and right sidebar. Additionally, it also has the RLT support. Thanks to it, you can install any languages to your websites. Therefore, you can approach a lot of customers from many countries.
Outstanding features of Natural:
Support wide and boxed layout
One – click import data
Powerful admin panel
Multiple Listing Layouts
Support multi-currency, multi-language
The next ones in our list is Enlink. It is a multi – purpose theme with a very eye- catching appearance. Thanks for a lot of available detailed layouts and great color combination, Enlink is suitable for many product types. Additionally, your website will increase the rank in the search engine with SEO friendliness.
Another theme also by Plaza is Orion. It is the best choice not only for online shops but also for successful business. This theme impresses customers a lot because of its professional design and outstanding functions. Besides, with nice layouts and dynamic extensions…, It can be suitable for different types of products. In short, anything it gives to customers is a great experience.
Other outstanding characteristics of Orion:
Include 3 layouts for admins to choose
Support vertical mega menu
Support bootstrap 3 and CSS 3
Multiple colors, backgrounds
Purchase quickly by Ajax cart
Glori is a famous theme from Tvlgiao. It is considered as one of the bestseller beauty magento themes. This theme has many different styles from simplicity to modern. Besides, Glori has over 6 Best Premium Multipurpose Magento Themes. What is more, this theme also has a lot of helpful features such as: wide-boxed mode, config display of block product, number of columns, custom width page…
Other highlight features of Glory:
Responsive, mobile compliance and SEO friendly
Valid Bootstrap 3, W3C HTML5, CSS3
Enable visualizing vertically, sticky Mega Menu
Support RTL, multi-languages and multi stores
Update product labels, indicator, sale off, discount, etc
Advanced admin theme options
Allow admins to Quick-view
Add Ajax cart
Onepage checkout
F2 is a modern and fashionable beauty magento theme by Jetimpex. It was built exclusively for beauty and fashion websites. Besides, it is a mixture of bold banners with special and new product sets. When you come to F2, you can approach many modern extensions such as: mega menu, ajax search, google map, AMP, film slider… All in all, it is very convenient for customers.
Other outstanding features of F2:
Unique product page
Social Login
Supports brands
Film Slider
Super Deal is a perfect theme by Tvlgiao. At first, there is no denying the importance of themes to online business to attract more customers and increase sales. Moreover, thanks to this theme, shopkeepers can create the online multi-store marketplace easily. You can use it on many technologies such as: phones, laptops, desktops… Best of all, with the support of Open Cart temas, this theme will bring better experiences to customers.
Other highlight features of this theme:
Add Mega Menu Module
Support revolution slider and product slider Module
Enable searching products by Alphabet Module
Allow store owners to Quick-View
Image can be zoomed
SEO Blog System Module
Featured Deals Module
Enable filter products Module
Support Grid Deals
Deal Categories Module
The next theme in our list is Magetique from Jetimpex. Firstly, with 5 beautiful layouts and various outstanding features, you can increase the customers' shopping experience. Besides, it also provides you over 20 available extensions to attain optimum functionality and boost sales easily. What's more, it also helps you in some activities such as: marketing, design…to complete your website. In addition, website design can be advanced by Smart Product Labeling and Featured Items.
Highlight features of Magetique:
Design to convert
5 premium layouts
Pre-designed page elements
Fully responsive
Intuitive Interfaces
Marketing Toolbox
Another beauty magento theme by ArrowTheme is Organie. It is one of the ideal themes for organic products, especially beauty and flowers. Firstly, with soft and pure tones colors, Organie is sure to impress customers at first sight. Secondly, these homepage layouts were designed to suit many different static blocks. What's more, it comes with a lot of extensions. Others highlight characteristics of Organie are: Google rich snippets, Install Sample Data easily, Popup newsletter… 
You want to find a theme fit to your beauty online website. Then, Ves Ezboozt will be the ideal choice for you. Firstly, this beauty theme has over 13 unique homepages. From that, it is not only suitable with beauty products but it also can be used for many different topics. Moreover, you can create and use your website in every type of device from smartphone to laptop and desktop.
Other modern features of Ves Ezboozt:
Best Search Engine Optimization
9+ Unique footers
Powerful Admin Panel
Timely Support
Coming to Face Art, it is a multi- purpose theme with the modern and professional design by Templatemela. Firstly, Face Art is a theme exclusively for makeup, cosmetics, women's clothes, medicine and fashion stores. This theme includes various homepages with fixed width layout. Thus, besides for online business, it is also used for many purposes such as: corporate, services, portfolio… Besides, you have the ability to easily modify the subpages. Owing to many great characteristics, it attracts a lot of customers quickly.
Other highlight features of Face Art:
Support HTML 5 and CSS 3
Able to be compatible with all devices
Enhanced Mega Menu
Support new and special modules
Include featured and bestseller modules
If you want a clean and modern beauty magento theme, Krystal theme would be perfect for you. Firstly, this theme is appropriate for a range of store styles from fashion to games and food. Best of all, it is really a multi – purpose theme. Besides, it includes various advanced features to bring you the best experience. From that, they are: Untimated Colors Power Admin, fully responsive, nice image slider, quick view product, Mega Menu and so on.
Coming to the white and black beauty magento theme – Ves Fashion. Maybe you think it is just a simple theme. However, it makes your website more elegant and impressive than ever. That's thanks for the perfect mixture of colors, textures and logical arrangement. Also, other outstanding features make Ves Fashion become more unique. For example: fast load, fully responsive, off canvas menu, so on.
If you are looking for a modern beauty magento theme, you have a glance at Beauty. Honestly, it is a mixture of modern design, fantastic colors and joyful arrangement of promotional banners. A unique feature of this theme is the bundle product. Accordingly, it allows customers to see all items of a product. Other highlight characteristics are Unlimited Color Options, 3 layouts for pages: 1, 2 or 3 columns, boxed layout…
This theme is very friendly and easy to use in any mobile technologies. Moreover, it contains over 20 available designs to choose and build your website. Amazing 20 theme has many highlight features:
Enable changing styles by the one-click
Easy install and active themes
Powerful theme settings lets you change colors, font, typography and other styling flexibility.
Enable adapting box/wide style for theme
Manage the frontend from admin toolbar
Add Revolution Slideshow with more effects and display methods
Allow admins to use Multi header to select header style
Use popup on login form, wishlist, compare product
Support multiple currencies and languages
TopMart is considered as one of the most developing beauty magento themes. Thanks to the wonderful combination of universality, attractiveness and easy customization, this theme looks very modern. Besides, TopMart has over 7 magento website templates suitable with many different topics. Not only that, it provides many great compatible extensions. For example, CM multivendor, Webkul marketplace, Instagram shop module…
Nowadays, there are many people using Korean cosmetics because of its quality. And, Hee – young is the best choice if you want to sell Korean beauty products. What's more, this theme has the Shop by brand feature. As a result, customers can easily find their favourite brand in some seconds. Moreover, you can show the best – seller, new products… on the homepages with the support of Featured products.
Others Highlight features of Hee – young:
Ajax Magento 2 Extensions
Mega Menu
Accelerated Mobile Page
Have you ever heard of Champions? It is one of the best – selling themes for beauty products. Not only beauty topics but Champions is also useful for many different products because of over 25 decorations. Best of all, this theme has Bootrap 3 and Retina Image. Besides, it allows you to adjust colors, font… with Powerful theme settings.
In case you want to sell online jewelry, you should select the Ruby theme from Plaza. Honestly, it is a gorgeous and elegant beauty magento theme. Ruby brings you over 6 pre – make layouts choices with main black and white tone colors. What's more, this theme also supplies the blog module. As a result, you can write articles, reviews… to help customers know more exactly about products.
Moreover, you can easily design your website with 6 established layouts. It is built based on the integration of flexible and strong modules. Therefore, customers will feel satisfied and increase the sales.
Other advanced features of Ruby:
Support 6 different homepage layouts
Include many powerful modules
Support various colors
Flexible admin panel
One click to install and control
Multiple header and footer styles
If you want to find the Sidebar menu, product carousel, and tabs module significantly simplify customer navigation, Vest Extroic is the best option for you. This theme has the support of Bootstrap 3 and Ves Extroic. Thus, it is not only perfect for laptops and desktops, but it is also friendly to mobile and tablets.
Other highlight features of Vest Extroic:
Page builder
Hot deal module
Responsive design
Multiple layouts
Blog module
If you're searching for a stunning multi – purpose theme, Love Fashion is one of the suitable choices. Because there are many types of shops that can use this theme to sell products, especially fashion and clothing. What's more, your website will be fully equipped with features such as: homepage slideshow, powerful mega menu, ajax cart, social box and so on.
Besides, 2 layouts are full width layout and left sidebar layout help you correspond to any purposes. Moreover, this theme has a professional design, fresh layout and outstanding colors. As a result, it attracts customers a lot.
If you want to use one of the most attractive beauty magento themes, you can't ignore Harosa. It is a perfect theme for cosmetic products with many modern characteristics and clever layouts. Besides, it also has the Mega menu that allows you to show all your products, sub-categories and top links. As a result, customers can find what they want quickly.
Moreover, this beauty theme has the support of the multilingual and multi-currency functions. From that, your website can have a great opportunity to have more customers.
Highlight features of Harosa:
Pre- made layouts
Fully responsive & mobile optimized
Header Styles
Blog Module Included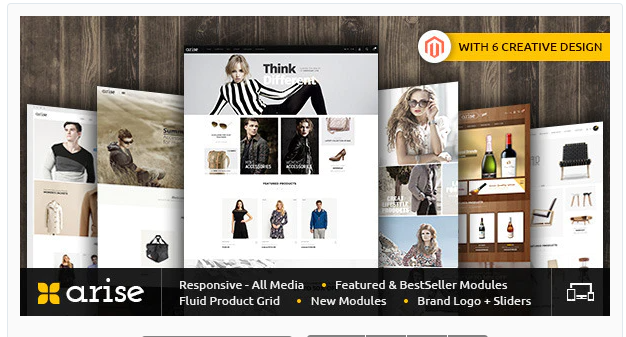 Do you think about Arise? Have you ever used this theme? If you haven't used it yet, let's try it now! Because it is one of the best options for beauty products. This look is designed very professionally. Besides, it includes 6 detailed layouts for you to choose one and create easily. Other outstanding features are: Google Fonts, Multiple Language, SEO friendliness, Mega menu and so much more.
When you look at MoonLight, you will notice a unique and professional design. This theme can be suitable for many types of online products, including beauty stores. It has 3 available layouts: Left sidebar, Full width and Right sidebar. Hence, you are free to choose and easily apply to your website.
Other outstanding features of MoonLight:
100% Responsive design
Unlimited colors
Quick cart pro
Various shop layouts
Powerful Admin Panel
Can't help but mention Metro if you want to find a beauty magento theme. With the support of Multivendor extension and Onepage Checkout extension, your website surely attracts a large number of clients.
Other outstanding characteristics of Metro:
Special homepage
Unlimited colors
Mega menu
Useful extensions
Nice slider
Another choice for all organic products for you is NatureCircle. Generally, this theme is pretty simple but effective. This theme has a spacious design with static blocks and magento extensions. Besides, because of organic goods, it uses green as its primary color. With the combination of 4 available layouts and unlimited colors, it is very easy to choose and create your website. Moreover, 2 sides of the Title of Tabs Category Slider module display product categories. Other outstanding features to mention are: Powerful admin panel, Mega menu and mobile menu, Blog module included and so on.
Want to create a really professional theme? Then, you have to have a glance of Theface. It is the Beauty magento theme worth using to sell makeup online. Firstly, it provides your websites with a lot of color selections. Besides, it is corresponding with all kinds of devices from mobile to desktops. Custom slideshow will make your product images more smooth and attractive. Other highlight features of Theface are: 4+ pixel perfect theme demos, Header styles, Daily deal modules, Ajax add to cart, Ajax layered navigation…
Parna is the best option of beauty products with its stunning design. Firstly, with the combination of light colors, this theme extremely attracts a lot of customers to visit and buy products. Moreover, it has the automatic image size adjustment function. So, it can easily change the size of your product image as fit as your screen.
Advanced features of Parna:
Mega Menu
Ajax cart, Ajax layered navigation
Search box pro
Brands slider
Coming to Cosmetic – an ideal theme for cosmetic and beauty products. This theme has been created based on many modern features of the beauty magento theme. Compared to other themes, it has larger product images. Thus, customers can easily observe and decide to buy your products. Also, you can create this theme on any devices from small to big screens.
Other highlight features of Cosmetic:
Mega Menu – multiple columns menu
20+ transition effects
Search Engine Friendly
Ajax add to cart
Talking about the 100% fully responsive beauty magento theme, it is impossible not to mention Polo. It brings many first – class features to fit with available extensions. What's more, a special thing is that this theme provides free extensions. Besides, it guarantees you will always get the best help when you encounter any problems. Therefore, you can rest assured when using this theme. Additionally, friendly SEO, megamenu, smart cart and so on are also the outstanding features of Polo.
Sawyer provides anything to you to create and develop your online website. Firstly, it is an ideal choice for beauty and electronic products. What's more, this theme has 5 detailed homepage layouts. Plus, it also has 5 color styles. As a result, it is very convenient for you to choose the suitable theme for your websites. Other modern features of Sawyer are: Image Slider, Ajax Layered Navigation, Ajax Cart, Mega menu and so on.
Colinus is the best choice if you want to find an elegant theme. Firstly, it has 2 layout types: boxed and width. Besides, this theme provides unlimited colors. Thanks to those, Colinus is flexible with many different kinds of products from beauty to mall stores. Moreover, it has many outstanding characteristics to make your website become more modern. For instance: Megamenu, smart menus, product thumbnail slider , cloud zoom, ajax add to cart and so on.
Final Word
In short, with 35+ beauty magento theme Arrowtheme reviews, we hope you can choose the perfect theme for your product. Each theme has its own advantages and is great for selling makeup products. Thanks to these themes, you can increase sales and get a lot of profits. Let's try it and give us your experience!