Shopify marketplace theme: Top 5 amazing Shopify themes to build the flourishing online stores
Online marketplace is becoming increasingly popular nowadays with many big names like eBay and Alibaba. If you want to start your own marketplace on Shopify, then choosing the right Shopify marketplace theme is the first step. However, getting the right one among thousands might not be an easy task. Then, to help you with this issue, we deliver you the top 5 best themes to build your dream website.
All of the themes below are ranked based on their Arrowtheme scores, sales, ratings and social metrics. Let's begin
The first Shopify marketplace theme we want to mention is GemMart – a stunning, robust and powerful Shopify theme. GemMart has a clean and beautiful color combination of white and orange. Therefore, it'll not only focus on your products, but also highlight them as well. As a result, you can encourage customers to make purchases on your website. What's more, there are 18+ clean and beautiful homepages for you to choose. All of them are customizable. Thus, you can create your dream website without touching a single line of code
Besides stunning designs, GemMart can deliver you a lot of outstanding features. Here are some of them
GemMart is built specifically for marketplace and multi vendor. Therefore, it can perfectly handle massive and heavy stores. No need to worry about slow or buggy websites
Furthermore, this Shopify marketplace theme includes the Fastest Ajax Cart. Hence, this will improve the customer satisfaction
$1000 – worth best apps are included in the theme price. Needless to say, you can save up to thousands of dollars when working with GemMart
Other highlight elements of this Shopify theme are Native Shopify mega menu, Multi color options, Guest Wishlist, etc.
Lusion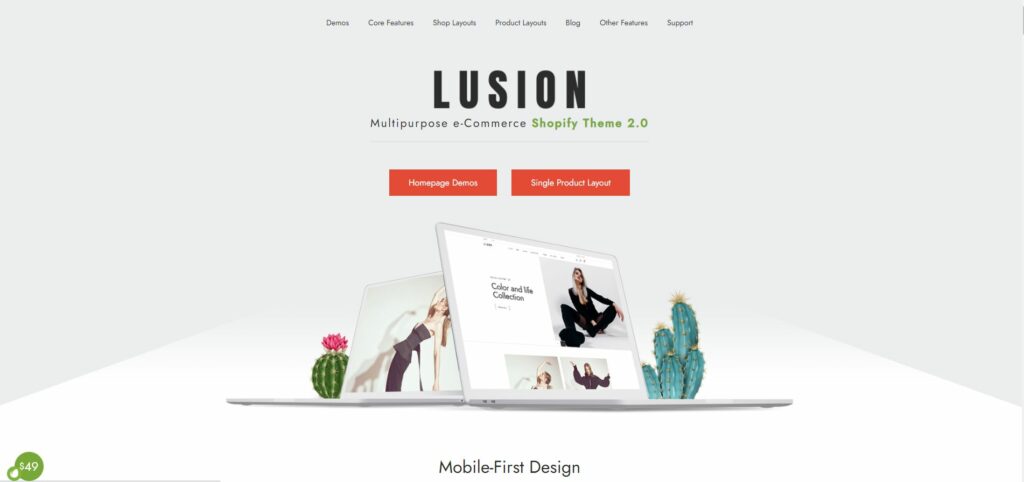 Lusion eCommerce Shopify theme is one of the best-selling themes on ThemeForest. The hot functions of Lusion combines Mobile-First Design, Product 3D, as well as AR Model, Google rich snippets structured Data. Also, the theme is optimized for Dropshipping and compatible with top powerful plugins including MegaMenu, ajax search autocompletes, quick view, Fake Sales Popup, and more.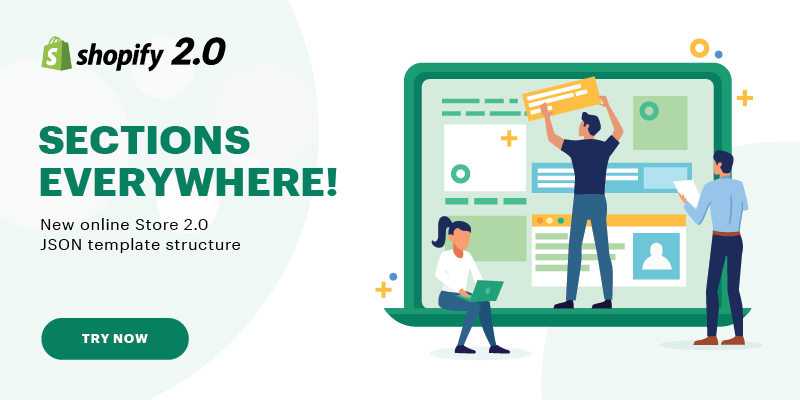 Great news! Lusion theme is now fully compatible with latest Shopify 2.0. It comes with new features and enhancements providing easier and more flexible customization options for merchants. Some new features you'll get when choosing Shopify 2.0 theme
Sections are available on every page like the Home page, product page, collection page, collection list page, cart page, etc.
App Block supports you to relocate or move Shopify apps within the template without touching the code files.
Shopify Metafields permits you to add dynamic information about your products, variants, collections, customers, orders, blogs, and many more in your store.
Collection and search filters support you to filter products and search results by availability, price, vendor (brand), color, and many more.
Martfury is built specifically for marketplace and multi vendor. This Shopify marketplace theme mainly uses white as the background color. Therefore, it greatly focuses on your products, not on other elements. As a result, it'll encourage customers to buy products on your website. Martfury comes with 10+ unique demos for you to choose. All these designed are based on User experience from real sites. Therefore, Martfury promises to increase your conversion rate and customer satisfaction
What's more, Martfuri is easy to use, install and customize. In particular, you only need one click to import all demos content. Also, this Shopify theme comes with Drag & Drop Shopify section. As a result, you can edit your website just by dragging & dragging elements. Besides, Martfury is fully compatible with Orbelo. Then, you can find and import hundreds of products to your store in minutes. Other highlight elements of this Shopify marketplace theme are Products deal with countdown, daily deal, coupon code and so on
Groca has a bright and joyful design. It uses a color combination of pastel colors like green and pink. Thanks to that, this theme will make your website look fresh and colorful. Also, this Shopify marketplace theme is fully customizable. Therefore, you'll have a lot of freedom to edit and make change to different elements of the theme, from color, fonts to even sliders
Besides, Groca comes with 5 styles of mega – menu styles for you to choose. Depending on your business requirements, you can get the right one.
Furthermore, Groca can deliver you a lot of outstanding features. For instance, deal counters, Cart summary, color swatches and so on. Best of all, this Shopify theme supports multilingual and multi currencies. These features are very helpful for international selling.
Moving to Torano, a ultimate and powerful Shopify marketplace theme for you to consider. This theme is extremely clean, neat and professionally – designed. Therefore, it will display your products beautifully. Moreover, Torano comes with 5+ pixel perfect demos. As a result, you don't need to build your website from scratch. Simply choose the one you like best, and customize as you like. No coding required
Moreover, this Shopify marketplace theme has fast loading speed. In fact, it's one of the fastest loading Shopify themes with unparalleled performance.Therefore, it will help you improve customer satisfaction as well as conversion rate. Other highlight elements of Torano are stunning hover effects, PSD included and so on
Last but not least, we want to mention Ultimate – a multipurpose Shopify marketplace theme. This Shopify theme is very modern and product – focusing with clean and professional designs. Also, this theme is built with neat and valid HTML & CSS. As a result, you can create any websites by structuring and styling your pages with HTML and CSS. This theme also includes Layer Slider, unique blog/ news page and so on