6+ Amazon Affiliate WordPress Plugins That Will Help You Make More Money
As an Amazon affiliate, you can earn money by promoting Amazon products on your WordPress website. However, to succeed, you need a good WordPress Amazon affiliate plugin.
This plugin type will help you create and manage your affiliate links, track your sales, and generate reports.
In addition, some Amazon affiliate WordPress plugins can simplify your workflow by providing valuable analytics to help you grow your business.
In this article, we will share the top WordPress plugins for Amazon affiliates that you should consider.
Let's get started!
What is a WordPress Amazon Affiliate Plugin?
A WordPress Amazon affiliate plugin is a popular WordPress plugin that simplifies the process of managing, promoting, and selling Amazon affiliate products on your WordPress website.
It takes care of the technical details, so you can focus on creating great content and promoting your products.
Amazon has strict guidelines for its affiliates, such as requiring the use of the Amazon Associates API and linking to the correct product for the user's country.
An Amazon affiliate plugin can help you follow these guidelines and avoid technical issues, which can lead to more sales and commissions.
Don't let common Amazon affiliate issues hold you back from making money. Our list of the best Amazon affiliate WordPress plugins can help you succeed.
AAWP – Amazon Affiliate Plugin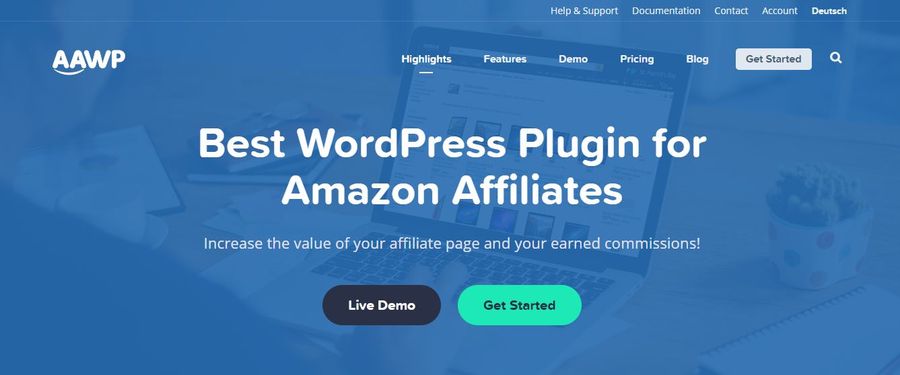 Learn More
The Amazon Affiliate WordPress Plugin (AAWP) is a popular plugin that lets you connect the Amazon Associates API to your WordPress website and add affiliate links to your articles quickly and efficiently. 
All data is displayed via the API, so you don't have to worry about violating Amazon's affiliate policies by including prices or inserting images.
This Amazon affiliate plugin also offers a variety of options for displaying Amazon products or affiliate links, all of which look great on your website's front end.
Display elements are fully customizable and mobile-responsive, so you can create a website that looks great and functions well on all devices, attracting users and driving engagement.
If you're an advanced Amazon affiliate with different websites, AAWP is a powerful plugin that can help you maximize your revenue. It can even display products in unique and engaging ways, promising to boost your conversion rates.
Key Features:
Real-time pricing updates
Simple ways to create bestseller lists
Product comparison tables
Pricing: The cheapest plan costs €49/year for 1-site support
AzonPress – WordPress Amazon Affiliate Plugin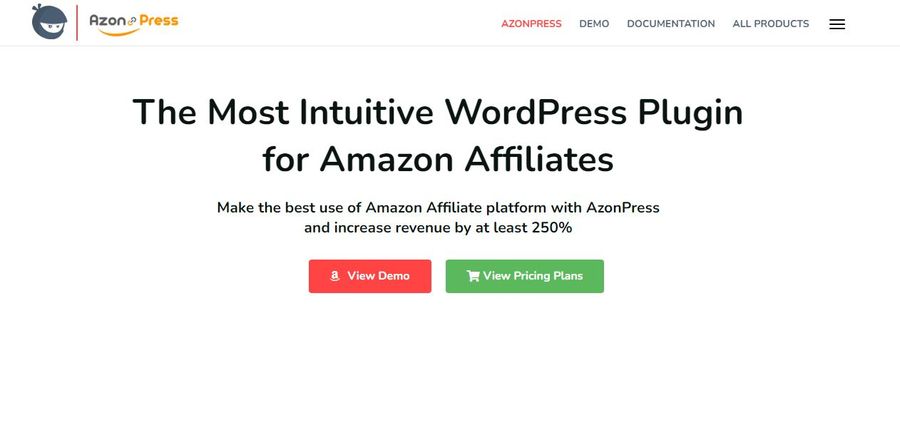 Learn More
With AzonPress, you can easily add affiliate links to texts and different types of tables and displays. 
The plugin also keeps the products updated automatically, allows you to adjust the tables, and automatically geotargets the products. This way, you can avoid missing sales because of API problems.
You can also track how your links are performing through their dashboard. AzonPress offers many features that are similar to AAWP, but it is cheaper. So, if you want to spend less, this could be the plugin for you.
A wonderful feature of this WordPress Amazon affiliate plugin is that it allows you to display affiliate links, product details, photos, ratings, and reviews in a gorgeous product showcase box.
AzonPress is a lightweight and fast Amazon affiliate plugin that lets you track the performance of your links. It's a good option if you're looking for a simple and effective way to manage your Amazon affiliate marketing.
Key Features:
Comparison tables
Automatic geotargeting
Customizable product display
Pricing: It costs $31/year for a single site
Pretty Links – WordPress Amazon Affiliate Plugin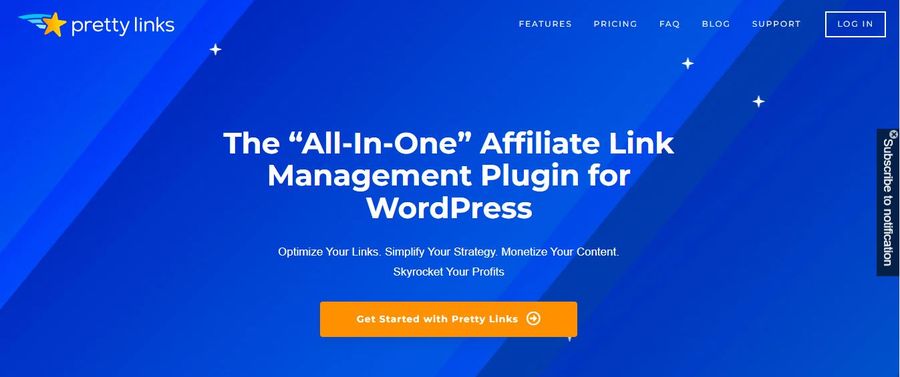 Learn More
Pretty Links is a freemium WordPress Amazon Affiliate plugin that lets you hide and track your website links, even your affiliate links. It changes your affiliate links to ones that use your domain name, which makes them more appealing and trustworthy. 
You can also customize or randomize the slugs for any link. You can monitor the click rates of your links and sort them by average or unique clicks in your WordPress admin panel.
The pro version of Pretty Links has some extra features, such as auto-linking keywords, multiple WordPress site licenses, and priority tech support, but it comes at a high cost.
Key Features:
Track link analytics
Free version
Cloaks affiliate links
Pricing: Free or use on up to 5 WordPress sites with $199.50 /year
ThirstyAffiliates – WordPress Amazon Affiliate Plugin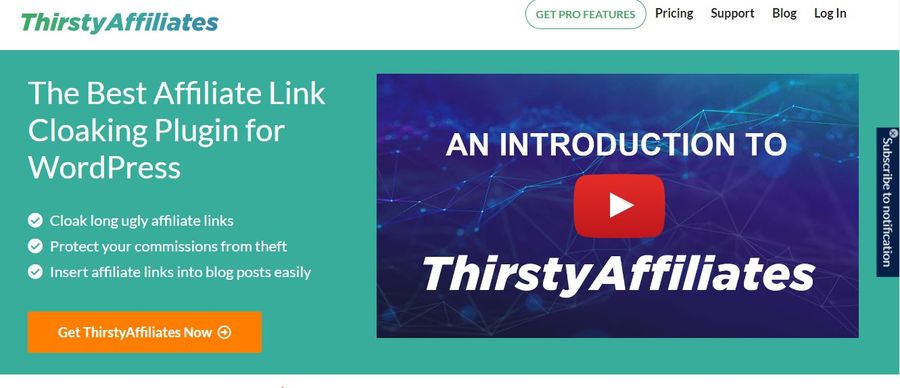 Learn More
ThirstyAffiliates is a WordPress plugin that helps you manage and cloak your affiliate links. It makes your links look smooth and professional and has various features for tracking clicks and conversions, sorting links into categories, and more. 
The free version of ThirstyAffiliates enables you to build your basic links and personalize them with additional details like product categories.
This WordPress Amazon affiliate plugin also tests your links for problems and generates valuable user data to improve conversion strategies.
ThirstyAffiliates offers an extensive solution for WordPress affiliate marketers, including a variety of features for managing and optimizing affiliate links. This plugin is ideal for those seeking a comprehensive solution for inserting affiliate links on their website, tracking links, cloaking and localizing links, and improving conversion strategies.
Key Features:
Link cloaking and management
Click and conversion tracking
Link categorization and organization
Link scheduling and expiration
Link redirection options
Pricing: Free or start with the basic plan at $79.50/year for 1 site.
Auto Amazon Links – Automatic Amazon Affiliate Website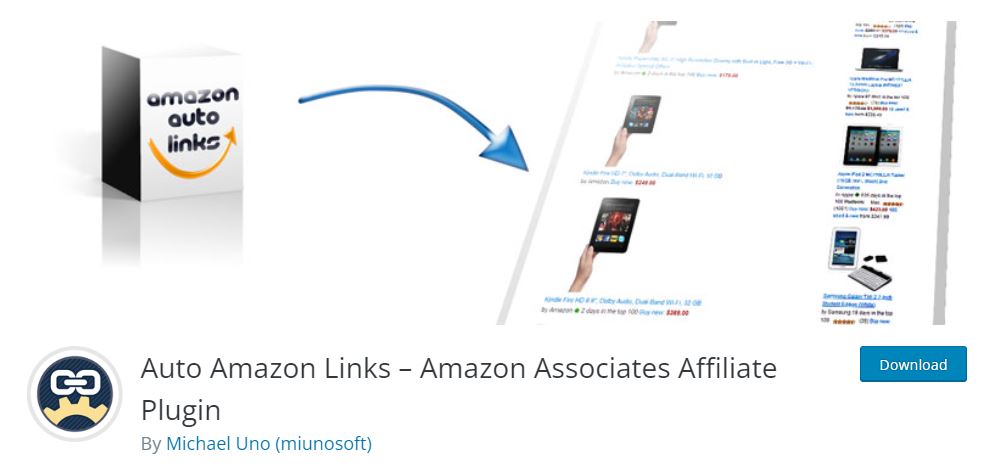 Learn More
Amazon Auto Links is a free Amazon affiliate solution for website owners who have a tight budget. This program automatically inserts Amazon's feeds and affiliate links to your website. The displays keep up with the changes in product details and prices. 
You can also exclude unwanted items from your links based on their description, title, and ID number. Products that are out of stock will be automatically deleted, and tables with the products will be updated accordingly.
This Automatic Amazon Affiliate Website product gives you everything you need to easily implement affiliate links without wasting time managing them manually.
With this plugin, you can also adjust the image size, description length, and product titles for your Amazon products.
Key Features:
Free.
Geotargeting support
Four ways to display products (category, product search, item look-up, URL)
Pricing: Free forever.
WooZone (WZone) – WooCommerce Amazon Affiliate Plugin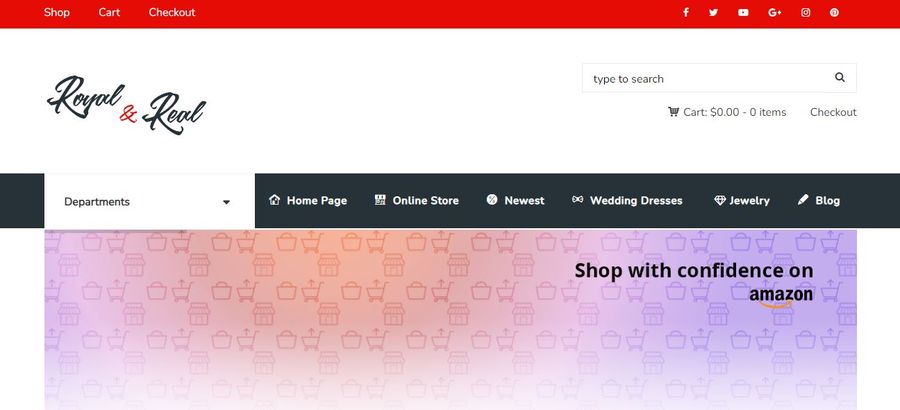 Learn More
WooZone (WZone) is a WooCommerce Amazon affiliate plugin that helps you connect your WooCommerce-based store with Amazon. It allows you to select products from Amazon.com and display them as WooCommerce products on your website. 
When customers want to buy these products, they can view them on your website as they would on a normal WooCommerce site, and then they will be redirected to Amazon (via your affiliate link) to complete the purchase.
WooZone is among the best Amazon affiliate plugins for those who know how to work with WooCommerce products.
Key Features:

Automatically updates WooCommerce listings
Designed specifically for WooCommerce
Pricing: It costs $49 LTD for single-site usage
What is The Best WordPress Amazon Affiliate Plugin?
WordPress offers a variety of plugins to help you create a profitable Amazon affiliate marketing program on your website.
If you're serious about running an advanced campaign and are willing to invest in a premium plugin, we recommend AAWP, which is the industry standard.
Another great option is Pretty Links, which is slightly more expensive but offers a unique set of features.
No matter which plugin you choose, a WordPress Amazon affiliate plugin will significantly improve your website's ability to monetize and present relevant products to your visitors.
Read More: 6+ Best eCommerce Chatbot Tools for Your Online Store (Free & Paid)