10+ Best Shopify Payment Providers You Should Know
Charging your customers after every purchase they make is simple when you run a physical store. However, running an eCommerce store, particularly a Shopify store, is a completely different process.
A payment method is necessary for you to get paid, as well as for your customers to pay for their items.
As the owner of a Shopify store, you have access to various payment methods. Hence, selecting the Best Payment Providers for Shopify that provide useful and necessary features for you and your customers is now your task.
In this article, you will learn about some of the most famous payment providers and how to choose the best one for your needs.
Ready to find out more?
What Are Shopify Payment Providers?
Shopify payment providers are the services that enable you to receive payments from your customers on your Shopify online store in a safe and easy way.
When your customers pay for the products in your store, payment providers are the ones to handle the transaction.
Thanks to the Shopify payment gateway integration, it sends your customer's private data to the bank that issued the card for the payment. A response is then sent back to the payment provider to indicate whether the transaction was successful or not.
If you process large payments, the Shopify payment provider applies more strict ways to confirm the customer's account before managing the payment. The payment provider also performs other security actions, like the Address Verification System (AVS), and studies the speed patterns.
Some Shopify payment providers allow you to compute the applicable tax on transactions.
How to Choose The Best Payment Providers For Shopify: Factors to Keep in Mind
There is no Shopify payment provider that fits all businesses. Each payment provider has advantages and disadvantages that make it better suited to specific sizes or types of businesses.
When selecting the best payment providers for Shopify, keep the following factors in mind:
Easy to use to improve your customer's shopping experience.
Consider your target market's location.
Check for transaction fees to know the actual cost of the payment provider you choose.
Integrate with most of the available credit & debit card providers.
Choose a payment provider that suits your current and future audience, as Shopify lets you reach customers worldwide.
Get a secure and risk-free Shopify payment method that improves your customers' transactions and detects fraud.
10 Best Payment Providers for Shopify
Shopify Payments: Shopify Payments Fees

Does Shopify have its own payment gateway? Of course, you can find Shopify Payments.
This payment method gives you many features you want to easily manage and process payments on your website without any third-party solutions.
Store owners are provided with a free card reader for physical payments by this payment method. It typically takes up to 3 working days for payments made by customers to land in your bank account.
You will not be charged the 2.2% transaction fee that Shopify charges for other third-party payment methods when you use Shopify Payments.
As a result, your operating costs will be reduced. Upgrading your Shopify subscription plan also gives you lower credit card transaction fees.
Shopify Payments is designed to be simple for both store owners and customers to use. The user interface is straightforward and simple.
So what about Shopify Payments fees? You don't need to pay any extra money to use this method with Shopify. Shopify will only charge you your standard store monthly charge, card processing fees, and other related expenses.
PayPal

PayPal is one of the best payment providers for Shopify in the world. It has over 220 million customers who trust it. It is simple to use and usually takes less than a day to open an account.
Paypal provides Shopify store owners with both paid and free plans. You can contact Paypal's support team with any of these plans. It also helps you set up subscriptions and recurring payments. Every payment transaction incurs a fee from PayPal. A PayPal fee calculator can be used to calculate the charges.
Paypal has a variety of pricing options. The basic plan starts at 2.9% plus $0.30/month.
Then there's the Pro plan, which costs $30 per month. This strategy is appropriate for large-scale businesses.
Stripe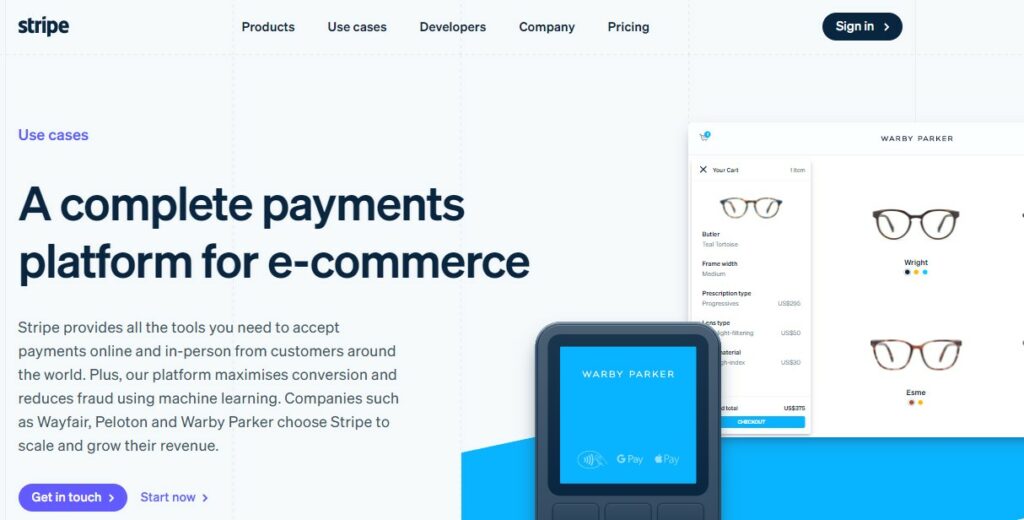 Stripe is among the best-known payment providers for Shopify and allows you to accept money from both domestic and international customers. It includes a plethora of features that facilitate large-scale expansion.
As a result, it's ideal for large eCommerce businesses.
Stripe includes features for sending invoices to customers and setting up recurring subscriptions.
Stripe allows you to easily track your sales while reducing your operational costs. You can even do all of this through the Stripe mobile app.
Stripe charges a flat 2.9% + $0.30 fee per transaction. Large-scale e-commerce companies can request a tailored quote.
Stripe will charge you 1% for instant payouts to your bank account. If the payment is coming from outside the country, you will be charged an additional 1%.
Authorize.net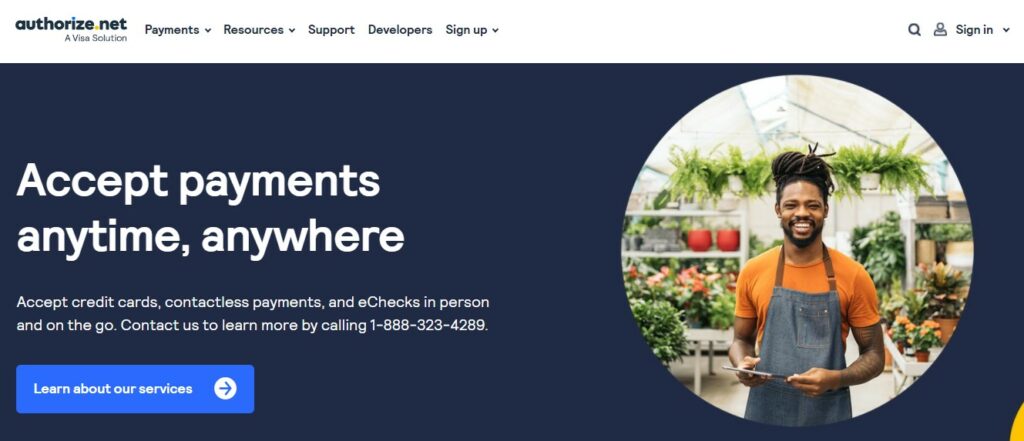 Authorize.net is a reputable payment processing gateway for Shopify. No wonder it's on our list of the best payment providers for Shopify. The platform is simple to use and packed with features that will pique your interest.
Authorize.net accepts online payments, e-checks, and mobile payments. It also accepts Visa, MasterCard, JCB, Discover, and American Express as payment methods.
This Shopify payment provider is extremely secure, with features such as automatic fraud prevention, card encryption, and a safe customer management system.
It is a great option for owners and works with different digital payment methods, like Apple Pay.
Authorize.net charges a $49 setup fee and a 2.9% + $0.30 per transaction fee.
Opayo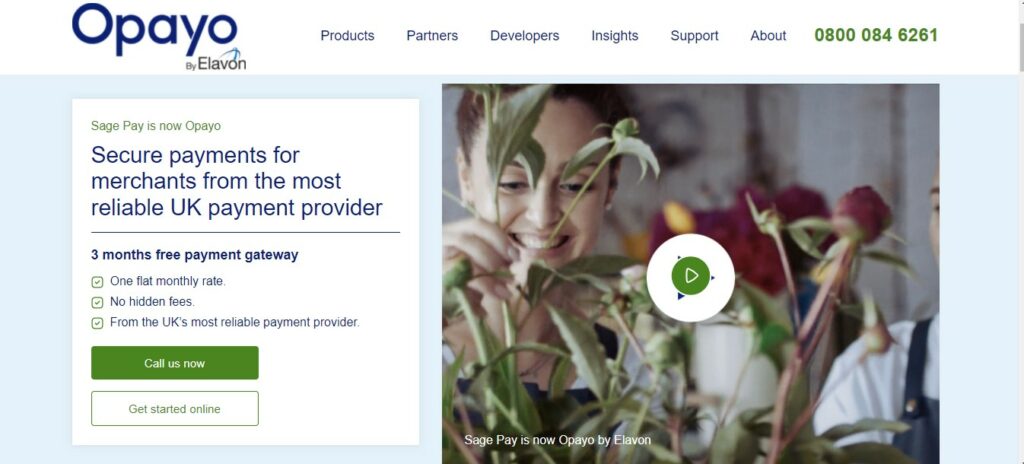 Opayo, formerly SagePay, is a popular Shopify payment solution for merchants in the US and UK. 
Furthermore, Opayo's payment software is available both online and offline. Its dependable system also allows access to various card terminals, online payments, and other services. It focuses on secure transactions, which is why it has a feature that lets customers pay with PayPal if they want to.
When it comes to handling customer transactions, Opayo is dependable and secure. However, the security level of its customer verification process can cause some issues.
One challenging thing about Opayo is its lengthy account verification process, which takes about 5 weeks. You will have no way of managing any transactions during this time.
Opayo's pricing is unlike most of the other Shopify payment options on this list. Instead of transaction fees, you will be charged monthly fees beginning at 19 GBP for 350 transactions or less per month.
Verifone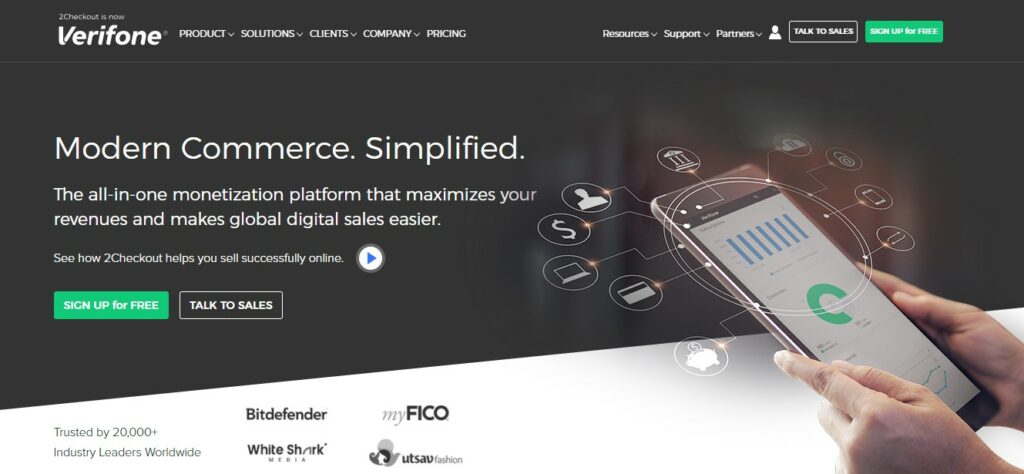 Verifone, formerly known as "2CheckOut," is a Shopify payment method that is not as widely used as the majority of the others on this list.
This Shopify payment method lets you choose and pay for only the features that your company needs, unlike most other payment methods.
Verifone includes a risk management and compliance section that can assist you in tracking potential fraud and privacy issues. It also has a tax calculation feature that makes managing taxes simple.
Verifone is free to use. But each transaction will incur a fee.
WorldPay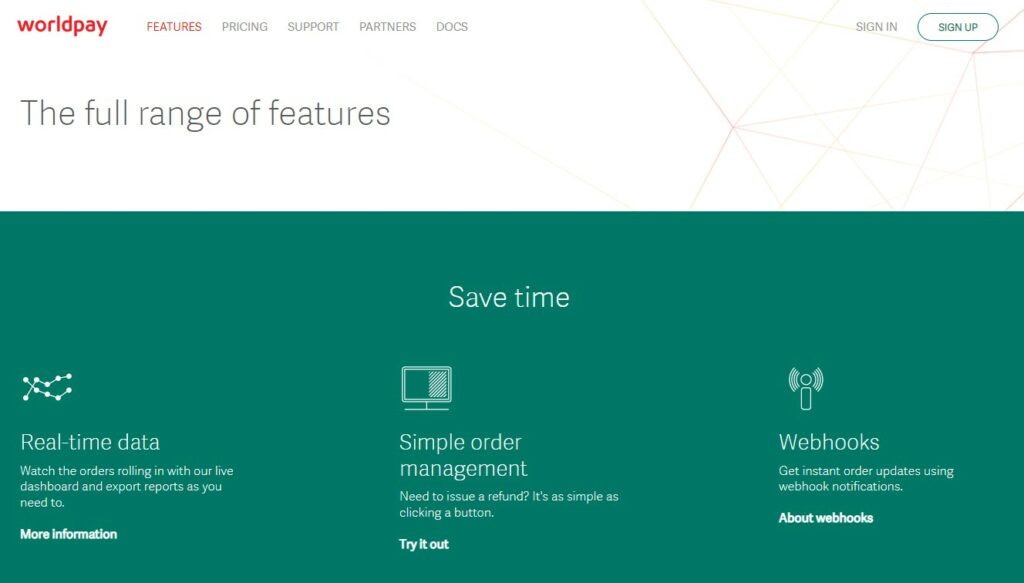 WorldPay is a Shopify payment provider with a reputation for offering a diverse range of secure transaction channels for both small and large Shopify stores. This payment method allows you to make a sale online and receive payments online, via the phone, and with credit or debit cards.
WorldPay offers two pricing options: Standard and Advanced Gateways. They cost 19 GBP and 45 GBP per month, respectively.
The greatest feature is that WorldPay accepts more than 120 currencies. Furthermore, there are no fees for refunds.
Amazon Pay

Amazon Pay is a fantastic Shopify payment processing gateway for Shopify store owners. It is simple to set up and allows customers to use their Amazon accounts to check out.
This payment method is available worldwide, and transactions made by your customers using it are quick and dependable.
Amazon's paid customer service is excellent.
The transaction fee begins at 2.9% plus $0.30/transaction.
Read More: Free Shopify Themes – Top 23 for Any Kind Of Online Stores