What are Shopify Fees and Plans in 2023? A Comprehensive Comparison
Are you planning to set up and run an eCommerce website using Shopify? But do you know how much Shopify Fees are?
Shopify has become one of the most popular online store-building platforms recently. You can design and customize any aspect of your store without touching a single line of code. Shopify assists you in selling everywhere, such as on social media or online marketplaces. Moreover, you'll get all the other amazing features from Shopify.
So is Shopify cheap? Does it provide different plans to pick from?
There are 3 plan options available: the basic plan costs $25/month, the Shopify plan costs $65/month, and the most expensive one – the advanced plan, costs $399/month.
Shopify's cost-effectiveness rating, when compared to other website builders, has actually increased from last year's ratings – it went from 3/5 to 3.6/5 according to our most recent study. In these tough economic times, you can rest assured that Shopify still offers great value for your money.
We've made a comprehensive comparison of all the features included in each plan to help you choose the best plan to create an online store with Shopify.
Wait! If you need a Shopify Customer Service Number or any other support, you can quickly contact them to solve issues.

Let's dive in!
How to Budget for Shopify Fees: A Pricing Overview? 
To know the Shopify selling fees, you can see its plan overview below. After that, we are going to compare each plan to assist you in finding the best one.
| | | | |
| --- | --- | --- | --- |
| Shopify Plan | Monthly Cost | Yearly Cost | Suitable for? |
| Shopify Starter | $5 | N/A | Selling products on social networking platforms and messaging apps |
| Basic Shopify | $25 | $19 | Small businesses or storefronts |
| Shopify | $65 | $49 | Larger companies with some features, such as cart recovery or gift cards |
| Advanced Shopify | $399 | $299 | Businesses with low transaction costs and expedited shipping |
| Shopify Plus | $2000 | N/A | Enterprise selling for high-volume businesses or corporations |
Overview of Shopify's Plans
Shopify Plans Comparison

Each plan has different features and functionality. All plans have a transaction cost unless you choose to use Shopify Payments, which lowers the fee for the Starter plan to 5% and completely eliminates transaction fees for the Basic Shopify, Shopify, and Advanced plans. The details of what each plan alongside those Shopify fees offers are listed below.
Shopify Starter ($5/month)
Shopify Starter is suitable for you if your main selling strategy is on social networking apps (Facebook, TikTok, Esty, Instagram, Twitter, etc.), via email, SMS, WhatsApp, and more. You won't actually need a website; just a link to your product that you can share is enough. So you don't need to spend much time setting it up. It allows you to sell in person anywhere as well. Of course, it adjusts to any screen size perfectly.
Non-stop there, the starter plan gives you access to product pages, a checkout page, a contact page, an inbox, LinkPop, and Shopify apps, ensuring that you can sell immediately.
This is the lowest Shopify fees plan; of course, there are some limitations. For instance, you have to pay a fairly high credit card transaction fee of 5% with Shopify Payments.
Basic Shopify ($25/month)
This plan suits you if you have a small store and want to add some eCommerce functionality to your existing business or storefront.
As its name suggests, this plan has basic features, such as:
A basic online store
Adding unlimited products
2 staff accounts are available
24/7 Shopify support
Sale channels
1 public storefront
Selling products in different locations (up to 1k)
Order management
Discount codes
Gift cards
Basic report for store's performance
Customer segmentation
Marketing automation
Unlimited contacts
International market management
Free SSL certificate
Market domains and subfolders available
Support multiple languages
Abandoned cart recovery
Control product pricing in each market
In addition, the transaction rate for offline payments is 2.7%.
Shopify ($65/month)
If you need more functions for your growing business website, the Shopify plan is the perfect solution. Apart from the basic features above, it has an eCommerce automation feature, saving you time and allowing you to add five staff accounts to help manage your store. The transaction fee if using a 3rd-party Shopify payment provider is also lower in this plan, which is 1% only.
Advanced Shopify ($399/month)
If you have a medium business to a larger online business and aim to grow it bigger, this plan is for you. You can add up to 15 staff accounts and check your site performance report. Customers can easily check the delivery fee thanks to the integration of a third-party calculated shipping rate. Also, they'll know the total price, including tax, at the checkout page.
Of course, the transaction fee for this plan is the lowest compared to others.
Shopify Plus ($2000/month)
Using the Shopify Plus plan, you'll get premium support, and it's suitable for corporate stores and enterprises with full features.
The price starts at $2000/month, but you have to talk to their sales team to get Shopify Plus and Shopify fees per sale.
How to Save 25% on Shopify Fees
The monthly price for each plan on Shopify's pricing page is for a month-to-month plan.
This means that you can stop paying Shopify fees and cancel whenever you want. That's all.
If you choose the one-year plan, you can save up to 25%. However, this only applies to the first year. The prices will then return to normal.
Frequently, businesses make the mistake of setting into a flexible monthly plan without much thought. To be sure, a month-to-month Shopify fees plan gives you a lot of flexibility.
In our user testing, Shopify received the highest customer score of any e-commerce platform, 4.68 out of 5. Remember that you can use Shopify's free trial first and then get an extra three months for only $1 per month after that.
Shopify Pricing vs Competitor Pricing
Because Shopify is well-suited for growing or larger businesses, it's natural to expect it to be significantly more expensive than its competitors. And, yes, when comparing the cheapest premium plans from other top e-commerce services, Shopify fees do come out on the higher end: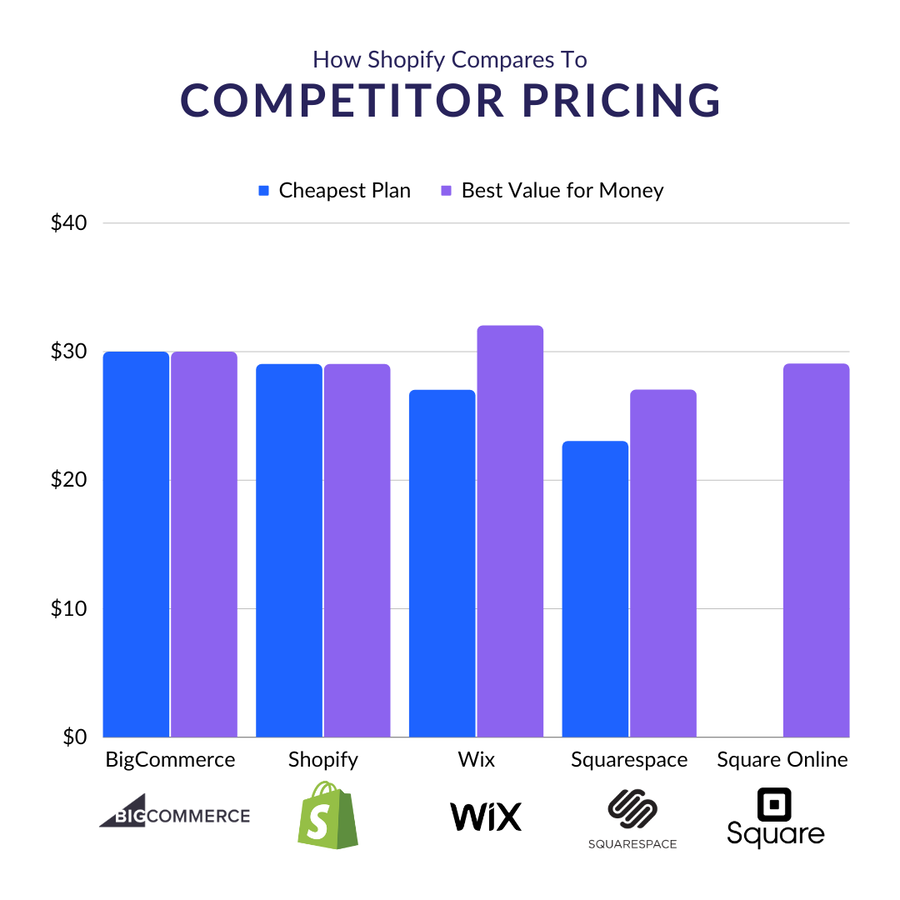 However, take note of how small the difference in monthly cost is, especially when comparing the best value plan (as opposed to just the cheapest). Overall, Shopify has a lower entry price point than its competitors, albeit one that is a few dollars higher per month.
BigCommerce is Shopify's nearest feature matchup, so it's worth noting how close the starting price is (only $0.95 a month separates them).
Each has financial benefits and drawbacks: Shopify charges an additional 2% transaction fee for purchases made outside of Shopify Payments (BigCommerce does not charge any additional fees), but BigCommerce does not include abandoned cart recovery on its cheapest plan (which Shopify does).
Shopify Credit Card Rates
When you make an online or offline purchase using a credit card, you will be charged a payment processing fee. So the credit card rates are the only ones you can control, and it is your choice of payment processor.
Shopify credit card fees or Shopify processing fees for online transactions are:
Basic Shopify Plan: 2.9% + 30 cents per transaction
Shopify Plan: 2.6% + 30 cents per transaction
Advanced Shopify Plan: 2.4% + 30 cents per transaction
These Shopify fees are charged per transaction, of course, not per item sold.
Shopify Payments is now available in the United States, Canada, the United Kingdom, Australia, New Zealand, Ireland, Hong Kong, Puerto Rico, and Singapore.
If you are not located in one of these countries, Shopify is fully integrated with over 70 different payment processors, allowing you to accept credit cards from anywhere in the world. Their list of payment processors can be found here.
Shopify Transaction Fee
If you're using Shopify Payments, you don't need to pay any Shopify transaction fees. But using a 3rd-party payment provider, costs 2% for the Basic Shopify plan, 1% for the Shopify plan, and 0.5% for the Advanced Shopify plan.
Additional Shopify Fees to Be Aware Of
Aside from the basic website plan, running an eCommerce business incurs a few additional costs. Here are some additional Shopify fees and charges to consider:
Apps
You can find over 6,000 apps from different third-party providers that work with Shopify websites in the online Shopify app store.
Depending on the app you want, the functions and prices can differ greatly. For example, the Esty App costs $9.99 per month, while others can give it away for free.
Domain Name
Shopify allows you to register a domain name. A one-year subscription to the service costs $14. Visit Shopify's domain name page to see if your business name is still available.
Email Hosting
Shopify now provides email hosting; there are different premade email hosting templates to avoid coding and manage your campaigns directly on Shopify. It allows you to send up to 10,000 emails for free every month. You only pay $1 for every extra 1,000 emails you send, which is a fair price for the value you receive.
You can even try out email hosting for free with Shopify.
Read More: How Does Shopify Work – Shipping, Payments & Sellers