Best Shopify affiliate app to manage influencers and affiliates effectively
As you know, when it comes to attracting customers to your website, only marketing isn't enough. In order to draw more potential clients, you should build the affiliate and influencers' network for your online store. In fact, affiliates or influencers on social media always win the trust of consumers more than you do marketing yourself. If your Shopify store does not have an affiliate association or you do not have the feature to manage their performance, you should use the Shopify affiliate app. Can say this is a profitable app for both your store and your affiliates. In particular, affiliates will receive a commission on sales made after referring people to your brand. With these awesome reasons, today Arrowtheme will review for you Top best Shopify affiliate apps for your eCommerce site. Let's explore right now! 
Top best Shopify affiliate app for eCommerce stores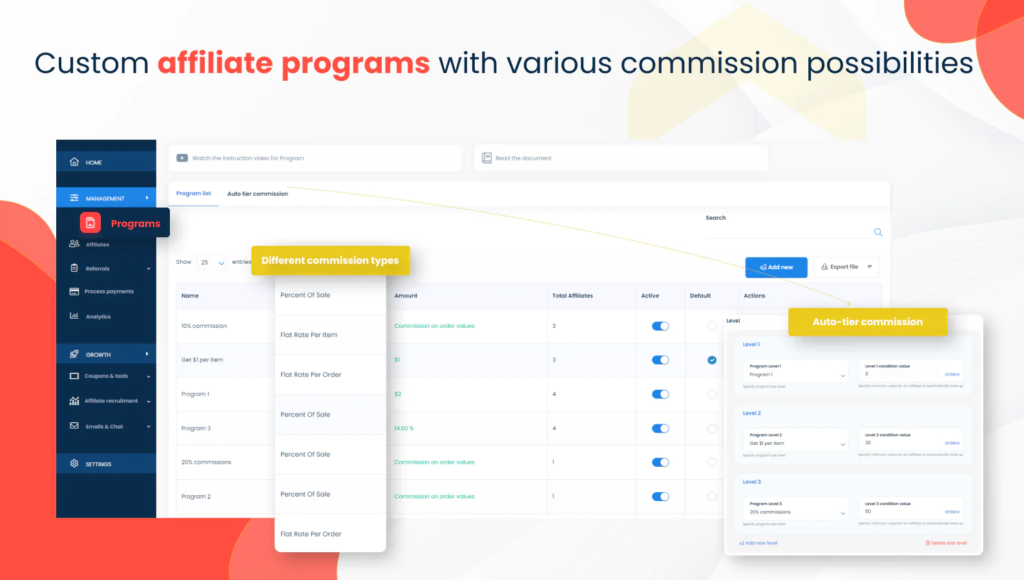 Looking to enhance your Shopify store's affiliate program and boost your referral efforts? Look no further than UpPromote, the highly recommended affiliate/referral app. With its user-friendly interface, you can effortlessly set up your affiliate program and start recruiting affiliates in minutes. UpPromote stands out with its robust features, including automated commission tracking and real-time performance analytics, empowering you to optimize your program's effectiveness. Seamlessly integrated with Shopify, UpPromote ensures a smooth experience for both merchants and affiliates. Moreover, their dedicated customer support team is always ready to assist you, ensuring the success of your affiliate program. Give your business a competitive edge with UpPromote today!
In case you're seeking the best Shopify affiliate app to manage influencers and affiliates, you should consider "Instant Traffic & Ads". To begin, you can build your own products and sell them in other Shopify stores with this app. Besides, when using this app, your items will be displayed as advertising with brief and easy-to-understand information. Hence, potential customers may obtain a sense of the recommended goods' essential things including price, name, image, etc when they come to your site. Best of all, even if there are too many visitors accessing your site, this app does not demand you any more costs. What's more, you may choose which product categories should be displayed in your store and which should be hidden in order to bring the higher selling effectiveness.
The next Shopify app we highly recommend in order to help you control influencers and affiliates effectively is "Referral Candy". First and foremost, this best Shopify affiliate app allows you to customize the look of pop-ups and emails you send to clients. Besides, this app comes with a ton of advanced features. For example is Theme Editor. Following that, you can choose the most suitable filters, background and many other things from various available things on Theme editor. As a result, your store will have a great look and easily grab customer's attention. Moreover, this app assists shop owners in keeping track of referral programs. Additionally, "Referral Candy" also runs as a powerful boosting sales tool. Specifically, it will generate more income and have an effect on retailers via sale data.
"Refersion" is the ideal solution if you're looking for the best Shopify affiliate app for your ecommerce store. In reality, "Refersion" was created with the aim of helping shopkeepers to track referrals and pay commissions to affiliates and influencers. Firstly, you can access over 5000 thousands of potential clients in just 10 minutes of installation. Then, you can simply quickly build up your affiliate marketing business. Besides, you have freedom to design your affiliate marketing registration page. As a result, you can easily collect more useful information from your affiliates. Furthermore, your affiliates can choose their own coupon codes if they register with this app. And, if you approve them, it will help them establish coupon codes in Shopify right away.
Don't worry if you're a newbie in doing business online, because "LeadDyno Affiliate Marketing" will help you. On top of that, this app provides a simple affiliation and influencer marketing solution for any shop owner to develop their online stores. Besides, as soon as you install this app, your site will have more opportunities to access a community of e-commerce affiliates. Following that, you can advertise your products to numerous potential customers with ease. Best of all, it just takes only a few minutes for you to establish this affiliate program for your online store. Not only that, this app has a 4.6 rating. This is the main reason why it's really a worth-trying app for your store.
Coming to another best Shopify affiliate app you should know to install to manage influencers and affiliates for your store – Affiliatly Affiliate Marketing. In fact, "Affiliatly Affiliate Marketing" was designed for shop owners who want to start an effective affiliate marketing program. First of all, thanks to this app, you can easily follow the traffic on both mobile and desktop platforms on your site. Besides, this app also provides you with a variety of low-cost functions and tracking ways. For instance, you can use criteria like QR codes, product SKUs, URLs, email addresses of customers. Especially, you can even mix all of them and create your own filters.
If you don't know how to do marketing effectively for your online store, let's take a look at "ShoutOut Affiliate Marketing". In fact, "ShoutOut Affiliate Marketing" is always considered as the best Shopify affiliate app in the market. And, this claim is proved with its great performance as well as a lot of its helpful professional tools. To begin, as soon as you use this app, your store can easily boost traffic and get more profits. Besides, when using this app, you will be provided the influencers' network. Following that, once you acquire them as affiliates, you can increase traffic and sales while avoiding wasting money by not paying upfront.
As its name suggests, "Affiliate Marketing Program" is a must-having best Shopify affiliate app with any ecommerce Shopify stores. First of all, you have no limits on how many affiliates you can have in your network when installing this app. Besides, this tool was built to assist you in network management, providing different amounts of commissions for various affiliates. What's more, it also helps you convert the network into a multi-level marketing system that encourages your affiliates to recruit new members. In addition, you can get a detailed report on each affiliate or payment stats after you integrate this app to your Account Page.
Let's take a look at a wonderful Shopify app for managing influencers and affiliates effectively – Outlink External Links Button. In fact, if you wish to sell any affiliate products on your online store, this app will be the perfect solution for you. To begin, when your customers click the Outlink button, it will send them to the affiliate product page. Hence, it will support you to generate more sales for your store. And, in particular, it doesn't require any extra costs such as shipping, tax and so on. Moreover, by adding items that better suit your store, this app will increase the size and value of your catalog as well. Additionally, it also offers a bulk editor that allows you to group several products together on a single page with ease.
"Vwala" is really one of the best Shopify affiliate apps for managing affiliates simply. With its great performance, this app is trusted by hundreds of retailers all over the world. In reality, "Vwala" is a fantastic marketing tool. You can use it for converting social media influencers and customers into marketers for e-commerce business owners. Firstly, this app is very easy to set up. Following that, you can quickly add it to your online business in a few minutes without any technological skills required. Besides, this app will automatically attach a widget to your storefront as soon as your setup is complete. Then, it will help you promote your referral marketing program to your consumers and encourage them to register as referrers for your business.
Last but not least is a flawless Shopify app named "Enlistly". On top of that, thanks to this app, you can monitor affiliate orders automatically and get a report on affiliate referral traffic. Besides, whoever signs up to become your own affiliate all has access to upload and share your advertising across various social media platforms. Furthermore, with this best Shopify affiliate app, you can provide each of your affiliates with their own URL. Then, you will easily follow their affiliate code whenever an order is purchased. Best of all, it also allows you to adjust the commission rates for each affiliate and transaction type.
The final line
In case you wish to make adjustments to your online store as well as you don't want to waste any more cash on it, let's take advantage of our Shopify packages at an affordable price. For more details, Back-end update services, front-end update services, and custom Shopify website development are all available to you. You may improve your ecommerce Website by using our services, which will help you attract more visitors. As a result, you won't have to worry about your Shopify Ecommerce website anymore. We will help your company's website soar to new heights. In particular, we are running a sale program that gets upto 30% off for Shopify services. Please CONTACT US for grabbing this great deal now!