How Does Shopify Work – Shipping, Payments & Sellers
If you are a business owner, you may build an online store and sell products online using the most well-known e-commerce platform – Shopify. It offers a streamlined and easy-to-use interface. Shopify merchants have the power to create a cutting-edge online shop and sell their products on social media platforms, vendor platforms, other blog pages, and websites, as well as through chat, email, and text. With Shopify's integrated POS (point-of-sale) feature, you can easily sell in person at retail shops, flash stores, flea market stands, and more. So How Does Shopify Work?
If you have been using WordPress to create your eCommerce website, you might wonder what is the difference between WordPress vs Shopify. 
Let's dive in!
Shopify: What Is It?
Before knowing how does Shopify work, you should understand what it is?
Shopify is an online commerce platform that works on a subscription-based SaaS (software-as-a-service) model. There are three standard store subscription plans available that start from USD 25 per month. Each plan lets you create a branded online store and use a full set of in-person and online selling tools.
The "Starter" plan from Shopify is also available for just USD 5 per month. There isn't an online store included; however, it does enable mobile POS sales for conducting in-person sales and is perfect for sharing a link to a product on social media, email, SMS, WhatsApp, and other channels.
Every plan offers an entire set of business management tools. An online store, unlimited products, inventory tracking, sale channels, 24/7 support, gift cards, multiple languages, shipping, payment processing, and more are included in each Shopify plan.
How Does Shopify Work?
Shopify centralizes all of your customer information, operational activities, and product data into a single platform that links to all of your sales channels with ease. After setting up the basics, Shopify assists you in exploring and expanding into new product niches and sales channels.
How does Shopify work? Below are the steps to follow to see how it works, from initial set-up to managing sales.
Register for a Free 3-Day Shopify Trial
Shopify is available for a 3-day trial without any risk. You don't even need to provide your credit card details in advance. All you have to do is enter your email address on the Shopify homepage and go.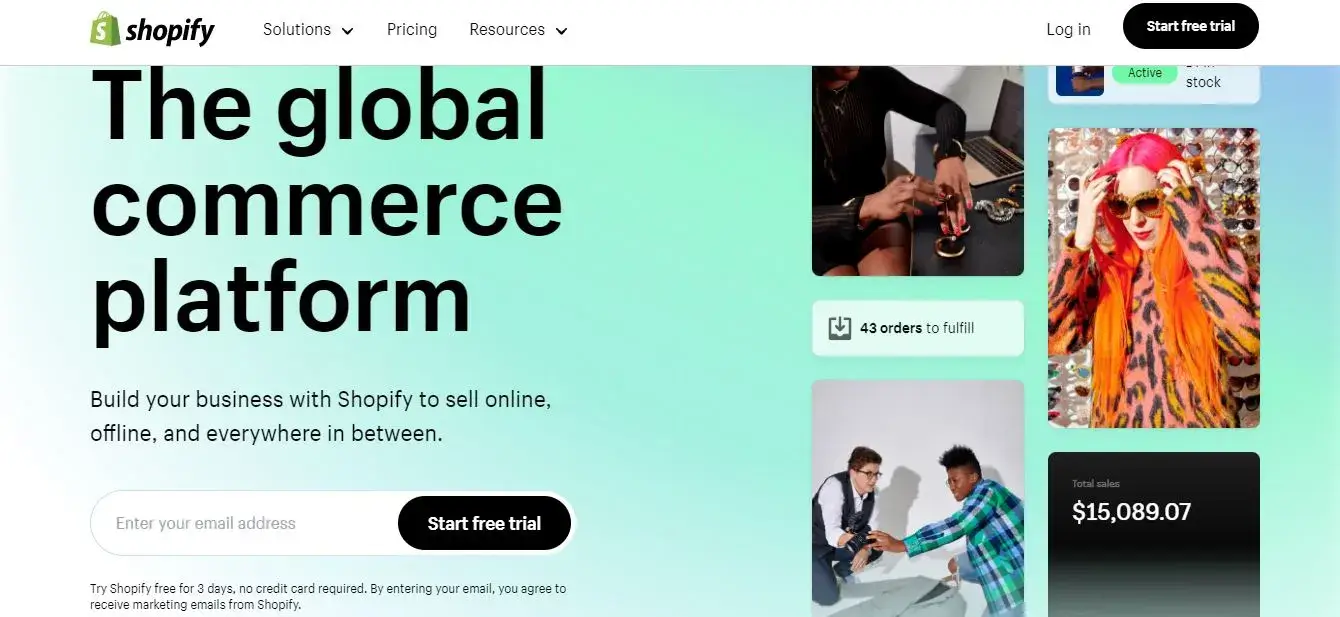 Connect Your Sales Channels
Connecting your initial sales channels is what the account setup wizard does, which you can modify and grow whenever you want.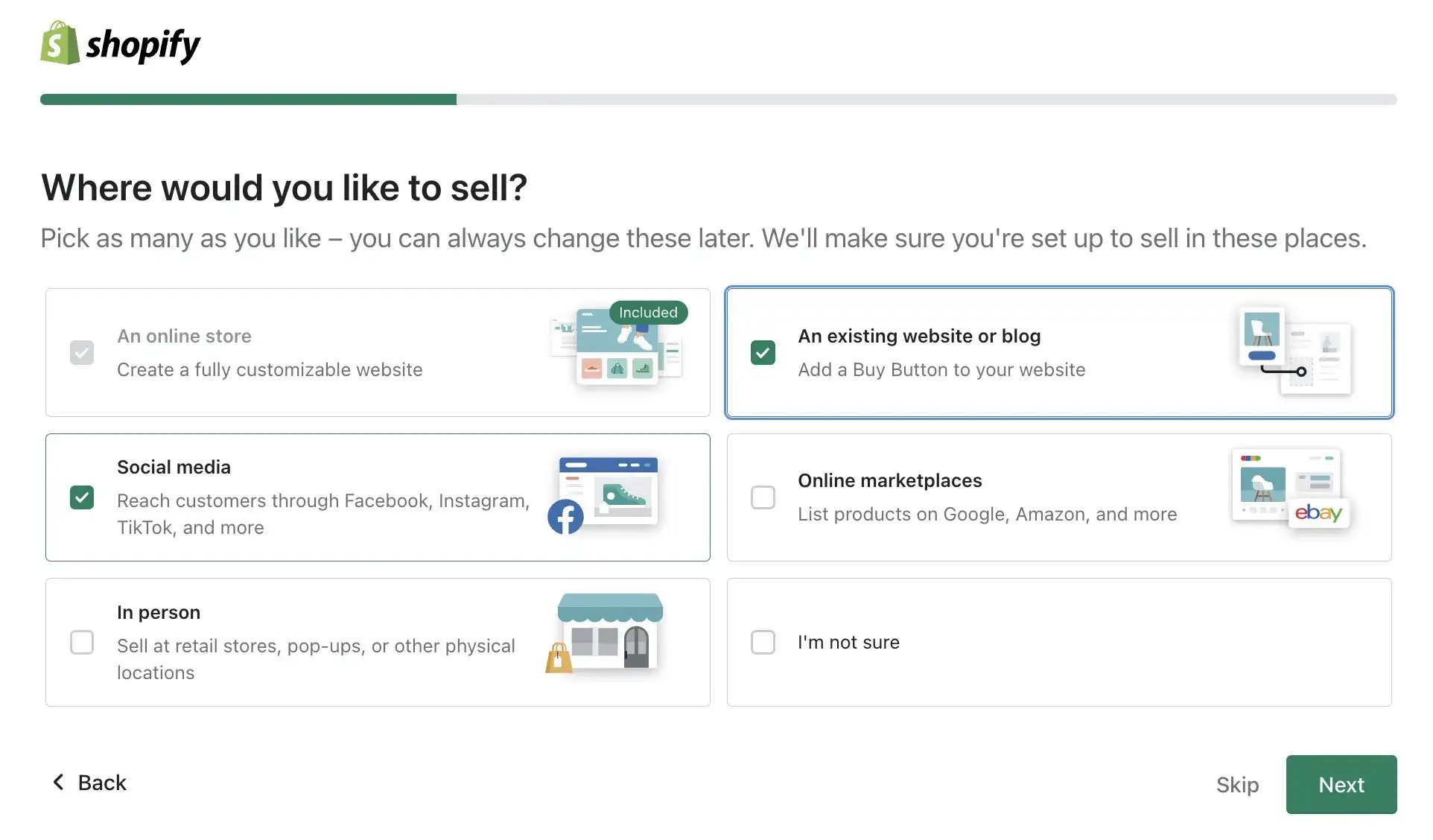 If selling through your social media accounts is your goal, you can also link them in the setup wizard.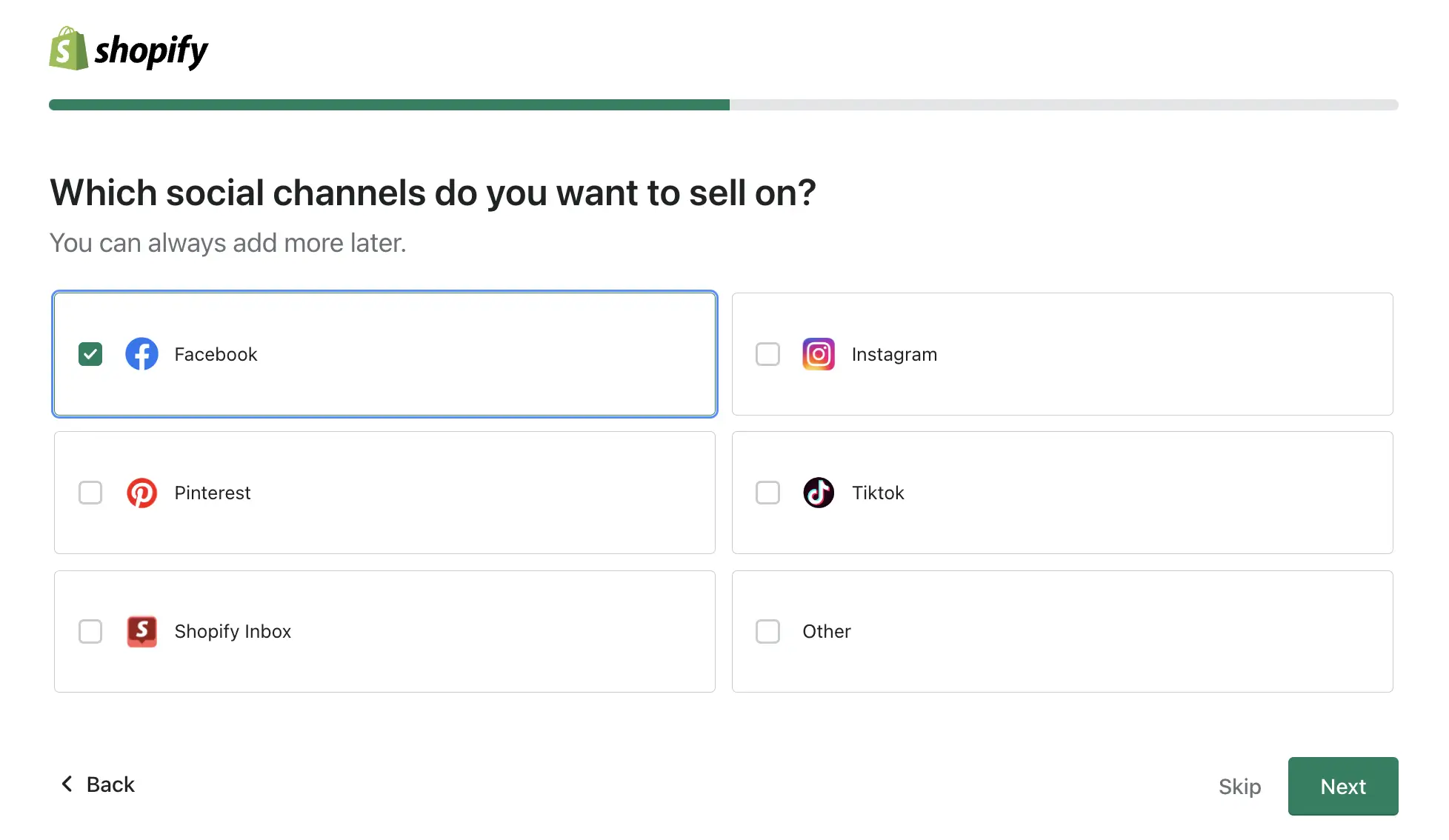 Add Your Product Details or Search for Items to Sell
You can use it's Handshake wholesale network and dropship merchants to locate products to sell by entering the item description, pricing, and photos for goods you produce or acquire yourself.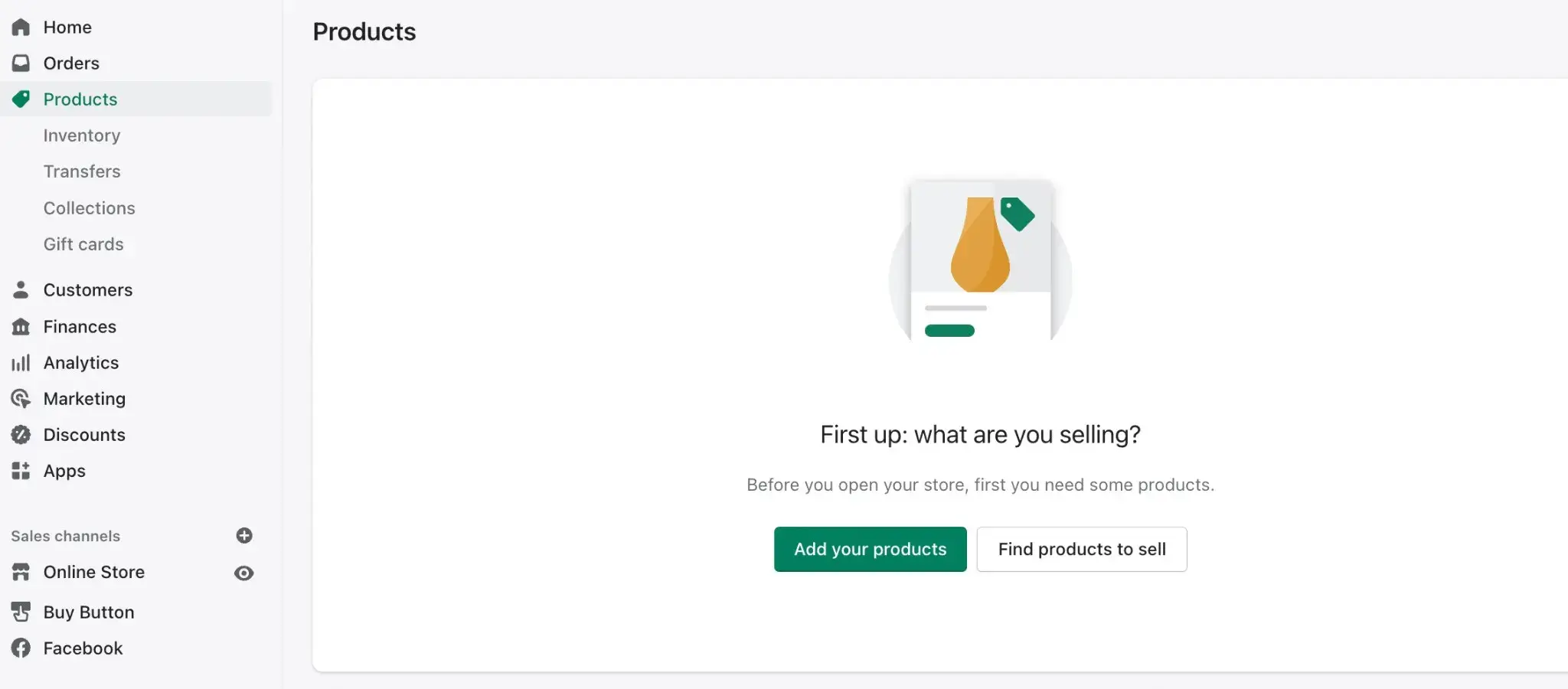 How Does Shopify Work for Sellers? Keep in mind that many sellers blend the products they create or obtain themselves with similar dropship items to provide a diverse collection.
Set Up Your Shopify Payments
Shopify Payments is included in the Shopify ecosystem. It works seamlessly with Shopify and Shopify Plus, the two versions of this e-commerce platform.
How Does Shopify Payments Work? It's really easy. With one click, you can enable Shopify Payments and accept payments right away or link your own payment processor to your dashboard.
A "virtual bridge" between sellers and purchasers is created by Shopify Payments. Every time a consumer buys something in your online shop, Shopify will take their payment and give it straight to the store owners. The checkout procedure will be brisk, easy, and very secure using Shopify Payments.
Shopify Payments has a fraud analysis since it acts as a "middleman." Any questionable activity is automatically detected by this payment processing on Shopify through an examination. It will guard e-merchants from fraudulent orders and transactions.
How do you receive your money from Shopify? Affirm pays you and sends the payouts to your bank account that you made for Shopify Payments. Your payout schedule for Shop Pay Installments does not change.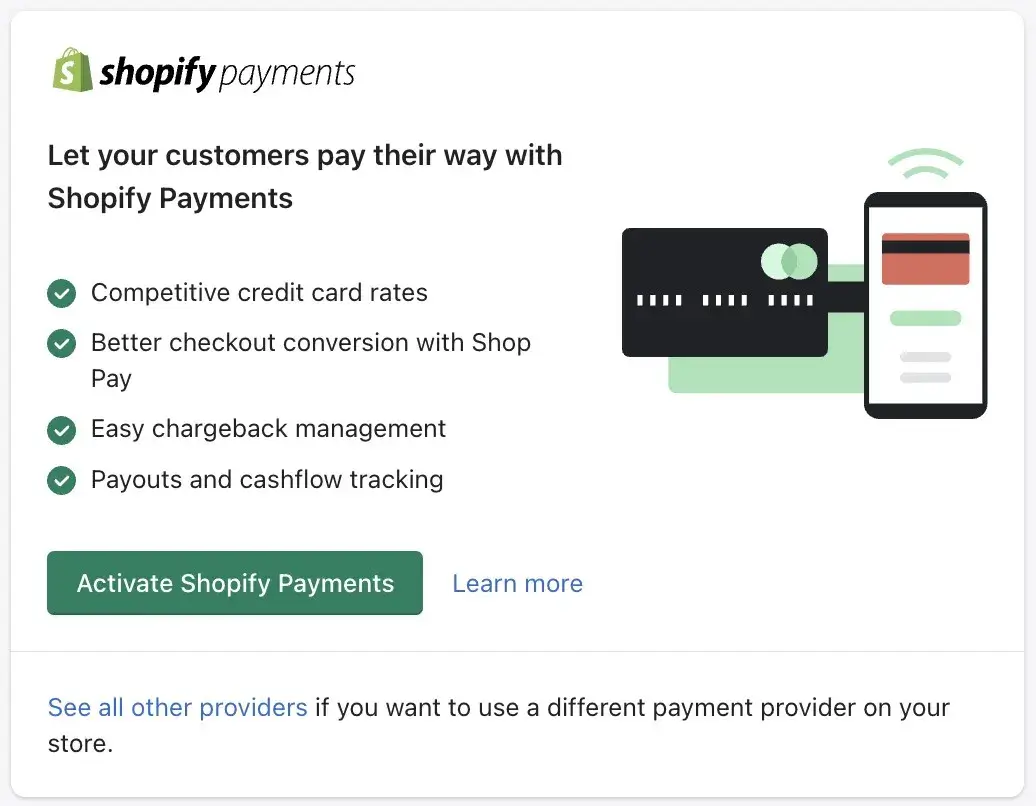 Set Up Shipping and Taxes
Set up your shipping services, costs, and details about the appropriate sales taxes under the Settings tab.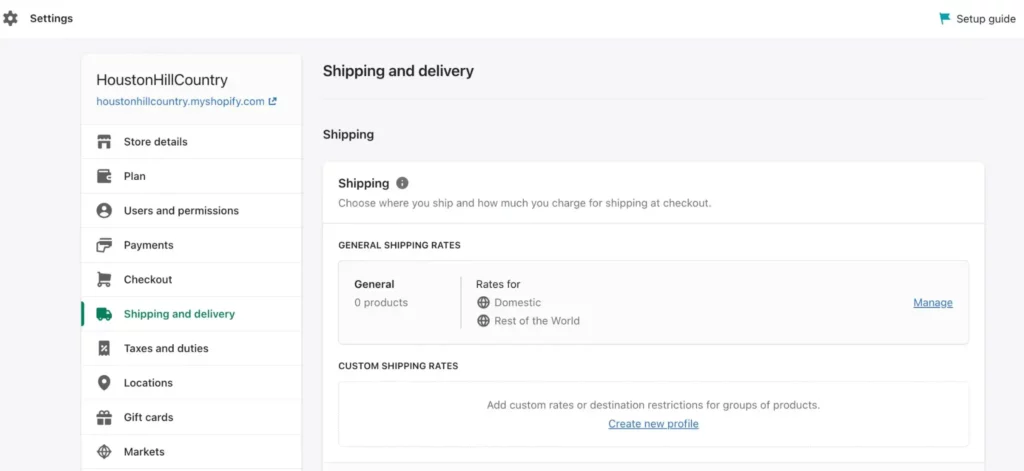 While you create your Shopify online store, you can begin selling your products right away. You're ready to sell after completing those steps, using the Buy Button tool, the POS card reader, and different social media and marketplace platforms.
So how does Shopify shipping work? Many mail classes are available with each carrier thanks to Shopify Shipping's partnerships with top shipping companies, including Evri, USPS, DHL Express, UPS, Chronopost, Canada Post, DPD, and Sendle in Australia. Below is what Shopify shipping does:
Get a shipping label
Buy shipping labels and print
Drop off your package at the collection point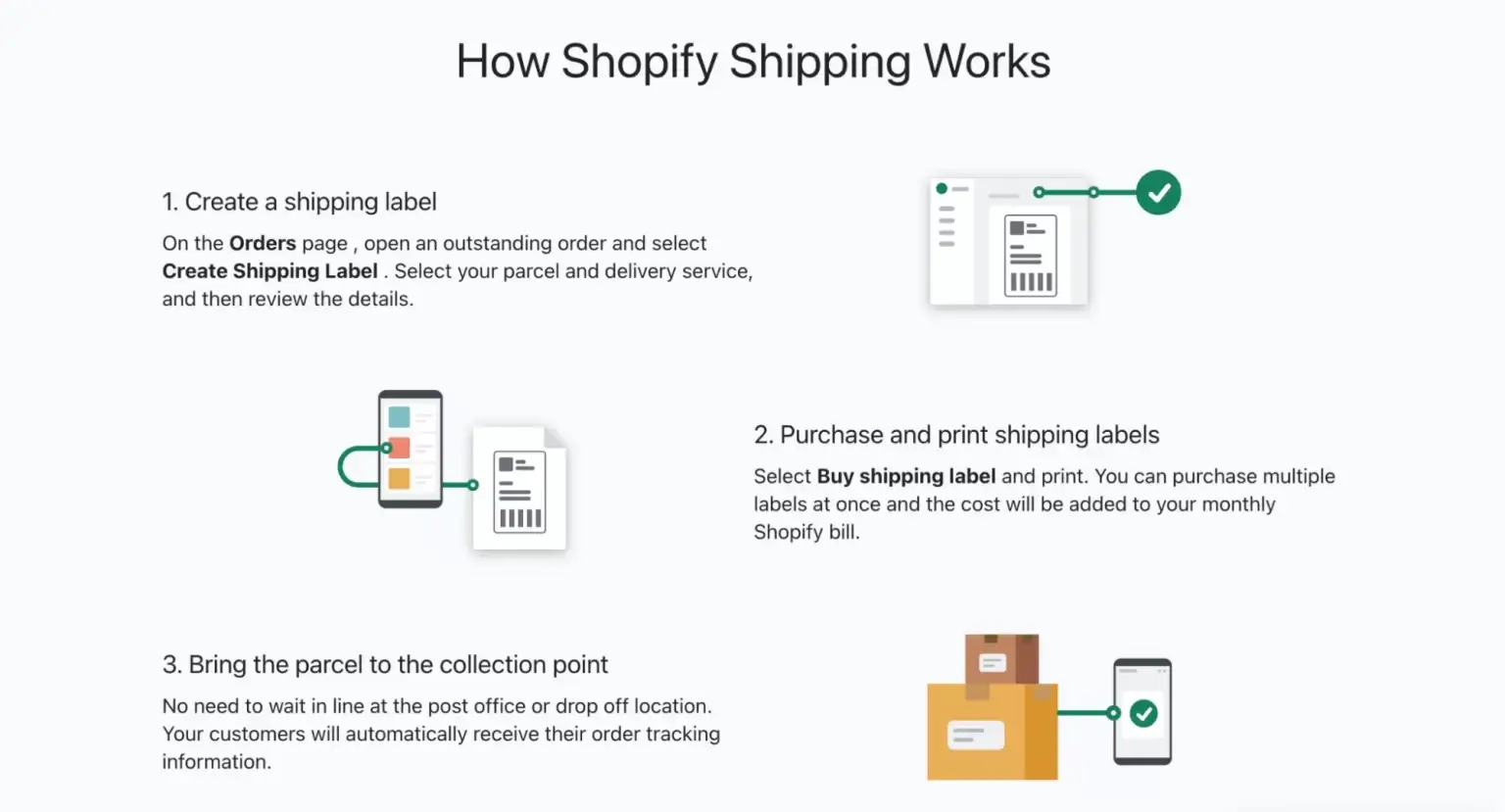 Shopify Shipping offers its customers access to features like overnight delivery, package pick-ups, shipping insurance, tracking information, international shipping, and more, depending on their region, carrier, and postal class.
In addition, to negotiate reasonable shipping costs, Shopify has worked closely with carriers for each service, which is automatically included in every plan at no additional cost to you.
Set Up Your Shopify Online Store
Setting up your Shopify online store is your next step if you like to sell through your own branded website. There are a variety of ready-made themes that only need a little setup and added content to make the Shopify theme your own. 
Before you invest in the real thing, you can try out some free Shopify themes for a sneak peek.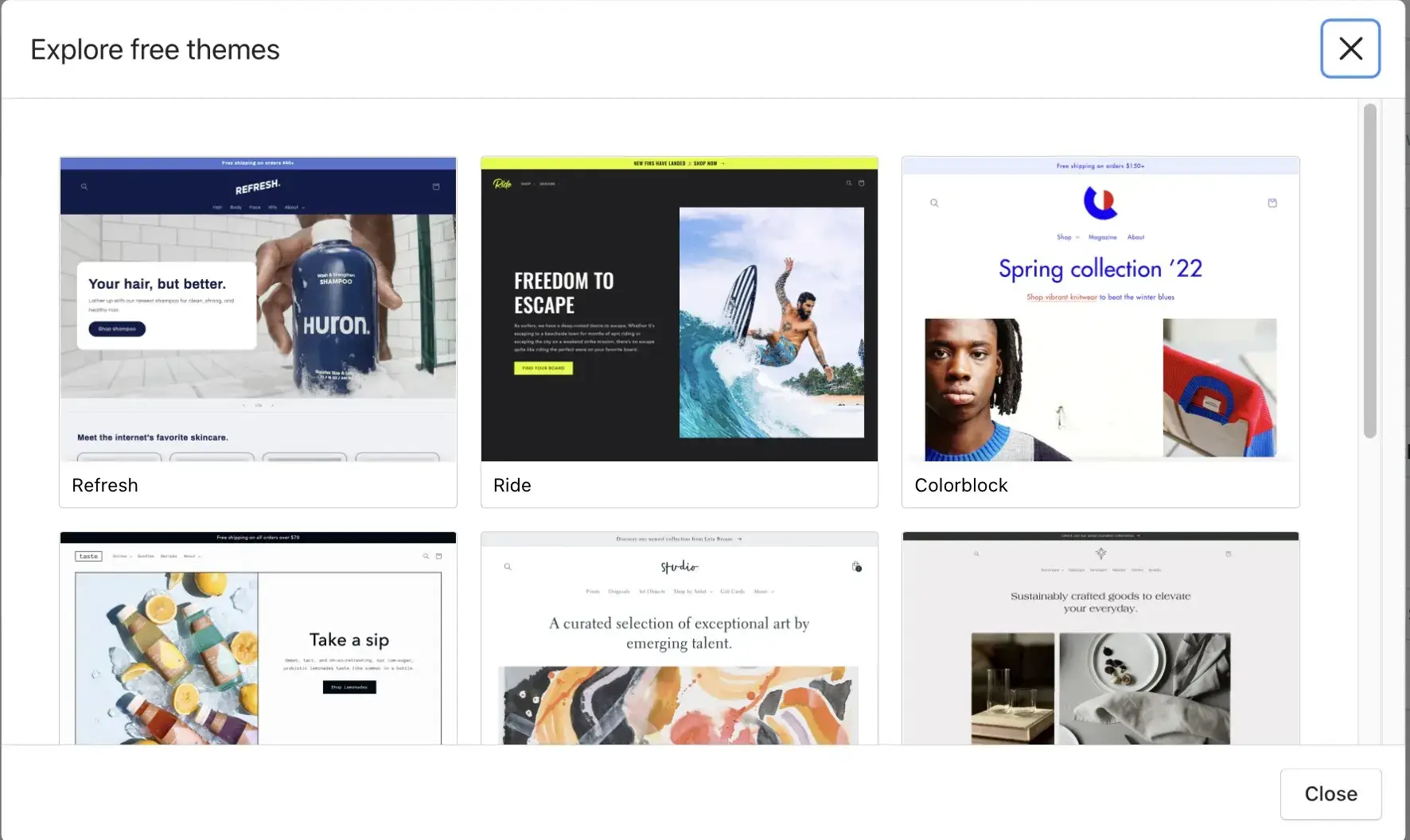 Process, Ship, and Track Orders
You'll control everything from your Shopify dashboard as orders come in. The tools that are already included in Shopify make it simple to set up for controlling orders that you ship yourself, dropshipping items, as well as even virtual goods like books, videos, and music downloads. Shopify also keeps your customers updated with automatic emails about order status and delivery tracking.
After setting up the basics, you can boost your sales with Shopify's features like email marketing, abandoned cart remarketing, and blogging.
Shopify Advantages and Disadvantages
Shopify offers a ton of skill sets for managing your business and sales choices, but is it the right fit for you? You could make a decision using these advantages vs disadvantages of Shopify.
Advantages
How easy is it to use? Even beginners can create a stunning Shopify online store, various sales channels, as well as order processing workflows in a few hours and start selling right away.
Affordable monthly fees: You pay low monthly fees for basic plans and reasonable rates for advanced plans.
Cybersecurity: You don't have to worry about any technical details with Shopify's fully managed platform.
Mobile and retail transactions that work seamlessly in-person: It's possible to sell in person wherever you are, thanks to fully integrated mobile and POS functionality.
Integrated product sourcing: You can fill your store with products without spending much money using Shopify's built-in dropship and wholesale networks.
Built-in email marketing: It'll increase your sales with just a click by using abandoned cart notifications and automated email marketing.
Limitless growth potential: Shopify can handle any level of growth and is trusted by some of the largest online brands.
Disadvantages:
Price: If you have a tight budget, you can choose from free and very cheap Shopify alternatives.
Transaction fees: There will be a transaction fee for every credit or debit card sale unless the Shopify Payments are used.
Limitations of the themes: Shopify themes are simple and you need specialized coding to add advanced features and functionality.
Less SEO options: In comparison to systems like WordPress, Shopify's online stores lack advanced SEO features.
Simple blog tools: Compared to WordPress, Squarespace, and Wix, Shopify's blogging capabilities are extremely limited.
Read More: Shopify Customer Service Number – How to Get Help from Shopify