Shopify Customer Service Number – How to Get Help from Shopify
Have you tried to contact the Shopify Customer Service Number while using Shopify?
Shopify is a well-known brand, and it generated $988.6 million in cash flow revenue during the initial three-month of 2022. This platform is deeply ingrained in contemporary culture for creating online stores and retail point-of-sale systems for your eCommerce sites.
Despite the fact that Shopify has helped a million people build and run their online stores, that doesn't actually prove that the system is simple to use. In fact, Shopify scored an average of just 3.5/5 in our recent study of 8 eCommerce site builders for "Ease of Use," placing it in the bottom half.
No matter which builder you choose, you will undoubtedly require its customer support services. Whether you need help choosing a design template, connecting your store with third-party apps, or optimizing its SEO, you'll want to have reliable customer support at your fingertips.
In this blog, we'll go through all the many ways you can contact Shopify customer care apart from Shopify customer service number. You have a ton of options with social media, live chat, email, phone, forums, and online self-service support all available, so let's get started!
Wait! If you're looking for some free or premium Shopify themes, don't forget to check out our website.
Community Forum
Most of the time, when we think of reaching a business for support, we think of calling or sending an email. But before you make a call, it's sometimes wiser to listen to the advice of people who have previously done it.
So instead of calling the Shopify customer service phone number, you can try Shopify Community. It's a massive internet forum with more than 900,000 users and 1.15 million postings. Here, you'll find discussions about apps, payments, designs, and more, and – for the tech-savvy – its range of API (Application Programming Interface) integrations.
Nothing is hidden in this forum, you can search it all. It can cover almost every question you could imagine about running a Shopify site.

So Shopify's community forum is comparable to a depth of knowledge place: it is accessible to all users, totally free to use, and easy to navigate. This community is supported entirely by the clever minds and inquiring voices of other Shopify users. They have also faced and solved the same problems as you.
Of course, all inquiries won't be appropriate for the Shopify community. Discovering what you require will require some searching. So, it's not the fastest option to get service compared to live chat.
Help Center
The Shopify Help Center is the eCommerce platform's information hub. It's an online self-help tool, similar to the Shopify community. So you have to acquire your own answers instead of Shopify's agents. It's unlike the Shopify customer service number, where if you take a call, you can quickly get your answer.
Luckily, doing that is simple. Just enter your search term into the search bar, and Shopify will create an array of FAQs to assist.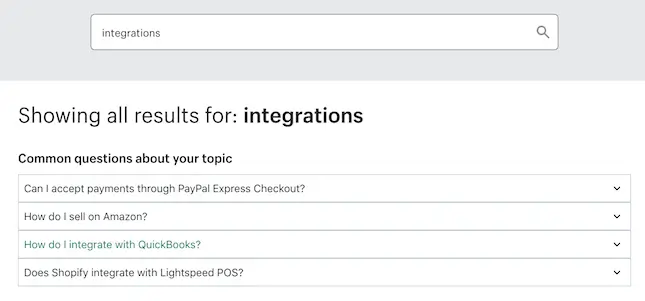 If those don't match your search criteria, it will also present a list of "similar articles" in a format akin to Google's search results.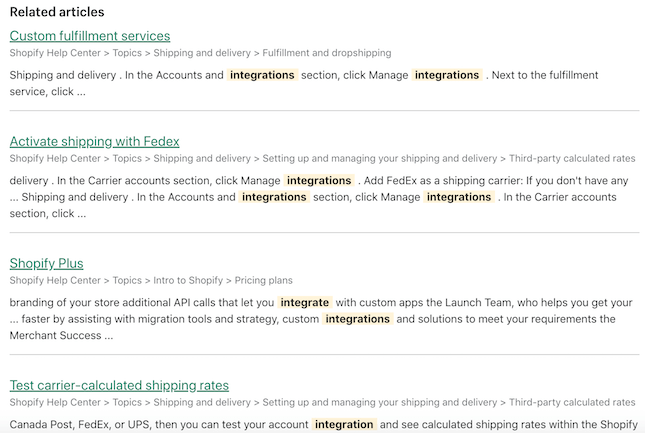 After using the Shopify help center and community forum, you still cannot find your answer. So it's time to go with other methods instead of self-service support.
Live Chat Support
Shopify's live chat support is accessible 24/7. In our thoughts, it might be the easiest, fastest, and most direct way of receiving the best answer.
Simply go to Shopify's live chat, which is accessed from the Help Center, and fill out an online form to get started if you want to talk with a customer support representative in real time.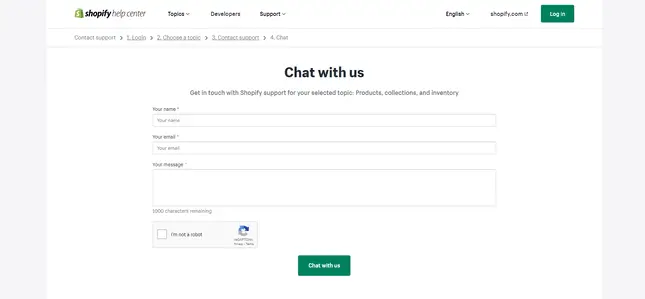 After completing it, a live chat box will appear where you can start a live conversation with a Shopify agent. They were very knowledgeable and incredibly kind.
Live chat is quick and simple to use, and it also has the added benefit of bringing a little human touch into your day to make it more enjoyable.
Email
The email channel, of course, is not the quickest way to receive support. There is, however, a certain allure to the traditional approach for individuals who cherish tradition. However, not every business today offers email addresses. so that you must deal with a forum or a live chat.
You can reach Shopify support either by emailing supp[email protected] or using the webform below from its Help Center.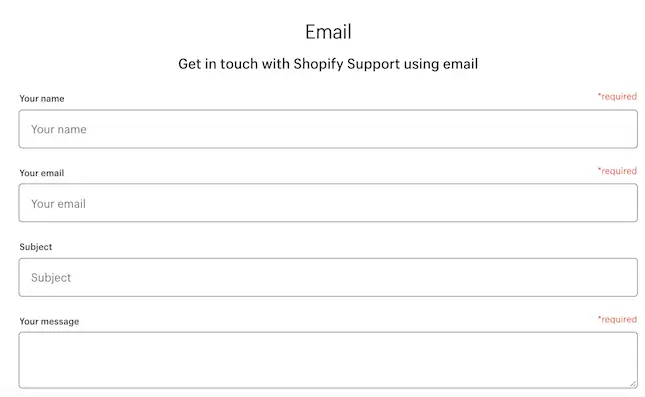 All you need to do is fill out this form and provide your name, your email address, your subject, and your message. Then Shopify's support team will reply to you. You can also attach screenshots by dragging and dropping them into the image field to explain the problem.
Phone Support
If you need urgent support or assistance with issues that are too complex to be solved by an email conversation or a knowledge base, you can contact the Shopify customer service number. They are accessible. Day and night, seven days a week
You can call Shopify for free in the US at 1-888-746-7439 or use one of these worldwide customer helplines if you live outside the US:
United Kingdom: 0800-808-5233
Australia: 03-8400-4750
New Zealand: 07-788-6026
India: 000-800-100-5786
Malaysia: 1800-80-6678
Singapore: 800-181-1121
Indonesia: 007-803-651-0008
Speaking with an agent over the phone can be nice because they're human beings. However, we wouldn't suggest phone-based support over live chat or self-service options. You might encounter a longer hold, and you might also find it harder to solve issues without links or words on the screen to help you.
Social Media
Shopify has built a solid presence on all of the major social networks. Shopify is pretty popular, with nearly four million Facebook thumbs-ups, 3,000+ Instagram posts, and over 325,000 Twitter followers. But how advantageous are these platforms in terms of receiving customer support?
So let's try Shopify's Facebook page!

Simply hit the "Message" button to start a conversation. This approach is still slower and less effective than using Shopify's web chat tool directly. But it allows you to chat with a Shopify support agent without leaving the social media site.
Meanwhile, it's a bit slower to contact Shopify support via Twitter compared with Facebook. It's because you cannot chat in live time but you can Tweet @Shopify with your question. Of course, this action exposes your customer service inquiry to the public, which means Shopify must care about its reputation to reply if it hasn't already, so Twitter is another option if you haven't gotten a response.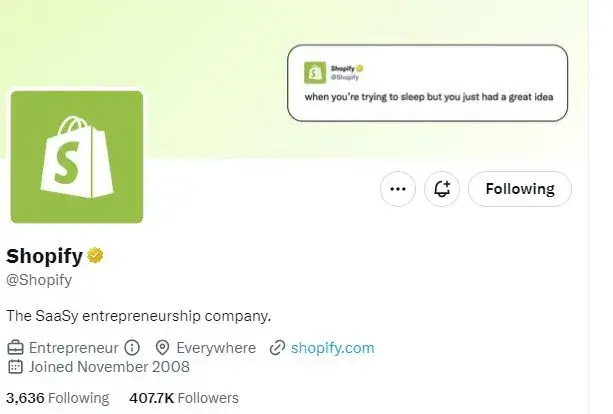 Instagram is the least useful for customer support if compared with Facebook and Twitter. We can't send a message to Shopify directly via Instagram. However, you can tag Shopify in posts (or stories) and describe your issue or support request in the image's caption.

Tips for Contacting Support
Now that you know the different methods to contact Shopify customer support apart from the Shopify customer service number. But before you start, here is our Shopify tips for getting in touch with the support staff of the e-commerce platform:
Keep YouTube in Mind!
Don't forget about YouTube when it comes to customer support. Shopify's YouTube channel has tons of videos that show you how to do everything from starting a free trial to picking a payment provider. With over 333,000 subscribers, it's a valuable resource you shouldn't miss!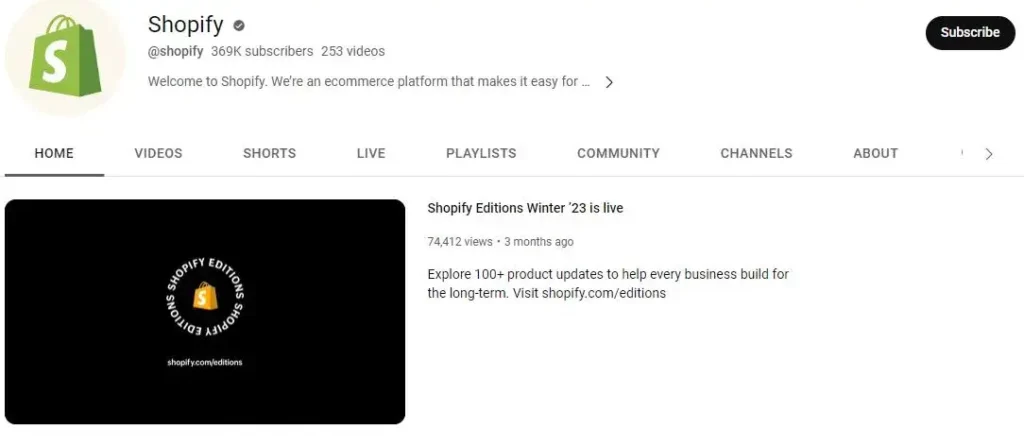 Join a Shopify Community Event
If you want to get the most out of customer support, live chat, and community forums are helpful… But nothing beats meeting other Shopify users face-to-face at an event. As a result, why not visit the Shopify Community Events page and see what's going on nearby?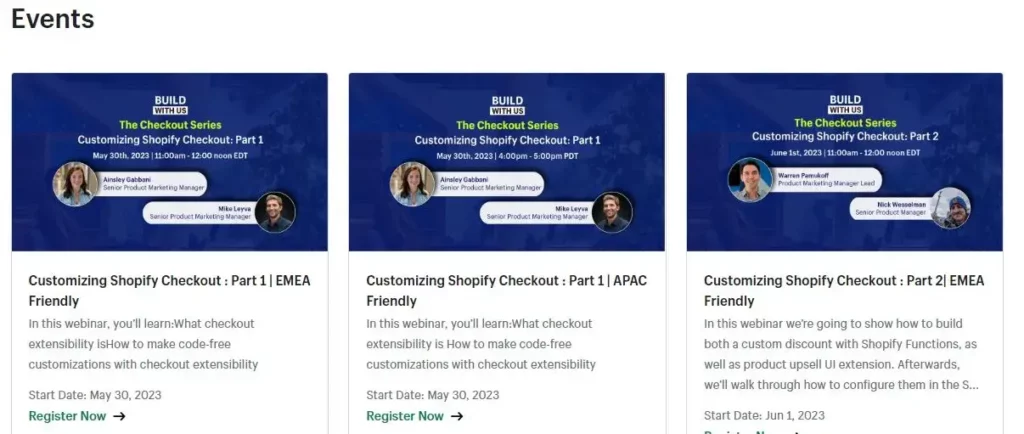 Join Shopify Webinar
A webinar might be more appealing if you have loved the events' almost entirely virtual aspect over the past 18 months. Daily free registration is available for a few relevant webinars offered by Shopify.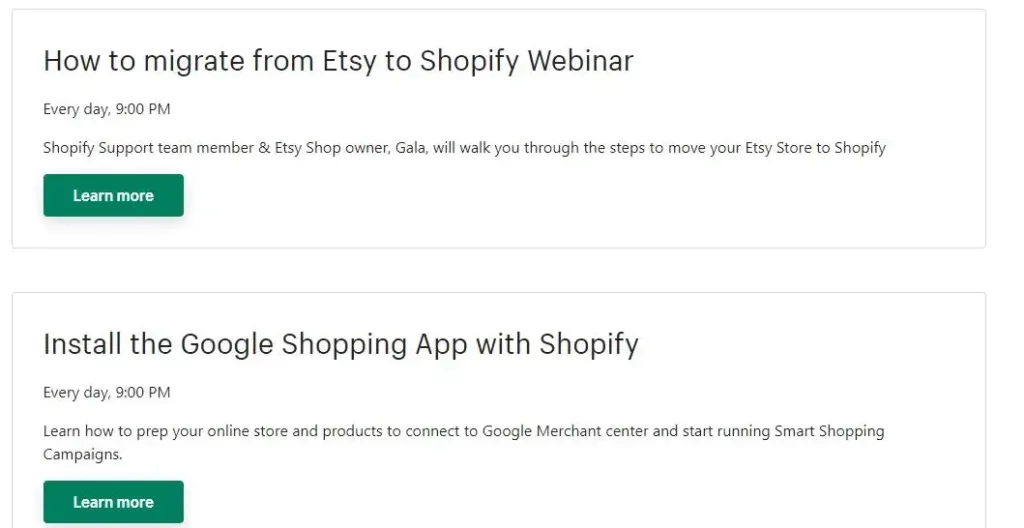 Read More: WooCommerce vs Shopify: Which One is the Best eCommerce Platform in 2023