Magento B2B extension: Top 10 best ones to boost your ROI and increase conversion rate
In this post, we will provide a long list of top 10 Magento B2B extension with detailed descriptions that can help you find out the most suitable one for your B2B business. Notably, each Magento B2B extension in our list will serve a specific purpose for your Magento store.
1. Mass Product Actions by Amasty

Mass Product Actions by Amasty is a powerful extension which support you to enhance the efficiency when managing the catalog. Instead of waiting a lot of time when update the product catalog, you can finish by choosing products and the method to spread the modification to all the products.
Besides, you can also adjust the prices, take the control the attribute sets and categories, spread images, custom options, and related items. In addition, bulk modifications can be used to multiple products. And you can tweak the actions menu to showcase only required actions.
2. B2B Extension Suite for Magento 2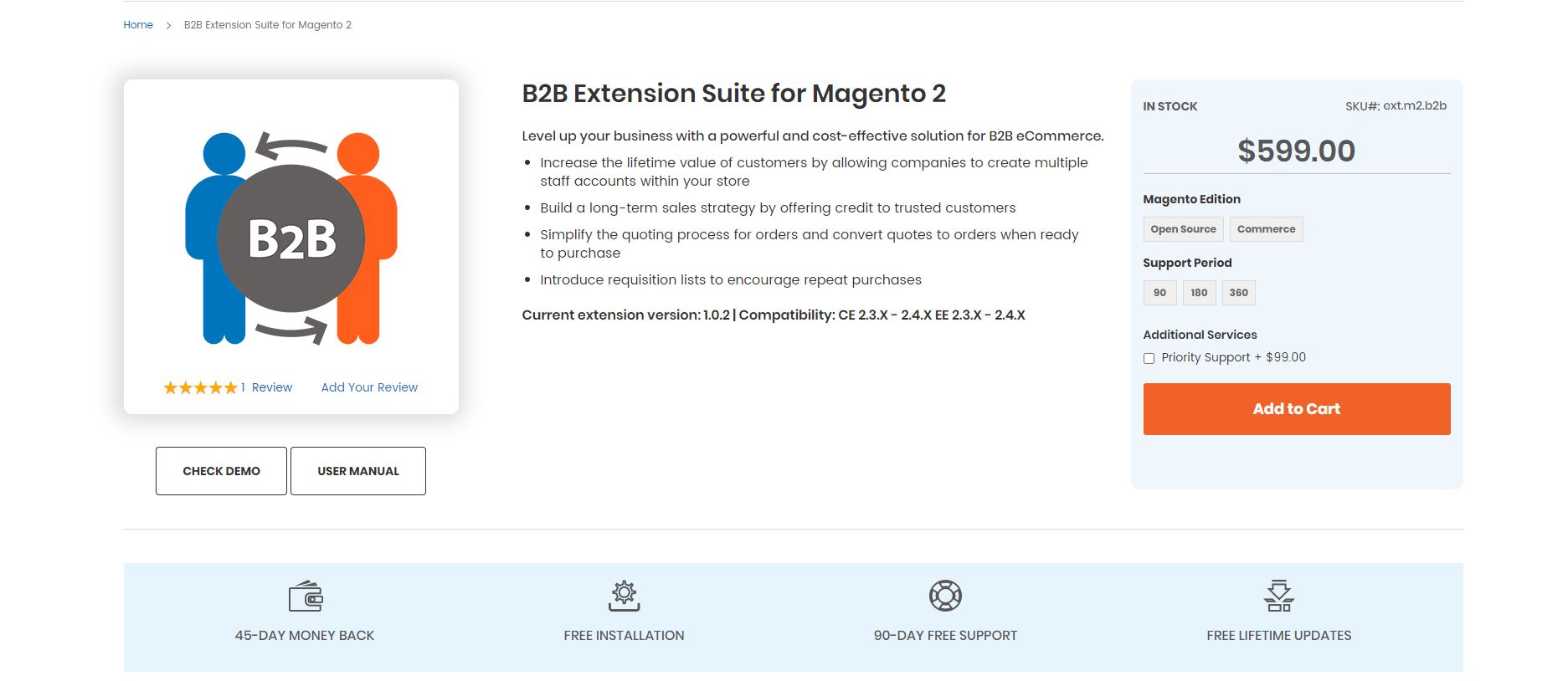 This is a all-in-one B2B solution which allows B2B retailers to support the customer's requirements in the most effective way. With this, your customers can see inventory, negotiated pricing, and goods allowing them to transact. This decrease the need for cumbersome phone orders. At the same time, your customers can review quotes and negotiate inline with a sales staff and when ready turn the quote to order.
3. Magento 2 extension by bsscommerce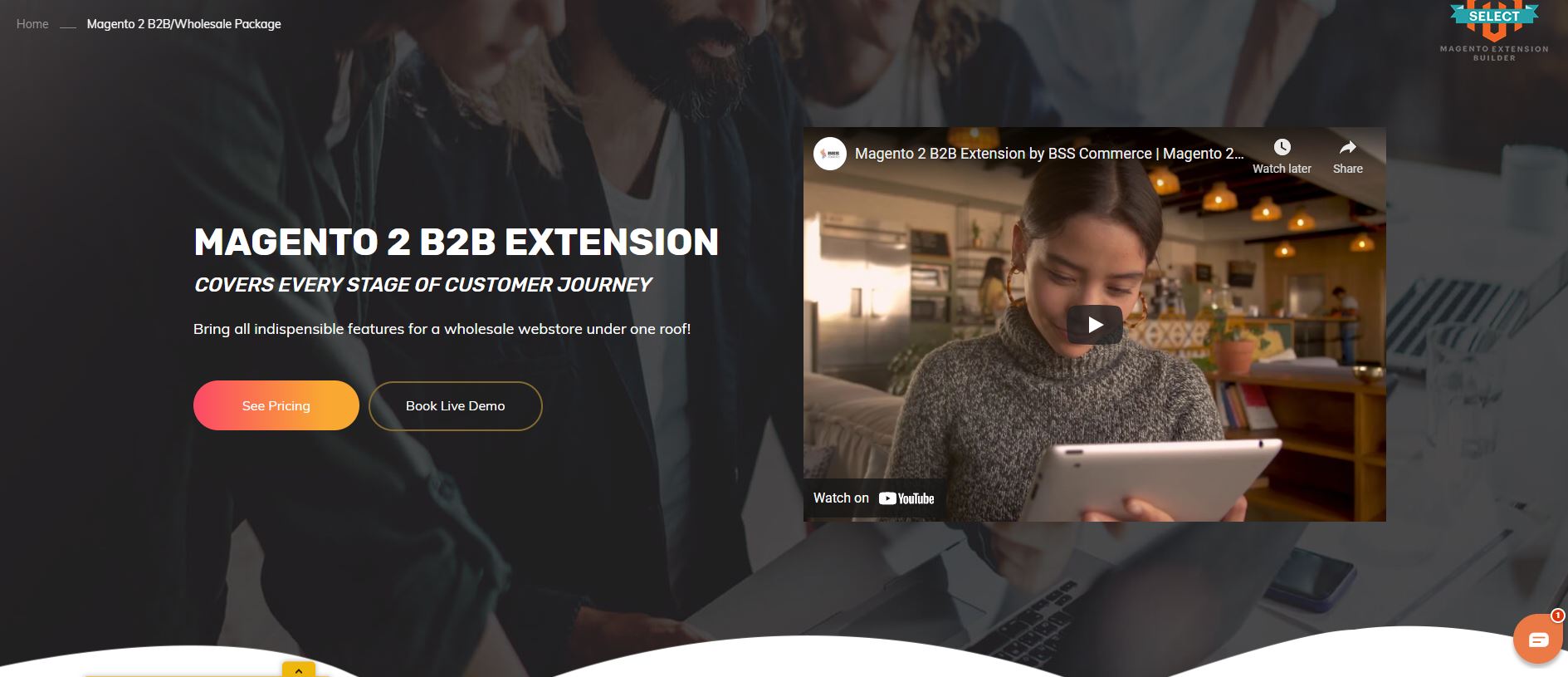 Magento 2 Wholesale Fast Order by BSS Commerce is an unique extension for B2B online business. To be more specific, it enables your clients to buy a large number of goods at the same time which can save their shopping time dramatically.
On top of that, clients are no longer have to visit product pages one after another to add those items to their cart. Instead, they could purchase all the items in an order form. As a result, it makes the ordering process becomes simple and conveniently which could inspire your shoppers to make more purchases.
4. Magento 2 B2B Marketplace by webkul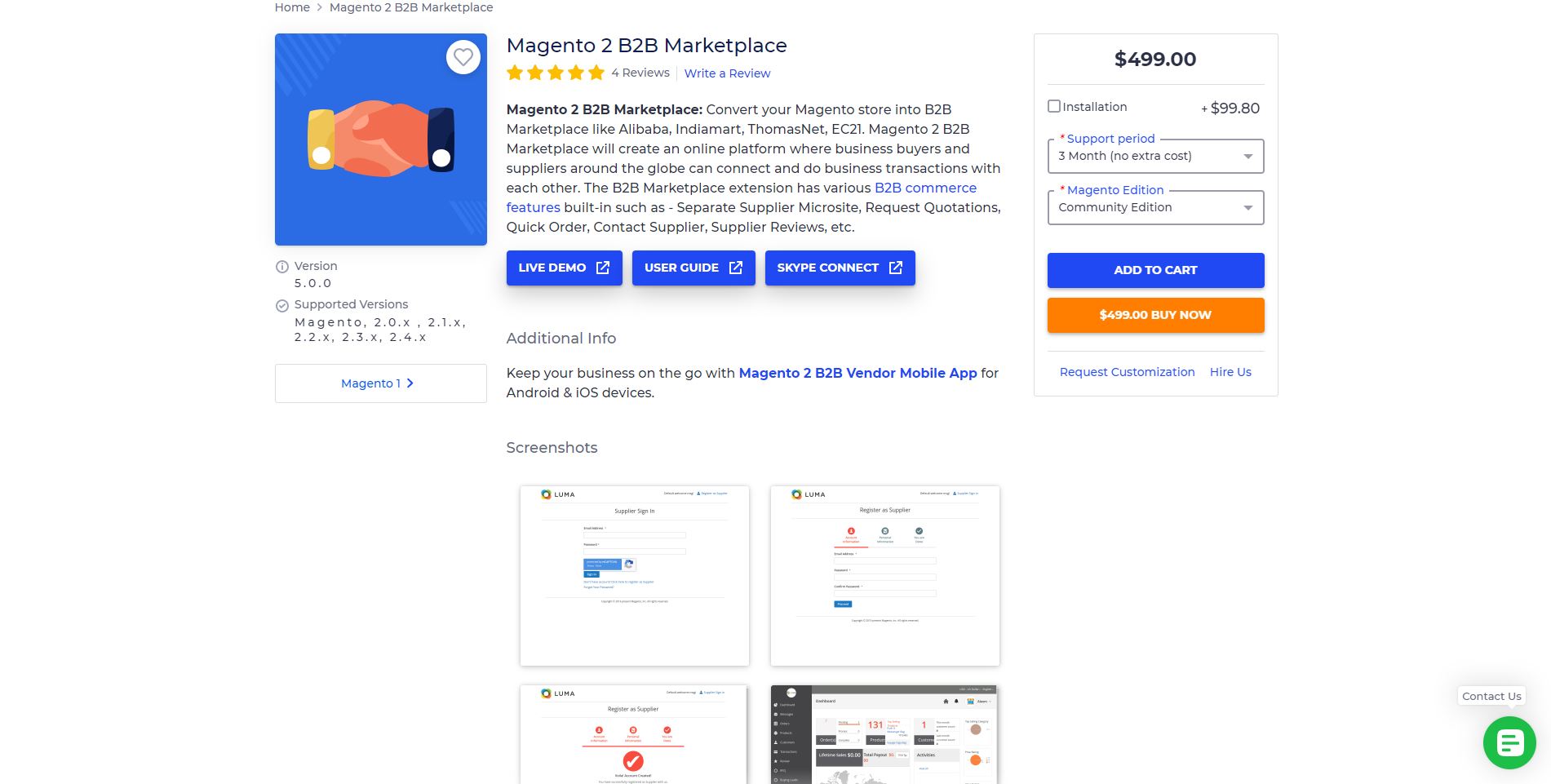 Magento 2 B2B Marketplace by webkul is an outstanding extension which will support you to convert your website into B2B Marketplaces such as Alibaba. With this app, you can easily generate an online platform where business clients and suppliers around the world can connect and make business transactions with each other.
Besides, B2B Marketplace extension has exclusive features for B2B commerce such as Separate Supplier Microsite, Request Quotations, Quick Order, Contact Supplier, Supplier Reviews, etc.
5. Magento 2 Ask for Price by Mageplaza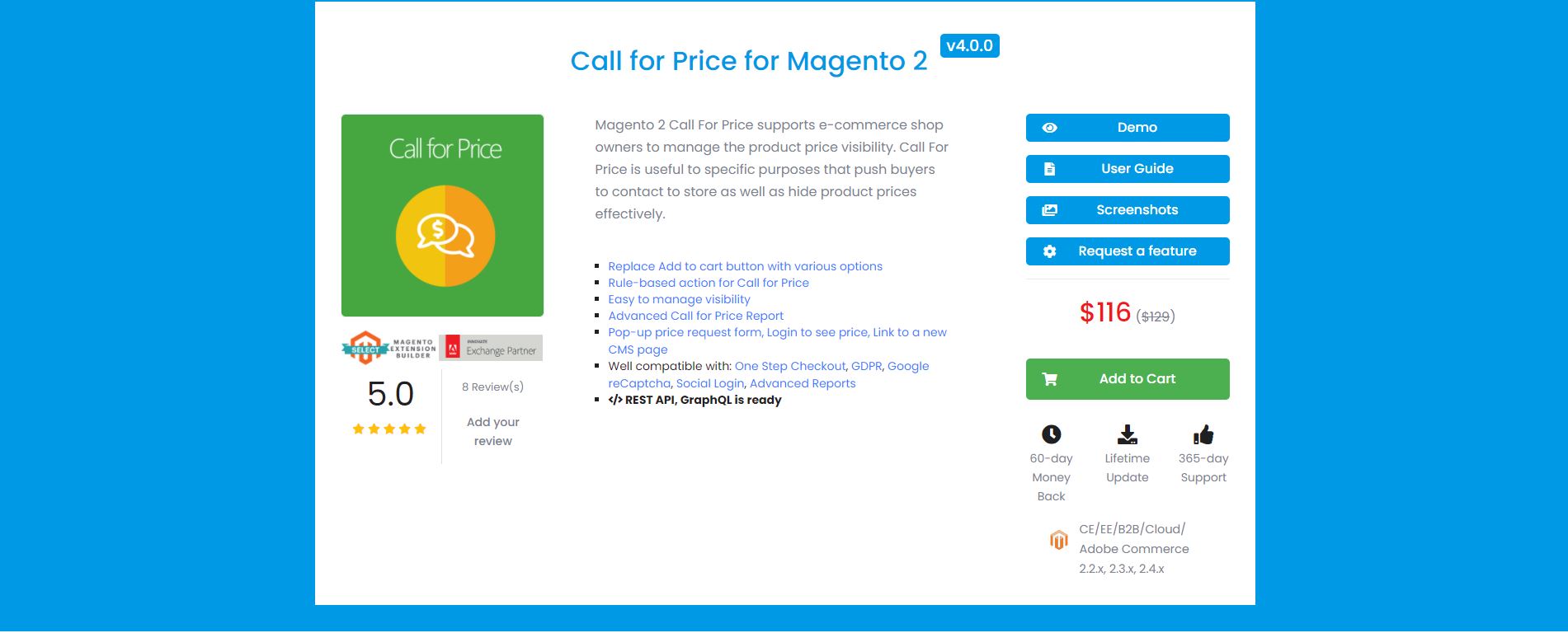 Magento 2 Ask for Price by Mageplaza supports admin to assign a specific Call for Price action to specific items or categories. The action will be used based on flexible conditions such as Product Category, Product Attribute, or Attribute Set. Alternatively, the shop owner can easily view or take control the rule information in the management grid. Moreover, this Magento 2 extension also comes with some main attributes such as status, action, store view, customer group.
6. Ajax Cart by Magesolution

Ajax Cart by Magesolution is an excellent extension for e-commerce B2B stores. This module offers several powerful features which could supports your wholesales customers check out quickly and conveniently. In details, your customers can add numerous items to their cart with only a few clicks. Consequently, it enhance the efficiency and accuracy in the bulk order placement process, which would decrease the cart abandonment and boost your sales dramatically
7. Wholesale (B2B) extension by Magearray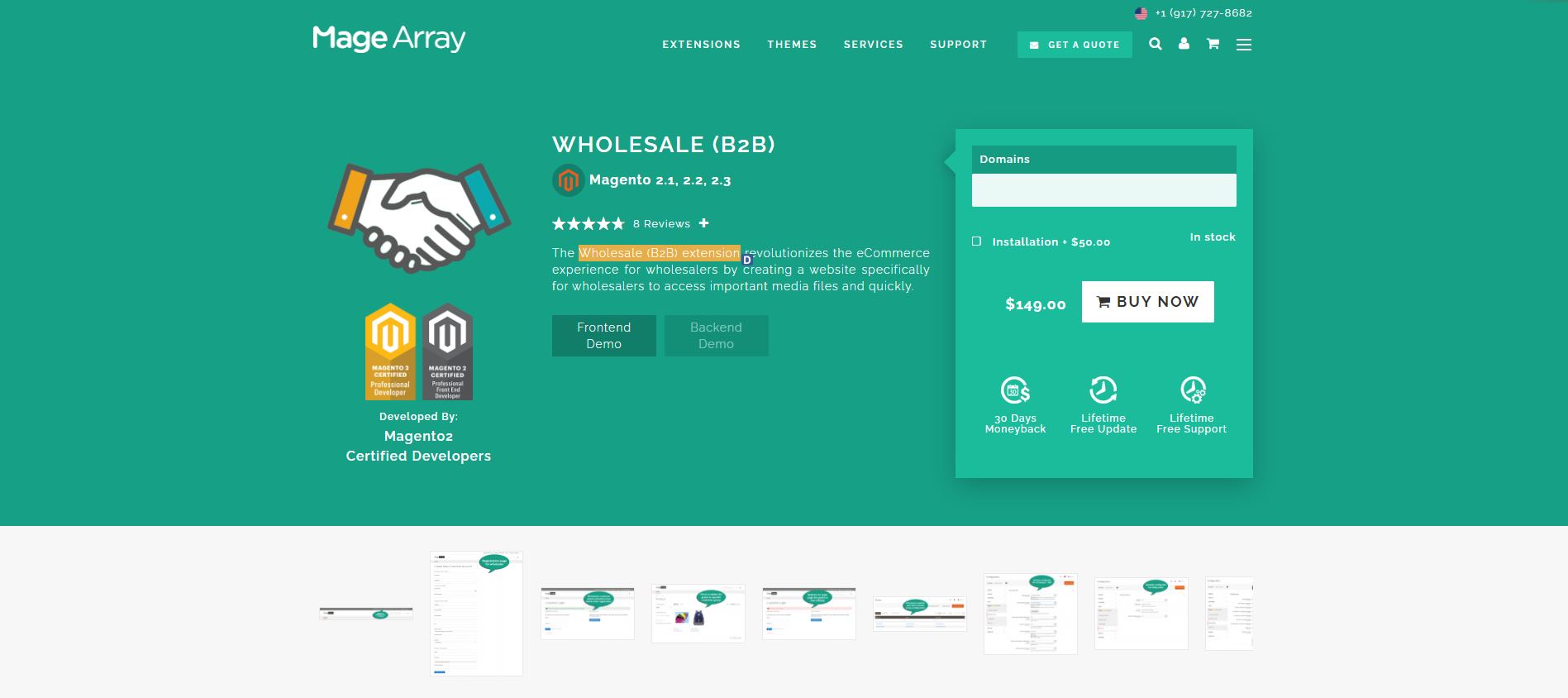 Wholesale extension is an ideal method that is developed by Magearray. By integrating this module, you can easily generate a special site that enables wholesalers to access the vital media files. Alternatively, it offers interesting experiences for your clients when ordering the wholesales. It's time to install this extension into your Magento e-commerce store.
8. B2B eCommerce Suite

The B2B Suite Extension is famous as a all in one solution for Magento 2 that essentially revamps the default B2B experience available with Magento 2. With the help of this extension, you can adjust your Magento store suitably for wholesalers. Besides, this Magento 2 module equips you useful features to
Access important media files;
Quickly purchase products;
Quickly search products;
Reorder products from a specific period;
View all products.
9. Magento 2 B2B extension Package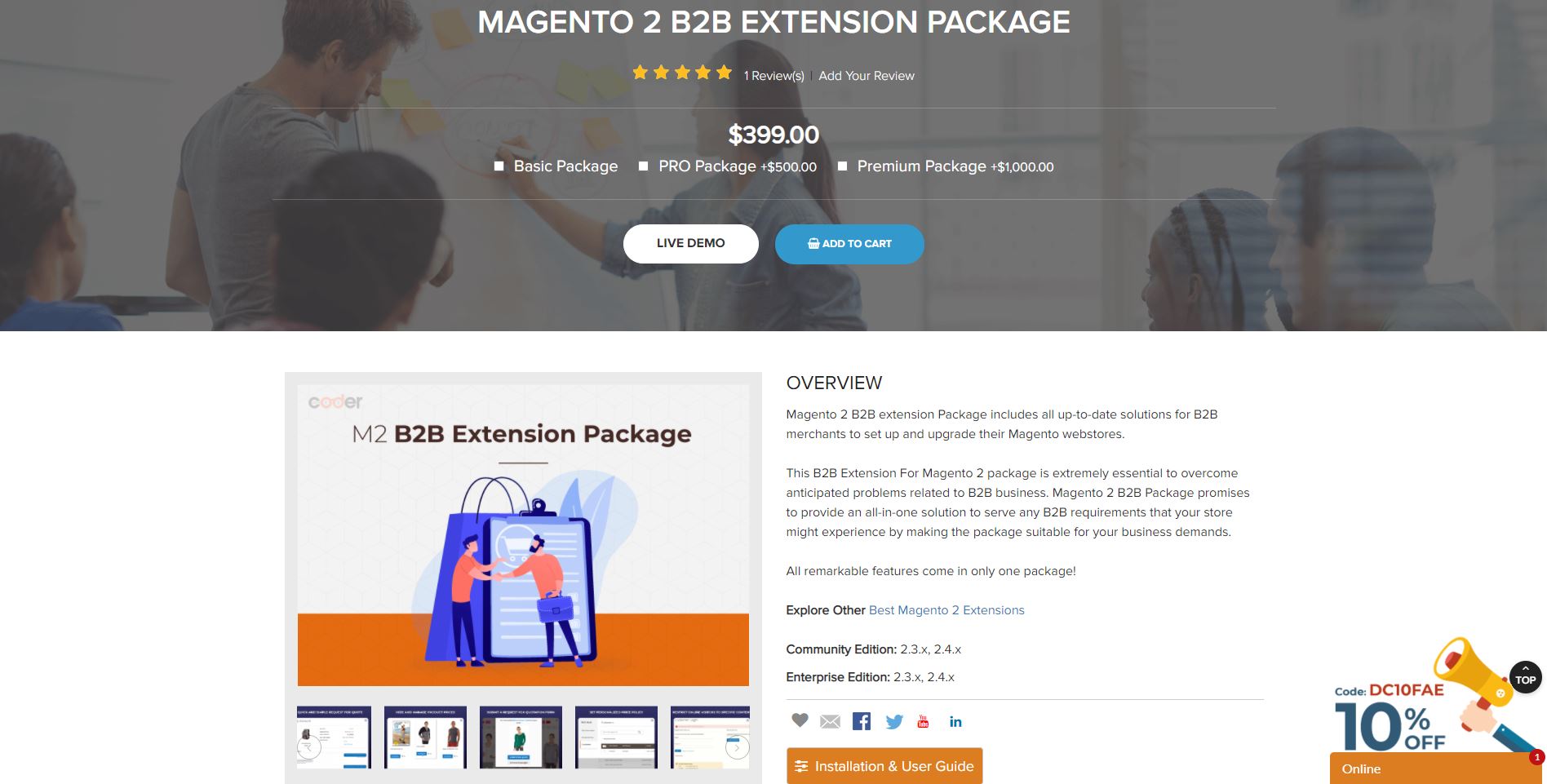 Magento 2 B2B Package will be a great solution for any ecommerce store to overcome any foreseen issues as well as greatly multiple sales and improve conversion rates. To be more specific, this extension enables B2B website to custom on the available package to suit their stores' demand.
10. B2B Extensions by Boostmyshop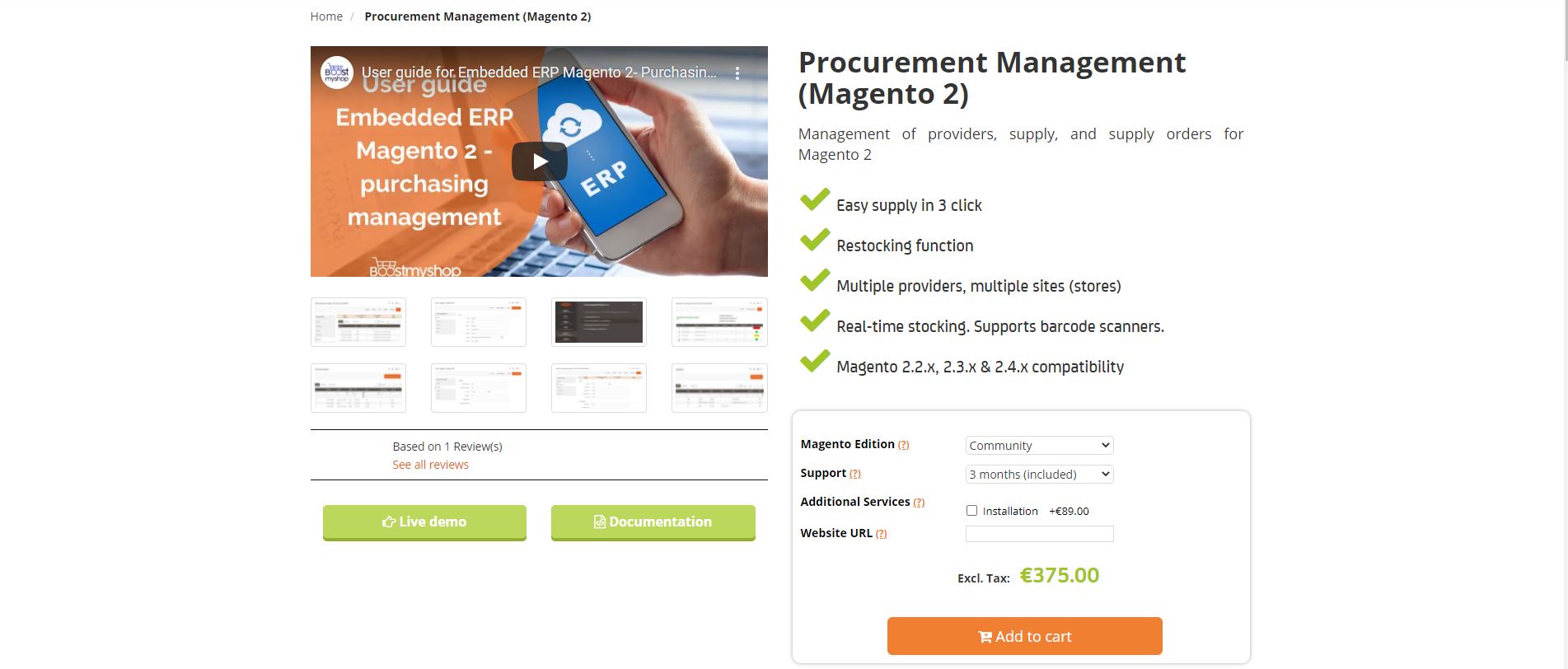 Procurement Management by BoostmyShop is a great extension which supports you to integrate your product list with Magento 2. To be more specific, this extension allows you to match a catalog of products with a provider or match one product with various providers. Furthermore, it can enable you compare the prices and availability of several different providers immediately.
More than that, this module provide you a signal whenever your stock has reached a significant minimum or even when a client has made the order for an out-of-stock item. With this function, you can reduce a significant profit loss.
Arrowtheme hope that you could find the most appropriate and suitable Magento b2b extension to take your Magento store to next level. Check out our store to discover more great and helpful Magento 2 extensions and Magento 2 themes for your eCommerce store