Magento Blog Extension: Top 10 best ones to generate more traffic and improve SEO for your Magento 2 store
Magento Blog Extension is a must-have module for any online store owner who desire to manage blogs right. In this blog, Arrowtheme will suggest you the best Magento 2 Blog Extensions, including free and paid extensions.
1. Blog Pro by Amasty – $349

Blog Pro will help you to smoothly generate a blog or a forum-like space for your clients without intergrading any 3rd-party framework. Besides, you can inform your readers about new products or updated information our business. More than that, your shoppers can track the posts they liked or commented in their accounts.
2. Blog for Magento 2 by Aheadworks – $329

The Blog by Aheadworks will helps you to create visually appealing posts and increase recognition with authorship tools. Moreover, with a ready-to-use PWA solution, this Magento extension will provide you with a responsive design on any mobile device.
3. Blog for Magento 2 by Magesolution – Free

Coming to the next Free exceptional Magento Blog extension you can't miss is "Blog for Magento 2.0" from Magesolution. This is one of best free blog extensions based on the following statistics and the number of satisfied customers. In details, it enables you to set up SEO functions and publishing material in pictures, videos, texts. Besides, this extension provides an option to generate tag clouds, preview posts, and pin them at the top of any given webpage. Lastly, you can easily create visually appealing content by adding description and graphics to category pages. With many powerful features comparing to the free version, this module will never disappoint you.
4. Magento 2 Blog Extension by FME – $89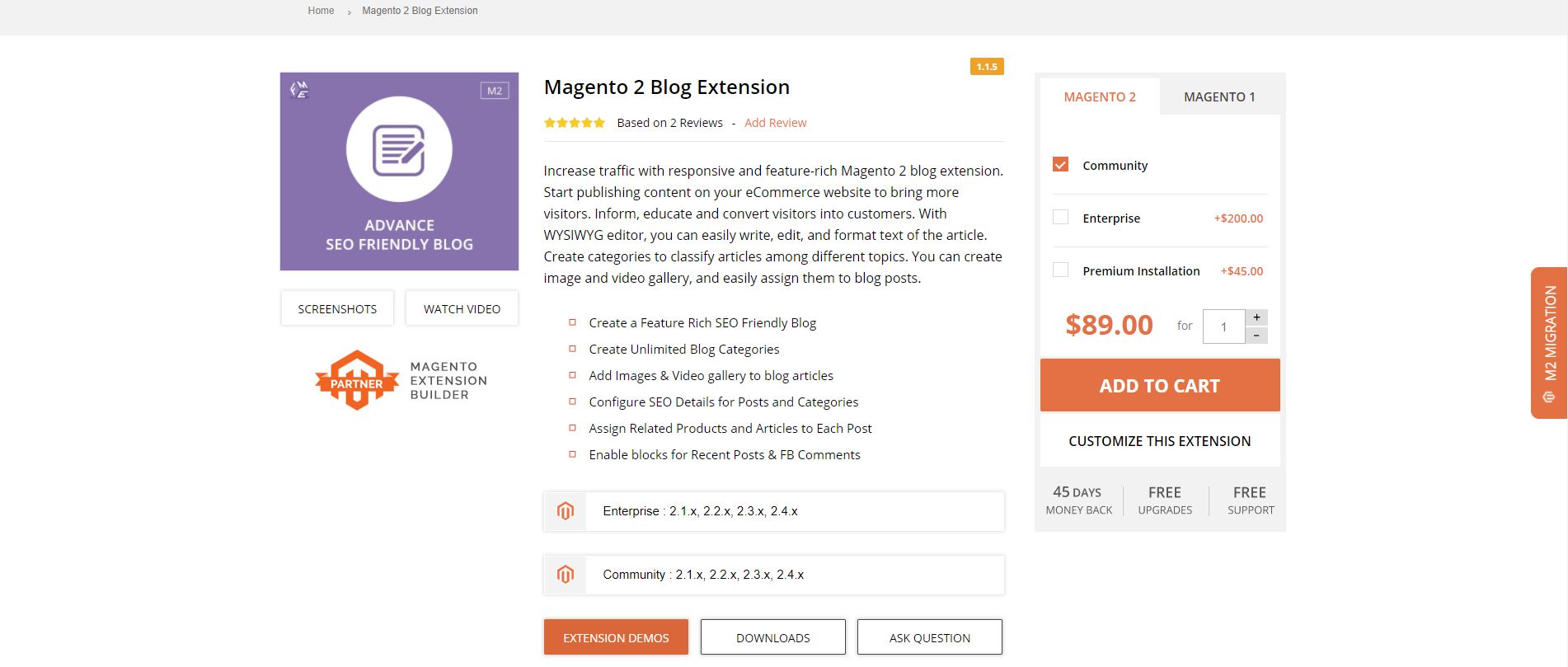 With this tool, you can easily improve organic traffic with this responsive design and powerful function. To be more specific, with WYSIWYG editor, you are ability to write, edit, and form the text of the blog post. Besides, this tool also enables you to generate categories to classify post among different topics. You could add image and video gallery, and easily assign them to the post.
5. Magento 2 Blog by Magefan – Free

Magento 2 blog is a Free extension that enables you to take the control your entire website together with a blog from one place without depending on some second platform. Moreover, you don't need to install WordPress or any platforms to own a blog on the Magento website. Furthermore, it supports all the crucial functions that help attract new users and engage existing customers.
6. Blog Pro by Landofcoder – $129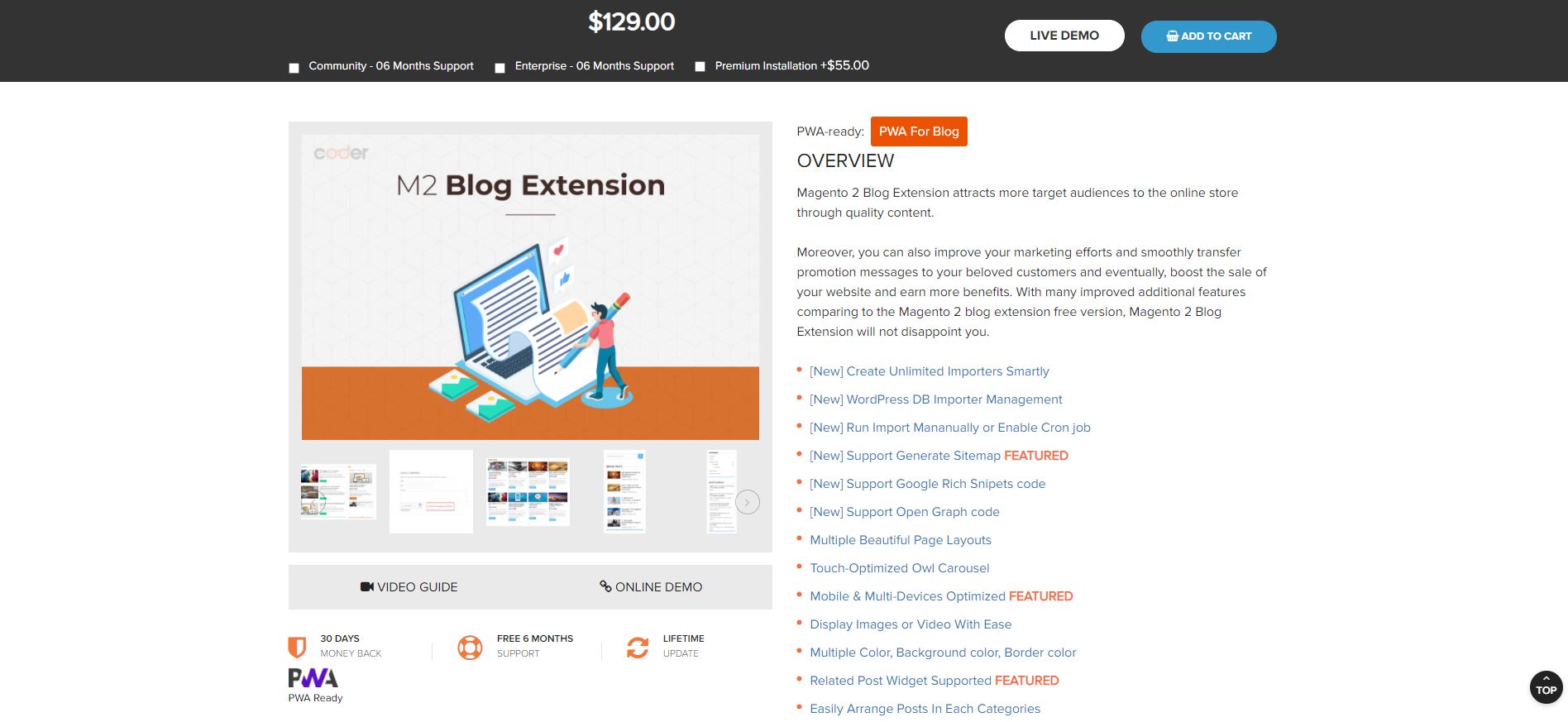 Magento 2 Blog Extension enables you to attracts more potential customers to the Magento store through quality content. Moreover, you can also enhance your marketing efforts and constantly transfer promotion messages to your clients and eventually, improve the sale and boost page ranking on Google through rich content.
7. Mirasvit Blog – $149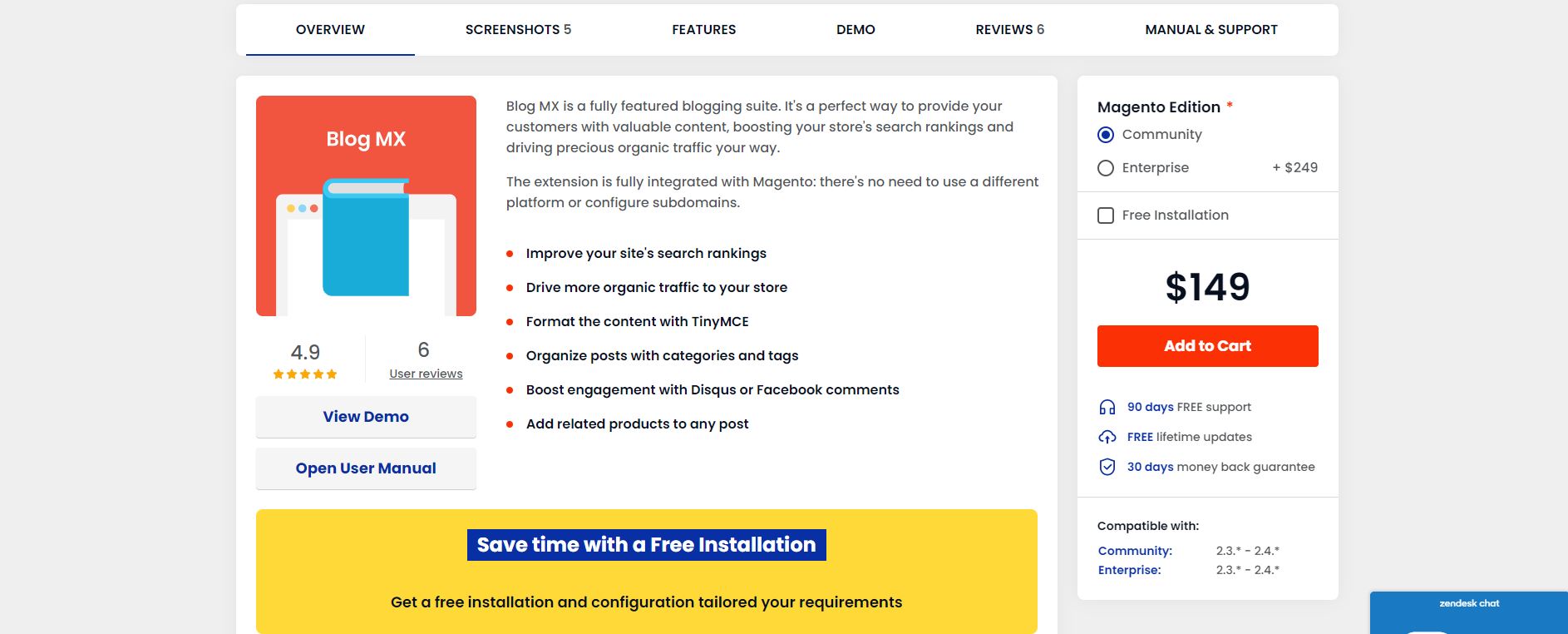 Magento 2 Blog MX is a perfect solution that is fully integrated with Magento. With this extension, you could easily write posts, organize them with categories and tags. At the same time, your users can comment via Disqus or Facebook, promote specific items, and more – all in a single convenient package. Besides, this extension offers responsive design, RSS feed, Tag Clouds, featured image for posts, and many more essential features of a blog. .
8. Blog Extension by CMSmart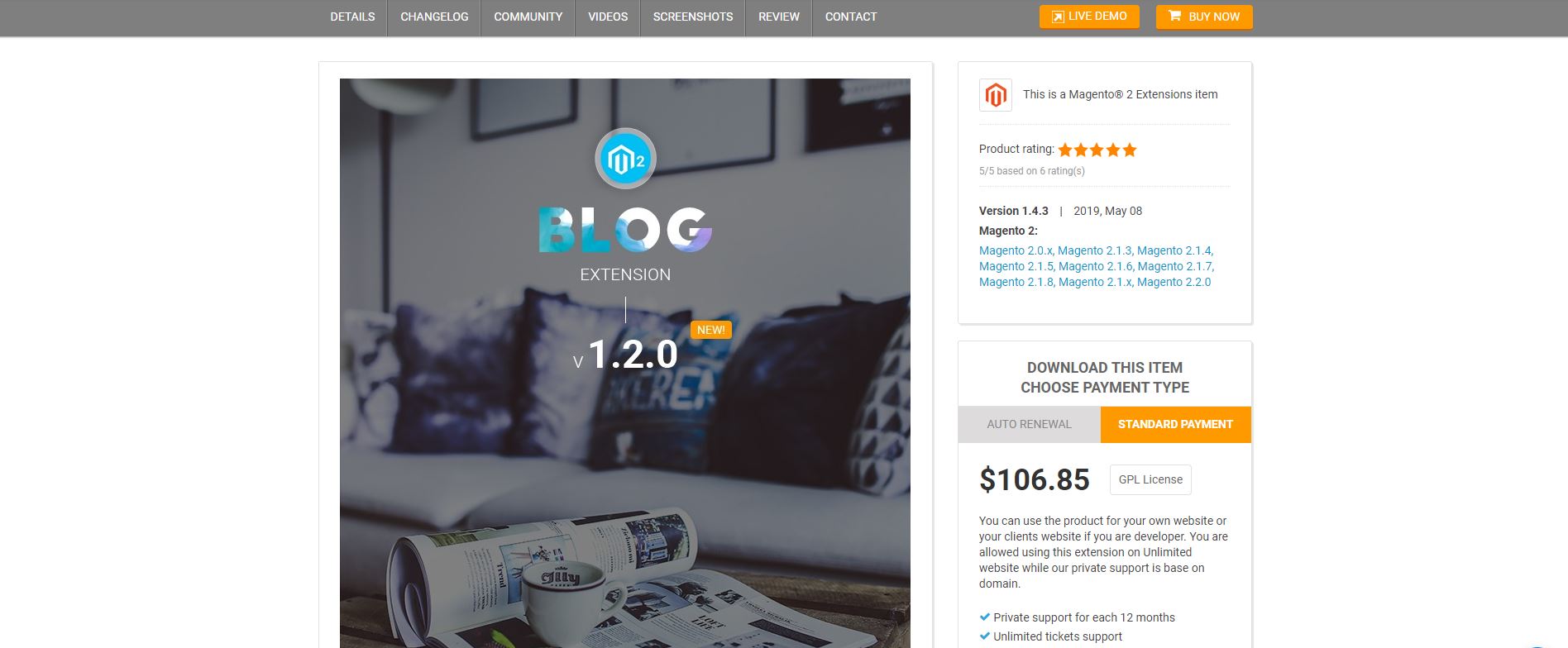 Are you seeking for an effective way to engage more and more potential customers to your online store? Blog Extension For Magento 2 is the best solution for you. With this app, you can easily create an appealing blog to provide information about products, promotions, sales and discounts. More than that, your customers can easily share your post to each post page through Facebook, Twiter…
9. Magento 2 Blog by Magezon – $149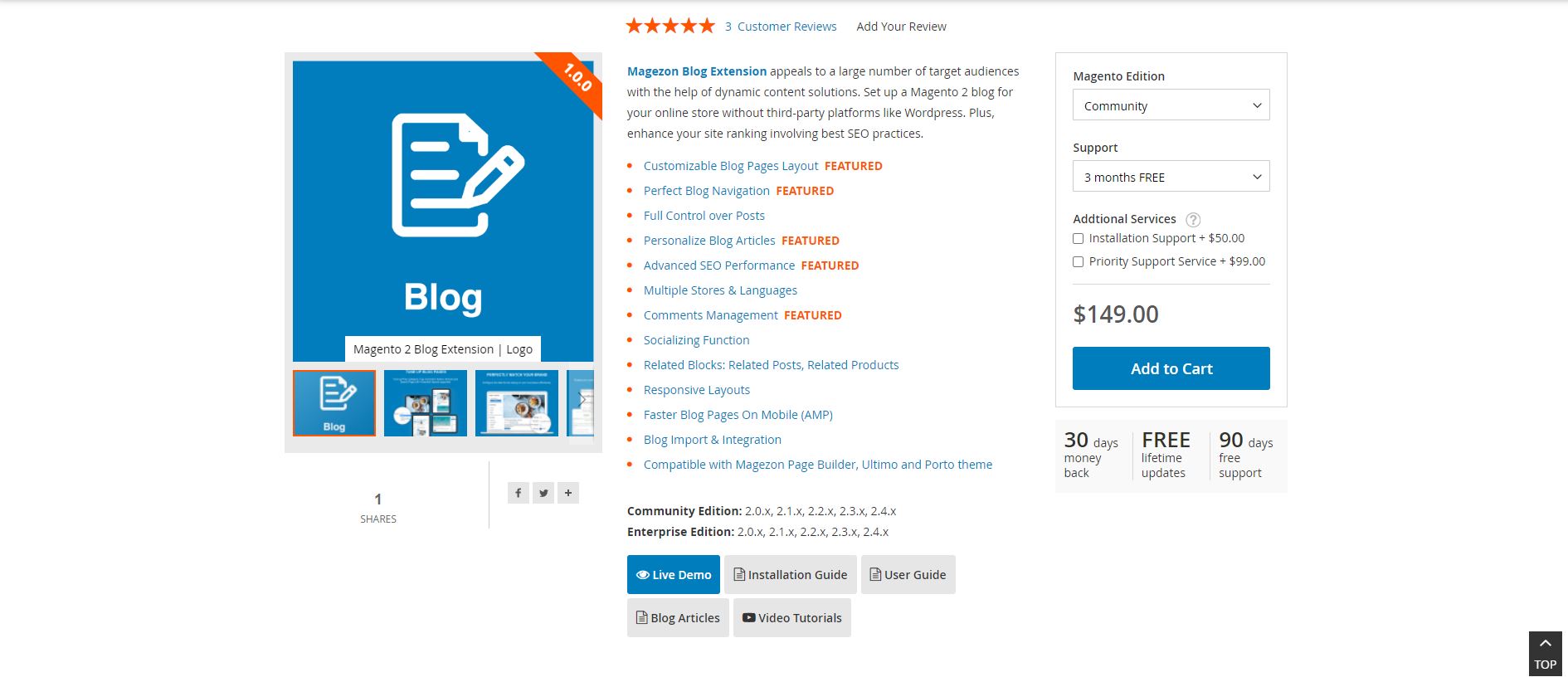 Magezon Blog Extension helps you to appeal to a large number of target audiences with the dynamic contents. With this tool, you can easily set up a Magento 2 blog for your online store without third-party platforms like WordPress. Plus, you are ability to show your visitors a map of your blog which helps them feel comfortable surfing and reading. A better navigation also support you to enhance traffic and your site ranking
10. Magento 2 Blog by Pixlogix – $79

The easy and effective way to improve the site ranking is investing in Magento 2 blog extension. With this extension, you could set up appealing layouts, incorporate helpful information using the variety of posts, categories, tags and more. Likewise, the posts, categories, tags, and comments can be easily managed straightly from the Magento admin panel. Moreover, you can also manage tag cloud while generating your blogs.
Arrowtheme hope that you could find the most appropriate and suitable Magento Blog Extension to take your Magento store to next level. Besides, you can visit our store to discover more great and helpful Magento 2 extensions and Magento 2 themes for your eCommerce store