Magento SEO extension: Top 10 best ones to boost your Magento eCommerce store's ranking
Magento 2 SEO extension can help your Magento 2 store win the highest ranking on search engine result and get more organic traffic. In this post, we'll introduce to you top the 10 best Magento SEO extension that will supercharge your e-commerce store.
1. Magento 2 SEO Extension by FME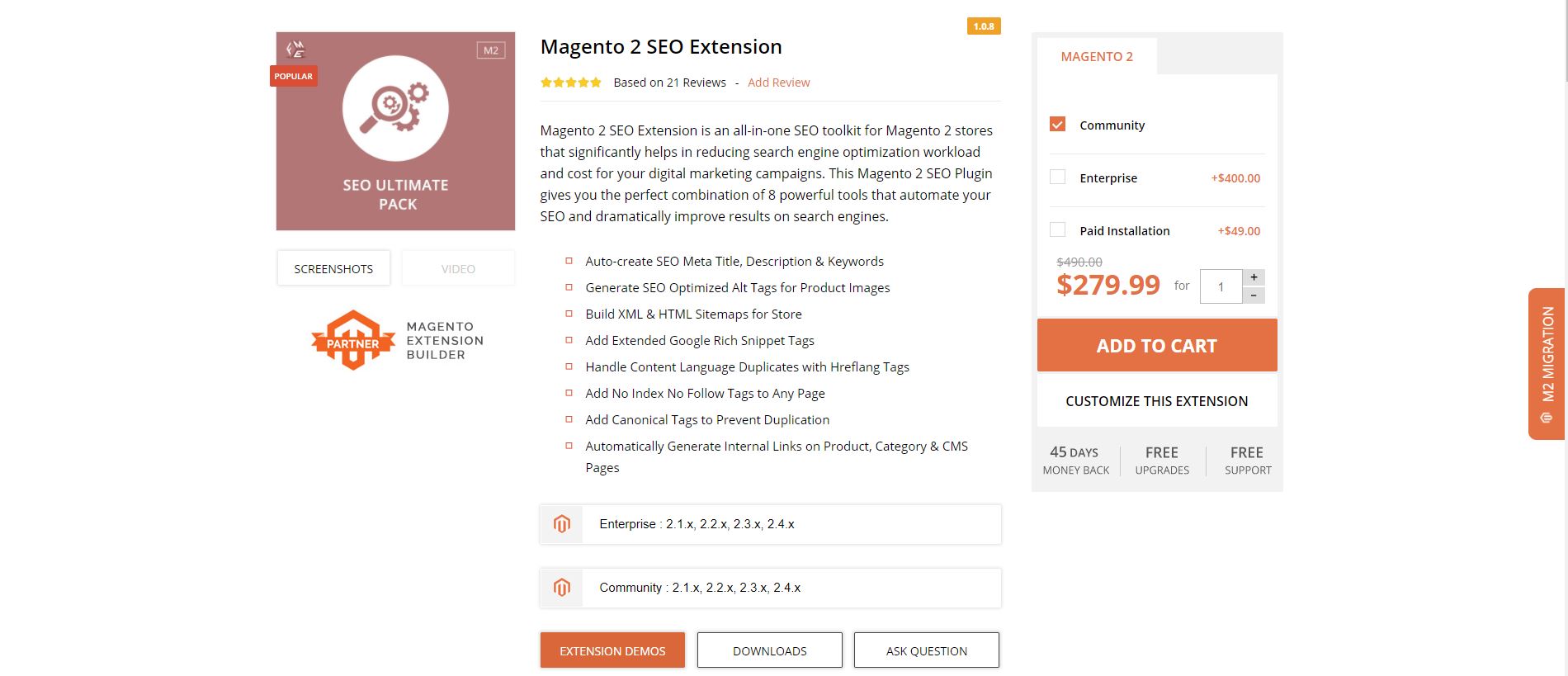 Magento 2 SEO Extension is an all-in-one SEO solution that dramatically supports decreasing search engine optimization workload and cost for your marketing campaigns. This module will provide you the perfect combination of 8 robust tools that automate your SEO and significantly enhance results on search engines.
Key features:
Adds extended Google rich snippet tags
Handle Content Language Duplicates with Hreflang Tags
Add No Index No Follow Tags to Any Page
Add Canonical Tags to Prevent Duplication
Auto-create SEO Meta Title, Description & Keywords
Generate SEO Optimized Alt Tags for Product Images
Build XML & HTML Sitemaps for Store
2. Magento 2 SEO Extension by Magesolution

With a good reputation over the years, this Magento 2 SEO Extension by Magesolution ensure to support your store stand out in Google Search. To be more specific, this extension helps the shop owners to improve the website's visibility and the overall customer experience as well. Besides, this extension allows you to accurately segment users and provide search engines better information placed on your e-commerce storefront.
Key features:
Provide rich snippets of breadcrumbs to enable users to know where they are on the website at the present.
Initiating rich snippets with name, logo and more information of your organization.
Show search box as a homepage input in search results.
In the category page: Showing average-rating products and starting price data
Easily to add the availability status and condition tag of products to rich snippets
3. Magento 2 SEO by Mageplaza

The third extension on this list is the Magento Seo developed by Mageplaza. Like the first two extensions, this extension is another helpful tool to optimize your web pages for search. It equips you with many advanced features to helps you improve your search rank. Moreover, this extension is very friendly with your website if you need to insert meta keywords and meta descriptions for your product.
Key features:
Stop duplicating content issues
Structured data is added automatically
Dynamic and variety metadata template rules
Enable using Hreflang tags easily
Support wonderful SEO report feature
Breadcrumbs are friendly for the site
Support smart Page Analysis
Improved HTML/XML Sitemaps feature
Provide Crosslinks
Support multi-stores and multi-languages
4. Magento 2 SEO By Mirasvit

Another extension we want to mention in the topic is "Advanced SEO Extension" by Mirasvit. In fact, this extension provides you all essential features you need in an SEO plugin to make your job more effective. Furthermore, this tool supports 90-day free support and free lifetime update.
Key features:
Firstly, it supports SEO toolbar that gives you a full analysis of a page
Secondly, it comes with the advanced rich snippets and open graph
Thirdly, this extension enable you to create SEO templates
Besides, it supports the management of rewrites of SEO meta tags
Also, the admin is able to manage SEO settings of layered navigation, product and category pages
You can automate meta tag management of your store
At last, this module supports the advanced Google XML/HTML sitemap
5. SEO Suite Ultimate by Mageworx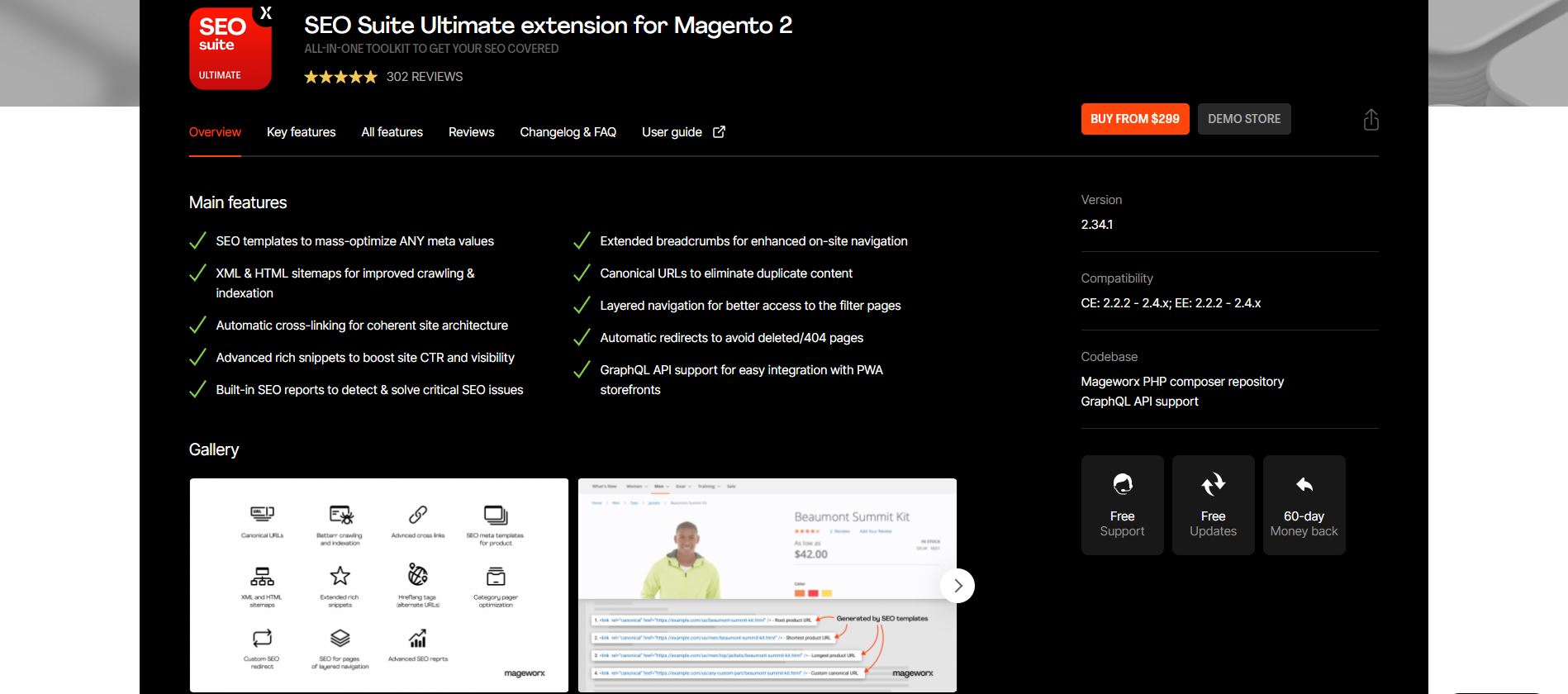 MageWorx's extension equips you with an array of powerful SEO features. If you own a large website with a multitude of webpages to optimize, then this extension is a great solution to go for.Thanks to its mass optimization techniques, you can generate SEO processes that can be used to a lot of webpages at the same time. As a result, it will help you to save and manage your time efficiently.
Key features:
Firstly, it supports the SEO templates to mass-optimize ANY meta values
Secondly, this tool provides XML & HTML sitemaps for improved crawling & indexation
Besides, it comes with the automatic cross-linking for coherent site architecture
Also, this tool supports an advanced rich snippets to boost site CTR and visibility
Lastly, it brings you a built-in SEO reports to detect & solve critical SEO issues
6. Magento 2 SEO by Webkul

Coming to the next position is SEO extension by Webkul which helps the store owner to maximize your SEO effectiveness. This extension provides all the elementary features to make your store stand out in Google Search. However, you might find some automated management features to be missing (such as automatic cross-linking, and meta tag management). Apart from that, you'll find all basic features you need.
Key features:
Support the product and category rich snippets
Provide the social sharing options where you can add image, title, and description according to Facebook and Twitter.
Support XML/HTML sitemaps
Advanced indexation is supported. You can include instructions and directions for web crawlers and bots indexing your website.
Porvide SEO meter for page analysis
The 'Hreflang' tag is supported
7. Magento 2 SEO by Bsscommerce

Still, you want a better option? so have a look at the "Magento SEO " by BSS Commercea. Indeed, this extension is one of the best-sellers of BSS Commerce. It is the integration of vital SEO modules, covers full settings to improve your rankings. At a reasonable price, it provides a high compatibility with no conflicts.
Key features:
Avoid the duplicate content
Support advanced HTML/XML sitemaps
Advanced Breadcrumbs supported
Support 301 SEO redirect
Hreflang tags included
8. Magento 2 SEO Pro by MageDelight

SEO Pro Magento 2 Suite is an powerful extension with numerous exclusive features to help your Magento store with a better Search Engine Optimization. Moreover, this extension assist you to improve the website visibility, traffic, and rankings. On top of that, it provides Facebook Pixel feature to maximize your SEO effectiveness.
Key features:
Firstly, it equips you with the smart toolbar to analyze on-page SEO
Secondly, it supports the rich snippets in search results
Thirdly, it provides you with the automated meta tag templates
Also, the admin is able to use the facebook pixel to track your users activity
Besides, you'll able to create dynamic HTML & Google XML sitemaps with ease
The admin can easily check for broken/external/no-follow links from our SEO toolbar
Set long/short or a canonical URL without categories
At last, it supports the redirect 404 to default Magento search/custom search
9. SEO Suite For Magento 2 by Swissuplabs

The next product is provided by Swissuplabs that is a well-known brand for providing a lot of helpful plugin for the eCommerce store. This SEO extension is the good solution to improve the ranking of your website as well as decrease the duplicate content. Also, it comes with friendly URLs that supports your website to have the better ranking on the result page of Search engine.
Key features:
Firstly, it supports the auto-generate meta tags for product and category pages
Secondly, it allows you to add HTML sitemap
Thirdly, the admin is able to extend XML sitemap with more settings
Besides, you are able to add extra Rich snippets
Also, this tool offers Hreflang tags
Lastly, it permits you to create cross-links with ease
10. SEO Toolkit by Amasty

This one-stop solution Magento 2 SEO extension from Amasty. This extension comes with all the powerful features you need to have a high ranking on search engines. Besides, with the extension, the admin can easily check the relevant analytical data on your store page SEO performance. Thus, you will cut down costs on paid advertising and drive more qualitative traffic with ease.
Key features:
Firstly, it supports SEO analysis for any page
Secondly, it offers the automated meta tags templates
Thirdly, this extension supports you with the Enriched Rich Snippets
Also, it provides the advanced pagination and redirects
This module comes with the automated internal and external cross-links
It supports the advanced HTML/XML Sitemaps
At last, it supports the unique product URLs against duplicate content
To sum up, Search Engine Optimization plays an essential role in the development of your online business. And using a Magento 2 SEO extension can support your site win the highest ranking on search engine result pages and boost your revenue. Looking for more effective tools to improve your Magento 2 website? Check out robust Magento 2 Extensions or Magento 2 Themes at our store