Magento countdown timer extension: Top 8 best ones to drive your product sales promptly
One of the most effective ways to boost sales is to increase the urgency for customers. Hence, the Magento countdown timer extension creates time pressure to encourage customers to buy products instantly. For store owners, it will be a perfect solution to combine with the sales campaign. Therefore, Arrowthem wants to present to the top 8 best extensions to drive your product sale promptly.
This extension creates a countdown timer for your stores. Then it displays a dynamic timer with specific days, hours and minutes. Also, you can choose a one-time or recurring timer. Besides, you can plan a countdown timer for discounts, special events or your marketing campaigns. Moreover, it customizes the timer to match your brand. Moreover, it allows choosing the placement of the timer. Also, the countdown timers are linked to the product and category page. So, shoppers can click the URL to reach the products pages.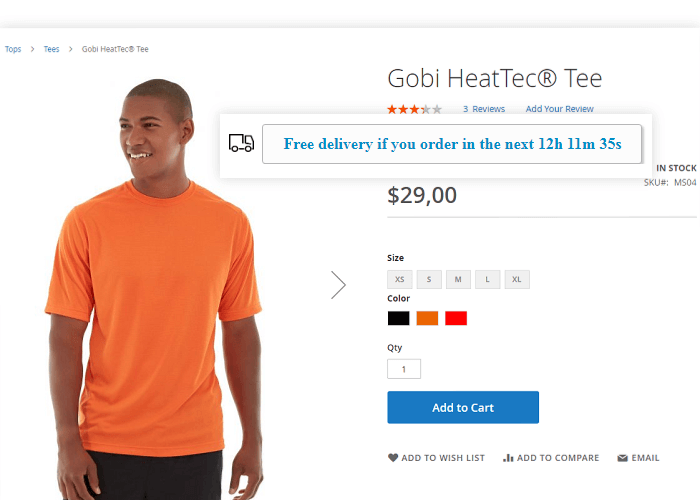 Service:
Firstly, free installation
Secondly, 45-day money back
Thirdly, 90-day free support
At last, free lifetime update
Price: $119 – $218
Countdown Timer for Magento 2 helps you gain more sales by creating time urgency for customers. Because the time is limited, customers are fear of missing out. So they use less time to make a decision and purchase faster. This extension will provide you with many eye-catching timers with premade templates. Besides, you can connect any countdown timer with your products and pages. Also, you can schedule countdown timers to run with discounts. Moreover, discounts offers are limited to speed up purchasing. Last but not least, this extension
compatibles with the Jet Theme by Amasty.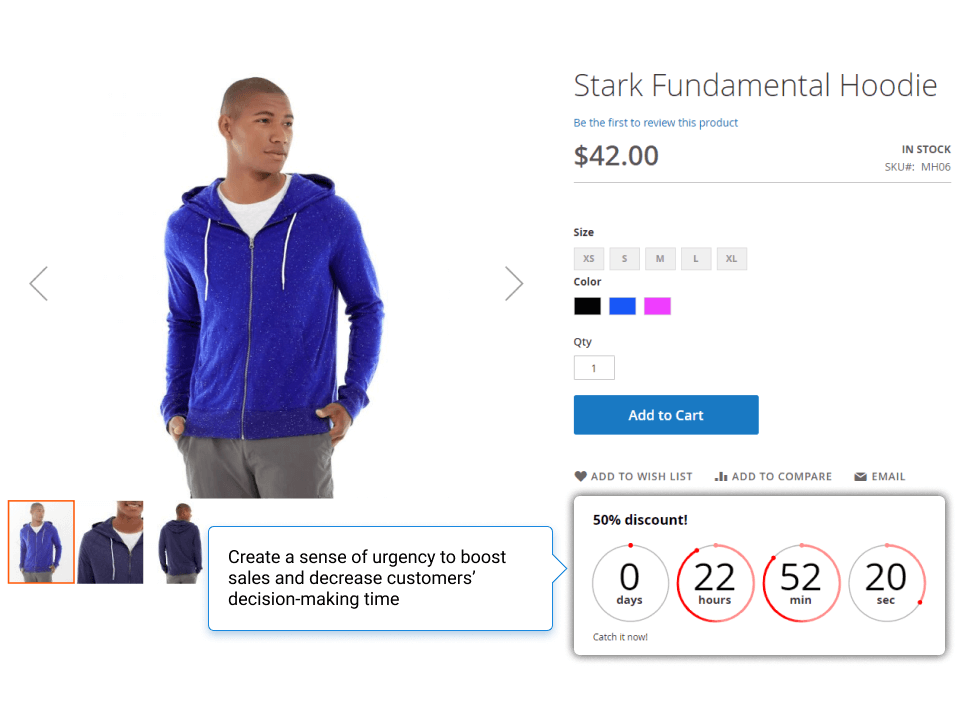 Price:
$119 for the community edition
$419 for the enterprise edition
Service:
Firstly, 60-day money back
Secondly, 90-day free support
At last, lifetime update
This extension creates time pressure for customers by displaying countdown clocks. From that, customers are likely to buy products in hurry. To do that, it gives you 2 types of clock timer. The first is Before Start Countdown which signals the campaign started. The second is Time Remaining Countdown which shows the remaining time of the sales. In addition, these timers will be displayed under various conditions. For example, the countdown appears next to all products with a special price. Furthermore, this extension brings to you 5 premade samples and you can customize them to match your store. Finally, it supports snippet and widget to place timer easier.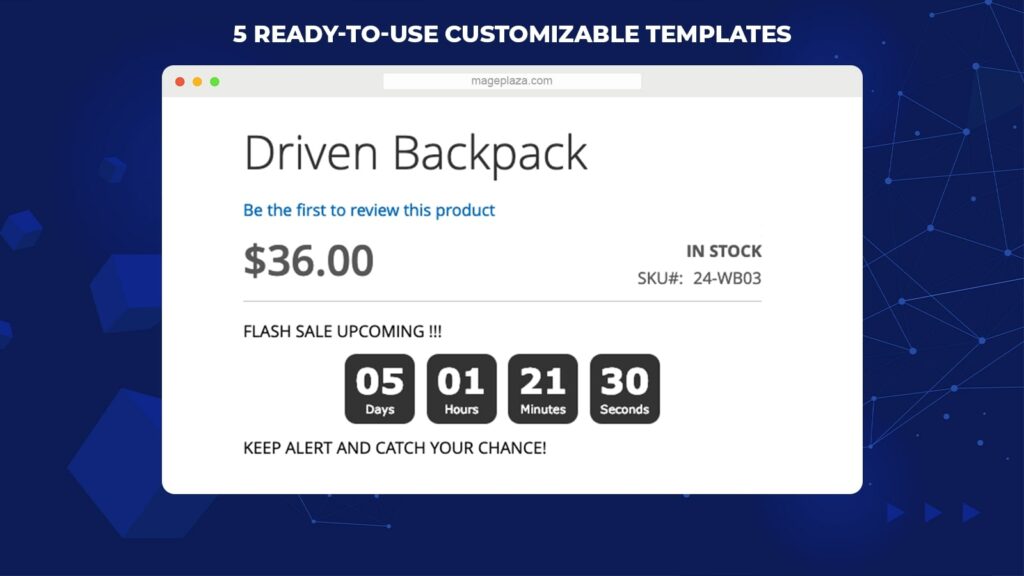 Price: $99
Service:
60-day money back
365-day free support
Free lifetime update
4. Magento 2 Countdown Timer by BSSCommerce
Magento countdown timer extension by BSSCommerce makes your discount more valuable by providing an exact timer countdown. You can add conditions for the timer by "Advanced Pricing" for each product. Additionally, you can summarize all the sales products on the promotion pages. Besides, it uses a widget to place countdown timers at any position. Furthermore, you can combine "Coming soon countdown" and "Promotion Timer" together. Last but not least, it allows you to pin a message next to the discount value.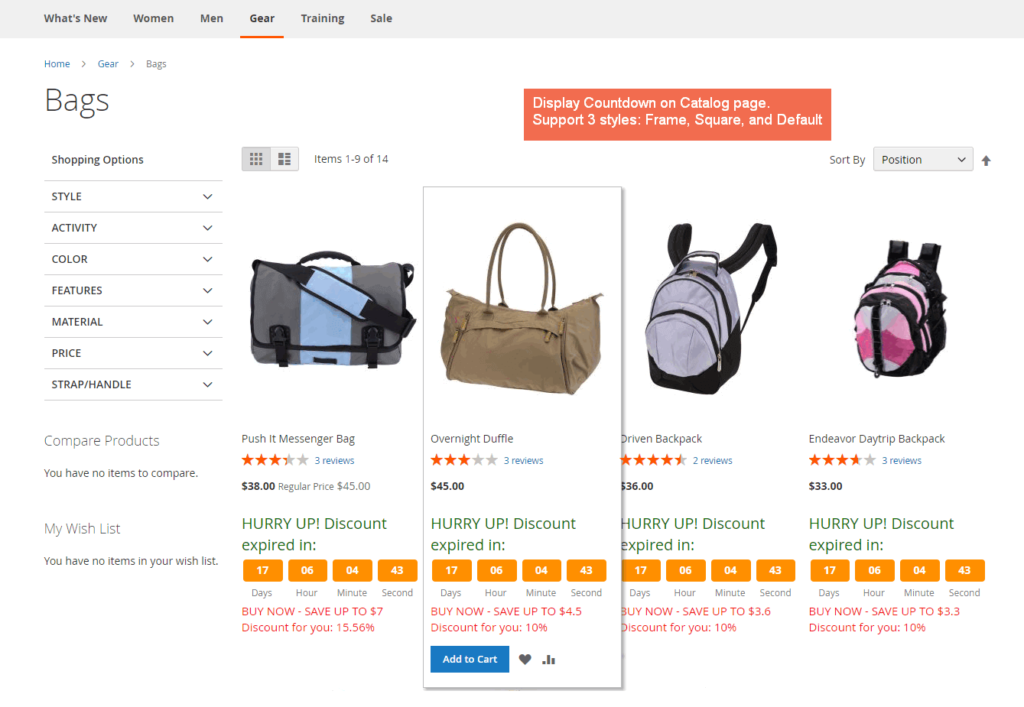 Price:
$59 for the community edition
$209 for the enterprise edition
Service:
Free installation
30-day money back
1-year free support
Free lifetime update
This extension creates a sense of urgency to increases your sales. You can create unlimited clocks for your stores. Next, you can select specific products or all products to count down. Or, you can use the catalogue price rules for the timers. Also, it allows you to custom the time manually and place them anywhere. Moreover, it provides you with multiple templates in a gallery. You are able to add text around the timers. At last, it has the preview option for you to see.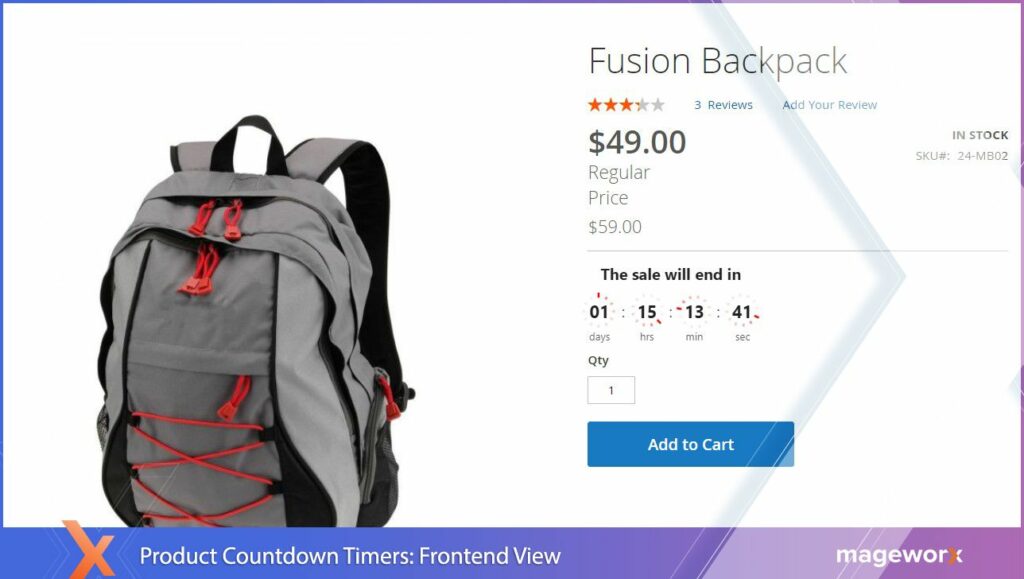 Price: From $149
Countdown Timer by Magezon provides you with unlimited countdown clocks for your sales campaigns. You can add timers for any products and store pages. Also, you can schedule it in advance for upcoming events. Moreover, it supports you with 10 ready-to-use templates to attract customers. Besides, it configures colour, background, shapes and so on. Additionally, you can add text before and after the clock. Finally, it is responsive to all devices.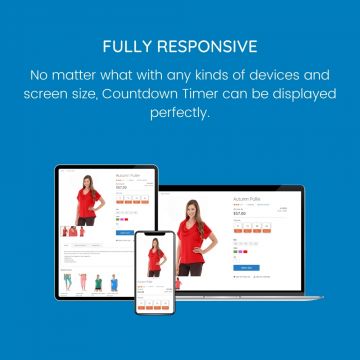 Price: From $149
7. POWr Countdown Timer by POWr Inc
POWr Countdown Timer by POWr Inc helps you add a countdown timer to the beginning of sales, an introduction of a new product and a discount event. From that, it aims to get higher conversion rates. In detail, the countdown timer displays the remaining days of a special deal and the number of customers who have purchased an item.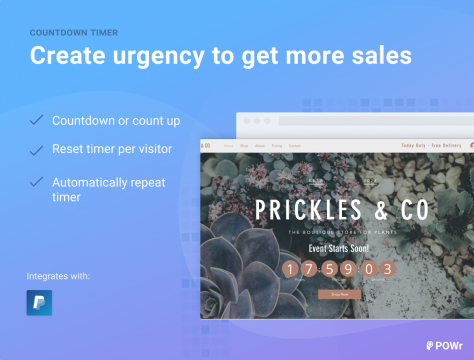 Besides, you can change the design of the clocks including fonts, colours, backgrounds and sizes. Additionally, this extension supports text language and mobile device.
This extension is a connection between Elfsight Apps and your stores. In other words, it brings the widget in your Elfsight Apps to your website. It provides you with the countdown timer configuration. Then these clocks will display the remaining time for your offer and discount. Hence, it makes shoppers decide faster. Additionally, it uses the start-to-finish counter to show the stock status and the number of customers who saw an item.
Besides, it supports your holiday sales with a suitable theme bar.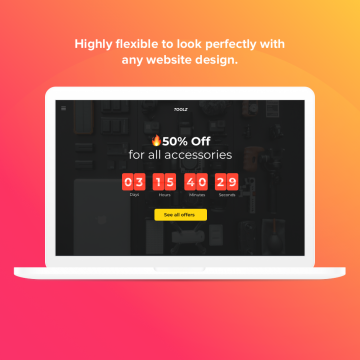 To conclude, Magento countdown functions extension will be useful for your sales campaign. Arrowtheme hopes that you will choose a perfect ones.
Besides, Arrowtheme has supported many eye-catching Magento themes, let's come with us.