Magento google analytics extension: Top 8 best free and premium ones for your Magento 2 stores
If you are seeking a Magento google analytics extension, you've found the right place. The post will show you this great feature and the top best extensions for Magento 2 you can try to add the google analytic to your Magento store.
1. Google Analytics For Magento 2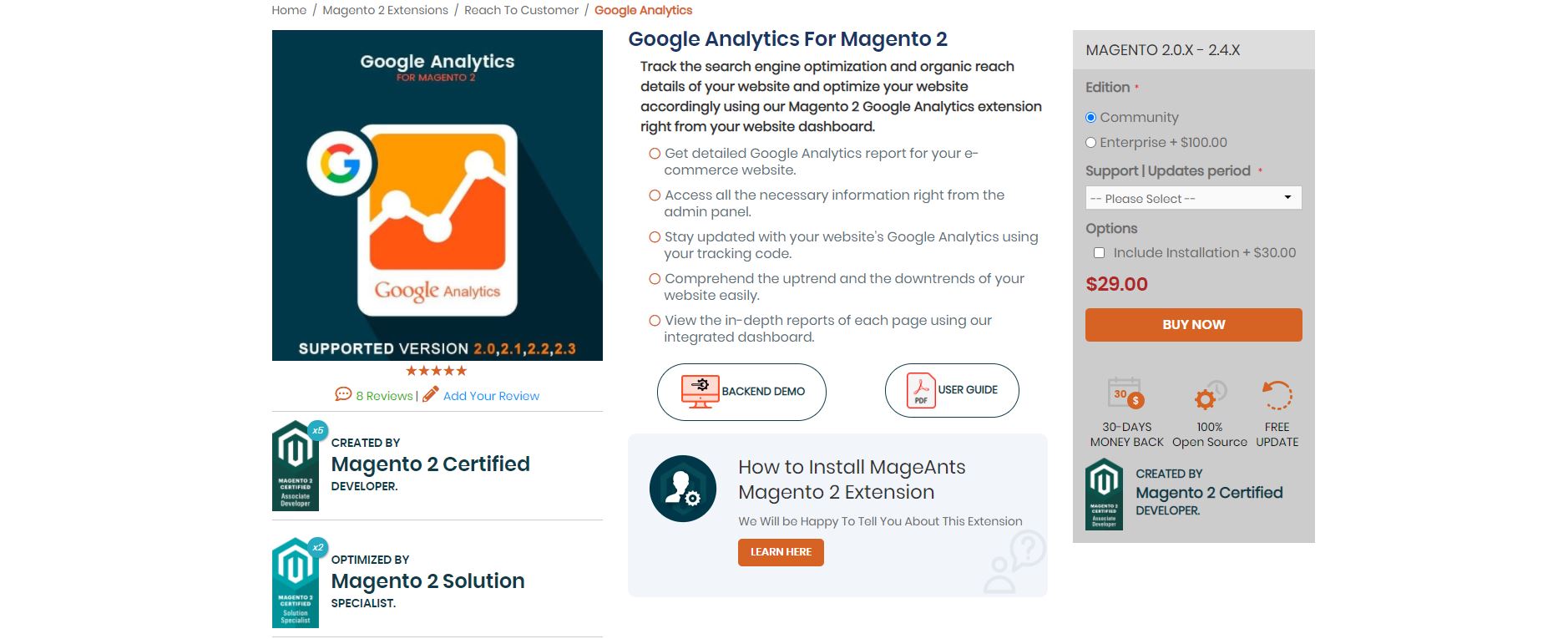 Buy Now
The first Magento Analytic extension we highly recommend for your eCommerce store is "Google Analytics by MageAnts". First of all, this solution allows you to get detailed information about the viewership of your website which is displayed on the admin panel. Following that, you can track the search engine optimization and organic reach details of your website.
Highlight features:
Firstly, it equips you with a detailed Google Analytics report for your e-commerce website.
Also, the shop owner could access all the necessary information right from the admin panel.
Besides, you could keep updated with your website's Google Analytics using your tracking code.
Lastly, the admin store could view the in-depth reports of each page using our integrated dashboard.
2. Magento 2 Report by Magesolution

Buy Now
Let's take advantage of the Advanced report by Magesolution and the results it brings will never disappoint you. In fact, this extension is known as one of the most perfect and advanced ones when mentioning this topic. To begin, this tool was created to help online stores track and manage their business better with advanced customizable reports.
3. Magento 2 Google Analytics extension

Buy Now
In case you're seeking a smart tool to have a clear analysis of the insight into shopping and behavior of shoppers, let's refer to "Google Analytics by Mageplaza" Firstly, with this excellent tool, you can effortlessly fetch data from the website, and send it to Google Analytics more easily and conveniently. Besides, it supports you to track customer journeys on the store site. What's more? with tool, the store owners will find it very easy and clear to access data and make a comparison.
Highlight features:
Firstly, it comes with 5 Enhanced Ecommerce reports
Also, you could Track & Capture all product views
Track events of updating cart and checkout process
Track & Capture events of customers' purchase orders
Facebook Pixel integrated
Seconding Ecommerce Tracking ID
IP Anonymization
Google Adwords Conversion Tracking
Well included in Google Tag Manager
4. Google Tag Manager by weltpixel

Buy Now
Moving to another Google Analytics extension for the Magento store is Google Tag Manager by weltpixel. First and foremost, this extension provides you a full ecommerce tracking within minutes. Simply speaking, it will help you can start collecting valuable data and make data-driven decisions. Especially, with this extension, you usually will have to write no additional code to use or modify tracking codes for your marketing or analytics campaigns.
Highlight features:
Firstly, it allows you to track product impressions by position in the Category Page
Also, you are the ability to track product clicks by position in the Category Page
Besides, you could track product impressions by position in the Search Result Page
Track product clicks by position in the Search Result Page
Lastly, it enable you to track product impressions by position in the Related, Up-sell, and Cross-sell section
5. Magento 2 Google Analytics by Anowave
Buy Now
You are looking for a professional and effective solution to get advanced Ecommerce tracking for Magento 2? Then, you should have a look at the extension from Anowave. First of all, as soon as your store integrates this tool, it provides a full range of additional features such as AdWords Remarketing, AdWords Tracking, Social Network ..etc. Additionally, this extension offers AI-powered insights which allow the admin to track visitors across devices and offers more granular data controls.
Highlight features:
Firstly, it enables Google Analytics through Google Tag Manager
Also, it supports all essential events for proper Enhanced Ecommerce
Besides, this extension comes with a built-in API implementation that creates all GA4 tags, triggers, and events
Can be turned on or off on demand
Works on top of our Magento 2 Google Tag Manager Enhanced Ecommerce (UA) extension
All features from the base module are available
Lastly, the shop owners don't rewrite existing blocks, modules, etc
6. Actionable Google Analytics

Buy Now
Why don't you try using Google Analytics for your Magento store? In fact, the reason we advise you to install this extension for your business is thanks to its great performance as well as effectiveness. Simply speaking, this tool allows the shop owners to access powerful Ecommerce reports. Therefore, store owners can have much closer to customers' insights and understand their interests.
7. Google Analytics Enhanced Ecommerce Basics

Buy Now
It is really a useful tool that any eCommerce shopkeeper all need to install for their stores. Firstly, this Magento extension allows you to use the Enhanced Ecommerce feature of Universal Analytics. It's designed with an aim to help you quickly get started with the Enhanced Ecommerce features & Reports.
Highlight features:
Quick & Easy installation from the Magento interface
Generates 4 Google Analytics Enhanced Ecommerce Reports
Automatically set the Local Currency of your store for the data accuracy
8. Magento Enhanced E-commerce for Google Tag Manager

Buy Now
The final Magento extension in our list is the module from Magepal. First of all, as soon as you install this tool, you can effortlessly power your digital marketing with the most advance, flexible, and scalable Google Tag Manager solution for Magento. Besides, you can track the customers' actions during their shopping trip easily with details.
Final Words
Arrowtheme hopes that you could find the most appropriate and suitable Magento google analytics extension for your store. In addition to this extension, you should refer to other different Magento 2 extensions as well as Magento 2 themes.