Magento marketplace theme: Top 10+ creative Magento themes – the best option for you
When it comes to the marketplace, we often think of big international companies such as Amazon or Alibaba. However, in fact, there are a lot of smaller or medium markets in the world. If you want to run your own marketplace on Magento, you must choose the right Magento marketplace theme first and foremost. To help you with this issue, we provide you with top 10+ best Magento themes to bring your marketplace to success
All the themes following are assessed based on Arrowtheme scores, their sales, social metrics and ratings.
The first Magento marketplace theme we want to mention is GemMart. This Magento theme is built specifically for marketplace and online multi vendor. Therefore, it confidently meets all of your business requirements. In terms of appearance, GemMart will deliver an outstanding and exclusive look to your website. By combining neutral colors such as white and light grey, this Magento marketplace theme can highlight any types of products. There are 18+ unique demos for you to choose. You also have much freedom to customize the theme to meet your business objectives.
Newly released in 2020, GemMart includes the best and most powerful features for your marketplace. For example, GemMart is very fast. It scores 98% on PageSpeed Score and 84% on YSlow Score. Thus, this Magento theme can greatly handle huge categories of products.
Other highlights of GemMart
Front – End CMS Page Builder allows you to edit CMS pages at front – end. Thus, you'll see the result instantly
Mega menu with vertical menu
Includes the Fastest Ajax Cart extension
$698 – worth extensions included in GemMart for FREE
Thanks to all of those stunning features, GemMart has become one of the best Magento marketplace themes on themeforest.
Coming to Martfuri – a best – selling Magento marketplace theme. Martfuri has clean, neat and professional design with stunning color combination. Thanks to that, it will display all products beautifully. Martfuri comes with 6+ different homepage layouts. All of them are customizable. Therefore, you can customize them according to your needs. Also, Martfuri allows you to easily re – use Elements between layouts. Therefore, you can easily and effortlessly build your dream webshop
Martfuri is very easy to use, install and customize. In particular, you just need one click to install all demos. Moreover, with standard SEO code, this Magento marketplace theme is very SEO – friendly. Besides, you can attract more customers with daily discounts by running discounts on short time. Needless to say, Martfuri will increase your revenue
Mag2 Marketplace is one of the highest – rated Magento marketplace themes with 5 /5 stars from 17 reviews. And there are many reasons for its great reputation
Firstly, Mag 2 Marketplace includes 3+ unique homepage and 20+ pages. All of them are clean, product – focusing and professional. Therefore, it will show off your products in the most beautiful way. Overall, if you want to build a marketplace like Amazon or eBay, Mag2 Marketplace is the perfect option
Secondly, Mag2 Marketplace provides you with a lot of outstanding features. For example, Bootstrap, Shop by Brand, Slider Revolution and so on. In terms of Magento extensions, this Magento theme includes $1000 – worth extensions. Therefore, you'll save a lot of money when working with Mag2 Marketplace
If you want to make your website stand out from competitors, MultiStores will be a great option. MultiStores is designed particularly for multi vendor and marketplace. It greatly combines neutral colors ( e.g white) and highlights ones such as yellow, navy, etc. Thanks to that, this Magento marketplace theme will greatly emphasize your products. With 6 different and customizable homepages, MultiStores is a good option for your online marketplace
Other highlight features of MultiStore include Mega menu, Multistore Core theme, etc. Especially, this Magento theme supports multi-language and currencies. This is very helpful for cross – border selling
When it comes to the marketplace, your website will need to display a wide range of different products. Therefore, choosing a Magento marketplace theme with clean and minimal design is a great choice. Then, in this case, Ves Golmart Magento Responsive theme will be a perfect option.
This Magento theme has neat and sleek layouts. Hence, it will show your products beautifully and professionally. Also, with drag and drop page builder, you can easily create the new layouts based on the pre – made ones. Besides, Ves Golmart Magento Responsive theme can improve customer satisfaction with powerful module such as auto search, ajax cart and so on
Destino is a stunning and powerful Magento marketplace theme for you to consider. It comes with 14+ unique, clean and professional layouts. As a result, the chance that you can get the perfect one for your online store is high. Moreover, Destino is easy to customize. You can easily edit colors from unlimited color options, fonts and layouts. Thanks to that, you can create the perfect website for your marketplace
Other highlight features of Detino are Advanced Mega menu, Multiple Shop layouts, SEO – friendly and mobile – friendly
Looking for a flexible, customizable Magento marketplace theme? Then, why don't you take a look at Revo.
This Magento theme provides you with 7+ stunning pre – made homepage demos. All of them are clean, modern and professionally – structured. However, if you want to edit or customize them to meet your business requirements, you can easily do that without touching a single line of code. Moreover, Revo is built with HTML 5, CSS3, Bootstrap 3 and LESS. These factors make this Magento theme more flexible than others. It also comes with Ajax Add to cart, Wishlist, Compare as well. Then, if you want to build a unique online marketplace, you can't miss Revo
MaxShop has an eye-catching and pleasing design. Therefore, it will not only emphasize your products, but also make your website look professional and modern. There are 9+ stunning homepage layouts for you to choose. Depending on your needs and requirements, you can choose the best one for your marketplace. In case you need to edit or make some change, you can easily do that. No coding required
This Magento marketplace theme provides you with many advanced features to improve customers satisfaction. For example, Product quick view allows customers to view product details without leaving the current page. Other powerful features of this theme include Ajax add to cart, Search box pro and so on
Bicomart promises to make your marketplace more powerful like Amazon or eBay. And this is not merely a claim. This Magento marketplace theme comes with 3+ clean and elegant homepage layouts for you to choose. It also brings you some diverse CMS pages, Categories and Product Style. Then, building the perfect website has never been easier.
Moreover, Bicomart includes many powerful and advanced Magento 2 Modules. For example, Magento 2 Mega Menu, Auto Search and Product List. What's more, thanks to its clean code on the Magento framework, Bicomart will grant you outstanding performance.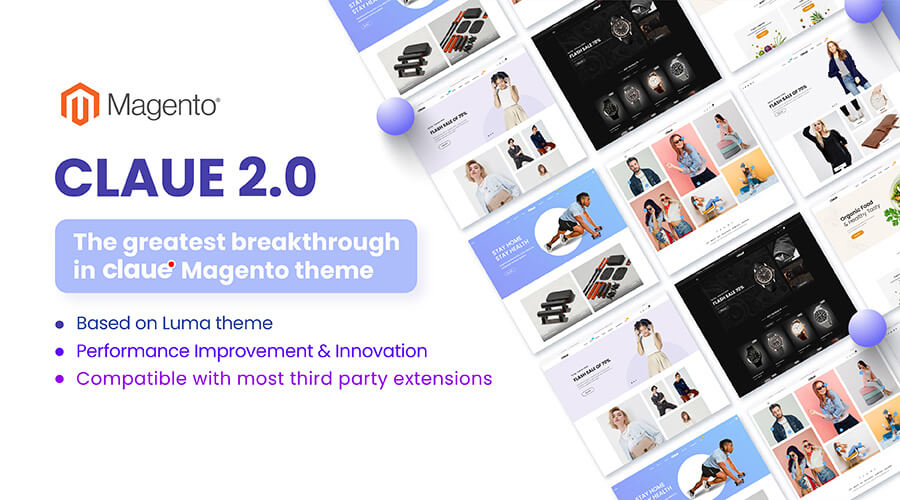 If you want to stand out from your competitor, or create an exclusive marketplace, then Claue- especially Claue 2.0 will be the perfect option. Different from its old version- Claue 1.0, Claue 2.0 has a big innovation in developement. This new version was created based on the Luma Theme. Therefore, it allows you to use the most of third-party extensions. Besides that, it will display your products in a unique way. Along with 32+ homepage layouts, building your dream webshop has never been easier
Other highlight features of this Magento marketplace theme includes Ultimate Responsive, advanced extensions such as Online Design Tool, Multi – Vendor Module, Pricing option and so on.