Magento review extension: Top 10 best ones to gain more feedback and create the trust of customers for products
Magento review extension is a must-have tool that facilitates your customers to leave a review and rating on your shopping website. This is an effective solution to support customers with helpful reviews while shop owners have more feedbacks and improve their service. Presently, there are many Product Reviews Magento 2 extensions on the market. And you are confused about selecting the best one to upgrade your website. We will help you!
1. Advanced Product Reviews for Magento 2

The first product on our list is Advanced Product Reviews by Amasty, one of the prestigious providers. Firstly, this extension provides your customers with extended image upload settings. Secondly, the shop owner can make an image area for submission or not, and delete special customers' images before approval. Thirdly, this extension supports sending email reminders with the " leave a review" button which encourages buyers to leave reviews for the purchased items.
Enable to display customers' reviews at any place on any page
Allow showing customers review summary for each product
Offer buyers with extended images upload settings
Easily show more customer reviews in a catchy slider
Enable customers conveniently filter reviews
Support sending review reminders with discount coupons
2. FREE Real Review by Magesolution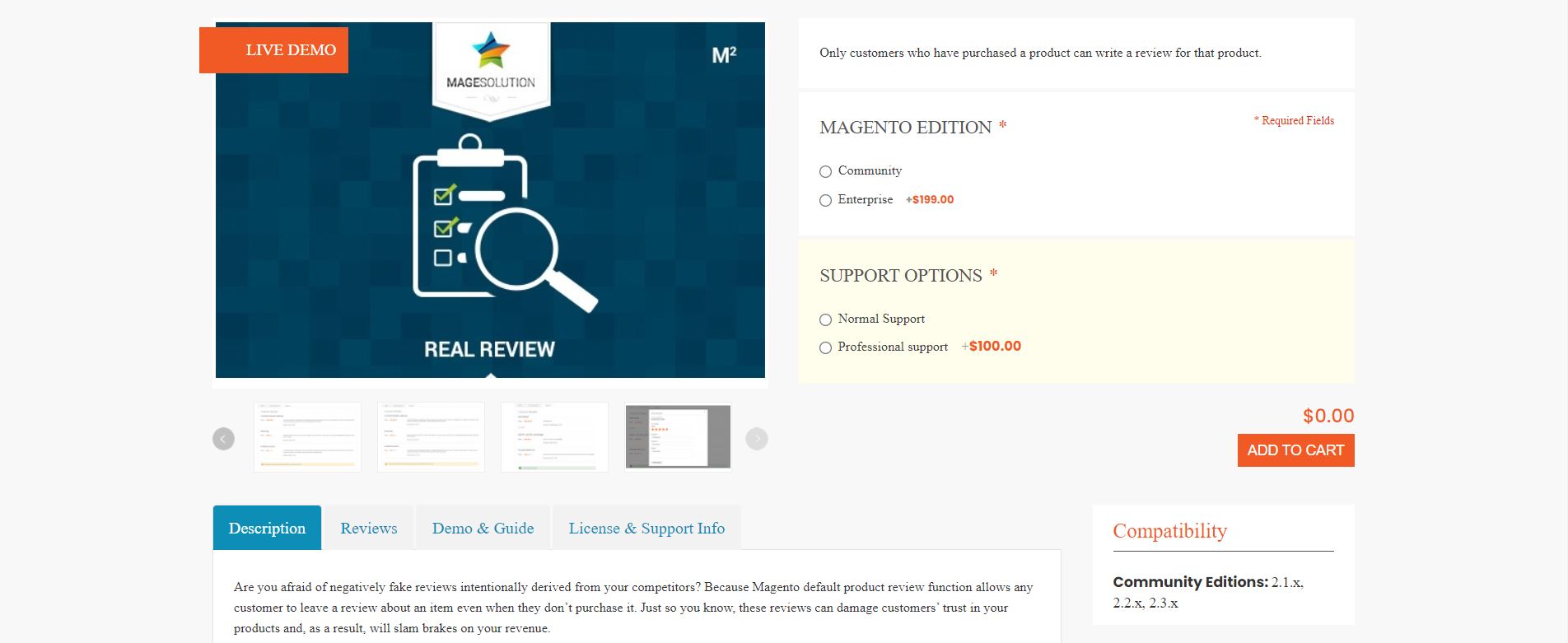 Magesolution created a number of high-quality extensions for Web development and one of these must be noticed is the free Real Review extension. As you know that, the Magento default product review function permits any shopper to leave a review about a product even when they don't buy it. Just so you know, these reviews can damage shoppers' trust in your products, as a result, will reduce your sale. This extension will help you to solve this problem by allowing only customers who have purchased your product to write a review for that product.
Main features
Permit only customers who have purchased your product to write a review for that item
Allow shoppers to edit or delete their own comments in a flash
Support admin to interact with customers thanks to the function of reply/comment on the review
Easily enable or disable extension (on Disable mode, default review function is applied)
Configure the settings to permit review approval automatically.
Also, it supports Ajax display to provide customers experience a faster and smoother
Empower to display the number of reviews per page
3. Product Reviews by Mageplaza

The third candidate on this array is the Product Reviews developed by Mageplaza. Like the first two extensions, this extension is another helpful extension to create trustworthy and valuable product reviews. Furthermore, it not only helps your website to recieve more ratings but also improve your traffic and encrease the interaction of the customer with your store.
Firstly, it enables showing summary details of reviews
Also, the customer is able to upload images for a review
Besides, it allows sorting reviews by criteria including newest, high rating, or helpfulness
Lastly, it supports remind customers of reviewing purchased items
4. Advanced Review by BSScommerce

Another extension we want to mention in the topic is "Advanced Review Extension" by BSScommerce. In fact, this extension brings an effective solution for reviews and ratings to your Magento 2 website. This is a great tool to support shoppers with helpful information and a better experience while you have more feedbacks and improve better service. Besides, your customers can also share impressive feedbacks via social networks.
Firstly, this extension helps enrich product rating system with the custom rating value
Besides, it supports visualize Magento reviews rating ratio with a Rating Summary Graph
Also, it allows voting for helpful/unhelpful review and sharing via social networks
Lastly, this extension supports your store to reduce spam and fraud with report reviews feature
5. Advanced Reviews by Aheadworks

Coming to the next position is Aheadworks which provides a great solution for store owners to encourage customers to share their purchase experience. First of all, instead of reading all web visitors' comments on the front-end, this extension enables to get clients feedback emails. Additionally, almost every site supports customers to rank by stars, you can try to sort by flags with this extension. Moreover, the admin can select a certain position for this block that fits your website design.
Main features
Customize form fields to control the content of review
Make fields required to collect all the necessary information
Allow guests to submit reviews thus extending customer base
Improve credibility of reviews by adding "Verified Buyer" labels
Email submission form to customers in order to get every client's opinion
6. Product Reviews by Weltpixel

The next product is provided by Weltpixel that is a well-known brand for supplying a lot of helpful extensions for the Magento 2 store. With this module, you can easily add customer reviews to any position on your web page. Besides, it provides powerful functionality that is applicable to single product presentation pages, blocks, category pages, and look books.
Firstly, it allows users to submit their reviews on any page type
Also, the admin is able to create look books & add product reviews
Besides, the admin can easily create beautiful presentation pages & include user opinions to encourage purchases.
Lastly, it permits you to build single product pages with Magento default reviews without product page layout restrictions.
7. Free Advanced Review by Magetop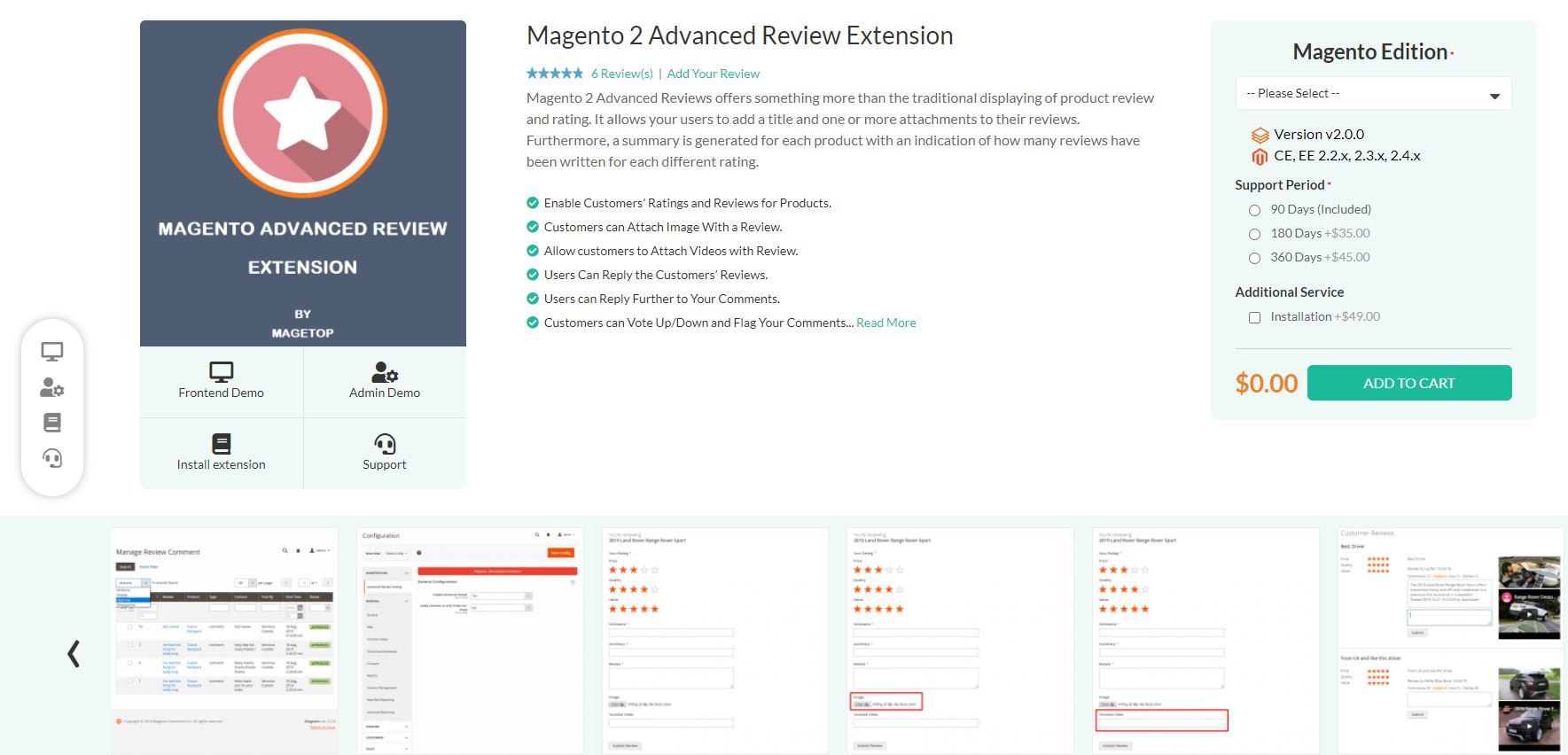 The next Magento review extension is provided by Magetop that allows your customers to leave a title and one or more attachments to their reviews. Moreover, a summary is created for each item with an indication of the number of reviews that have been written for each different rating.
Main features
Allow customers' Ratings and Reviews for Products.
Shoppers can attach images with a review.
Support customers to attach videos with reviews.
The admin can reply to the customers' Reviews.
Customers can vote or up/down and flag your comments
Admin can disable replies on reviews.
Make a review on only order purchase.
8. Product Reviews by MageAnts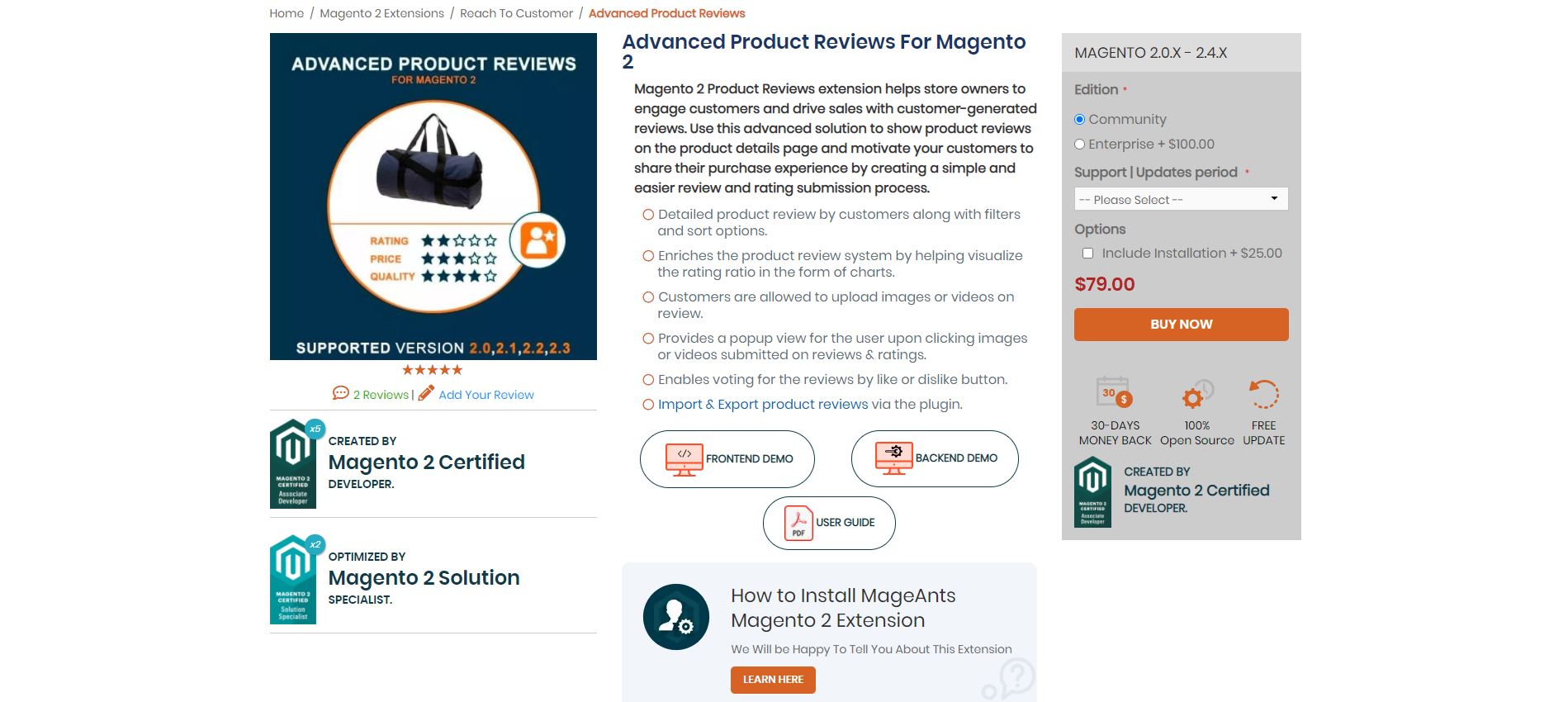 Still, you want a better option? Get "Magento review extension by MageAnts". Indeed, MageAnts becomes more and more trustworthy and reputable providers in the market. This reviews extension by MageAnts provides the shop owners an advanced solution to show product reviews on the product details page and motivate your customers to share their purchase experience.
Detailed product review by customers along with filters and sort options.
Enriches the product review system by helping visualize the rating ratio in the form of charts.
Customers are allowed to upload images or videos on review.
Provides a popup view for the user upon clicking images or videos submitted on reviews & ratings.
Enables voting for the reviews by like or dislike button.
9. Product Reviews by Aitoc
Are you looking for a useful extension to build up trust in your business effectively? We recommend that you take a look at Product Reviews by Aitoc. In fact, this extension is available to improve your store default review with extended features for customers. With the help of this tool, your customers can add specific pros and cons to their opinions about the products. Likewise, your customers can easily select among the list of pros and cons from previous customers or to gennerate new ones themselves.
Main features
This Magento review extension allows you to automate your product review prompts with smart email notification campaign
Also, it supports the Illustrate reviews with images added by users
Easily choose the status that triggers product review requests
The admin is able to set the delay period for notifications
10. Product Reviews by Mageworx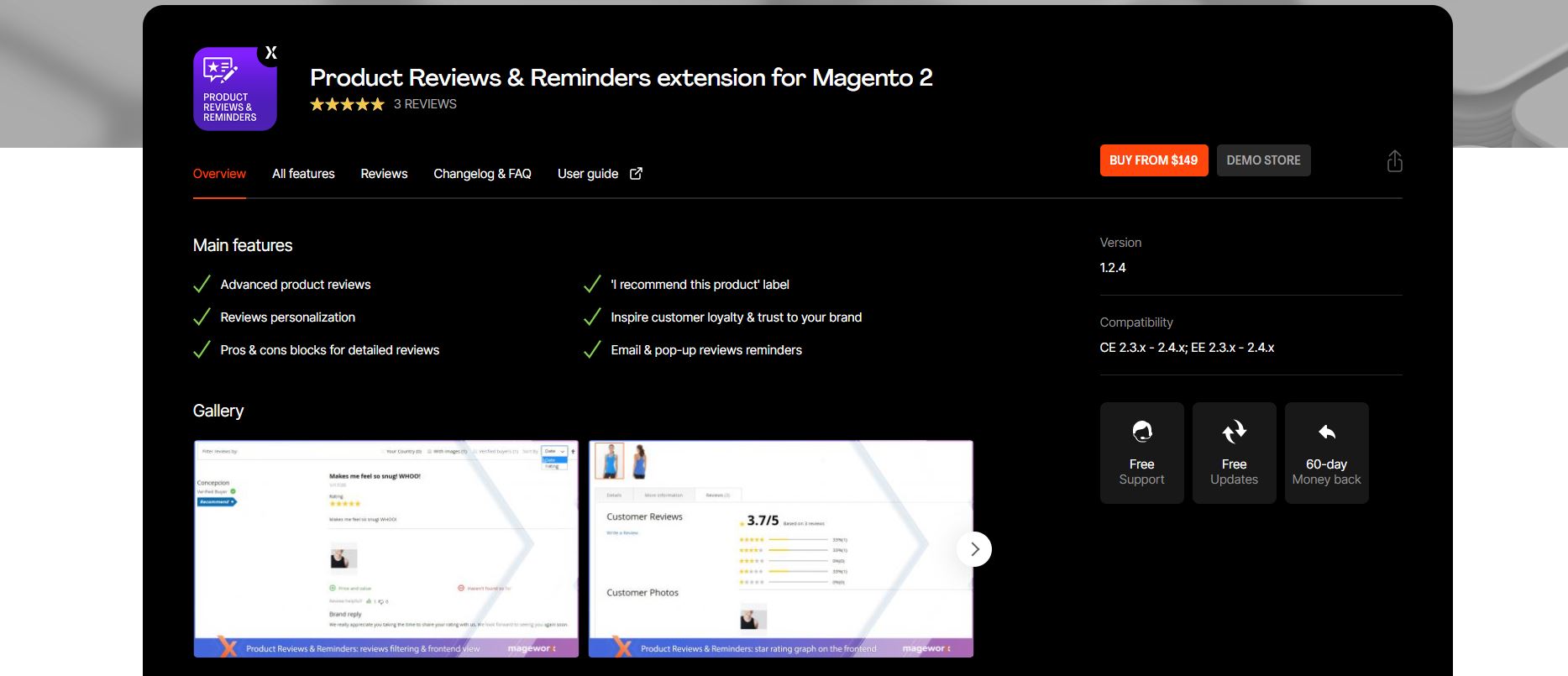 The last product in the collection you should also pay attention to is "Product Reviews" by Mageworx. It provides an amazing method for reviews and ratings on your website. With this tool, your customers won't meet difficulties in find product info via reviews by previous consumers. Indeed, this extension brings your customers a better experience meanwhile you can gather more user reviews for the sales improvement.
Main features
Support advanced product reviews
Reviews personalization
Pros & cons blocks for detailed reviews
'I recommend this product' label
Inspire customer loyalty & trust to your brand
Email & pop-up reviews reminders
Conclusion
Each extension in our list has individual strong and weak points. For specific purposes, you can choose a suitable Magento review extension for your store. Looking for more effective tools to improve your Magento 2 store? Check out robust Magento 2 Extensions or Magento 2 Themes at our store