Omni channel vs multi channel and cross channel: The main differences your business should explore
Nowadays, while eCommerce businesses are developing so quickly, digital marketing plays a more important part in delivering value to customers. So there appear many channels for businesses to reach customers. For example, omni channel, multi channel and cross channel. The 3 concepts above are so popular, however, many people are confused about how to differ them. If you are too, read our blog to understand the main difference among omni channel vs.multi-channel vs cross channel.
What is multil channel?
Firstly, you need to know the basic definition of muilti channel. So what is it? Multi channel is well-known as a term of marketing. It means that businesses try to reach more customers through multiple channels at a time. These channels can be online or offline. However, the goal for businesses is how to utilize each channel to build an engagement strategy. Email, direct mail, internet, social media, display advertisements, and/or a retail store are examples of these channels.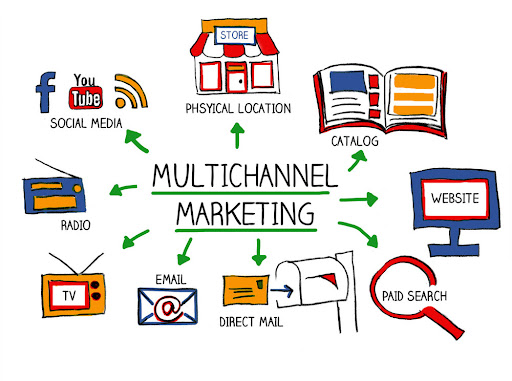 However, each channel offers distinct services and operates independently of the others. So multichannel marketing may have some drawbacks:
Channels are not connected with others.
Each channel brings a different image of your brand.
Customers are frustated because they reach many channels.
What is omni channel?
Secondly, let's talk about omnichannel. As the same as multi channel, ommni channel allows businesses to connect with customers through multiple channels such as physical location, catalogue, website, tv and so on. However, ommni channel prioritizes the consumer over your product. It focuses on the customer's needs by sending them a tailored message in a cohesive, seamless experience. Because all of the channels are unity, the consumer may quickly get information from any of them. From that, it creates a seamless experience for customers. For example, in case customers find your products on Instagram, they expect to see the same brand images from your website.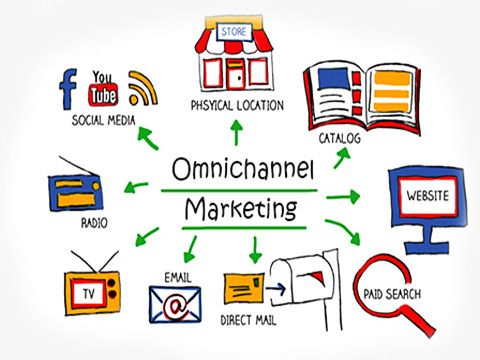 Due to consistency, the omni channel strengthens brand images on customer's minds. Therefore, customers become more loyal and trust your brand.
Differences among omni channel vs multi channel vs cross channel?
To distinguish omni channel vs. multi channel vs cross channel, our blog will compare them through some fields. They are the number of channels and connections, the main goal, data flow and customer experience.
1. Number of channels and connection
Multiple channel requires many channels but each channel is separate. They are unrelated to others.
Cross channel also needs multiple channels but it focuses on some selected ones. These channels have connections.
Omni channel allows you to use all the available channels. They interact deeply with others.

2. The main goal of omni channel vs multi channel vs cross channel
Firstly, multi channel stragies focus on the company. So businessmen use multi channel to increase customer reach. Each channel may present different messages.
Secondly, cross channel aims to engage with customers more closely. So cross channel will deliver a united message on selected channels.
Thirdly, omni channel concentrates on customers. It tries to personalize customers experience.
3. Data flow
Firstly, in multi channel strategy, customers has limited access. It means customers just access to 1 channel. On the other hand, although businesses use many channels, there is no unity among them.
Secondly, in cross channel strategy, it is based on selected channels that affect the access of customers and the transperency.
Thirdly, omni channel offers customers unlimited access. Customers can come through all channels of businesses with an ease. Also, these channels connect with others.
4. Customer experience.
Firstly, in multi channel marketing, individual channel of a company competes with other channels to attract customers. So it creates an incoherent experience for the same customers.
Secondly, cross channel selects the special channels to reach the customers. These channel co-operate with others to perform the same experience for customers.
Thirdly, multi channel works with all channels and brings them together. So it creates a seamless customer experience. Each channel supports others to gain the customer's satisfactions.
Omni channel vs multi channel example
Although there are distinctions between multichannel and omnichannel marketing, many people may find it difficult to differentiate them. So let's take an example to have a clear view.
When a business adapts multi channel strategy, it will use multiple channels to interact with customers. It aims to boost sales for the business. So the more users they can approach, the better it is. 
However, omnichannel marketing has some differences. It focuses on customers with a single message. This message is based on touchpoints a customer has with the brand. For example, after a customer purchased your products, he or she will receive a message. This message does not depend on the channels. This strategy is more individualized than the multi channel.
Multi channel marketing may have some disadvantages. For example, customers want to find your store through websites. However, you only interact with customers through emails. So they may be annoyed.
As each channel works individually, customers have to come to a specific channel to get the information they need. For instance, customers don't use social media, but you post the product feedback on Facebook. So they will feel annoyed. Instead, they tend to search for other stores which post feedback on the website.
Hence, your business should give consumers a variety of options to interact with your brand. Also, each option needs to be the same. So customers feel the feasibility and they love your brand more. They also can save time and money because they can select the most suitable option.
Omni channel vs multi channel retailing
Omni channel and multi channel retailing have vastly different approaches. So each creates a different customer experience. While omni channel retail puts customers in the centre, multi channel retail aims to provide information.
The goal of multichannel retail is to notify information to the customer. For example, they use multiple channels to tell their consumers about a promotion. From that, businesses want customers to make a purchase. Each channel will create its own messages provided that the business increases sales.
After that, each channel will make adjustments based on the customer's reaction. All the adjustments will be based on the key metrics of the channels. Also, the information from these channels will contribute greatly to the overall business.
On the other hand, omni retail operates with a focus on customers. So firms gather their staff and notify them about the changes. Then, all the channels try to maintain brand consistency when they do retail activities.
Based on the needs of customers, omni channel marketing strategies have different ways to change their retail. For example, businessmen will collect customers' information to find out the insight. After that, they deliver a persuasive message to customers and serve customers needs. Hence, omnichannel retail has the potential to attract more customers by delivering the items, content, and shopping that they desire.
Choose ommni channel or multi channel retail?
As mentioned above, omni channels have many advantages over multi-channels. Also, using omni channels have more potential to boost sales than multi-channels. Nevertheless, there are still many businesses who use multi channels instead of omni channels. Why does it happen?
It can be explained that multi-channels are more simple than omni channels. Multi channel retail only requires each channel to run its own activities without communication. So they can focus resources on developing their channels. Also, they don't need to care about other channels.
In contrast, omnichannel needs more teamwork among channels. Each channel needs to cooperate with others to have consistency. This makes the process more complicated. Hence, many businesses still select multi channels retail as it is also effective.
While multichannel retail allows customers to make purchases across multiple channels, having interconnected channels is more vital than ever. Since customersư begin their purchasing journey on one device and then move to another, maintaining consistency will help you keep customers. Although omni channel requires more effort, it is still worth implementing.
Conclusions
In conclusion, if you run a marketing strategy for your online business, it is very important to understand the 3 types of strategies above thoroughly. Arrowthemes suggests that you should use the omni channel strategy to satisfy the customers best. Besides, if you want to start an online business, read our blog here. During you run your business, if you have some technical problems, feel free to contact us.