10 Best Shopify Review Apps (Expert Pick)
Are you looking for the best review app for Shopify?
eCommerce is a growing market associated with some of the world's most successful businesses. Shopify, one of the largest online shopping platforms today, is at the heart of this profitable industry.
What is the platform's appeal?
Without a doubt, the variety of 3rd-party software products has significantly contributed to the website's popularity among merchants.
To put this in context, the Shopify app store contains over 6,000 apps that allow you to customize your online store.
The Shopify app store has various app categories that make it much easier to find the software you're looking for. Product reviews, which are the subject of this post, are one of these categories.
Shopify Review Apps are simple tools that allow you to collect customer feedback on your products. So what are they?
Keep reading!
What is Shopify?
Shopify is an eCommerce platform that allows you to create both online and offline stores. Store owners use Shopify in the same way that bloggers use WordPress.
It enables you to sell online and offline through your website and Shopify POS. The Shopify eCommerce Website Builder has features for everyone, from beginners to eCommerce experts.
Moreover, it's a cloud-based SaaS platform that allows you to easily sell products online. Shopify hosts your company and assists it in growing by allowing you to conduct transactions, customize your website, and market your products.
Shopify offers a variety of plans and pricing options, making it a viable option for both startups and enterprises. Shopify's easy-to-use Design Templates allow you to customize your website to your liking.
Shopify enables you to run an eCommerce business. To run an eCommerce Store, you must create a storefront, display your products, accept payments, interact with your customers, etc.
Physical products, digital products, services and consultations, memberships, experiences, rentals, and classes are some of the product types or services that you can sell on Shopify.
What Shopify's Features Do You Need?
To find the best review apps, there are some features that you should look for:
Detailed Online Store Panel: Shopify is a tool that helps you run your online store successfully. Its dashboard comes with different reports and features to see how your store is performing. You can check your orders, your products, and your visitors. Shopify lets you know everything about your store and its performance.
Free themes with customization: Shopify lets you create your own online store without any charge using the free Shopify themes. You can change the look of your store to match your brand. You can use free fonts, colors, photos, and more. Shopify has many eCommerce-themed stock photos for you to choose from.
Reasonable price: Shopify fee is quite reasonable. has a plan for every budget and business size. You can start with Shopify Lite for just $9 a month and sell on social media, email, or chat. You can upgrade to Shopify Plus for a customized and scalable solution. You can switch plans as your business grows.
Many apps support: Whatever you need, there's probably an app for it in the Shopify App Store.
Different Shopify support channels: Shopify has many customer support channels to help you, such as Shopify customer service number, chat, email, etc. There are also Facebook Groups created by Shopify users who want to share their tips and experiences. Shopify has a huge support ecosystem for you.
The Benefits of Using The Best Review Apps for Shopify
You might think that product review apps are not worth spending money on. But from a customer's perspective, they are the key to turning a website visitor into a buyer.
A customer can decide whether or not to trust your company in a matter of minutes. Product reviews have been shown to be effective tools for gaining customers and increasing sales.
However, waiting for a consumer to evaluate a product is never a good idea. You'll need a way to collect this information from customers and display it to potential buyers.
This is where Shopify's product review apps come in.
Judge.me – Product Review App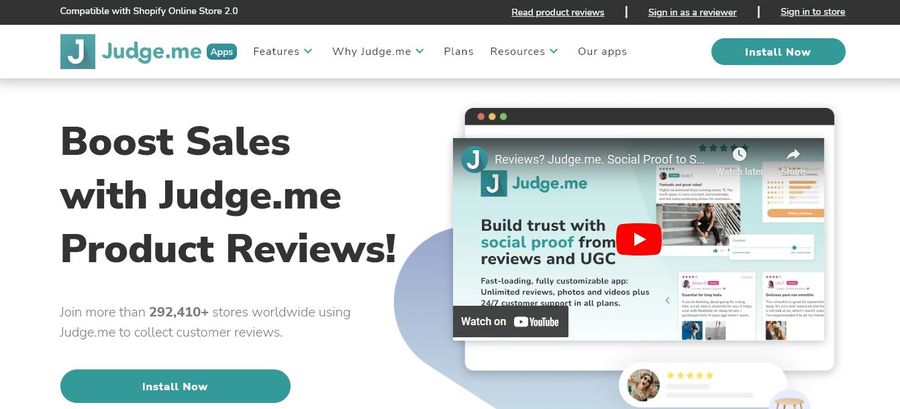 Learn More
Judge.me is an excellent choice for merchants looking for a low-cost way to market their Shopify store through product reviews.
This product review app has a free option that includes a slew of SEO features as well as product review functionality.
You can also gather photos, text, videos, and product reviews from customers with the platform. It's an automatic feature because it prompts the customer to complete the reviews via email.
Loox – The Best Review App for Shopify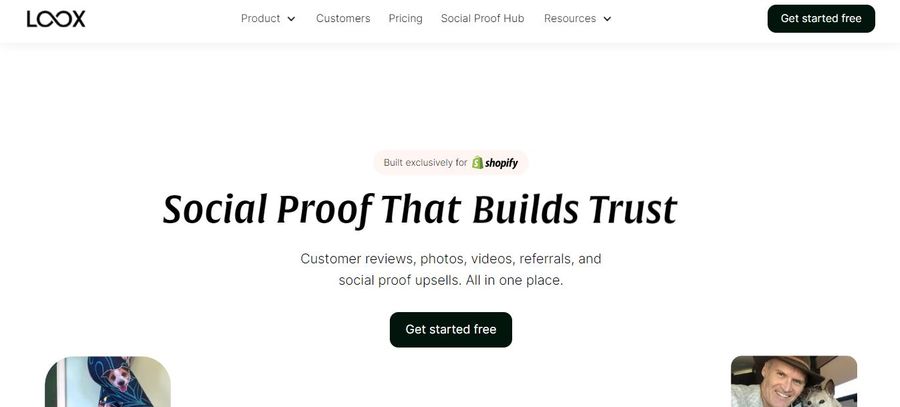 Learn More
Next, Loox is the best review app for Shopify. The reason for this is due to its inherent characteristics.
It's considered the most visually appealing user interface of any Shopify 3rd-party app. This could explain why it has a 4.9-star rating on the app store.
Moreover, Loox is Shopify-optimized and provides a hassle-free and integrated user experience. It enables you to show high-quality visuals of customer reviews.
The app will take care of everything by asking the customers for reviews and showing them on your product or review pages.
You can try it for free for 14 days and then pay only $9.99 per month. Loox is an excellent investment without a doubt.
Enorm Photo Reviews – The Best Free Product Review App for Shopify

Learn More
Enorm Photo Review is the best free product review app for Shopify with Photo, making it an excellent choice for merchants looking for low-cost tools. The app allows users to present up to four photos with product reviews.
Furthermore, it is fully customizable with various designs and layouts to match the look of your store. The app is currently free, but a paid version is in the works.
Stamped.io – The Best Review App for Shopify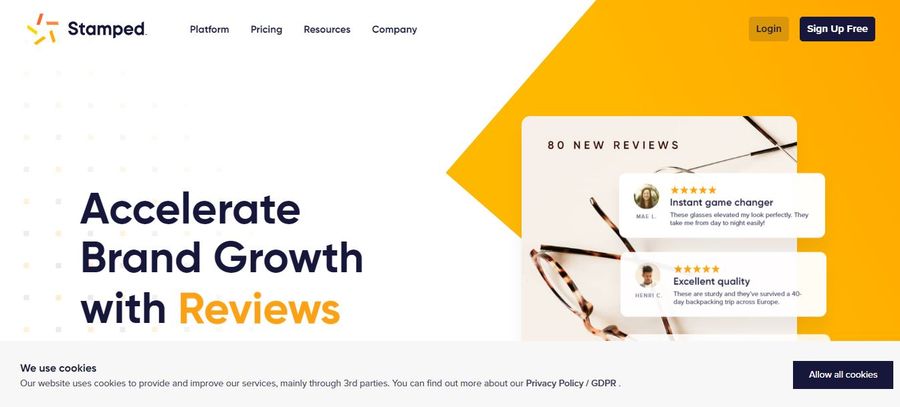 Learn More
Stamped.io is another excellent option for Shopify merchants looking to collect reviews. The most important factor contributing to this app is that it is trusted by some of the largest companies on Shopify, including Colgate, Rhone, and SodaStream.
Other features of this best review app for Shopify include an Instagram shoppable gallery and a net promoter score to check reviews.
Fera.ai – Best App For Reviews on Shopify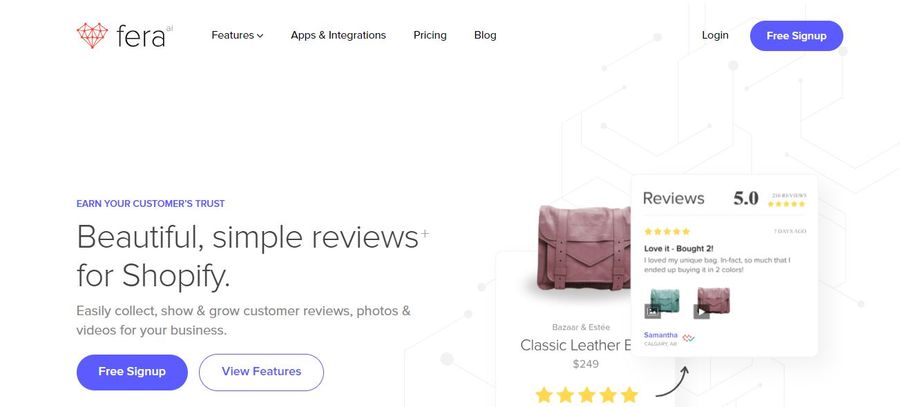 Learn More
In terms of numbers, Fera.ai deserves to be ranked first among the best app for reviews on Shopify. It has a 5-star rating on Shopify and is used by over 10K businesses. You can obtain customer videos, images, and text reviews with it.
It also supports customer rewards like loyalty points, cash back, and discounts. The tool is available for free, with a paid plan – it costs $9/month and a 14-day trial period.
Yotpo – The Best Review App for Shopify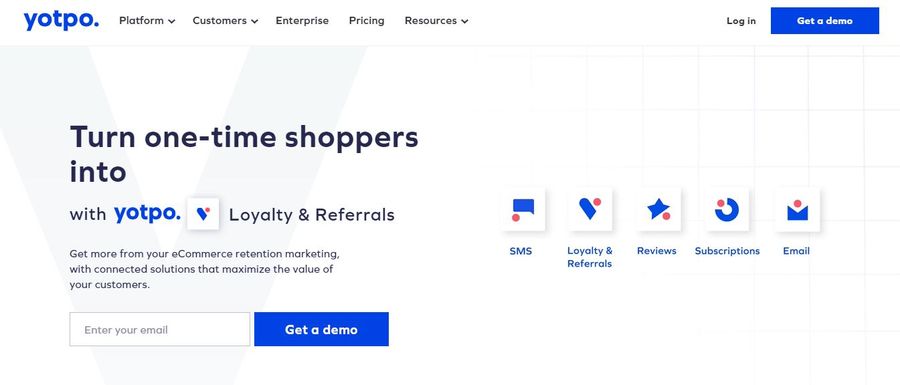 Learn More
Yotpo has some distinguishing features that set it apart from the other tools mentioned above. To begin, you can gather reviews from different products in one click with the tool.
Furthermore, it provides SMS marketing solutions, which none of the listed applications do. In addition, Yotpo enables you to gather reviews right on your site or through email. The paid version, which has a 4.8 rating-star on the Shopify app store, costs $19 per month.
Ali Reviews – Best Customer Review App for Shopify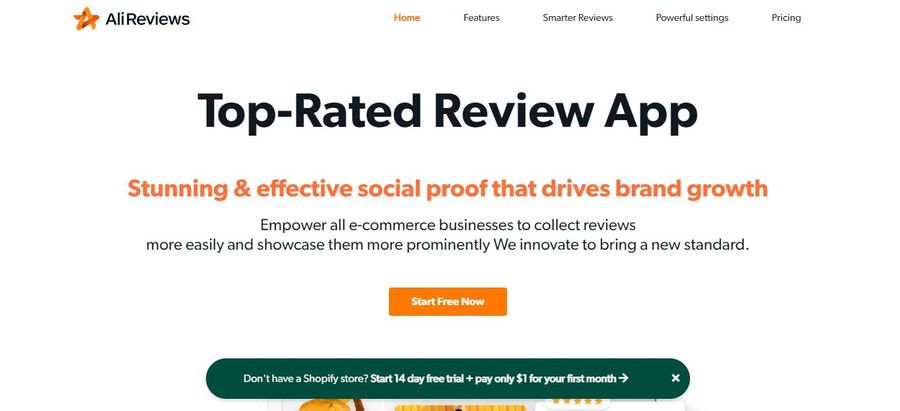 Learn More
Ali Reviews is yet another excellent app for merchants looking to collect customer feedback. A key feature is its user-friendliness and straightforwardness, which enable smooth navigation of the app.
In addition, it offers different integrations that ease customization. CSV files are an easy way to import reviews. Pricing is $9.90/month with a 14-day trial period.
Conclusion
Judge.me, Loox, Ali Reviews, Trustoo, and Stamped.io are the most popular and highly rated Shopify review apps. They offer various features such as photo reviews, video reviews, ratings, and more. Hopefully, you enjoy our articles today and get the right one for you.
Read More: 6+ Best eCommerce Chatbot Tools for Your Online Store (Free & Paid)