Shopify 360 Product Viewer App: Top 5 wonderful apps to boost your sales
One of the biggest challenges for online shopping is the lack of interaction between the customers and the products. In a brick and mortar store, the shoppers can pick up the product, look at it and then decide if they like it. However, on an online store, they can only read about it or look at it on the screen. That is why 360 Product Viewer App are so essential for your website. In this article, Arrowtheme want to list out some of the best Shopify 360 Product Viewer App that help store owners to showcase a 360-degree view of the product images from every possible angle.
1. Magic 360 spin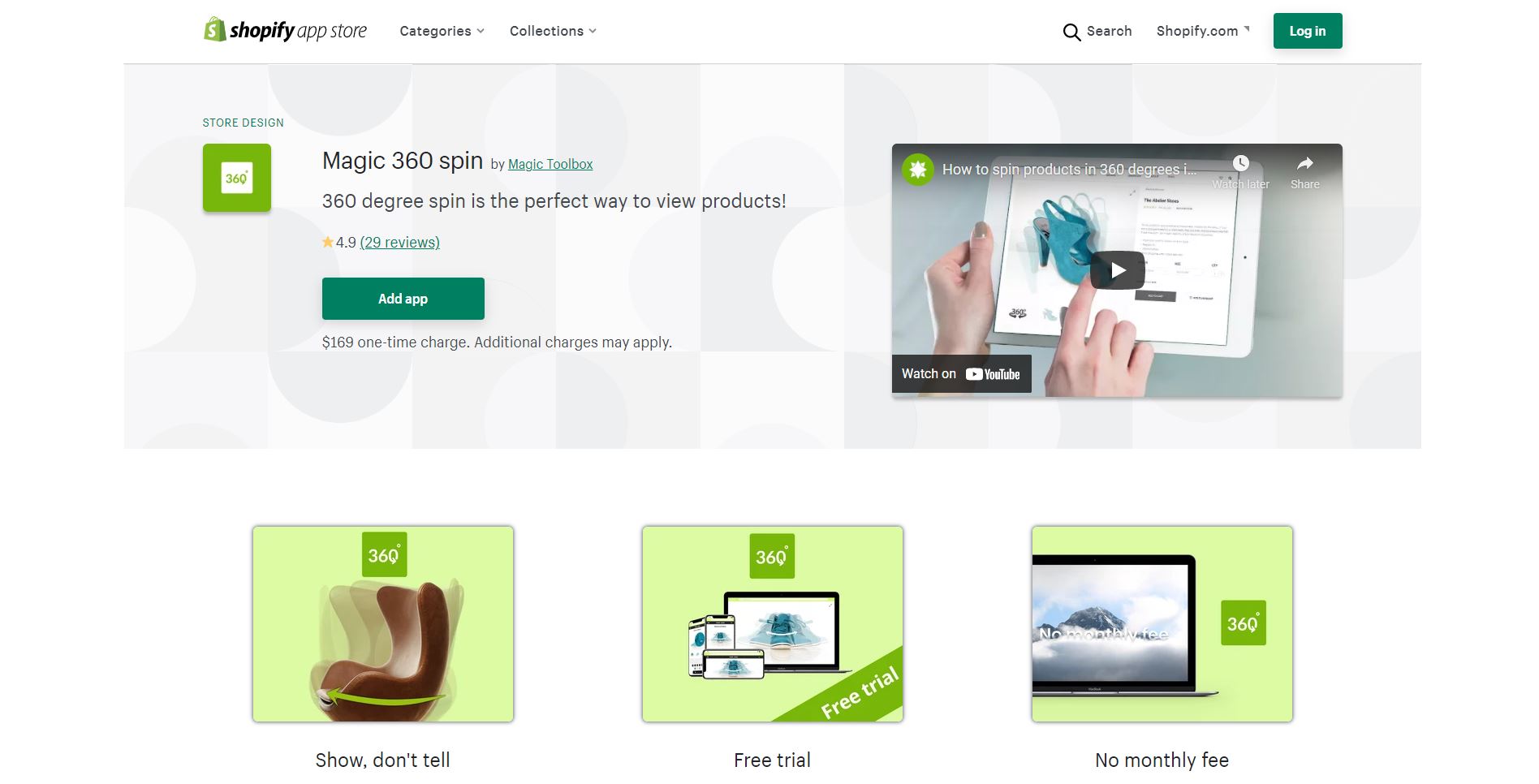 If you are seeking for an app that brings you the function of creatively showcasing your products, Magic 360 Shopify 360 Product Viewer is the one you need. This app allows you to show your products in 360 spinning photos or in other words, your visitors can view the products from any angles – almost like real life. Besides, This module allows your images to spin automatically or on manual command from the shoppers. And that's not all, because this 360 viewer is developed with JavaScript not Flash, so it works on iPad, iPhone, most Android devices plus all major browsers. As a result, your shoppers can view your products whenever and wherever they want.
The most prominent features:
Display 360 images and static images alongside each other.
Enable your images to spin automatically or on manual command from the shopper.
Use jpg images to create the perfect 360 representation of your products to boost engagement and sales.
Works on all devices and major browsers.
2. Spin Studio ‑ 360 Product Spin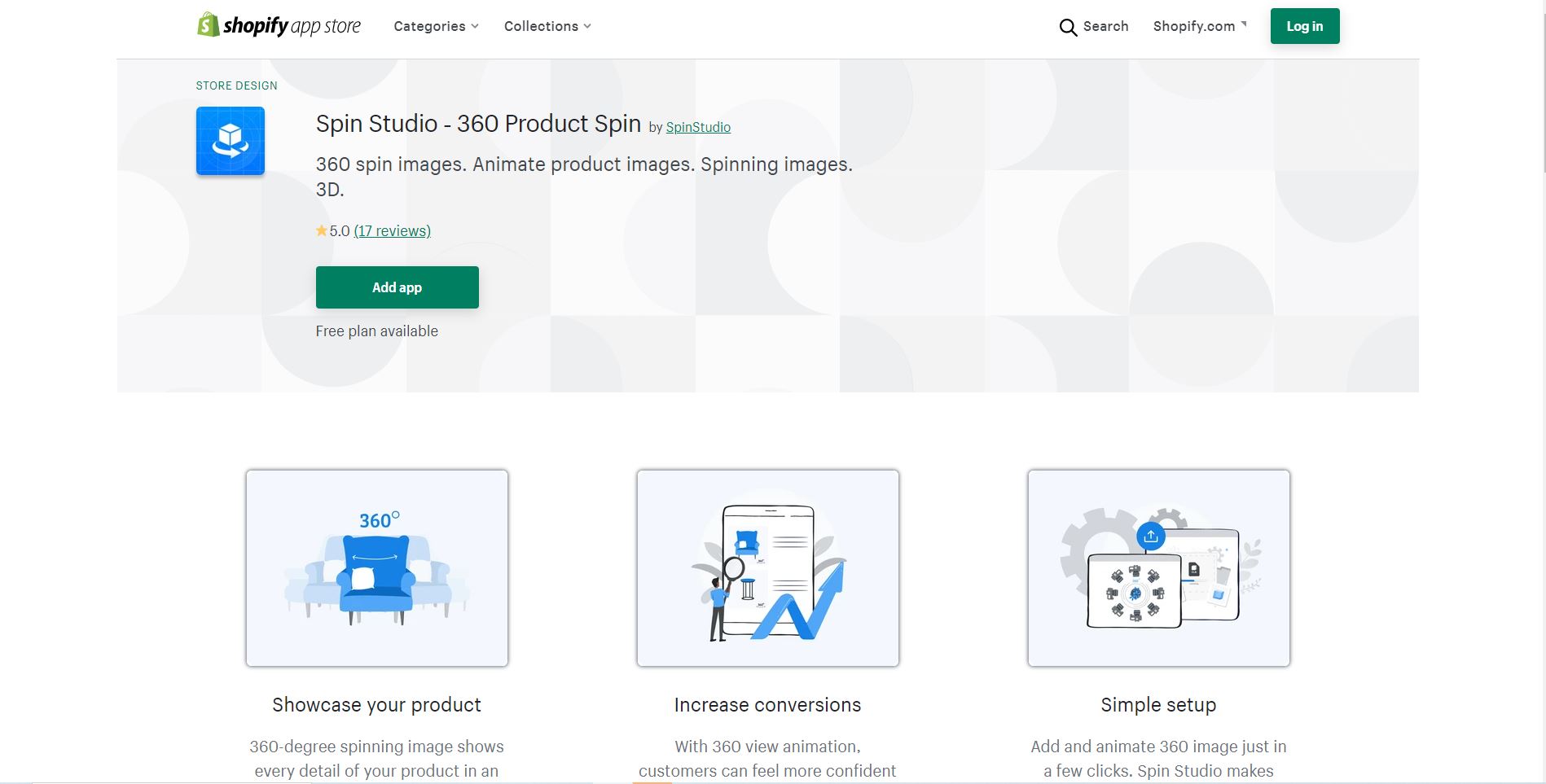 This app supports you to showcase your products in 360 spinning photos or in other words. Hence, your users can view the products from any angles. Besides, you can get full control of the details of the images which means you can control the appearance of your products or how it show to your clients. Likewise, the software also offer using product animation for your storefront then you can take this advantage to attract new users. On top of that, you can change the design of the app as well then it can suite your style or your store theme.
The most prominent features:
Offer 360 spinning product photos
Helps shop owners to have full control over photo details
Easy to edit the design of the app
Support goods animation at storefront
Simple to customize the spinning settings
3. Spiff 3D Product Customizer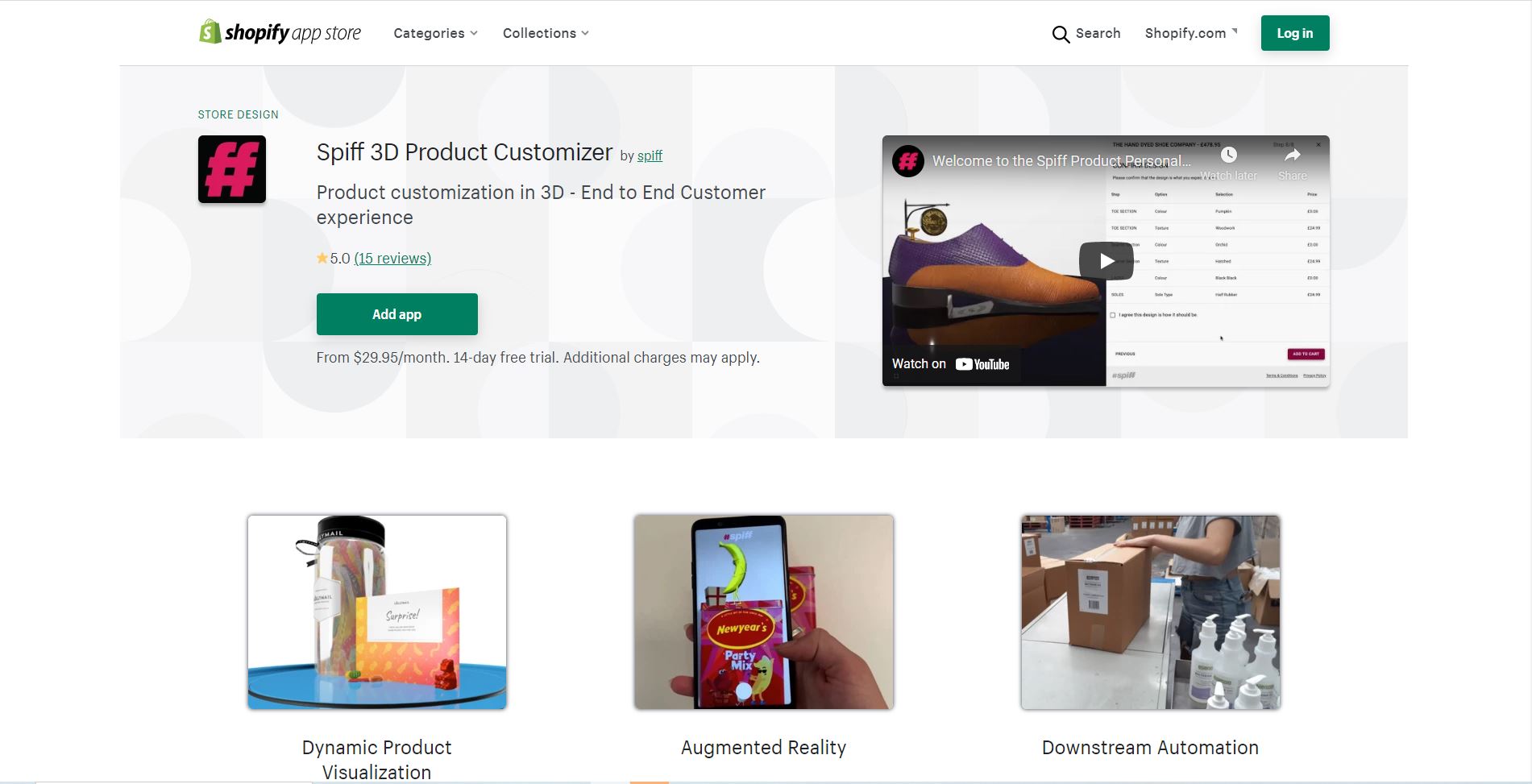 As you know that, being able to visualize the finished, customized product in your shopper previous to buy is a powerful manner of demising pre-buy risk perceptions and, therefore, cart abandonment. With this app, shoppers can interact together with your merchandise using the computer, tablet or mobile. Besides, this app takes 3D product renders to the next degree, permitting you to personalize the product in actual-time dynamically. Especially, the extension comes with the AR functionality where the customized product can activate an AR. Not just that, you can let customers design their products when they order, so you will get a high-resolution print-ready pdf attached to your store order.
The most prominent features:
Image Uploads – Customers can add images that mean something to them.
Bespoke Fonts – Turn your logo into a font, like we did for Vegemite, Maltesers, Favourites and Allens Lollies.
Patchworks: Generate backgrounds from an illustration that can be randomized so that no people can have the same design. Eg. Nutella and Diet Coke Mosaic campaign.
Augmented Reality – Enable users to create their own AR experiences with your brand. It's simple, it's easy and very very powerful.
Character Builder: help you to create your very own customizable characters. Used in books, Augmented Reality, packaging and more.
Materials/Textures: Shoppers can select between varying Finishes and Textures to add even more realism thereby increasing conversion rates.
Custom Pricing Mode: Set pricing to any variant created within the spiff hub and up sell your shoppers easily through interaction.
4. 360 Product Spinner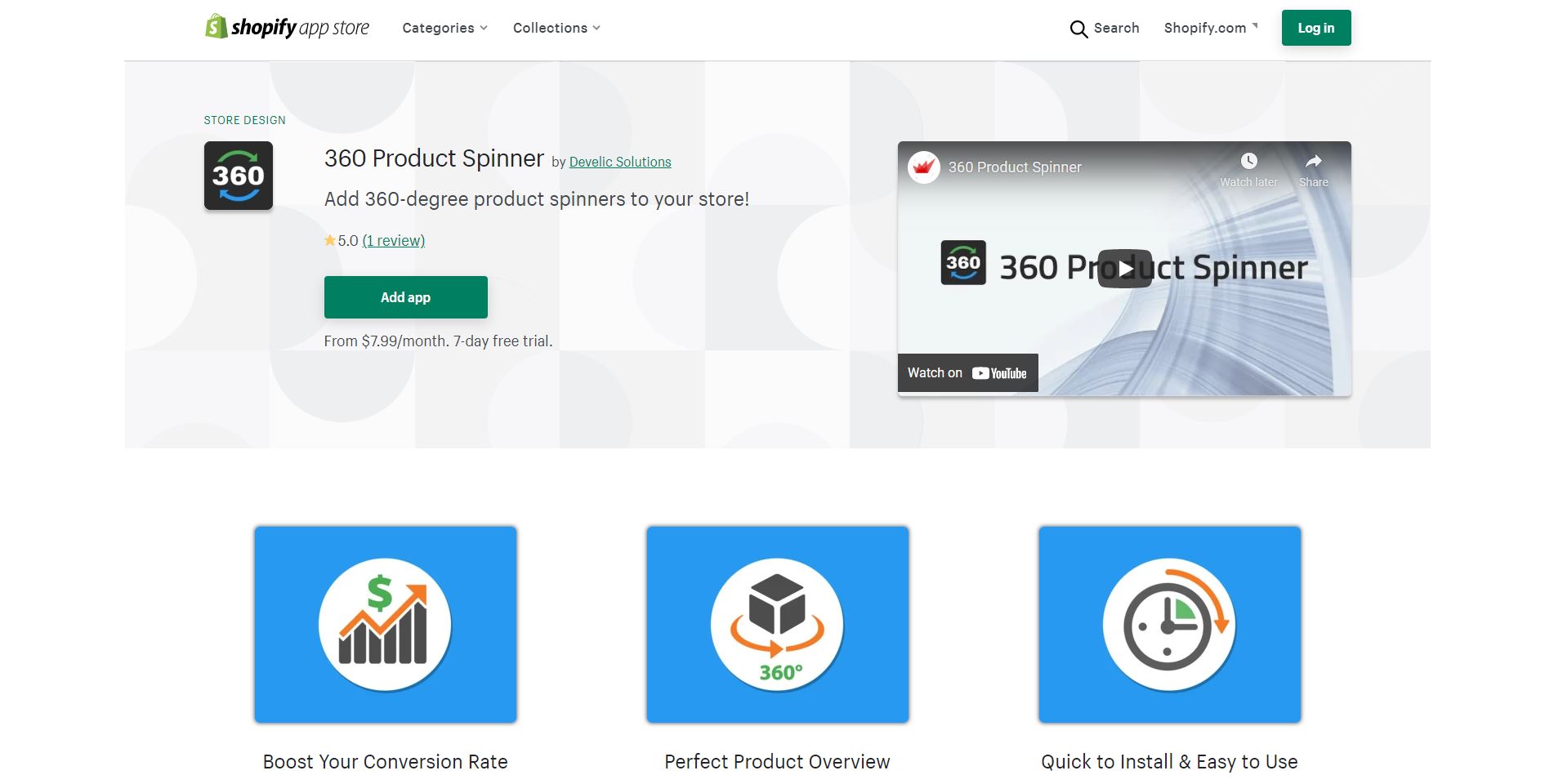 There are many apps that support users with the function of showcasing products in 3D model but bevelPix 3D Viewer can bring you the differences. When you install this tool, it helps you to install a 360 view of your products. The installation of the app is very simply , there is no need for too much customization, enabling you to have the function available on your website within 15 minutes. This feature will helps you to improve engagement, trust and conversions on your website.
The most prominent features:
An easy-to-install and use app to offer you 360 product viewing on your website.
Great, free support from the development team.
Be up-and-running within 15 minutes.
A detailed user guide to help you make use of the app.
5. 360 Product Photography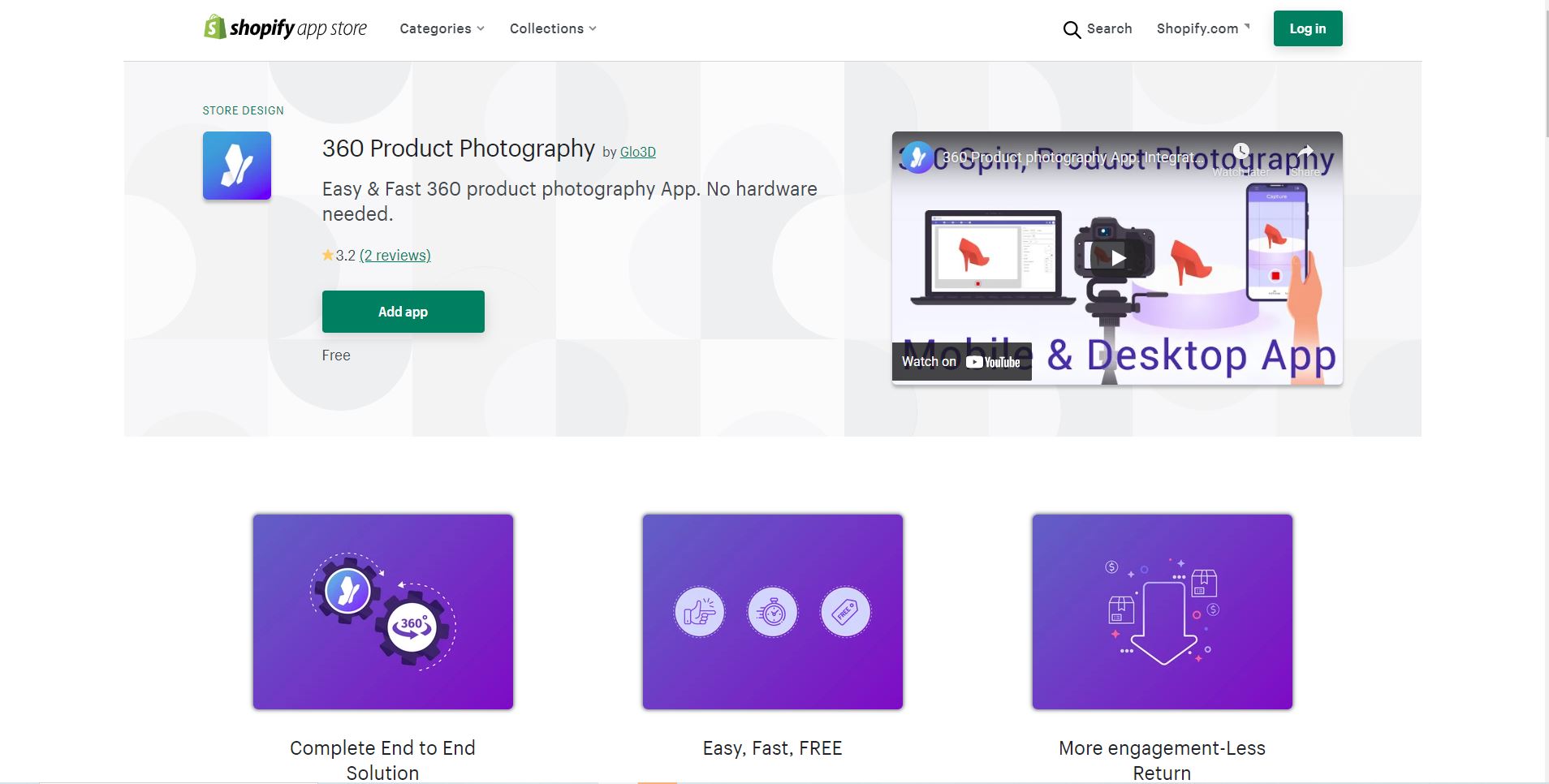 This Shopify 360 Product Viewer allows you to showcase your products in 360 degrees. Customers can rotate images down and up to view over and under a product. This 3D product viewer app is designed for maximizing sales conversions making online purchasing closer to offline.. Furthermore, the combination of this 360 Product Photography Shopify app and Glo3D mobile/desktop app, offers an end to end solution, to capture, edit, share and add 360° spin image of any product to your website and online store.
When you want to impress customers and get higher conversions and engagements, you might want to consider showcasing products in a 360 or 3D image. Using one of the top best Shopify 360 apps mentioned above is one of the best ways to do that. Besides, you can take advantage of this amazing feature with Lusion – Multipurpose eCommerce Shopify Theme.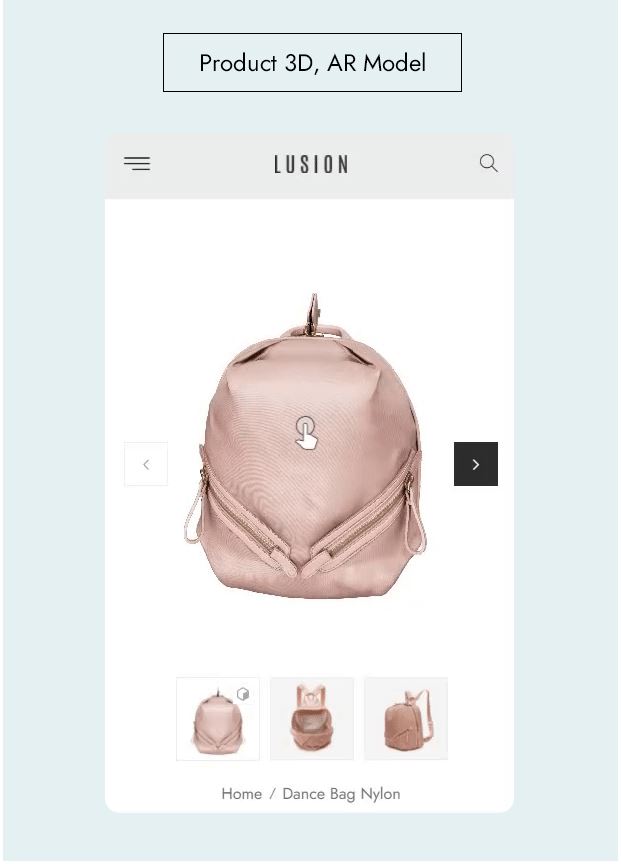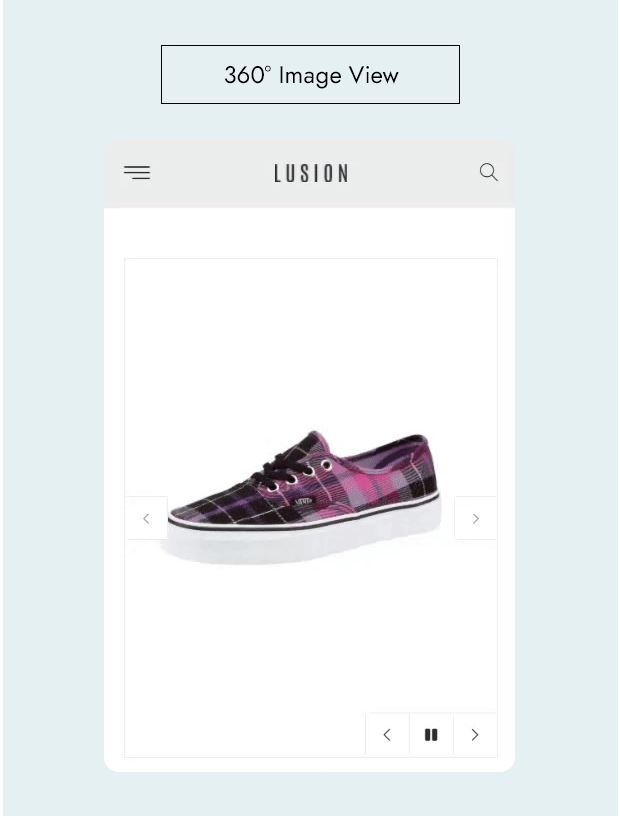 Lusion is one of the best Premium Shopify Theme designed and developed by Theme Forest's Power Elite Author. Theme will take your Shopify store to the next level with 360 Image View and Product 3D, AR model. Besides, theme also comes with a lot of prominent features including:
The newest feature: Product 3D, as well as AR Model, Google rich snippets structured Data, AJAX Search Autocomplete
Top trending theme on Themeforest. Also, theme is optimized for Drop shipping.
24 + Pre-made demos
Compatible with top plugins including MegaMenu, ajax search autocomplete, native Shopify quick view, Ajaz product filter..et
One-click Demo Importer: one theme importer already offers pages, posts, sliders, widgets, and so many more
Fake Sales Popup: Easy way to convince visitors stay around
Recommend products: Highlighting the products that helps increase conversion rate
Full Customizability: modifying is more simple because you don't have to write any new coding
Want to see more information on the Lusion theme, let check it out via the Themeforest!
Wrapping up
If you're already doing a Shopify website, it's likely that you're at least reaching some app to power up your website. But remember, it is always much better to have the best support for experts. You can find a technology companies to do integration and customization for your website. At Arrowtheme, we provide the professional service to help merchants improve the customer experience. Want to know more about our Shopify service? Check it out
Especially, our packages are ready to provide you with 30 % OFF !!! You can reach us at Here. We'll be happy to provide you with a free consultation.