Shopify POS app: Top 10 essential apps to make in-person selling easily
Shopify POS (Point-of-Sale) app is one of the most common add-on features for retailers. This app can help you manage orders for your POS systems effectively and effortlessly. To help you decide on the suitable apps, we have curated top 10 Shopify POS app apps based on rating, the number of reviews and highlight features. We hope this list will help you in your research to choose the best app for your Shopify store.
1. Point of Sale

If you want to keep your business local, then this POS app might be the best solution for you. You can take the control the delivery of orders to a local area and include time slots so shoppers can know exactly when receive the orders.
Besides, this POS app comes with lots of powerful features that make it a valuable app for any small, local business. For example, you can get multiple customer addresses, added straightly through the POS system. These addresses can be found via Google Maps, so your shippers can find out where they are supposed to be going fast.
In addition, you can keep your shoppers informed about the delivery status of the products with an order status function.
Highlights:
Enable you to set time slots for deliveries.
Shoppers can book time slots.
Customers can have multiple addresses.
Easy-to-use, install and configure.
2. POS system

If you are seeking for a comprehensive and effective POS system that can provide a flawless omnichannel experience, this module is your perfect solution. Furthermore, this POS system take control of the whole shopping journey from start to complete. At the same time, it enables customers to purchase online, pick up/refund/exchange in-store. Also, this tool also supports 100% real-time synchronization from POS to inventory. Most importantly, you don't need to pay transaction fees for ConnectPOS, only pay straightly to third-party providers.
Highlights:
Compatible with both PC and mobile devices (iOS & Androids)
No transaction fees when using third-party payment gateways
Support Click-and-Collect
Ensure 100% real-time synchronization between the POS system and your inventory
Accept multiple payment methods
3. Sesami

If you own an online and offline store and you take appointments, it can be difficult for you to combine the two. When shopper is booking online, you could be taking an order on the POS for the same time. That is why this app is great solution for you, like this one, that can combine the two. You will need an extra POS system to allow this app work, but it does enable you to combine both online and offline booking systems for a better business environment.
Highlights
Take booking online and offline without taking accidental double bookings.
Shoppers can book appointments easily on your Shopify website.
Easy-to-use and integrate.
Works with other POS apps.
4. Draft Orders For POS

This Shopify POS app is a great solution for those who need a simple POS system added to their website instantly. It is very important for those who generate draft orders, send those for review and then the customer selects to make the purchase or not. The process is that you generate the draft order, within the backend of Shopify and then you can find that draft order later and click 'add-to-cart'.
At the same time, you can easily add, edit and delete draft orders straightly from any POS device. And if the order is finished, the draft order is automatically removed from the system. The admin store can also add cart attributes to make your checkout experience more relevant to your online business. Not just that, you can easily add cart discounts at your discretion.
Highlights:
Load and save draft orders from any device.
Add draft orders from any POS hardware.
View, add and delete draft orders from any device.
Can add discounts to orders.
5. Stocky

If you want to spend less time worrying about what products to buy and more time maximizing your profits with the best good for your business, you should consider Gift Box. Not simply as an app, but Stocky is also a powerful tool for you to reduce inventory loss. To begin, with this app, you can easily create and manage purchase orders from one place. Also, you can communicate more effectively with your suppliers and vendors, and have a comprehensive view of what's coming in and when. Besides, you can get recommendations on your products based on your rate of sales. As a result, you can know which products are the most profitable and which you should re-order when.
What's more, this tool helps your staff have full visibility across all your locations and warehouses. When stock comes in, your staff can use a barcode scanner to fast and accurately receive and place inventory.
6. EasyTeam POS

The next Shopify app in this topic you must know to provide the best customer service is EasyTeam POS. First and foremost, it provide Schedules and Checklists solutions straightly from your POS dashboard. Besides, this app support all types of payroll: from hourly/salaried employees, and commissions based on the store's sales.
What's more, the shop owner can automatically sync your shop's staff members with the tool. You can add as many additional staff members that you want, regardless of your Shopify plan.
One-click clock-in/out with your brand's name and logo.
Schedule faster and smarter while controlling costs. Give your team easy access to their schedules and reduce absenteeism.
Take the control of multiple locations, and automatically load the current location's schedules inside the POS.
Manage daily checklists (e.g opening store, closing store, etc) straight from the POS.
Easily approve, edit, export and sync your teams' timesheets.
Assign custom permissions, departments and positions.
Support all types of payroll.
Support your non-desk staff using the Web & Mobile integrations.
7. Erply POS Integration

If you are looking for a flexible app, then this app is perfect choice for you. The application works well with any mobile device, therefore, if you go to numerous trade shows or pop-up events, then this tool should be on your shortlist.
Furthermore, this Shopify app comes with lots of options that are not normally associated with POS systems. For example, you can take care of the purchase orders and prepayments. Likewise, you can also view the complete purchasing history of any customers a
Furthermore, you can even generate lots of engagement points with clients and reward your most loyal ones. The CRM system within the app enables you to create and use personalized promotions to shoppers to keep them loyal and coming back to your Shopify store.
Highlights:
An effective solution for those who operate mostly online but attend trade shows.
Lots of great addons that can extend functionality.
Can use third-party or self created plugins to help extend feature
Provide inbuilt CRM functionality to help you sell more to loyal customers.
8. Ordersify

If you expect to find a perfect POS app in order to optimize your Shopify store, you can consider Filters & Instant Search. This app comes with a wide range of advanced features to meet your any requirement. For instance, it allow you to easily manage your draft orders directly from POS devices, search draft orders or review all line items, and apply draft orders to the cart. Furthermore, Ordersify app shows all available products of your draft orders and availability quantity before adding to the cart effectively for saving time.
Add to cart from POS devices
Save current cart to a draft order
Reduce inventory quantity for pre-order
Manage draft orders inside POS devices
9. Shopify POS system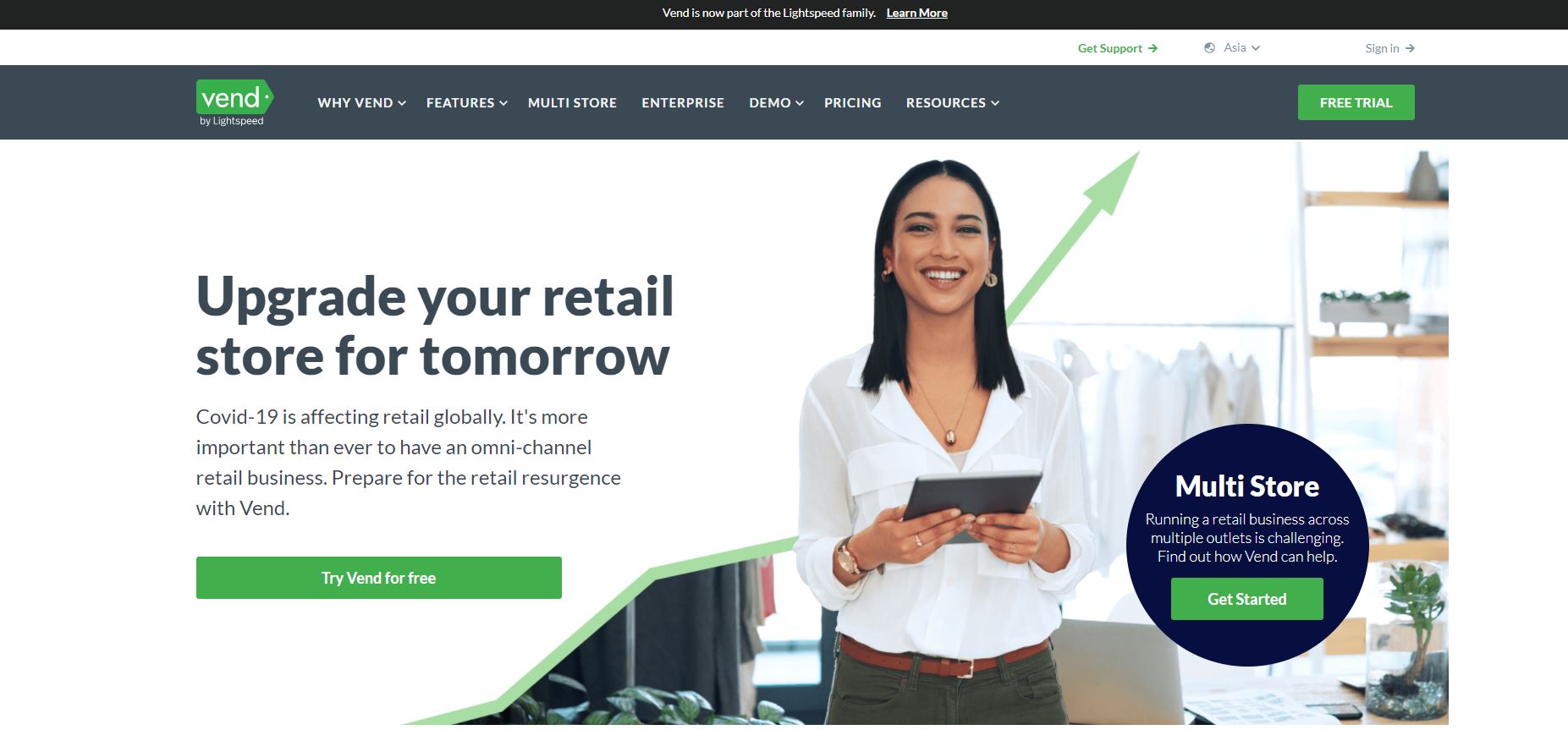 Serving more than 26,000 retailers worldwide, Vend is a trustworthy brand in the technology world. One of their most popular products is Vend POS Software – a point of sale system that is compatible with multiple eCommerce, including Shopify.
Customize dashboard and sell screen
Create custom receipts
Support multi-outlet retail management
Diverse loyalty programs and discount rules
Save and retrieve carts
Allow Return and Refund
Split payment and Layaway available
Advanced staff management: You can set up different permissions and closely manage cash flow and register activities
10. Hike POS shopify app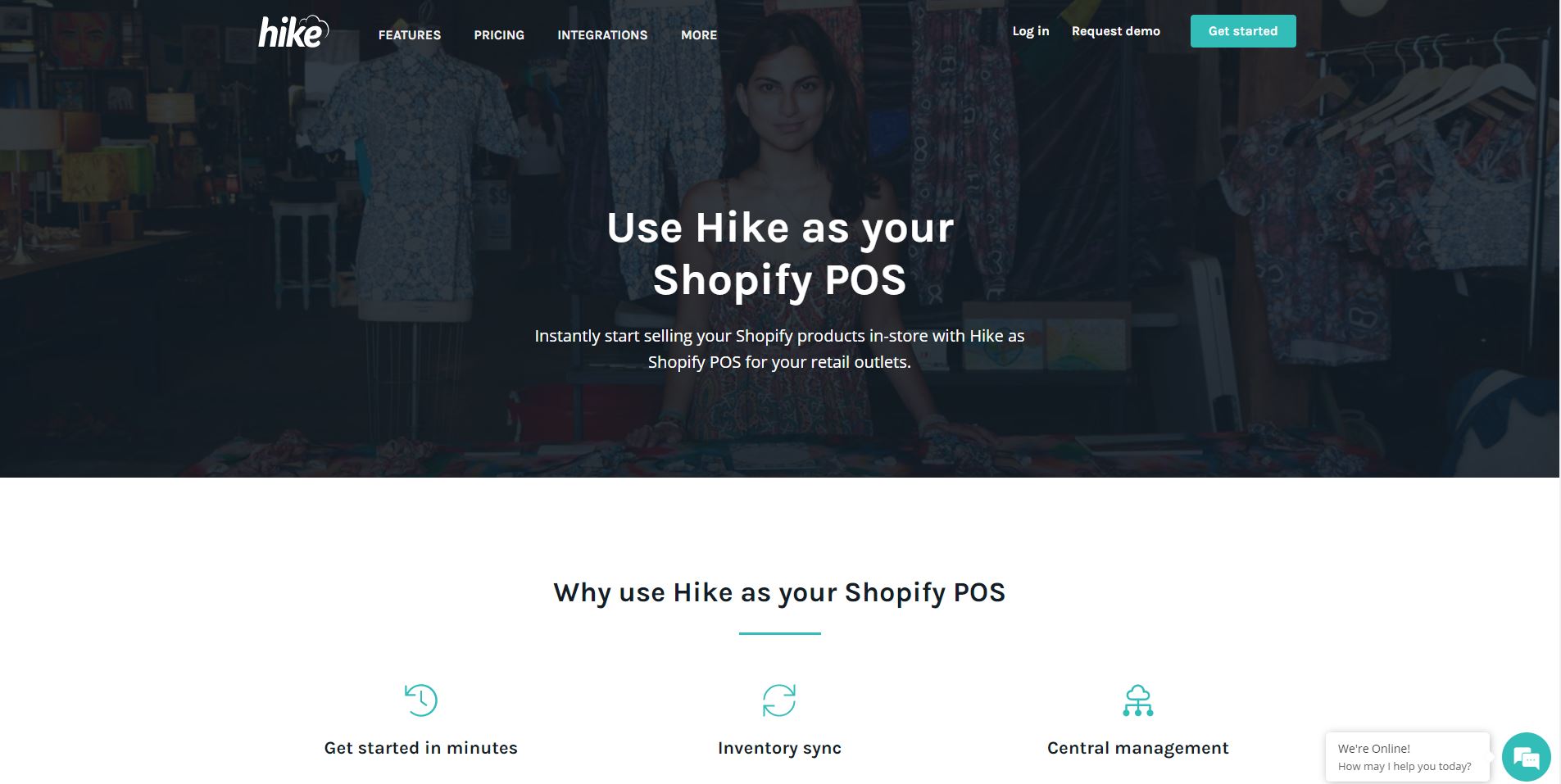 Last but not least, Hike POS is one of best Shopify POS in our listing Also being a multi-platform POS system, Hike POS has appeared in distinctive POS listings. You can experience these powerful features when intergrading Hike POS for your Shopify stores:
Real-time inventory and orders synchronization
Real-time analytics
Detailed customer profiles
Multi-aspect report systems
Accounting integration available
Support email marketing
Allow Returns and Refunds
Create various loyalty programs
Set up separate user roles
In conclusion
With this list, we hop that you have found the best suitable Shopify POS apps to optimize your omnichannel business. If you're already doing a Shopify website, it's likely that you're at least reaching some app to power up your website. But remember, it is always much better to have the best support for experts. You can find an IT company to do integration and customization for your website. At Arrowtheme, we provide the professional service to help merchants improve the customer experience. Want to know more about our Shopify service? Check it out
Especially, our packages are ready to provide you with 30 % OFF !!! You can reach us at Here. We'll be happy to provide you with a free consultation.