Shopify vs Etsy – Which Platform is Better for Droppshoping?
Wondering which platform to start your online business – Shopify vs Etsy?
In this era or even decade, a lot of people have to work from home (WFH) or even quit full-time jobs to become entrepreneurs and start their businesses. As a matter of fact, they must find web platforms where they can start their online business sites, maintain them, and develop them to make money. Among a lot of website platforms, Etsy vs Shopify stands as the 2 most popular ones for e-commerce and online shops.
If you are still choosing which one to go with, you have come to the right place for Shopify vs Etsy
Shopify vs Etsy: Shopify Review
In recent years, Shopify has become so popular that it may reach or even pass over WordPress in some aspects, especially eCommerce.
If you run a small or medium business, Shopify will be a companion that keeps bringing you income and brand images. In case your brand is a big one in the field, Shopify will help you reach a new higher level in the market. A Shopify store can be created, set up, maintained, and developed for online shops and store with literally hundreds or even thousands of prebuilt features, apps, and third-party products. You can sell your goods and products on your site directly or across multi-social media channels.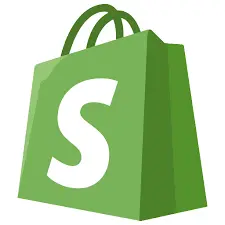 Shopify vs Etsy: Shopify Advantages
There are many pros that you can receive when building your site on Shopify so let's go from one to one.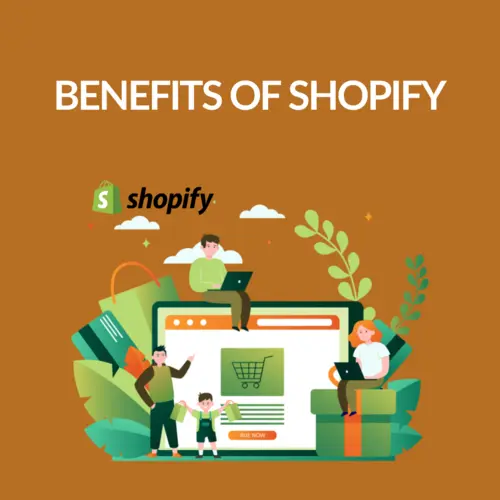 First of all, the first advantage that ever comes, at first sight, is the ease of use. When you enter a backend Shopify store editor, you will see a very simple and user-friendly interface that applies to all Shopify themes. Are you a beginner, or a newcomer who has just stepped in Shopify and set up an online shop or retailer without having any technical knowledge or experience? No problem! Shopify will provide you with a step-to-step setup wizard progress to make essential configurations from choosing a Shopify theme and adding the products or services, to designing the store's layout. On the other hand, Shopify also gives users a fully-prepared knowledge base and whole-hearted customer support service.
Then, the enormous Shopify's range of extensions, add-ons, and plugins is another great feature of this eCommerce platform. The Shopify app store will give merchants a lot of tools and widgets to handle various fields of eCommerce such as business management, inventory management, email system, order processing, social sharing, and payment gateways. The platform supports multiple business channels, including online stores, mobile apps, and social media channels, enabling businesses to reach a broader audience. Moreover, the Shopify app store lets users improve their stores with additional functionalities, such as marketing tools, customer support systems, and insight analytics.
Also, Shopify offers 100+ payment options including its paying gateway – Shopify Payments. The support team is a big W too, since they work 24/7 effectively.
Shopify vs Etsy: Shopify Disadvantages
Even though Shopify helps us build the sites and content from scratches, you may find the design customization workboard "a little too simple and stiff". Yeah, its design board should be more flexible so that the users may not feel hard to find the right options. Also, you may find out that the advanced customizing options will mostly require some coding knowledge (which may not be suitable for non-coding shop owners or newcomers) or developer assistance (which will cost you quite a lot of money). In other words, the learning curve for more advanced features is long and difficult.
Using WordPress, you will see that there are a lot of built-in features and there are fewer in Shopify. Although Shopify can be lighter, it also lacks prebuilt functionalities. Therefore, you must come to the app store Shopify for more features.
Shopify may look as cheap as it shows but it is not. If you use Shopify Payments, the transaction fees will be cheap as hell, and vice versa toward other payment gateways. Then, many apps and extensions are not free, and their costs will raise the site's monthly cost.
Shopify vs Etsy: Etsy Review
Like Shopify, Etsy has risen as one of the most popular eCommerce website platforms in the market. You can use Etsy to start your brand online with various fields, focusing on crafting supplies and handcrafted items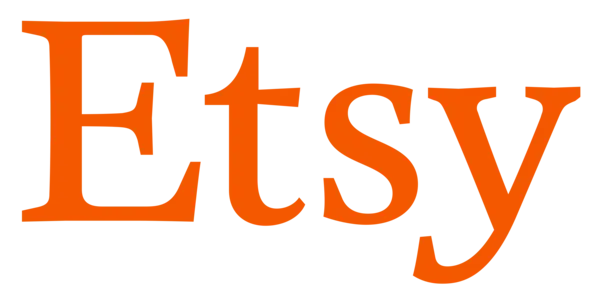 Shopify vs Etsy: Etsy Advantages
The most significant pro of Etsy is that it has an enormous seller community. There is a lot of space on Etsy where sellers can become creative, create great crafting products, and sell 'em to customers around the world. Since they are all unique and personalized, you won't find them anywhere else, such as traditional retailers. The customers can use the various-criteria filter to search the wanted products such as pricing plans, geographic location, or product fields. Besides, they can save recent search results, make a favorite product/field list, and This platform is the heaven of crafting & authentic goods.
Also, Etsy setup progress is just like eating a piece of cake. A single process will count in making your account, decorating your shop for first-sight attraction, uploading/describing your products or goods, and starting selling 'em. Besides, you can find Etsy's frontend niche nice. On this platform, every seller will have his/her own store to display the products, shop policies, feedback, and reviews from the customers. Therefore, the buyers can rely on those reviews to decide whether pouring money there is worth it or not, improving the shopping experience.
Interaction with a lot of social media channels allows retailers to promote their goods and listings on those social platforms. You can also find out about the insights and analytics for performance tracking.
Shopify vs Etsy: Etsy Disadvantages
In Etsy, some points need to be changed. The enormous number of sellers and products on this platform can challenge any brand to start up here or stand out from the crowd. To compete in the marketplace, you may have to put a lot of money into additional marketing advertisements to gain impressions, push up the SERP's position, and attract more buyers. Also, the fees are not so economical when you count on the platform fee, additional app fee, and transaction cost – especially for small stores.
Besides, the refund policies of Etsy are what people complain about a lot! There are many reviews about being scammed or fraudulent refunds that hurt the wallets of both sellers and customers. Especially, you may read the reviews about the Etsy platform on Trustpilot – it only has a rate of 1.6/5 stars on over 10,000 reviews. The support tickets are solved via phone and email but it seems like a lot of sellers are complaining about it. Many sellers report that the support team ignores their emails and refuses to comment about the wrong product deletions.
On the other side, the new mobile app of Etsy is full of crap, terrible bugs, and errors.
Shopify vs Etsy: Comparison
After some reviews about Etsy vs Shopify, it is time to compare them on many standards so that we can have a clean choice of Selling on Shopify vs Etsy.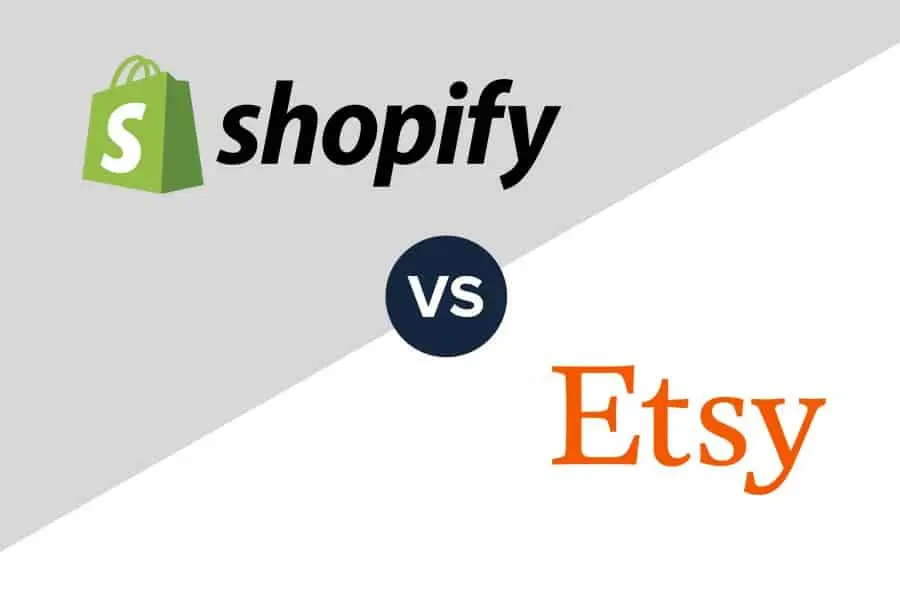 Shopify vs Etsy: All Costs
Here is the comparison table of Etsy fees vs Shopify Fees:
Standards
Shopify
Etsy
Subscription fee
Starter plan: $5 per month
Basic plan: $39 per month
Shopify plan: $105 per month
Advanced plan: $339 per month
Shopify Plus plan: Start from $2000 per month
Shopify Commerce Component: Based on your component usage
Etsy Plus: $10 per month
Etsy Pattern: $15 per month
Listing fee
None
$0.2 per product
Payment processing fee
Basic plan: $0.3 plus 2.9%
Shopify plan: $0.3 plus 2.6%
Advanced plan: $0.3 plus 2.4%
$0.25 plus 3%
Transaction fee
Shopify Payments: None
Other payment gateways: from 0.5% to 2%
6.5%
Additional fees
Themes or templates: From $0 (free) to $400
Domain name: $11 per year
Apps, extensions, add-ons, and integrations: from $0 to &100
On-site ads fee: From $0.2 to $0.5 per click
Shipping fee: 5% of total shipping fees
From the first time seeing this, Etsy's upfront cost is much lower than Shopify's but upon upgrades, you can unlock more e-commerce possibilities with Shopify than Etsy.
Shopify vs Etsy: Advantage Comparison
The disadvantages of Shopify vs Etsy are very clear and they seem to be nearly the same, so it should be time we discuss the benefits of Shopify vs Etsy for the users.
Shopify Benefits
Lower transaction fees than Etsy: For credit cards and debit cards' transaction fees, Shopify Payments will only charge you $0.3 plus 2.9% and you will have to pay up to 2% for whatever the prices are. Meanwhile, Etsy will charge you $0.25 plus 3% and an additional 6.5% transaction fee. Besides, a new listing product will cost you $0.2 for 4 months actively while with Shopify, you can add as many products as you want – without any fees, just make sure that the site's memory base has lots of space!
Customize your own website: You can use Shopify to build your website with your own domain name, design the site's outlook, and bring it online. The site's full control is in your hand. With Etsy, you will have to follow the design of Etsy itself, reducing the possibilities of creation, or spend $15 per month + steep transaction fees to use Etsy Pattern for building a site separately from Etsy.
Various channel integrations: Shopify retailers can list products on other platforms, especially social media channels such as Facebook, Instagram, YouTube, TikTok, etc. Even more, some third-party extensions allow you to post Shopify listings and products to Etsy. About Etsy, you may make social posts and listings from the Etsy dashboard to the social media channels. However, you must make listings manually to do business on other channels.
Etsy Benefits
Famous for handmade & handcrafting products: We should be very familiar with "Etsy where you can find man-crafted products with unique outlooks" or something like that. With a great brand image for homemade stuff, it will save you time and effort to get to the right buyers. And setting up a store, too!
Free plan access: You can use Etsy's free plan to make a store compared to Shopify with a minimum of $29 per month annually right at the start.
Simple to set up a new store: With Shopify, you will have to work a lot in the backend while Etsy will only require you to make a short description of your shop, add some images, a name, and some products.
Shopify vs Etsy: Some Shopify Theme options
To build a Shopify store, you will need a Shopify theme. Here are our suggestions:
Shopify vs Etsy: Which One Should You Choose?
Indeed, we have just pulled out the pros and cons of Shopify vs Etsy. In Shopify vs Etsy, Shopify will be the better option for:
Needs to have and customize a website for the brand.
Wants to sell products on different platforms.
Sell a large number of products per month to make use of the low transaction fees.
In Shopify vs Etsy, Etsy will be the better option for:
Sell a small number of products.
Focus on handmade products.
Can't bring out a brand name.
Can pay higher transaction fees for a pre-brought-in audience of hand-crafting goods.
That should be all about Shopify vs Etsy today!
Read more: Shopify vs Squarespace – Which Platform is Better for eCommerce?