Shopify vs Squarespace – Which Platform is Better for eCommerce?
We appreciate that finding the best website builder for your online store can be challenging. But the answer is obvious when comparing Shopify vs Squarespace: it all depends on what you need.
As far as you know, Shopify is a famous platform for building an eCommerce website and selling products online. It's perfect for medium- or larger-sized online stores needing robust eCommerce tools.
Some say that it's a winner in the eCommerce builder industry overall, but some say not. For example, maybe Shopify doesn't meet your budget, suit your products, or even fit your style. It depends on your needs when choosing Shopify vs Squarespace for eCommerce.
On the other side, you can try Squarespace, a 'versatile' website builder. Squarespace has some e-commerce features if you intend to sell online. Of course, you will see that Shopify has more powerful sales tools compared to Squarespace, but Squarespace is more cost-effective.
In addition, Squarespace offers a lot of pre-built designs. So, if your business does not sell a lot of products but just a beautiful template, let's get Squarespace instead of Shopify.
Can you make a decision now between Shopify vs Squarespace? Which one should you choose for your business?
Worry no more. In this article, we'll explore different aspects or main features of Squarespace vs Shopify to help you decide which platform is best for you.
Let's dive in!
Shopify vs Squarespace Comparison: Pros and Cons
| | | |
| --- | --- | --- |
| | Pros | Cons |
| Shopify | Top eCommerce platform for most needs in generalSelling products on different channels (Facebook, TikTok, In-person, etc) | Applies transaction fees for other payment methods (except Shopify Payment)Buying apps can increase your monthly bills |
| Squarespace | Access a wide range of designer templatesReasonably priced | Instead of an app store, it has an extension marketThe dashboard is not very beginner-friendlyOnly a few payment options are available |
Shopify vs Squarespace Comparison: Pros and Cons
Shopify vs Squarespace: Detailed Comparison
Ease of Use Editor
Shopify is a well-known eCommerce platform. It lets you sell your products on various channels with its rich features and apps. In particular, it is super easy to use thanks to its simple and clear interface. No coding skills are required at all.
What you have to do is simply drag and drop available elements and design your online store to your own taste. Users found that Shopify's simple language, 'undo' button, and keyboard shortcuts made it extremely simple to create an online store with Shopify.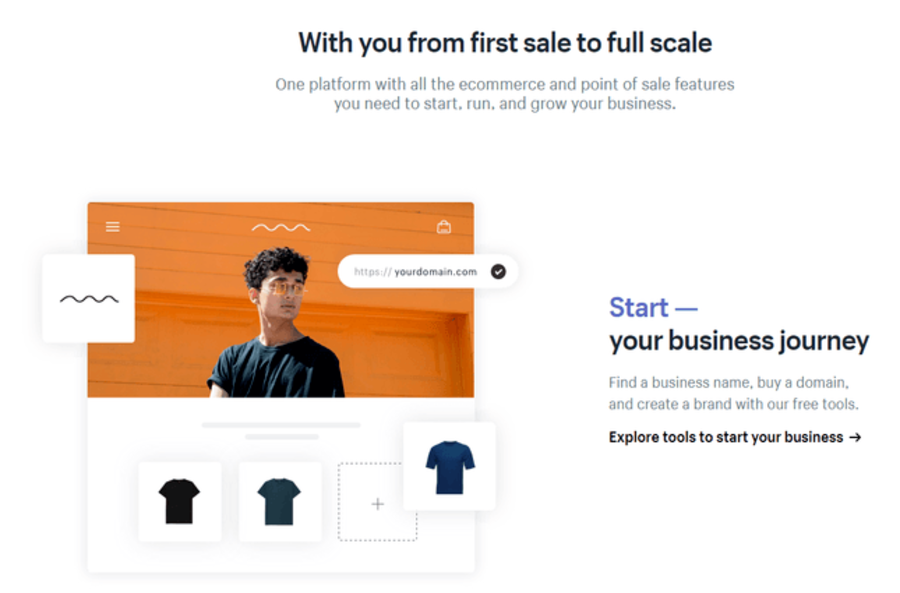 Compared with Shopify, Squarespace is harder to use. It also has drag-and-drop sections and content blocks that simplify it for beginners. However, if you use the editor's homepage, it's difficult to navigate and has no visual cues. Newbies might need some time to understand the system.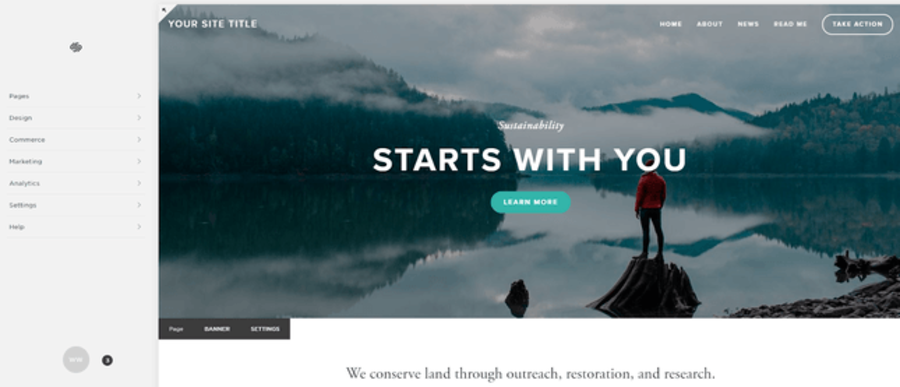 The Verdict:
Overall, both Shopify and Squarespace are user-friendly, but Shopify is slightly easier to use than Squarespace.
Pricing
Cost is another important factor when comparing Shopify vs Squarespace. Which one has more reasonable prices?
Shopify offers three monthly plans:
Basic Shopify ($25)
Shopify ($65)
Advanced Shopify ($399).

In particular, you can purchase annual plans, which offer a 25% discount from monthly plans. So you only need to pay $19, $49, and $299 for the Basic Shopify, Shopify, and Advanced Shopify plans. Overall, they might look pricey, but they are worth it.
The monthly prices are higher than the annual plans, but you can stop your subscription at any time. Find out more about Shopify's plans and fees here.
The monthly price plans for Squarespace are:
Personal ($23)
Business ($33)
Basic Commerce ($36)
Advanced Commerce ($65)

Similar to Shopify, you can cut down on your expenses by choosing a yearly plan. The monthly costs would be $16, $23, $27, and $49 for each plan. You'll get a 24%–30% discount after purchasing the annual option for all Squarespace plans.
The Verdict:
Squarespace offers a better deal in terms of cost when comparing prices with Shopify. You get a lot of advanced features on Squarespace for only $65/month. In the meantime, you must spend a minimum of $399/month to get the most advanced features from Shopify, as well as other apps and add-ons for scaling your business.
Template Design and Customizability
To give a real-life example, we would probably avoid a cluttered store and spend our time and money in an attractive shop instead. Websites are no different.
As a result, an online store's appearance is critical. But which builder has the more attractive design?
Shopify provides a variety of beautiful themes. You can select 10 free templates or more than 50 premium templates for a price of $140-180. The themes available on Shopify cover a wide range of industries, including education, fashion, cosmetics, etc. You can even purchase a multipurpose Shopify theme to reduce your costs. However, a few themes are missing navigation bars that scroll along with you, which is tough to adjust.

In contrast, it is not surprising that Squarespace, a design expert in the industry, had the highest scores of any e-commerce builder in our testing.
Squarespace's templates are all stylish and elegant, delivering a clear message with visible key action buttons. The designs are also responsive, so they look fantastic on any device.
Squarespace offers themes that suit the artist and creative industries, but it also covers almost every other industry.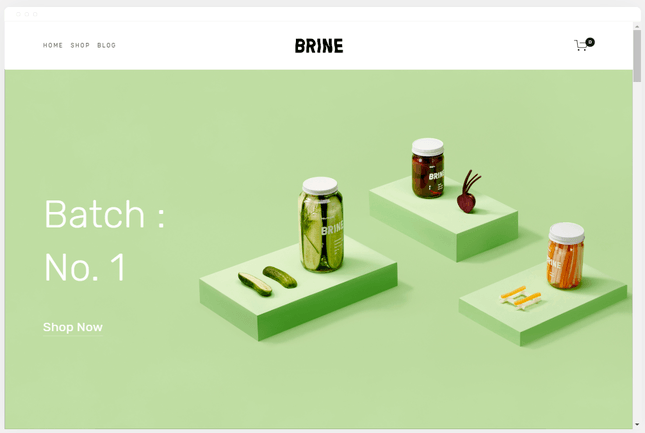 The Verdict:
This round is a draw. Squarespace and Shopify have great template design and flexible customizability
eCommerce Features
Of course, sales tools are the most essential thing for selling on Squarespace vs Shopify. And these features are more than just product prices, product images, and discounts.
So we've tested each builder platform to find out exactly which one stands out when selling your stock.
Product Types
Both platforms enable you to sell physical products, digital products, and service products. However, you will need to get an app, such as Digital Downloads, to market digital products on Shopify.
On Squarespace, you can add unlimited products without any problem, thanks to the sale tools integration.
Product Presentation
Presentation is critical for selling your goods or products online. If your customers can view your products easily, you'll get more leads.
Squarespace is the most effective design platform. It is about placing your products in the spotlight. You can add a zoom feature and even convert your photos into videos to take your customers on a 360° visual journey.
If you have numerous variations of the same item or product (for instance, different colors and sizes), Shopify or Squarespace will both be good because you will be able to put them all within one product entry on each platform. There is no built-in zoom function on Shopify (unlike Squarespace), but you can install an app for this, such as Magic Zoom Plus.
Payment Options
Squarespace failed in our testing of payment options. The gateways it supports are extremely limited; PayPal, Stripe, and Apple Pay are the only options.
Squarespace is far behind Shopify in terms of payment options. It accepts all major payment gateways, including Amazon Pay, Square, and cryptocurrency, as well as over 100 other options.
Shopify knows that the more payment methods you accept, the more money you'll make. It also charges no transaction fees if you use its own payment gateway, Shopify Payments. Otherwise, you will be charged an additional 2% transaction fee.
Shipping Options
Shipping is a piece of cake with Shopify. All that you require for product delivery is made available, including printable shipping labels, built-in integration with NHL or UPS, and drop shipping.
Squarespace, while catching up, cannot compete with Shopify on this front. Squarespace now collaborates with USP to determine carrier shipping rates. It also allows you to change shipping costs depending on where you're shipping to or by weight.
Inventory Management
Your inventory serves as the foundation of your online shopping. It's where you control stock control, add new products, and see the revenue reports. It may sound boring, but the cost of goods sold is what keeps your store operating smoothly.
Squarespace surpasses its competitors Wix and Weebly in this scenario and is tied with Shopify. It's quite an accomplishment considering Squarespace is a website builder with e-commerce functionality.
Shopify was created solely for online selling, so it should easily win this round, right? Squarespace, on the other hand, packs a surprising punch. Both provide an unlimited number of products, the ability to add single or bulk items, in-house revenue reports, and direct email alerts for low stock.
Selling Offline
Even if your company is primarily online, having the option to sell in person is beneficial. So how do Shopify vs Squarespace compare in this regard?
Shopify has its own POS system, which is designed to sync with a Shopify online store seamlessly (and instantly). You'll need to install the Shopify app and purchase some hardware (the basic tap-and-chip card reader costs $49). You'll pay a transaction fee of 2.4%–2.7% for each offline sale, depending on your plan.
It's a similar deal to Squarespace, but it's made possible by Square's new partnership with payment processor Square. You'll need the Squarespace Commerce app and a Square card reader (which, like the Shopify reader, costs $49) to sell offline. Square, on the other hand, charges a transaction fee of 2.6–3.5% as well as a processing fee of $0.10–$1. These charges are derived from
The Verdict:
When comparing Squarespace vs Shopify for eCommerce, Shopify easily wins because this platform primarily serves eCommerce site owners. Nonetheless, integrating POS features on Shopify sites is relatively expensive, making it unsuitable for those on a tight budget.
Marketing Features
Marketing is the process of promoting your online store, acquiring new customers, and developing your brand. You can already see the significance of having a good marketing strategy.
Social Media Integration
Shopify wins this category thanks to its app selection and social media advertising. To make your business more efficient, you can easily integrate a wide range of marketing, accounting, and shipping apps. You can also sell on ten different social media platforms.
Squarespace's extension store, on the other hand, provides high-quality options, but there are fewer apps to choose from overall. This means that if you want to scale large, you may outgrow Squarespace.
Email Campaigns
Email campaigns, a new add-on feature, have been launched by Squarespace. Email Campaigns provides a free trial period during which you can send up to 50,000 campaigns per month. After that, it will cost you $8 per month.
Although Shopify allows you to create email campaigns directly from your admin page, there are some useful apps that can provide you with more flexibility. Privy and Omnisend Email Marketing are two of the best.
Blogging
Squarespace has great design, but its blogs are more than just pretty faces. It received high marks in our blog testing because it includes all of the blogging features required for a successful website, such as built-in analytics, archive functionality, and a search feature.
All of the above-mentioned blogging features are absent from Shopify. Different from Squarespace, Shopify includes blog-specific SEO features, but these aren't all that important for your website.
SEO
Helping your site rank higher on Google results in more clicks to your online store and, in most cases, more money in your pocket.
Squarespace is your average SEO Joe. It allows you to edit meta titles and descriptions (the text that appears on Google searches) and provides other basic SEO functions, but it does not provide any SEO best practice advice when you add new items to your store.
Shopify should assist your online store in ranking higher than Squarespace. Why? It simply provides more features, such as a variety of SEO apps and best practice prompts when uploading new inventory.
The Verdict:
Overall, Shopify offers more marketing options compared to Squarespace. It has more built-in email marketing tools and gives you access to a plethora of marketing apps. Shopify also outperforms Squarespace in terms of SEO features, making it the clear winner in this category.
Shopify vs Squarespace: Overall Winner
Choosing an eCommerce website builder is largely determined by the type of store you want to create.
When it comes to business tools and selling features, Shopify is far more comprehensive. Its primary goal is to assist your business in growing.
However, if you don't require such a sophisticated platform and are only looking to sell a few items, Squarespace is an excellent choice. The templates are lovely and make your products stand out.
Read more: What are Shopify's Fees and Plans in 2023? A Comprehensive Comparison