Best Pop up app for Shopify to maximize conversions for your ecommerce stores
Best pop up app for shopify help your online store stand out with a variety of beautiful popups. With this, you can easily customize it to match the content you want to convey to your shoppers. In this blog, Arrowtheme will introduce good quality apps to help you make better choices. Here are Top 10 Best pop up apps for shopify stores
1. Privy

Privy Shopify app is used by a huge number of small and large business. People prefer this Shopify popup app because they can generate popups with targeting options to attract customer's attention and get advantages from Auto-syncing contacts to MailChimp + Klaviyo. So, Privy is a perfect solution for decreasing cart abandonment and improve conversions.
Highlights:
Exit Intent Technology
Email Autoresponders
A/B Testing
Redemption Tracking
Integrations
WYSIWYG Designer
Advanced Targeting
Reporting
2. Popup | Email Pop Up & Sign Up

If you are seeking for a powerful app to create an exit intent popup, a discount popup, special offer pop ups with a coupon to copy , this app is your perfect solution.
Furthermore, this tool enables you to gather subscribers with email sign up pop ups, newsletter pop ups, or mailing list popup. At the same time, it syncs them with Mailchimp automatically. Also, you Catch users' attention with an announcement popup for flash sales.
3. Sales Pop up

Sales popup app helps you to show recent order notifications and sold inventory count to showcase what others are purchasing. It is the effective method to convince them to buy from your online store. This recent sales notification app is one of the best effective apps to convert your visitors to customers
Highlights:
Sales Notifications
Stock Countdown Bar
Countdown Timer aka Countdown Clock
Product Visitors Counter – live traffic counter
Sold Counter – Sold stock
4. SmartPopup
This free Shopify popup app enables you to take the control where your popup appears on your online store. Also, this app allows you to display the pop up at any position on your website. At the same time, you can limit it so it will only appear when the shopper has a certain number of items in the cart.
There are a lot types of popup that this app supports such as newsletter, video, coupon, countdown and product popup.
More importantly, one of the outstanding features of this app is the Automatic Discount Popup. This is when shoppers will see the popup with a discount code. If the user makes a purchase, the discount code will automatically be used to their cart.
Highlights
Free Shopify app regardless of use.
Automatic discount popup helps to improve customer experience.
Lots of ways to utilize popup app to make your site more interactive.
Showcase YouTube videos in a popup.
5. Aiva

The Aiva Shopify app comes with lots of cool gaming popups that are really good at creating positive and fun experiences for your website's users.
Not only do you have some of the great popups like spin-to-win games, but you can also split test your popups to know which converts more. Besides, this app are also highly responsive so can appear perfectly on most devices without any negative impact on user experience.
Personalization is also effective with this app. You can apply popups depended on the user's location, page visits, URL, date/time, their exit intent and even mouse movement on your online store. This makes it effectively for segmenting campaigns and provide more relevant popups to your users.
Highlights:
Free app to help you create engagement with audiences.
Use games to inspire audiences and collect vital marketing information.
Use contests to build a loyal following and gather visitor email addresses.
Live chat support from developers to help you use the app.
6. POP

Sales Pop Shopify popup app helps you create social proof and boost sale. Also, it shows your website's purchasing activities. For example, when customers know what other people are buying from your website, it crate a positive effect and inspire them to buy products. So, it bring a better experience in terms of improving customer engagement.
So, if you're looking for a simple and effective solution without depth features but still works well for your conversions. This app is definitely for you!
Highlights:
Select which pages, and where on the page to display your Pops on.
Using our in-depth analytics dashboard
Add your styles, colors, and CSS to complete your look
7. Quick Announcement Bar

This Shopify app is a helpful popup app used for announcements. With this, you can notify your shoppers with a display banner on your online store. With the support of the "call to action button" on the banner, customers can see the page with a single click. So basically, you can have an unlimited number of impressions without a programmer.
Highlights:
Configuration
Scheduling
Easy to Setup
A/B Testing
Advanced Targeting
Customizable
Responsive
8. Pop‑Up Window

Are you looking for a good app which supports your customers to know about your special sales or promotions? Pop Up-Window makes is perfect app for you.
This powerful app offers you an easy tool to grow your marketing and sales. Also, you can either utilize pre-made templates or custom images with texts and set up some rules for your popup. More than that, you also add an email signup form and add your new subscribers to your MailChimp automatically.
Highlights:
Fully Customizable
Mobile Friendly and Responsive
Integrations
Coupon Code Options
9. Automizely Email, Sales Pop Up

This best pop up app for Shopify is designed for new & fast-growing Shopify stores with easy-to-use interface. Also, this app allows you to set up email popups, exit popups, emails and over 20 different marketing tools with ease.
Generate all kinds of popups that grow your email list and boost sales
Send out all kinds of emails that are beautiful and easy to set up
Add all kinds of powerful marketing tools to uplift onsite conversion
Monitor and evaluate data for making better decisions
10. WooHoo Spin The Wheel Pop ups

The next Shopify app in our list you must know to increase your subscriber's list by showcasing exit-intent coupon popups is Woohoo spin. First and foremost, it supports you easily to create two games or more, run them simultaneously, and evaluate each one's conversion rate. As you know that, Wheel Pop ups have proven to engage shoppers with discount pop ups for email marketing, so with this app, you will sell more products with the highly-engaging popups games.
Highlights:
Smart Triggers
Custom Images
Real-time Statistics
Downloadable Reports
Colors, Fonts & Animations
Countdown Timer
Mobile Responsive
Automatic Unique coupons
Color Schemes included
Coupons expirations
Using one of the top Best pop up app for Shopify mentioned above is one of the easily ways to build professional pop ups for any website, with no code. Besides, you can take benefits of this amazing feature with Lusion – Multipurpose eCommerce Shopify Theme.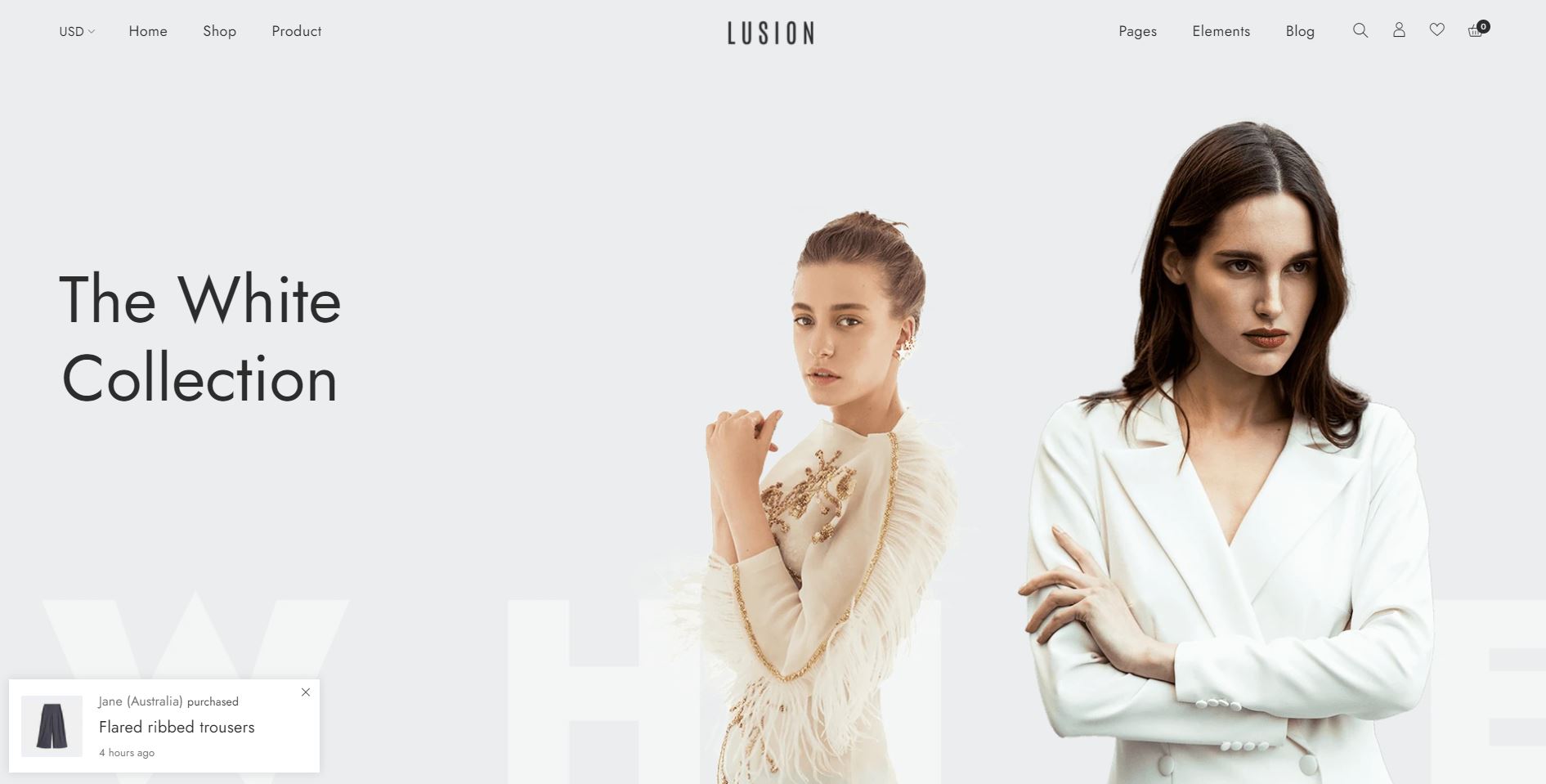 Lusion is a most unique multi-purpose eCommerce theme for shop online with clean and modern design. Theme offers Fake Sales Popup feature that enables you to generate fake sales notification to engage your customers. This is an effective marketing tool designed to boost your overall sales, as your users will get more confidence in purchasing from you when they see how others are purchasing from you.
Want to see more information on the Lusion theme, check it out via the Themeforest!
Wrapping up
If you plan to renovate your current site or build a brand-new one, we're here to help. At Arrowtheme – we provide the integration and customization service to help merchants improve the customer experience.
In particular, for all of our Shopify services, we are running a discount program that gets up to 30% off. !!! You can check our Shopify service at Here. We'll be happy to provide you with a free consultation.