Shopify calendar app: Top 11 best free and premium apps for your Shopify stores
With any online shop, the calendar plays an essential role because it will define its presence. In fact, your website can use a wide range of ways to show your calendar. However, in this article, Arrowtheme only mentions the Shopify calendar app – the highly recommended solutions to display an eye – catching calendar for your store.
When considering this app, one of its wonderful benefits is it will make your store more social and insightful. Then, customers will see availability, deliverability, and other details at a glance. Also, for each Shopify app belows will provide you with different characteristics and benefits. With these reasons, Arrowtheme will review Top 11 best free and premium Shopify calendar apps for you to improve your store. Let's explore right now!
Top 11 best free and premium Shopify calendar app
1. Easy Appointment Booking
Easy Appointment Booking – the Shopify calendar app could be the perfect option for your e-commerce business if you want to expand your services and bring the best user experiences. Its advanced features are designed with the main goal of saving you time, increasing money, and improving client satisfaction. Best of all, it includes everything you need to make your dream business into reality.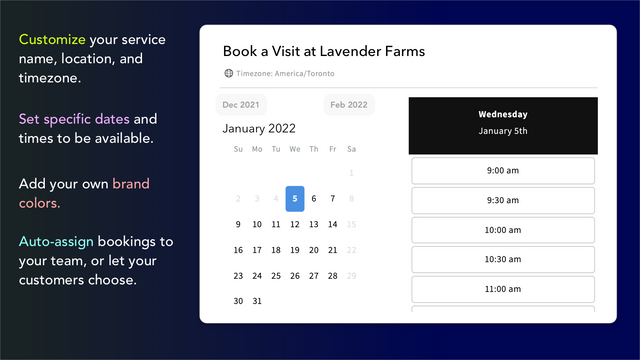 Highlight features:
First and foremost, based on reviews, this app comes with the perfect customer service.
Secondly, Google Calendar may be utilized to sync appointments, block personal appointments, and add events to collaborative calendars.
Thirdly, it allows users to collect customers' information by using custom fields before meeting with them.
Fourthly, it also enables clients to cancel and reschedule their appointments.
Finally, on any page of your website, there is a Book Now button that promotes your services.
In case you are seeking a Shopify app for calendar, let's take a look at BookThatApp. First and foremost, when using this app, your customers can schedule time on the business calendar, which is available for free. In reality, you can't make your customers wait for quotes or send emails. This is because the real-time availability of this app can display dates and times in the product page. Hence, it allows your clients to purchase items whenever they want. What's more, this Shopify calendar app is designed compatible with all types of modern devices. Especially, thanks to it, you are able to monitor and manage your calendar schedule with ease.
Highly features of BookThatApp:
Offer complex booking and payment options
Contact with customers through Email and SMS
Create guidelines for scheduling time.
If your e – commerce website doesn't have the calendar feature that helps to remind customers about your activities, you should consider the Event Calendar app. At first, this Shopify calendar app is regarded as ons of the best apps in the market. Besides, with the eye – catching and simple-to-use dashboard, it is the perfect choice for you to create an event calendar. Best of all, you can personalize it as wonderfully as you want. Hence, your website will surely draw customer's attention at a glance. Moreover, clients will be informed all about your activities. In addition, they may 'subscribe' to your calendar, making your events appear as internal events in their own calendar.
Highlight features of Event Calendar app:
Fully responsive with every type of device such as: mobile, tablet, laptop…
Help you increase profits by selling tickets for each program
Provides various options of multiple views for users.
As you know, Christmas is one of the most important days in a year. And, if you want to take advantage of Christmas to increase orders for your store, you can't ignore Christmas Calendar Sale Boost. From the beginning of December to Christmas day, there are 24 days, so each day you should set up to offer 24 different programs for customers. Besides, this Shopify calendar app will offer you a variety of options for allowing your customers to visit your shop on a regular basis and learn about new specials. Moreover, it enables you and your customers to keep in contact with each other through Email or any type of social network.
Highlight features of Christmas Calendar Sale Boost:
Set up 24 perfect programs for each days before Christmas in order to help you increase profits
Offer 24 different ways for new products to be released
Connect with buyers via email or social media
On the storefront, add a snowfall effect.
If you're a newbie to Shopify and want to find an excellent Shopify calendar app for your online store, don't ignore Christmas deals calendar. As you know, Christmas is one of the biggest occasions in a year. So, you should take advantage of it to generate more profits. To begin, every day in December, customers will receive a Christmas offer. In order to better engage your clients, you must build 24 exclusive Christmas offers. As a result, it will push customers to come back to your website many times and raise sales as effectively as possible.
Outstanding features of Christmas deals calendar:
Create both manual and automatic discounts
Connect with Mailchimp and Klaviyo to create newsletter signups
No coding required. So even if you're not a developer, you still master this app easily
Make the storefront look like it's snowing at Christmas.
Coming to another Shopify calendar app we highly suggest for you named Events Calendar. Firstly, thanks to this app, you can effortlessly display for your store with a flawless calendar. Besides, the Events Calendar is very easy to run. Following that, in order to add an event calendar to your website or notify your customers about upcoming events, you just need a few simple clicks. Additionally, this app enables you to insert many things including links, images, or a "save event" button to the events. Furthermore, because it connects with your external calendars and displays all events automatically, you can manage all of your events in Eventbrite, Outlook, etc.
Highlight features of Events Calendar:
Inform customers about every your program
Next, synchronize with a number of external calendars
Support more than 30 languages, then, you can approach more foreign customers
Easily make changes to the calendar's attributes and layout.
The next Shopify calendar app that can't lack in this list is Booking App. On top of that, you can easily add Calendar as well as slots to this app. Then, your customers can book the product according to the slots available. Besides, this Shopify calendar app comes with a variety of features to help you handle your bookings or rent houses. What's more, this app provides six different forms of reservations available. Not only that, it allows you to control over the booking, including the ability to accept and reschedule it. In addition, if you notice anything is wrong with your buyer, you may also cancel the booking.
Highlight features of Booking App:
Reserve a space according favourite with ease
Allows to send emails to both administrator and the customers
As soon as customer books, you can blackout certain dates
Create several versions based on items.
Tipo is one of the most essential parts if you want to develop your e – commerce store. In fact, this Shopify app is free with a wide range of advanced features, so, don't miss it. On top of that, because of the simple booking steps and beautiful design, Tipo will provide your customers with the best booking experience. Besides, this Shopify calendar app lets you monitor booking information by filtering by month, week, day, or employee in the calendar view. As a result, you can easily track appointments with detailed booking information including status, clients, etc.
Highlight features of Tipo Appointment Booking:
Integrate with Google Calendar and Apple Calendar
Free customize website's appearance as you want
Next, customers and staff can receive your notification via Email
Installation is very simple without any technical knowledge.
Let's make a trial with Custom Delivery Date Calendars and you will be surprised with its significant outcomes. Firstly, this app is really a simple yet professional tool that can be activated in less than 30 seconds as soon as you install. Besides, you can build as many date pickers as you like and activate or disable them whenever you feel fit with this app. In addition, you will automatically connect this Shopify calendar app to the cart page after setting up it. What's more, you can also see how to order items on your Shopify order page. And, the purchase will be shown on your page until it has been completed.
Outstanding features of Custom Delivery Date Calendars:
The ability to build and uninstall date pickers
Select a definition for the buyers
Choose to switch off certain days
Free trial within 5 days before deciding to buy it.
Coming to a reasonably priced solution for creating an awesome calendar for your Shopify store – BookedUp. First of all, BookedUp integrates with Calendly and Acuity scheduling. Hence, it allows your customers to book classes, meetings or make a phone call without leaving your Shopify store. Not only that, this Shopify calendar app is also compatible with Amazing Calendly.com. Best of all, all of its features such as time-zone detection, event buffer times, regular limits, etc are available to you. What's more, this app also allows the event booking buttons to be automatically positioned.
Highlight features of BookedUp:
Receiving the maximum rating review on Shopify app store
Assist consumers in scheduling meetings, calls and so on
Provide a big package of smart features
Easily add events to Shopify.
The next Shopify calendar app in our list yet extremely perfect is CalendarRate. On top of that, this app is really an effective tool that brings customers the highest satisfaction when shopping on your site. Besides, it also makes the check-out experience become more and more convenient. In reality, this program incorporates the delivery date and shipping rate range into a single phase. Hence, it will help your buyer save time when ordering items as much as possible. Best of all, your customers can verify and track their shipping fee payment with ease because everything is shown on one page.
Outstanding features of CalendarRate:
Friendly interface and easily customized for the calendar
Clients can easily monitor shipping costs
There is no need for a new shipping setup
Provide 30 free days, so let's take advantage of it right now!
The final line
In conclusion, we hope you will choose the most suitable Shopify calendar app for your Shopify ecommerce store through our post.
Besides, in case you wish any help to complete your Shopify store with minimal effort, let's take a look at Arrowtheme and our Shopify packages. Specifically, our packages include everything you need to grow your online business at a rapid pace. Best of all, we are introducing a 30% off sales drive for every of our Shopify services. For more details, all you have to do is connect with us through our CONTACT FORM.
[Sassy_Social_Share]