How to import products from Aliexpress to Shopify: Step by step to implement (2021)
Nowadays, dropshipping has developed dramatically all over the world. So many people are finding out a quality source at a cheap price. One of the most popular sites for sourcing items for dropshipping shops is AliExpress. However, it is a little bit difficult for beginners to connect between AliExpress and their Shopify dropshipping store. So Arrowtheme will instruct you how to import products from Aliexpress to Shopify step-by-step.
What is Aliexpress and Dropshipping with Aliexpress?
In the first place, Arrowtheme wants to explain more about Aliexpress. It is a Chinese massive online marketplace with over 100 million goods for sales. Aliexpress was formed in 2010 and belongs to Alibaba – one of the largest eCommerce enterprises in the world.
As many merchants are international suppliers, you can discover popular items at a lower price on AliExpress than the same products on Amazon and eBay. There are many types of products on Aliexpress from jewellery, clothes to electronics and home decoration.
You are no longer worried about inventory or shipping because AliExpress makes it simple to source goods and sell in your Shopify store. By utilizing AliExpress, you can start dropshipping today. Here are the 4 steps of dropshipping with Aliexpress:
Firstly, select the products on Aliexpress that you want to sell.
Secondly, decide the price with a markup.
Thirdly, pay the orders with wholesales price.
Finally, Aliexpress helps you ship the products to customers.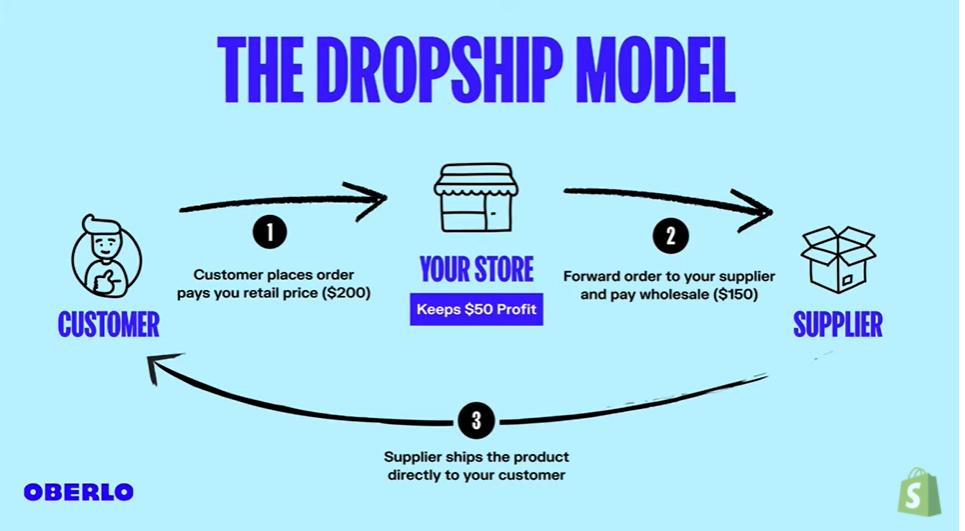 How to import products from Aliexpress to Shopify
The most simple way to import products from Aliexpress to Shopify is using the third party service. In this blog, we highly recommend Oberlo as the third party connection. Before instructing you how to import products from Aliexpress to Shopify, Arrowtheme will list some steps for you to start dropshipping with Aliexpress.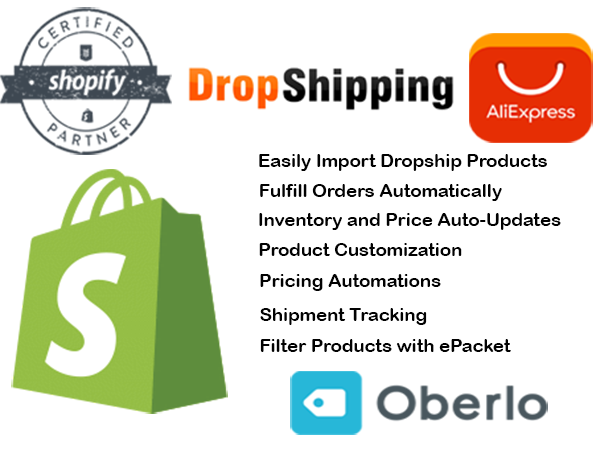 1. How to select the products on Aliexpress to sell
First of all, it is very important to decide which products you will sell. So you need to do product research. Your work is to find out the most favourable products in the online market recently. If you are a Shopify owner, there is one easy way to do that. To know the best seller of a Shopify store, you just need to add /collections/all?sort_by=best-selling after their URLs.
Besides, you can use some product research tools to support you. We suggest you some effective tools such as Sell the trend, AliExpress Dropshipping Center, Thieve.co, Dropship Spy and so on.
2. How to find the best Aliexpress suppliers for your selected products
After you selected some potential products, you need to find out the best supplier in Aliexpress. Arrowtheme will suggest to you 7 basic steps to implement.
Sort the product search results by numbers of orders
Compare the ratings among suppliers
Read the customer's feedback to evaluate the suppliers
Check the shipping process
Check the guarantee
Chat with suppliers for more detail
Make trial orders to ensure the quality of the products
3. Install the Oberlo browser extension
Then, after you decided on the products and suppliers, it's time to import products from Aliexpress to Shopify. As mentioned above, our blog will instruct you to use Oberlo to import products. Firstly, you need to know about it. Oberlo is a browser extension which helps you import over 100 million items from AliExpress to Shopify in the quickest way.

Then, you have 2 options to install Oberlo. The first option is to install Oberlo here. Otherwise, you can add Oberlo from Shopify apps. Any Chromium web browser can be used to install the Oberlo extension. You'll need to be using Google Chrome or a Chromium-based browser, such as Brave Browser. To use the extension, simply download it and restart your browser.

4. How to use Oberlo to import products from Aliexpress to Shopify
After you successfully downloaded Oberlo, you can start import now. Here is a step-by-step implementation.
Access to aliexpress.com
In the search bar, type products key words that you want to sell
Put your mouse on the selected products
Click at the blue Oberlo logo when it turns up
The products will be automatically added into your import list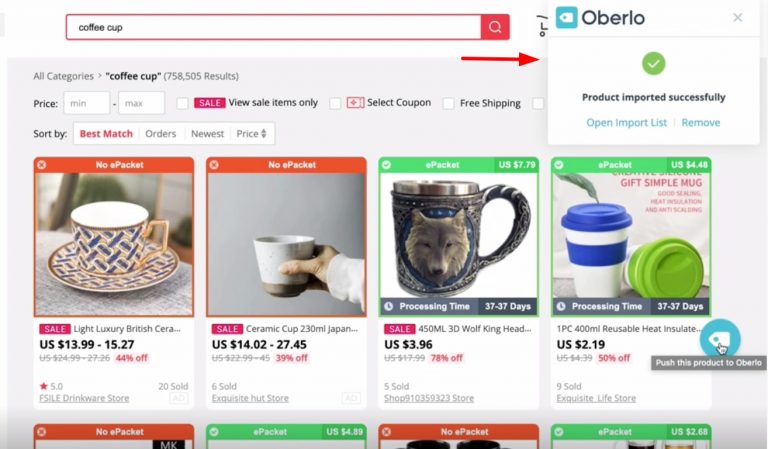 After that, you can come back to your Shopify dropshipping stores to make any changes before you display them on your pages. Then here are the instructions to see the import list on the Shopify store and make it visible to your customers.
Open Shopify Dashboard
Click on Apps> Oberlo> Import List
Click on Import to stores
5. How to import products from Aliexpress to Shopify using URLs
Although using Oberlo is the easiest way to import products from Aliexpress to Shopify, it is not the only one. There are some cases that you can not use Oberlo, such as:
The Oberlo Chrome extension does not work
Chrom needs many RAMs so it makes your computer slow. Hence, many people does not like using Chrom.
If you are in these cases, the next best option is to paste the product URL into the Oberlo app. It's a straightforward and quick procedure.
Access to aliexpress.com
In the search bar, type products key words that you want to sell
Access the product pages that have your selected products and copy URL
Open Shopify Dashboard>Oberlo App> Import List
Click on Add by URL or ID
Paste the URL and click on Add product
Check and add to your Shopify store

6. How to manage an order from Shopify dropshipping store
After you display your product on Shopify, you will receive an order soon. So Arrowtheme wants to instruct you on how to manage the order.
Open Oberlo app> Select the location of orders
Oberlo will redirect you to the Aliexpress where it automatically adds the products to your cart.
Oberlo helps you fill all the information of the orders in Aliexpress.
Pay for the orders in Aliexpress
Oberlo updates the status of the orders for you.
After the orders are completed, you will see an automated tracking numbers of the orders. Oberlo also helps you send notifications to customers.
7. How to cancel the orders from Aliexpress
In case your customers change their minds or you do not want to source products from this supplier, it is important to know how to cancel orders from Aliexpress. It is noted that you can cancel orders if the orders have been shipped yet. In this case, you only need to open your Aliexpress account and cancel the order. However, if the orders are being shipped, you need to contact the producer for more detail. In case you are lucky, they will help you cancel the order.
8. How to solve the dispute from Aliexpress
Aliexpress dispute occurs when you face some problems with suppliers. Most merchants have a money-back policy of around 60 days. You can see the numbers of guarantee days as an example below.

One example of the problems with Aliexpress suppliers is that you don't receive the products on time. In this case, you can send your claim to require refunds. Or click on "Open Dispute" for more support.

To sum up, Arrowtheme wishes you to utilize the Aliexpress and Oberlo extension to run Shopify dropshipping more effectively. More importanly, don't forget that ArrowTheme are proud of offering you the great Shopify Packages which will be your right choices. We provide you 3 different options of Shopify Packages: Basic, Standard, and Advance. They have a different rate to suit your needs of the business. Our Basic package is great to anybody who wants to establish a low-cost online store. Besides that, our Standard and Advance packages are appropriate for those attempting to develop an Ecommerce Website with advanced features. So let's go check it out right now.