Magento configurable product extension: Top 10 best ones to simplify management and enhance customer satisfaction
Nowadays the businessmen can easily operate the business and reach a lot of customers by using Magento default. However, it still has some limitations that affect the customers' satisfaction. Therefore, Magento configurable product extension was born to solve this problem.
So, today, Arrowtheme will show you the application of this extension and the top 10 best ones to simplify management and enhance customer satisfaction.
What do Magento configurable product extensions bring to your eCommerce store?
First of all, Magento configurable product extensions solve the limitation of Magento default effectively. For example, it helps customers buy a large number of products with many options in simple steps. Hence, it increases customers' satisfaction, especially B2B customers.
Secondly, it makes the products page more attractive to customers. You can customize your page with colours and text to match your brand images.
Also, it is a powerful tool for marketing campaigns. You can use this extension to launch the products and display advertising easier.
Last but not least, all features of the Magento configurable product extension aim to enhance the customer experience and bring more revenue for your stores.
Therefore, Arrowtheme doesn't let you wait long anymore. Here are the top 10 best Magento configurable product extension for your business.
If you are seeking for a flawless Free Magento configurable product extension to integrate to your website, we highly recommend for you "Configurable product purchase variables" by Magesolution. This extension facilitates customers to purchase a number of products with various options such as colour, size, and quantity.
For example, when you intend to buy a T-Shirt on a default Magento store, you are only able to buy a specific number of products of the same size and colour. To choose other colours of the product, you need to repeat this step to add the item to the cart.
However, Configurable product purchase variables by Magesolution will enable you to do this in one purchase. After selecting your size, you can be free to choose different colours and at the same time enter the quantity you need.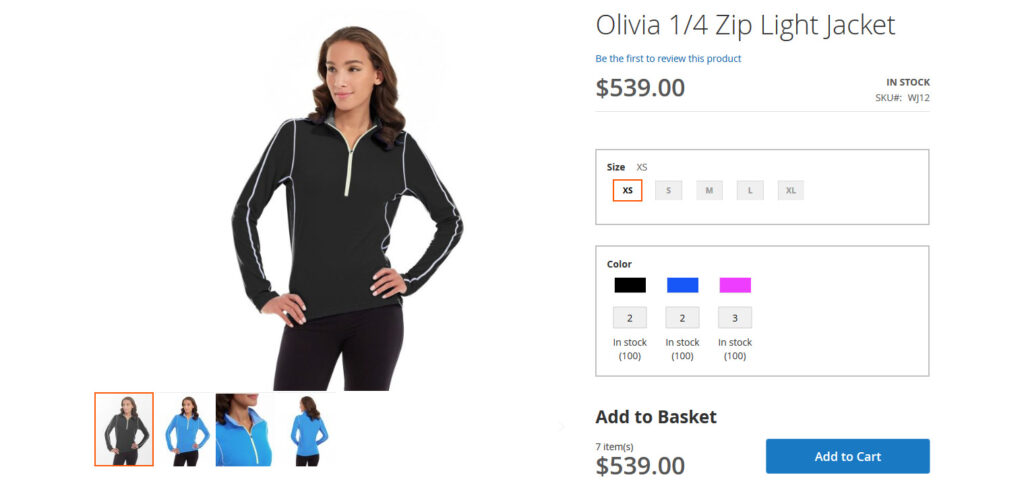 Especially, the price of the order excluding shipping freights will be automatically calculated while the quantity is adjusted. Products available in stock are also displayed.
In addition to adding products to the cart, visitors can also add them to the wishlist or comparison list and leave their email to get further information.
Price:
Free
Service:
30 days money back
Lifetime free upgrade
Magento 2 Configurable Products Preselect extension helps you boost sales by smart recommendations. It offers customers the most popular products, the cheapest items and products on sales. Also, it allows the preselect option first to save time for customers. Additionally, customers can check out easily with the add-to-cart button. Besides, you can set up configurable product flexibly with the default option.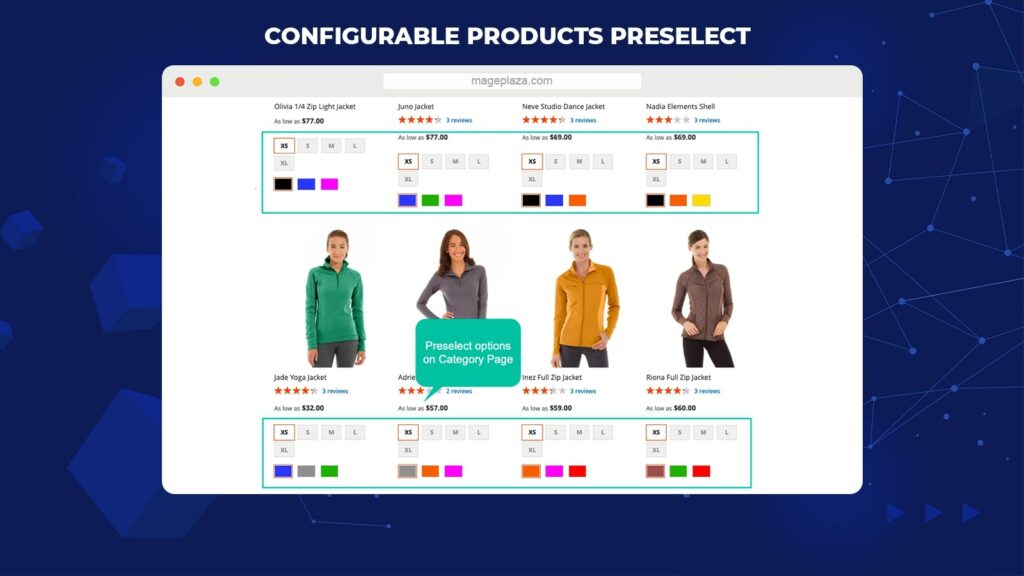 Price: $71
Service:
365-day support
60-day money back
Lifetime upgrade
Simple configurable products for Magento 2 by MageAnts allows customers to find products easily via URL, name, colours, … Also, every product has its own identity so customers can read information about it. Besides, it displays the available quantity of each item. It sets up a default for the selected first option, lower price products and selects from product option in the backend to increase the speed.

Price:
$149 for the Community edition
$298 for the Enterprise edition
Service:
30-day money back
100% Open source
Free update
Improved configurable products by Firebear Studio brings you a solution to improve the functional configuration. It introduces a product matrix view to make bulk purchases faster. Additionally, it automatically updates all the page URL, SKU, products description and price blocks. Moreover, it offers a customization option. From that, every single product variation will have a unique set of additional option. Hence, customers can select and choose the proper ones.
Besides, it has some extension features such as a flexible product page setting, custom shipping message, Schema.org Integration, default product variation and tier & group price support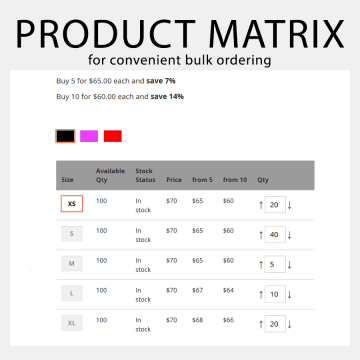 Price: $599
Magento 2 Improved Configurable Products by BSScommerce is a recommended extension for B2B online stores. This extension helps customers buy bulk products faster. Because it displays all the information about the products including SKU, price, inventory. Also, it allows buyers to enter the exact numbers of quantity and add the bulk product to the cart in just one click. Furthermore, it shows a wholesales display grid below and custom options. Hence, B2B customers can see the overall products. Besides, B2B customers can choose the attributes to see a new display. At last, with the simple details on the product listing, shoppers no longer need to go to the product page. Their experience will be much better.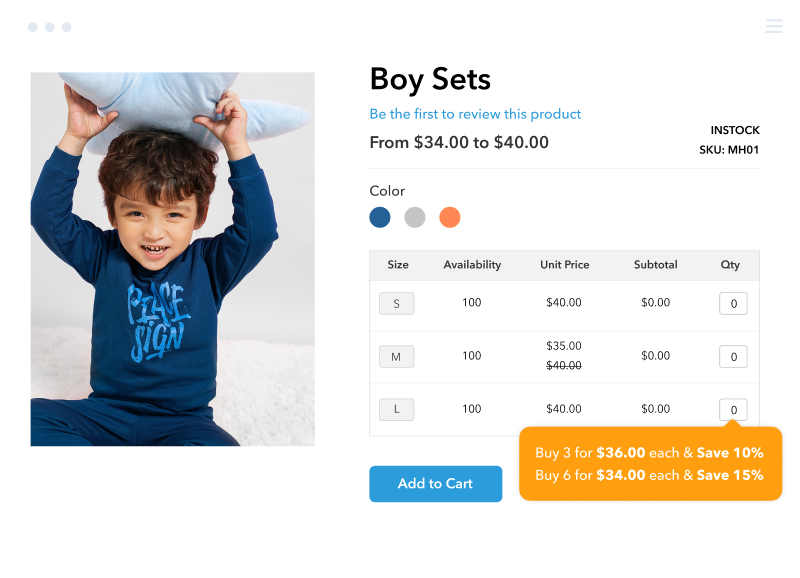 Price: $248
Configurable products use simple details by Best4Image contains all the dynamic content update of the products. It provides customers with the product name, SKU, description, and unique user-defined preselect feature. Also, on the listing products, it displays a range of price "From … to …" and auto-updates prices when selection is made. Hence, customer can know the exact price.
For store owners, you can activate the dynamic attribute update from single products in the global setting. With this function, you can improve SEO by URL and meta information. Moreover, you can set up tier pricing based on the number of total variants.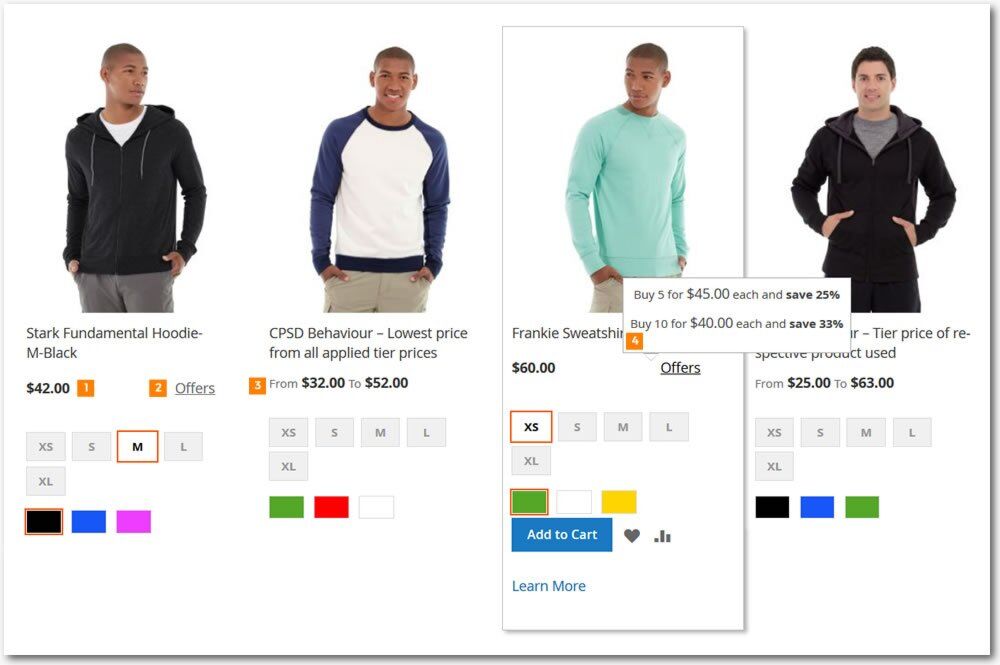 Price: $75 – $105
Configurable Product Matrix/Grid for M2 by Ulmod gives you a clean matrix/ grid table to help customer order variants of the configurable products quickly. You can choose a matrix table or grid table layout to show your products. With the layouts, this extension also provides customers with the price, stock status and auto-calculate tier price. In addition, you can allow displaying all configurable products or just single ones. Furthermore, you can limit table matrix display for some customer groups and stores views. Last but not least, it is responsive for mobile devices.
Price: $99 – $157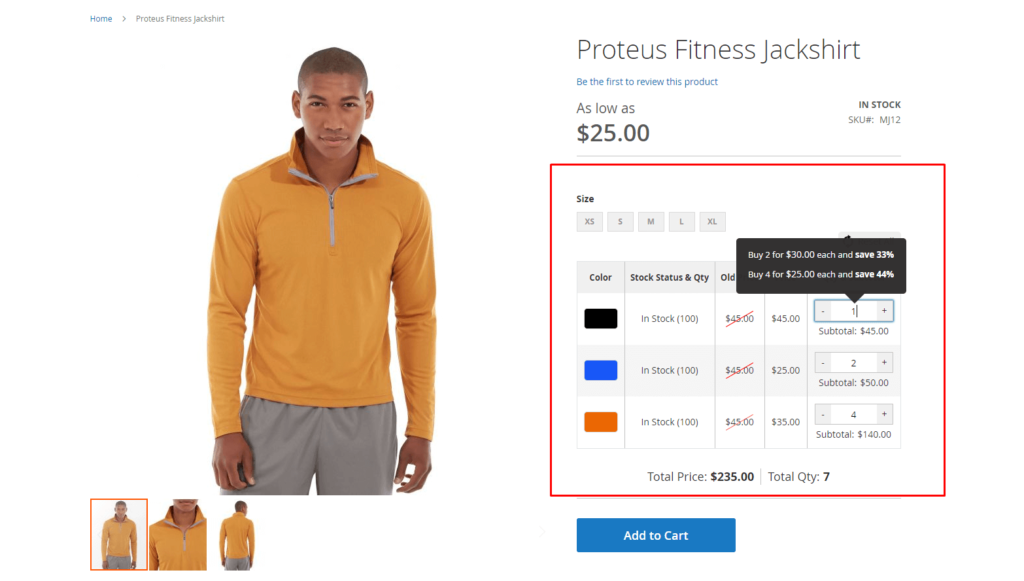 Magento 2 Configurable Bundle by Wizkunde is a combined extension between configurable product and bundle products. It allows customers to add a bundle product to the cart as a single one. Hence, store owners can give a discount for these bundles at all. It is a creative way to boost your sales by selling a combo at a reasonable price. Even more, you can customize your sets in the frontend.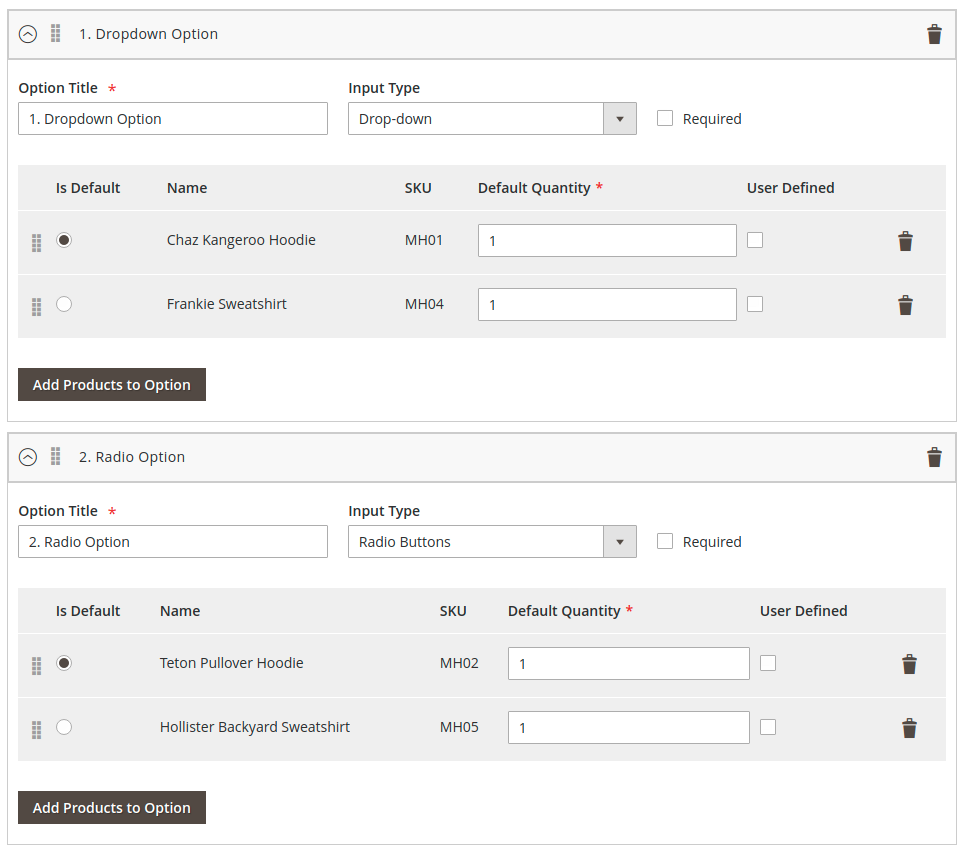 Price: $99
Magento 2 Configurable Product Grid View brings to your customer a clear table grid view for all products. It allows you to add children products to the cart with one click. Also, it displays the stock status and price details of all products. Moreover, you can set up different product grid view for each customer groups. Hence, it decreases the abandonment rates. Besides, it compatible with all devices. Last but not least, it can integrate with other Mageplaza extensions.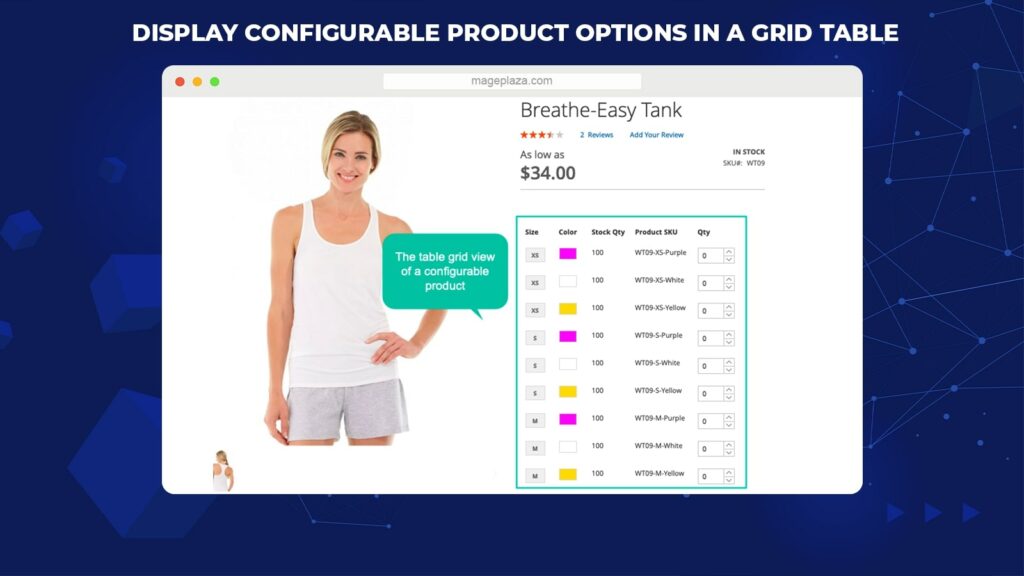 Price: $89
Service:
365-day support
60-day money back
Lifetime upgrade
Configurable Product Price Range for Magento 2 offers you to display the product price range for each product. It displays the price range both on the listing and product page. Hence customers can easily follow. This price range displays the intervals from the lowest to the highest price. You can choose to display the "From" – "To" labels for special products. Moreover, this extension auto-updates the price range when filtering the options. Besides, it allows you to include the tier prices.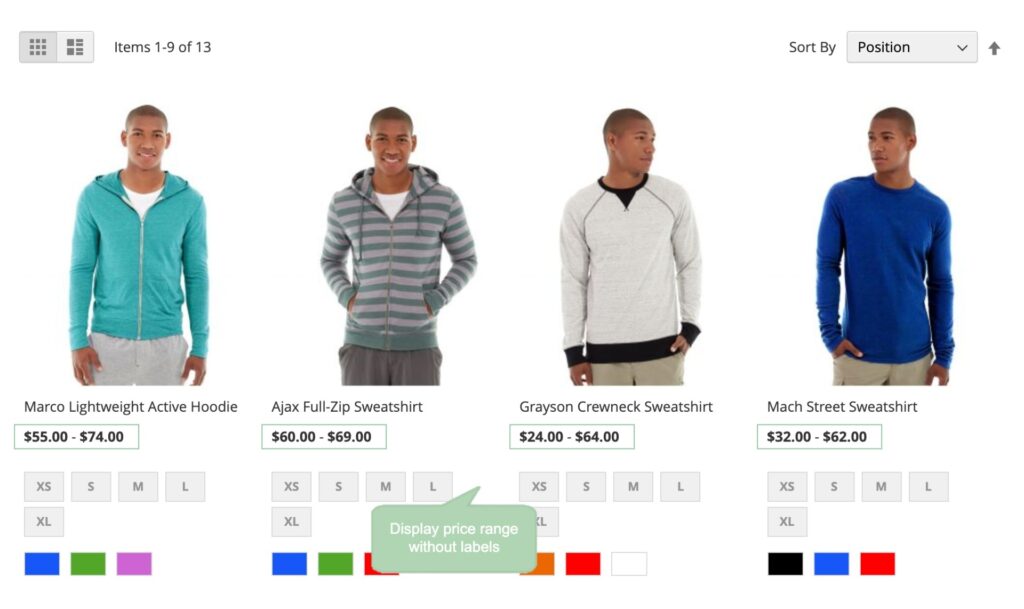 Price: $49 – $74
In conclusion, Magento configurable product extension will fix a lot of limitation of Magento default to better your performance. Hence, Arrowtheme wishes you a good choice.
Besides, Arrowtheme is providing many free and hot themes for Magento stores. You can see them here.