Magento customer attributes extension: Top 10 best effective tools to enrich customer database
Magento customer attributes extension helps you to collect more information from the visitors with the added customer attributes. In this blog, Arrowtheme will introduce the top best extensions on the market to help you make better choices.
1. Customer Attributes by Amasty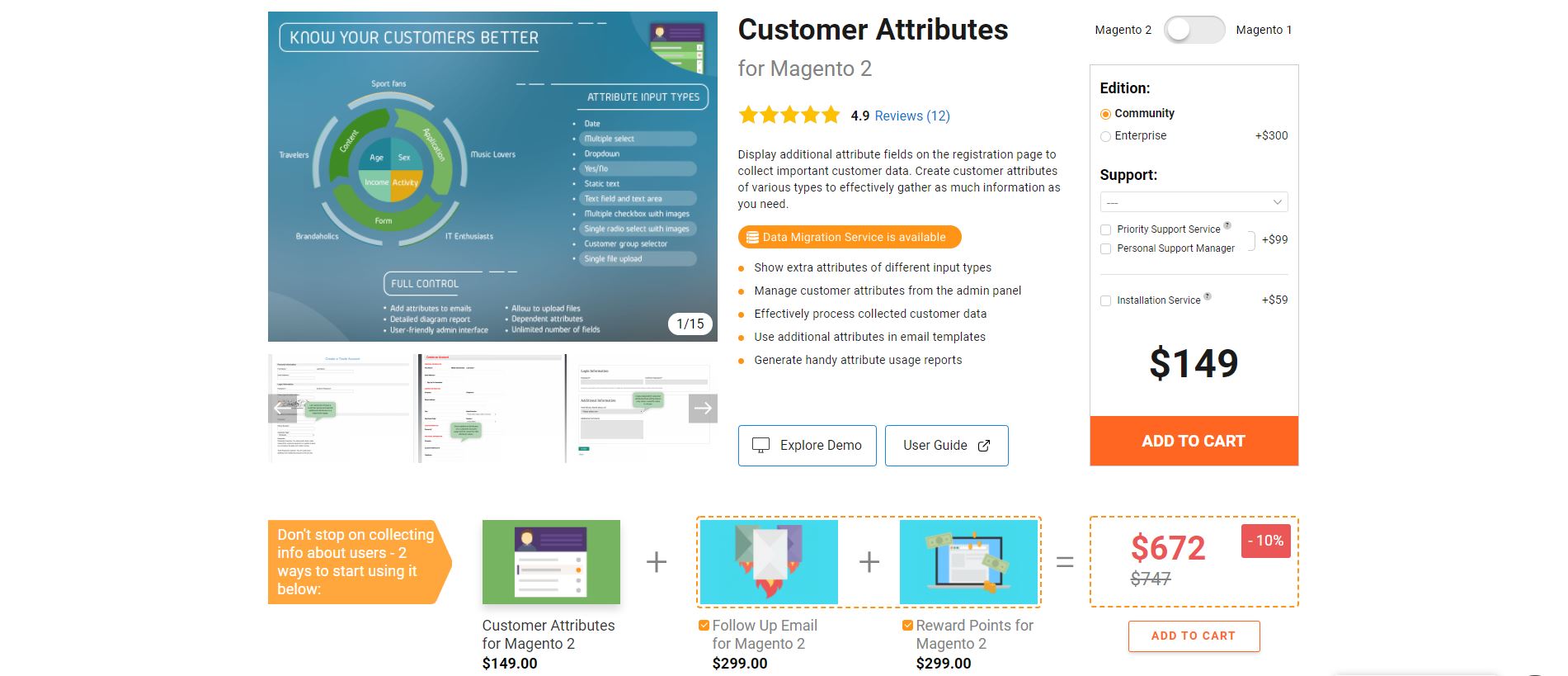 This extension is a great solution for you to gather more additional data about your users. With this, you can find out the goods customers love as well as the things your clients don't like. Moreover, shop owner can take the control of attributes from the backend processing collected data.
Highlight features:
Place new fields on the checkout page
View all created attributes on the grid
Show extra attributes on the order grid
Display images for checkboxes and radio buttons
Select a custom attribute value when gennerating a new customer
2. Customer Attributes BSSCOMMERCE

This Magento extension allows you to generate the customer attributes with 9different input types. Besides, when visitors want to create a new account, these customer attributes are shown as additional fields on the Registration Page.
Highlight features:
Firstly, the admin can generate unlimited customer/address attributes.
Also, it supports 9 input types to add custom attributes.
Place attributes in various positions on both frontend/backend.
Display the added fields in emails & sales documents.
Lastly, the admin can create new customers with custom attributes in the backend.
3. Customer Attributes by Mageplaza

Mageplaza Customer Attributes for Magento 2 is a powerful tool for stores to gather valuable customer information by including extra fields on the registration or account page.
Highlight features:
Firstly, it allows you to add limitless customer attributes
Also, it provides 12 input types for customer attributes
Ability to edit on both sides
Allow filling in attribute validation
Enable managing attributes for customers
Export customer data
Lastly, it allows you to create various dependent attributes
4. Customer Attributes by Magenest

This Magento extension allows you to create new customer attributes in the Registration Form to gather additional customer information. Moreover, the shop owner can easily add as many customer attributes as they desire on the Registration Page.
Highlight features:
Firstly, the admin can generate unlimited attributes
Also, you can choose specific pages to display customer attributes
8 input types for questions: Text Field, Text Area, Date, Multiple Select, Multiple Select with Images, Drawdown, Yes/No, Image File, Single Radio Image.
Set default value for each attribute.
Arrange the order of attributes to show on the frontend.
Lastly, the admin can manage customer attributes easily.
5. Customer Attributes by Solwininfotech

By installing this extension, the admin store can view, create and manage customer attributes as they want. These attributes are shown on the customer account register page, customer account edit page to gather crucial information about newly registered and already existing customers.
Highlight features:
Firstly, you can create unlimited additional fields.
Besides, it comes with multiple options for attribute display.
Enable/disable from the backend.
Attribute information on the grid.
Also, the admin can easily manage all customer attributes
6. Customer Attributes by Bootsgrid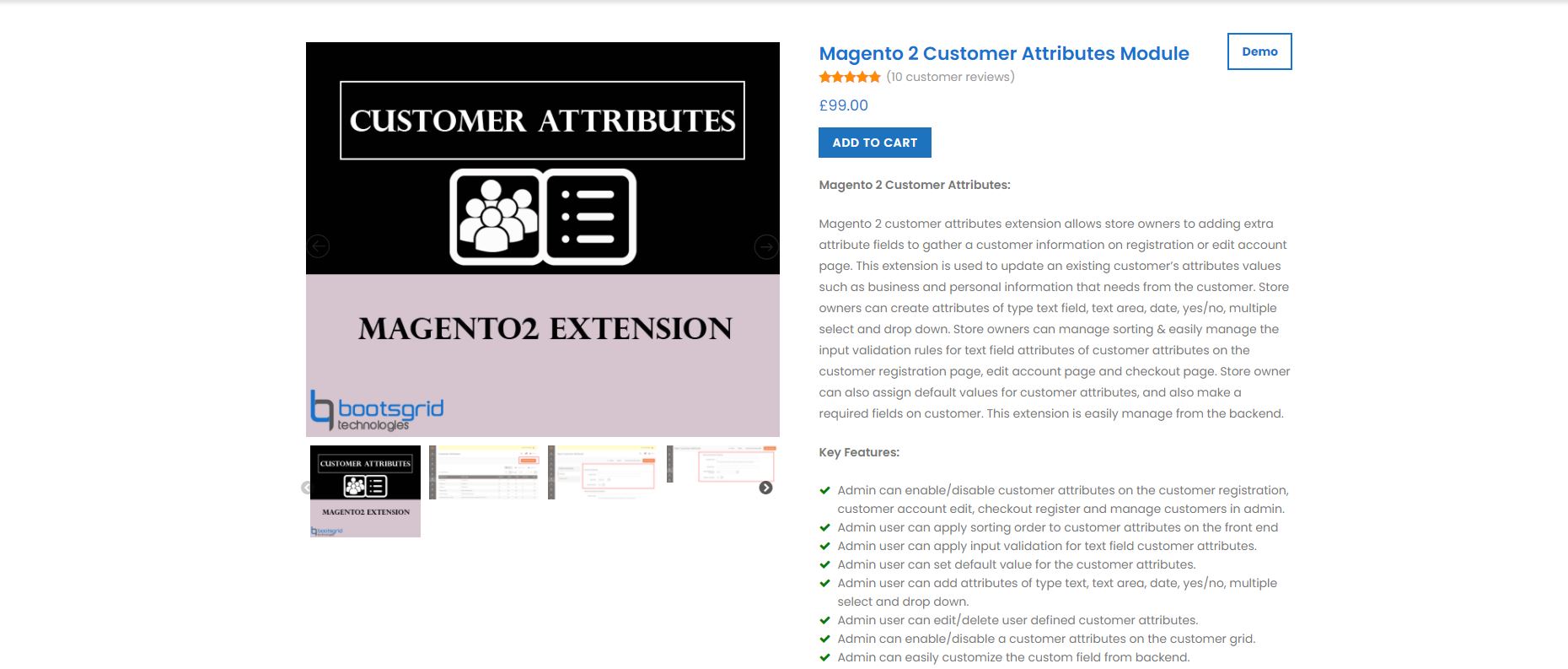 Magento 2 customer attributes extension allows the admin store to include extra attribute fields to collect the customer information on the registration or edit account page. Besides, this tool is utilized to update an existing users' attributes values such as business and personal information that wants from the clients
Highlight features:
Firstly, you can create multiple numbers of customer attributes.
Also, you can choose attribute type as of your wishes.
Set validation and mandatory fields.
Also, the admin can easily show on both the front end and backend.
7. Customer attributes by landofcoder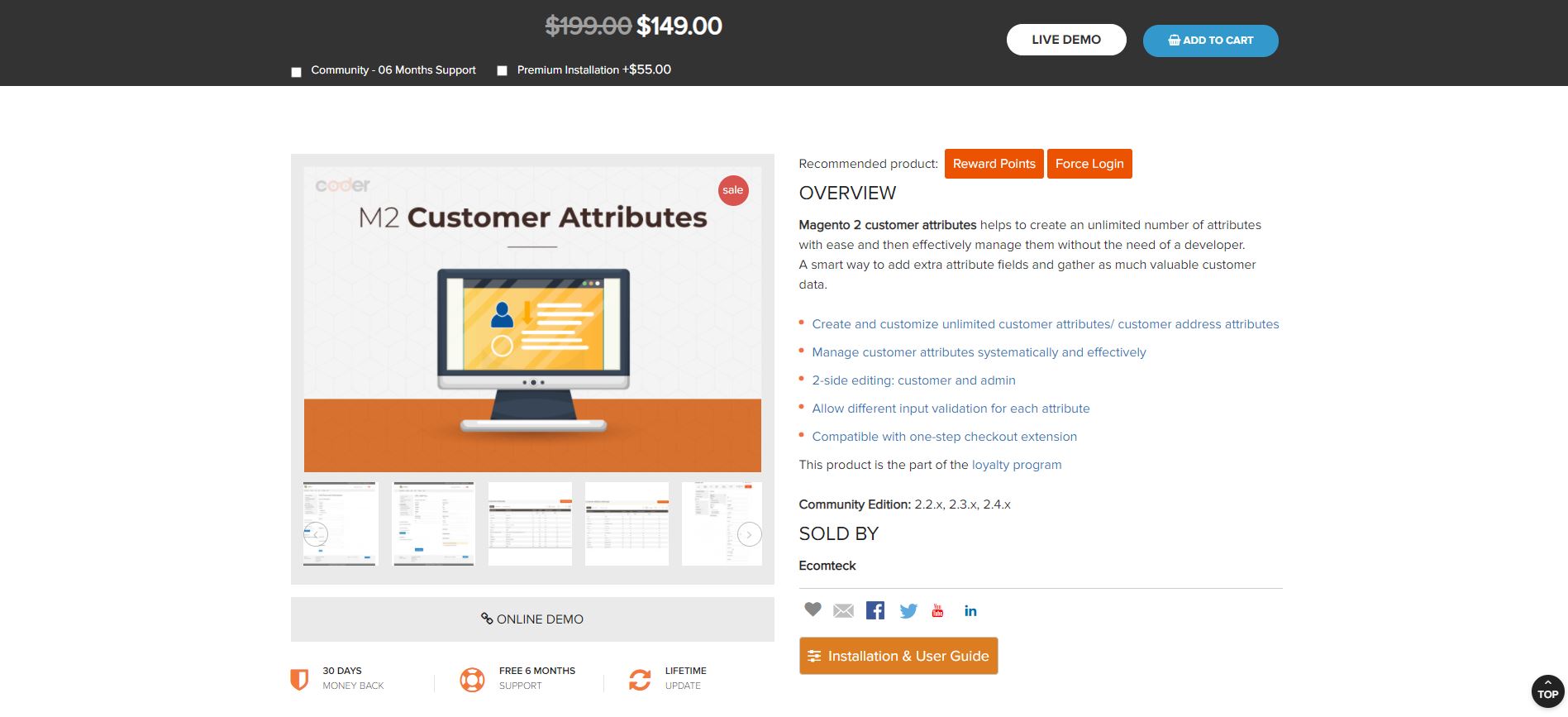 Magento 2 customer attributes support you to create an unlimited number of attributes effortlessly and then effectively take control of them without the need for a developer.  Notably, you can navigate your attributes to any specific page such as the Customer Account Page, Checkout Page, and Customer Registration Page.
Highlight features:
Firstly, you can easily create and customize unlimited customer attributes/ customer address attributes.
Besides, it allows you to manage customer attributes systematically and effectively.
2-side editing: customer and admin.
Lastly, it supports different input validation for each attribute..
8. Custom Attribute by Webkul

Magento 2 Marketplace Custom Attribute module allows the shop owner to manage and add new customer attributes on the product page as you want. Thus, it supports you to manage the personal and business information of shoppers in just a few clicks.
Highlight features:
Firstly, it supports all input types.
Besides, the admin will generate the attribute and can select them to display/hide on the front end.
Also, all types of attributes can be added to the vendor product upload form.
The vendor can select those attributes during product upload
Lastly, the attributes may be required or optional as the Magento admin attributes.
9. Customer attributes by Magearray

Customer Attributes enables you to add a custom attribute for a customer. For Frontend, it will be showcased on the customer registration page, customer account page, and checkout shipping page. Moreover, you can easily manage that customer attributes from the backend.
Highlight features:
Enable/disable attributes on the customer account to generate a lot of web page such as customer account edit page, checkout shipping page, and admin checkout page.
Input require validation for attributes.
Admin can see and manage all attributes.
Easily add attributes of type text, text area, date, yes/no, multiple select and dropdown.
Admin can edit/delete attributes.
10. Customer Attributes by Magedelight

This extension equips you with useful features to create a variety of customer attributes. This kind of data can be gathered to form information out of it about shoppers' habits and provide a personalized experience.
Highlight features:
Firstly, it is easy to create custom attributes.
Besides, it provides a separate section to manage the information given by the customer.
Lastly, it enables you to manage customer attributes from the admin panel.
Final Words
Arrowtheme hopes that you could find the most appropriate and suitable Magento customer attributes extension to enrich the customer database for your online business. Besides, you can take a look at a lot of powerful Magento 2 extensions and Free Magento 2 themes  at our store for Magento stores