Magento Instagram extension: Top 10 best ones to increase brand awareness and sales for your stores
Nowadays, a lot of online businesses have successfully optimized the development of social media like Instagram to reach more customers and boost sales. With the support of Instagram, you can make your store more attractive with eye-catching photos and pictures. Hence, many Magento Instagram extension was born to help Magento stores increase users and conversion rate.
So now, let's discover the top 10 best Magento extension for your store!
Instagram Feed developed by Mageplaza draws attention from customers by integrating eye-catching Instagram photos into stores. It brings you some highlight functions. Firstly, it allows you to add Instagram photos to any pages and sites in your stores. Secondly, it supports customers with photo categorization. Shoppers can view the most recent, the most commented or the most like photos in your store. Thirdly, you can choose the most suitable photo layouts from 3 options: single rows, multiples rows and perfected rows. Next, it uses Instagram pop-up to look closer at an image easily with one click. Also, this extension allows you to create a block description with title and detailed information at the same time. Finally, it integrates with Mageplaza's extension including Twitter Widget, Product labels, Share cart to work more effectively.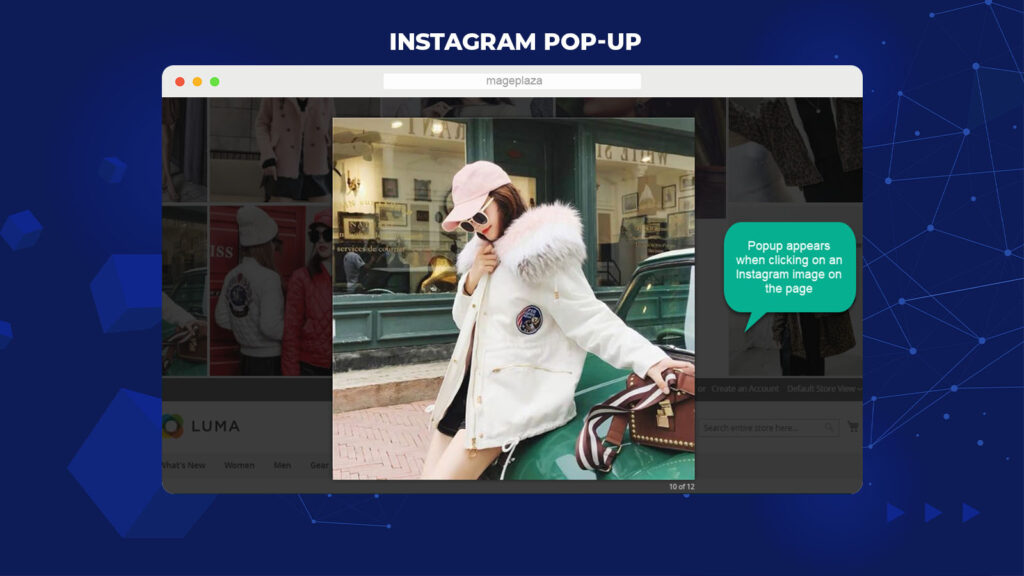 Service:
60-day Money Back
Lifetime Update
365-day Support
Price: Free
This Magento Instagram extension allows you to integrate your store with Instagram. Hence, you can display the Instagram photos and video on your home page, product page and CMS page. After that, you can show or hide Instagram images and video on your page. Also, there are options for display view and display limited images. Instagram likes and comments are displayed too. Additionally, customer can see products clearer by an Instagram popup on the Home page. Besides, owners can fill product title and description to the image attached with a direct link to their stores. And they can update them in just a click based on set configuration. Even more, you can create a hashtag or username to display specific products.

Price: From $99
Instagram Feed by Amasty helps you beautify your store with high-quality images from Instagram. Firstly, this extension allows you to create Instagram galleries and add them directly to all of your pages. Secondly, it automatically generates engaging content for customers. So you can save a lot of time and effort. Thirdly, store owners can adjust the Instagram blocks design including the layout, sizes, action and number of pictures. Also, store owners can sort pictures easily based on their own criteria, and display the numbers of interaction (likes, comments).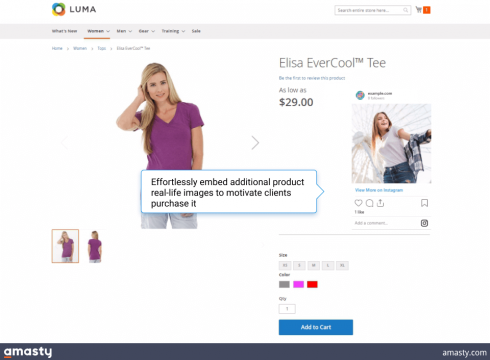 Service:
Free lifetime updates;
3 months of free support services
25-day Marketplace Return Policy.
Price: From $149
Instagram by Meetanshi is used as a marketing tool to boost your store's conversion rate. Firstly, this extension can display Instagram pictures on many pages such as Home Page, Category Page, Product Page and Media Gallery. You can choose to display all stores, specific categories or specific products. Secondly, the admin can find new Instagram images from hashtag and user name to add to the grid. Thirdly, you can change the product detail to design the popup view and easily drag and drop points to set hotspots. Also, you can add the link to redirect your customers to your store. Besides, customers can see the number of likes and comments for each picture.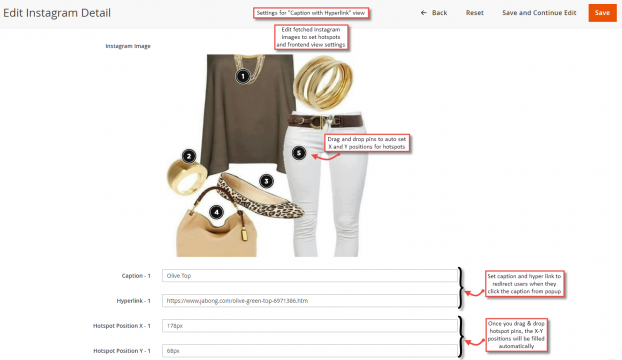 Service:
Free 90 Days Support
Free Lifetime Updates
25 Days Marketplace Return Policy
Multi-Store Supported
Price: $129
5. Instagram Widget by NEKLO
This Magento Instagram extension supports you integrate with Instagram easier and more effectively. Firstly, you can add the widget to a CMS page, blocks or customize the widget. Secondly, you have 3 display options: by user ID, by the hashtag or by the product hashtag. Moreover, customers can click on the picture to go straight to the Instagram page. Additionally, you can adjust the number of image block that is shown. Finally, all the functions are used easily through clear settings. However, it is an integration with a third party service. So other charges may be required to use this extension on your store.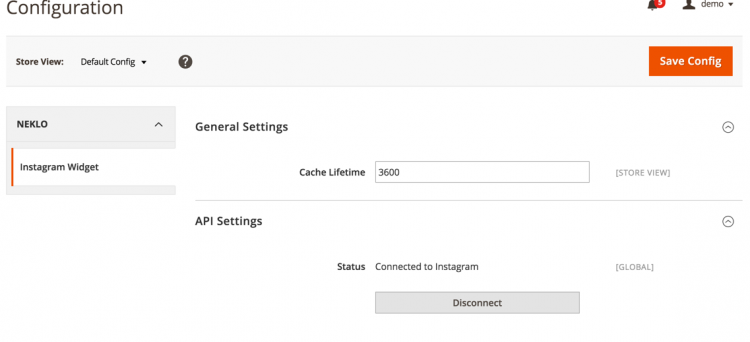 Price: $39
Instagram Integration by MageAnts provides you with some key benefits. Firstly, it inserts the title, products description and URL into Instagram images. From that, customers can go to the store with one click. Also, it allows you to drag and drop the hotspot locations to your images. So it increases more sales. Secondly, you can show pictures from the Instagram feed using username and hashtags. Thirdly, this extension is compatible with CMS Page, so you can display images over CMS block. Additionally, the admin can choose the images to show on the gallery. Furthermore, the Admin Interface is simple to use. Finally, it allows visitors to come to your store via Instagram.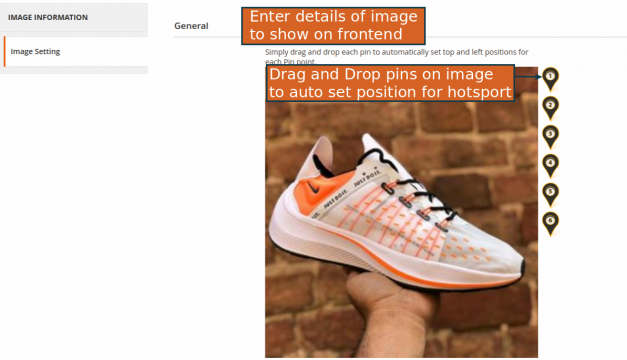 Price: $199
This extension gives you an effective way to reach more customers. At first, it displays the Instagram feed on homepages, product pages and categories. Hence, you can bring your products closer to customers. Secondly, you can choose the suitable colour of the widget to match your store theme. Thirdly, you can decide the number of pictures which are displayed. Also, you can sort images by most recent, most likes and most comments. In addition, you can select the pictures based on geolocation, users or tagged pictures. Finally, you can customize the content and design of the widget to match your store.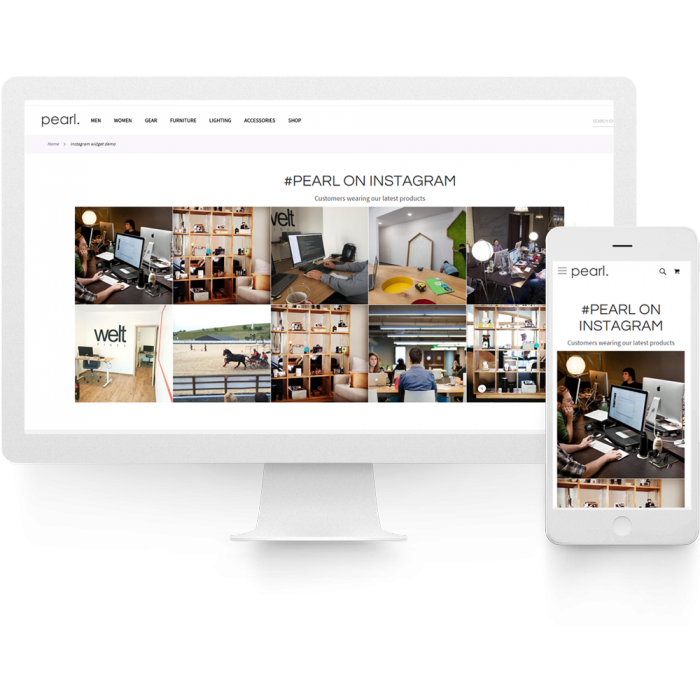 Price: $149
8. Easy Instagram Widget by Aurora Creation
This extension helps you increase the conversion rate by optimizing Instagram. Firstly, it displays Instagram photos on your online stores. You can place them on any pages inside your stores by using widgets. Secondly, you have three widget modes options: user ID, hashtag and product hashtag. Even more, you can customize the design of the widget. So you can make sure it suits your store. Also, this extension requires Instagram API authorization to protect your store. Finally, customer can click the image to redirect to the Instagram page.

Service:
3 months of free tech support:
1 year of free upgrades
25-day Marketplace Refund Policy
Price: $59
This extension is a great Instagram Widget extension for your Magento store. Firstly, it creates an Instagram feed for your store. So you can easily add the photos of your products to this feed. Secondly, you can open an Instagram photos gallery with many tags. Thirdly, it allows you to limit the number of photos displayed. Also, you can insert a widget block into any pages and select the title. Finally, a beginner can set up it easily with a fully customizable interface.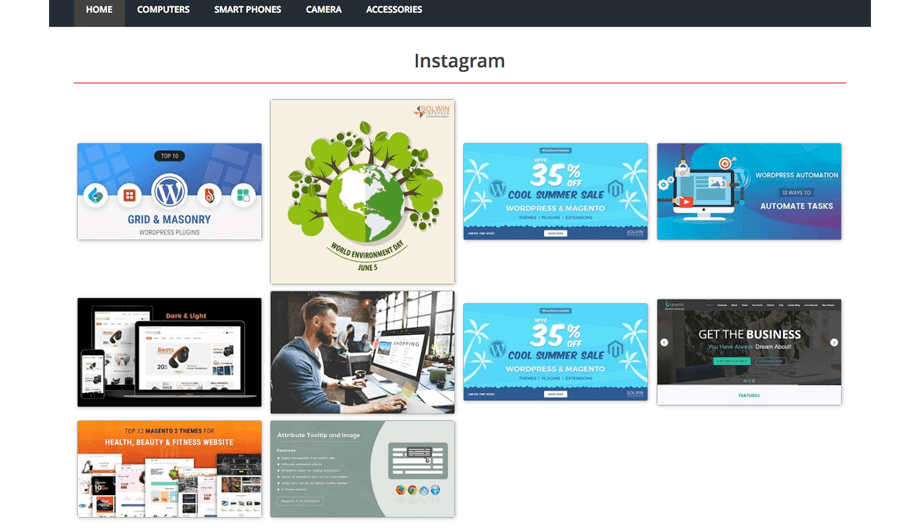 Service:
3 months free support
Free lifetime upgrade
30 days money back
Price: Free for 3 months
This extension helps you display Instagram photos on your Magento store. You can show them in a grid view on any pages. Also, you can have a limitation of elements displayed on recent feeds. Besides, this extension does not affect the speed of loading. Additionally, the auth process is simple to do. Finally, free installation support helps you install and set up faster.

Price: $35
To sum up, Arrowtheme introduced the top 10 best Magento Instagram extension. We hope you to find a best choice. If you have any comments, feel free to tell us.
Besides, we provides a lot of free and attractive Magento themes. Let's go here.