WooCommerce vs Shopify – Find Out The Best for Online Store
WooCommerce vs Shopify: Who will win the eCommerce crown? 
Setting up a website involves making many decisions, such as which hosting provider, domain, and theme to use. This becomes even more challenging for an eCommerce site because you also have to decide between Shopify vs WooCommerce.
These two platforms are among the most well-known ones for online stores, but they have different strengths and weaknesses.
In this article today, we'll compare them in detail and see which one is suitable for your needs.
Let the battle of Shopify vs WooCommerce begin!
Shopify vs WooCommerce: A Brief Introduction
Shopify is a closed platform that offers over 800,000 online stores a range of features and integrations, while WooCommerce is an open-source platform with millions of users and customization options. But what is unique about WooCommerce vs Shopify?
Shopify
Shopify is a complete solution for online stores, providing hosting, security, features, and apps. You can build your eCommerce shop and manage your products, accept different payments, and track orders using a single service.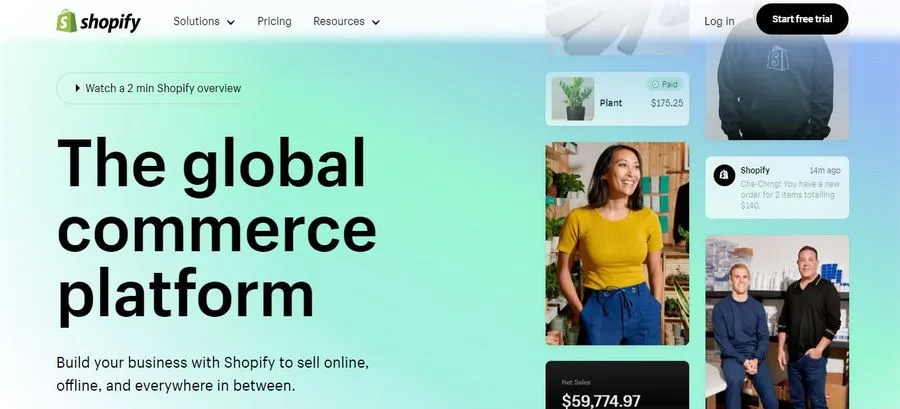 WooCommerce
WooCommerce is an open-source solution that adds e-commerce functionality to any WordPress site. You can customize and control your online store, choose from thousands of plugins, and leverage the power of WordPress as a CMS.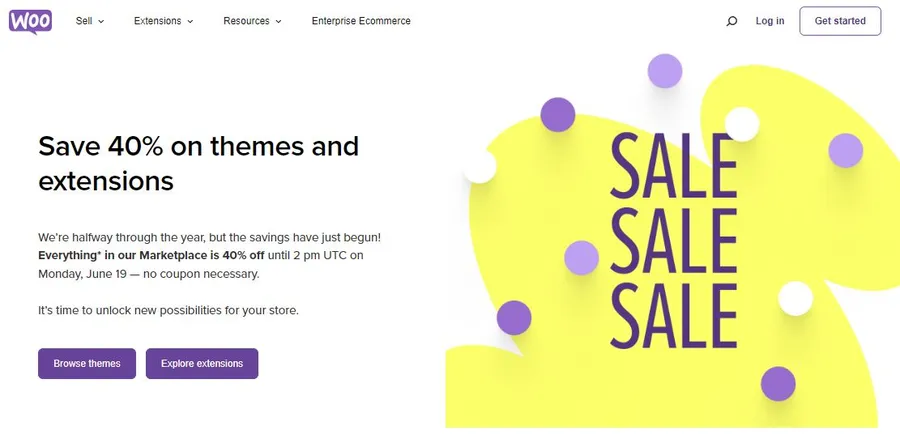 WooCommerce vs Shopify: A Comparison of Their Features
Price is a key difference between WooCommerce vs Shopify.
Shopify offers different plans that start from $25 per month, depending on the features and support you need. WooCommerce, on the other hand, is free to install and use, but you need to purchase your own domain and hosting separately.
Dropshipping Shopify vs WooCommerce is an important feature if you want to start your dropshipping business. Remember that a lot of these product marketplaces impose their own subscription fees, delivery charges, and other fees. These fees may reduce your already meager dropshipping profits.
These are some of the essential features of the Shopify vs WooCommerce comparison, so keep an eye out for the features that matter most to you:
| | | |
| --- | --- | --- |
| Features | WooCommerce | Shopify |
| Pricing | Free to install and use, but you will need to get your own web hosting | Has 3 different plans: Basic Shopify ($25/mo), Shopify ($65/mo), and Advanced Shopify ($399/mo) |
| Domain | A free domain is not part of the package; you have to purchase one yourself | All plans include a free subdomain under myshopify.com |
| Unlimited products | No limit to adding products | Create many products you need for your store |
| Payment fees | Pay different fees based on the payment processors you choose | There are specific Shopify fees for each payment you make |
| Apps & Plugins | Add more features to your store with WooCommerce extensions. They are available for free or for a fee. | You can access the platform's app store to add more features. Its apps are free or paid. |
| Customer support | If you need help with WooCommerce, you can contact the developers via their help desk or check out their detailed software guides | Support in English is available anytime |
| Theme & Design | Large free and premium WooCommerce themes are available. | Medium premium and free Shopify themes available to help you personalize the look and feel of your site. |
| SSL Certificate | NOT included by itself. You need to get an SSL certificate from a web host or a certificate authority for WooCommerce. | Included SSL certificate |
| SEO Tools | Need to download free or paid SEO tools such as Rank Math vs Yoast SEO | Allow editing title tags, meta descriptions, and URLs for blog posts, webpages, products, etc |
| Page Speed | 776 milliseconds | 309 milliseconds |
| Analytics | A plugin is available for integration with Google Analytics. | It has a built-in analytics system, and can also work with Google Analytics. |
| Security | Must secure an SSL certificate, PCI compliant, etc on your own | Automatically secure your site |
WooCommerce vs Shopify Comparison
Who Uses Those Platforms?
Shopify is the ultimate destination for over a million merchants who sell everything, such as fashion, jewelry, shoes, books, furniture, and more. It's perfect for both small businesses and big brands. If you're looking for a theme to sell different items, just try Storepify.
WooCommerce has a huge and growing user base; the e-commerce platform was powering around 400,000 sites by early 2015, and that number has increased dramatically since then, making WooCommerce a serious competitor to Shopify in the online store market.
What About Pricing?
The cost is usually the first thing to consider when launching an online store. So what is the price of WooCommerce vs Shopify?
Shopify Pricing
Shopify comes with three basic plans and a custom enterprise option. Their three plans cost $25, $65, and $399, and the main difference between them is the fee they charge for accepting credit cards.
These differences may appear insignificant at first, but anyone who is experienced with retail operations can confirm that credit card fees accumulate quickly. Moreover, each higher plan also lowers the transaction fees for using external payment options such as PayPal and Stripe, as shown above.
Each Shopify plan also offers a different number of staff accounts, hydrogen storefronts, inventory locations, and the ability to recover abandoned shopping carts (both of which are restricted to the last two plans).
WooCommerce Pricing
WooCommerce, of course, has no upfront cost, but you need to arrange hosting on your own. The cost of hosting will vary depending on the size of your store, but a small operation should cost less than Shopify's basic plan.
WooCommerce extensions may have higher upfront costs than Shopify's, but you only pay once for a license instead of a monthly subscription. This could save you money in the long run, depending on the size of your store.
Overall, after comparing the price of WooCommerce vs Shopify, WooCommerce is free to download, but it's about as expensive as Shopify, or more so, to run an actual eCommerce store on WooCommerce. You'll need to cover some extra fees, such as domain registration and hosting, and each additional extension comes at a cost.
Shopify vs WooCommerce Which is Better?
We've reached the conclusion of the Shopify vs WooCommerce battle, and it's time to decide which platform is suitable for you.
Shopify is the best option for users who want a simple setup process and premium support. The service ensures a smooth experience for the cost of a monthly charge.
Because of its inherent flexibility, WooCommerce can compete with and beat Shopify. However, its setup process is more involved and will require you to do some work. It's ideal for those who enjoy open-source software and want to customize every aspect of their experience.
Read More: Wix vs Shopify for eCommerce Business & Online Store