Shopify image slider app: Top 10 best apps to create attractive sliders for your ecommerce sites
Shopify slider app is an effective way to convey important messages to your users about product sales, new products and more. If you're owning a Shopify website and want to add the image slider functionality, don't miss this article. All best-sellers of Shopify free and premium image slider app are collected for merchants to pick the most suitable ones.
1. POWR Image Slider

When you want to draw your visitors' attention, one of the best effective ways is to make your website become attractive. With beautiful Image Slider + Carousel, you can equip and improve your slide. Firstly, you will have a fully customizable slider that includes slider captions, custom slider arrows, buttons, videos, slider borders slider backgrounds, and more to make your image slider POP. Moreover, attractive slider transitions comes with 17 different slider transition styles and add slider thumbnails to make your image slider standout. Create your image slider on a loop to make sure visitors do not miss any essential information. Furthermore, you can show off your collections in a slider. This collection showcases your progress and attracts the visitor with beautiful slides.
The most prominent features:
Fully customizable slider
Attractive slider transitions
Easy to optimize slider
Support mobile responsive on any device
Supports text in any language
2. Product Page Slider & Gallery

This innovative, responsive Shopify slider app enables you to showcase the content in a beautiful, aesthetically pleasing manner that will encourage users to find out more information and boost conversion rates. Besides, the app works on all devices, of all screen sizes, including desktop and mobile devices.
The most prominent features:
Better layout for Product Images
Save space on the Product Page
Add Slider with Arrows
Or try the "Hover" mode
Add Thumbnails
Try 8 different Bullets type + color customization
Pick from 2 Arrows type + color customization
Full mobile support: swipe images left and right
Live Preview before installation
3. Secomapp: Banner Slider

Banner Slider allows you to upload, customize, and showcase multiple sliders. In fact, the module can support over 40 sliders. Besides, the app equips you with a friendly back-end management which can supports you to make, edit, and remove both banners and sliders easily. In addition, Banner Slider assists you with an embedded code for every slider so that you can add it into a page and file.
On top of that, the modules allows you to optimize loading speed or SEO. For admins, they can easily make various sliders and preview them. Link to each banner photo is also allowed and your time is saved because features are uploaded in bulk.
The most prominent features:
Allow you to upload, customize, and display sliders
Generate, remove, and edit banners and sliders easily
Preview sliders before showing them
Optimize loading page and SEO improvement
Provide multiple sliders
4. Hover Image Slider, Quick View

This Shopify image slider app turns product preview pictures on a collection page into a slider with multiple product thumbnails. Now instead of viewing a single picture, your visitors can quickly scroll through preview slider without leaving a collection page. As a result, it reduces shopping time and makes products browsing more convenient.
The most prominent features:
Easy to install.
Adds a slider for each product on the collection page.
Customer doesn't need to enter product page to see all pictures.
Four different types of slider included within the app.
5. Image Slider ‑ EA

Hero Slider / Banner Slider can be used to make a Hero slider for your store home page. This will be more attractive than the slider provided in your theme. Also, you and control the speed, add text and links and many more from the backend. Moreover, Carousal feature allows you to generate an attractive carousal slider to showcase your images in a neat rotating layout. You can easily customize the images to showcase in your slider.
.The most prominent features:
You can upload multiple photos at once
Control the slider speed
Add text / comments on your images
Add URLs to direct your customers after clicking the image in the slider
Completely mobile responsive
6. Ada IQ: Image Slider Gallery

Ada IQ Shopify image slider app enables you to upload multiple photos so that you can upload as much as you expect to make your products more appealing and fashionable. In addition, it will link these images to any page in your website. This leads to the fact that the appearance of every web page in your store will be more eye-catching and attractive. If your customers click to any product, its images will be displayed for them to view.
Especially, you can add the slider to any webpage also. In this way, visitor will find it quick and simple. This modules also comes with an attractive design to match with your website. Last but not least, you can customize the modules if there's something not satisfied.
The most prominent features:
Enable you to upload multiple photos
Allow you add the slider to any page
Offer you with attractive app design
Allow you to customize the app
Link the images to any page in store
7. Slider Revolution

Shopify image slider app is an innovative, responsive Shopify Slider app that displays your content the appalling and attractive way. Whether it"s a Slider, Carousel, Hero Image or Video Scene for best conversion rates or even a whole Front Page, the visual, drag & drop editor will allow you tell your own stories in no time. Furthermore, it works on all Desktop or mobile device!
The most prominent features:
Edit the sliders easily
Support to navigate
Provide a WYSIWYG editor to edit photos effectively
Customize the content on social media
Allow to customize videos such as Blur
8. Master Slider ‑ Image Slider

Showcase the beautiful hero images in a slideshow by using our Master Slider App. With this, you can easily attract more customers, promote your product offerings, sales, and more with our fully customizable Master Slider App. This app will brings you the easiest way to build a custom Banner Slider to highlight bestsellers and promotions.
The most prominent features:
Generate unlimited banners on your own. No coding knowledge required
Control almost everything in your slide, from arrows, to pagination, to speed, to transitions, and even thumbnails
Schedule your slide start and end date (Example: Black Friday/Cyber Monday offer slide)
Style your sliders with unlimited options, customizable to your needs
Bulk upload slider images and save your time
9. Layer Slider

Shopify image slider app is one of the most highly rated Shopify slider apps on the App Store. This app comes with a visual, drag and drop editor that enables you to create the perfect slider for your store that will look unique and modern. Besides, all presentation can have stylish animations added to them, which enables you to showcase your portfolio with professional style. With this, you can easily add multiple CTAs with every offer
Additionally, the slider is fully responsive and there are CSS3 transitions that are empowered with JavaScript. You can include an unlimited number of videos, text, images and HTML content layers to your slides, making them the perfect marketing tool on your online store. The app is also fully responsive and SEO-friendly.
The most prominent features:
Add multiple CTAs to your slides.
Can use images, videos, text and more within slides.
Fully responsive and SEO-friendly.
One of the most highly rated Shopify slider apps available on the store.
If you are considering a Shopify image slider app for your store, you should look for professional help from us. At Arrowtheme – we provide the integration and customization service for Shopify to help merchants improve the customer experience. Especially, our packages are ready to provide you with 30 % OFF !!! You can check our Shopify service at Here. We'll be happy to provide you with a free consultation.
Final Word
We hope that this review can give you a big-picture of the available image slider app in the market. Now make your own decision – choose for yourself the best fit Shopify app. Besides, you can take a look at the Lusion – Multipurpose eCommerce Shopify Theme for the this useful and impressive feature at a reasonable price.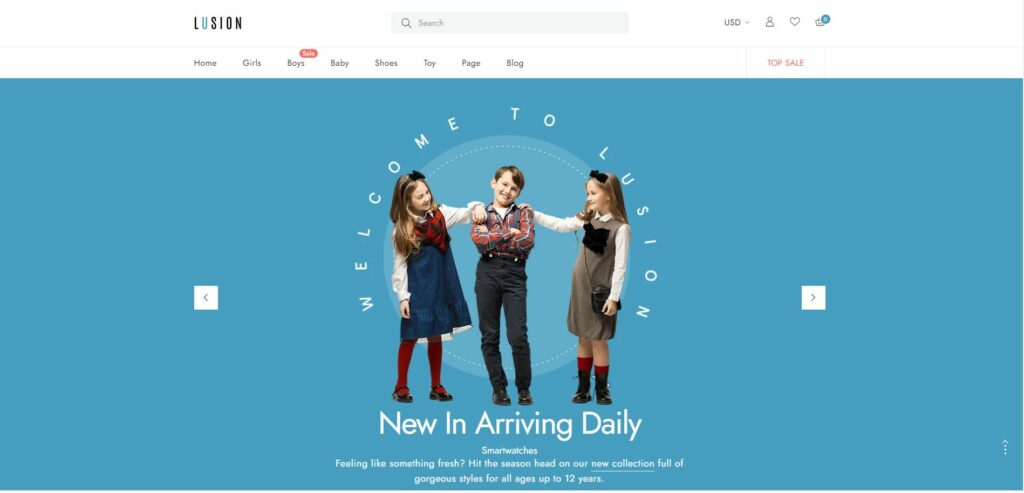 Lusion is a most unique multi-purpose eCommerce theme for shop online with clean and modern design. Theme will take your Shopify store to the next level with image slider feature which enables you to display various banners on multiples pages of your website in an attractive slider through the easiest and uncomplicated means possible. Besides, theme equips you with a lot of prominent features including:
The newest feature: Product 3D, as well as AR Model, Google rich snippets structured Data, AJAX Search Autocomplete
Top trending theme on Themeforest. Also, theme is optimized for Drop shipping.
24 + Pre-made demos
Compatible with top plugins including MegaMenu, ajax search autocomplete, native Shopify quick view, Ajaz product filter..et
One-click Demo Importer: one theme importer already offers pages, posts, sliders, widgets, and so many more
Fake Sales Popup: Easy way to convince visitors stay around
Recommend products: Highlighting the products that helps increase conversion rate
Full Customizability: modifying is more simple because you don't have to write any new coding
Want to see more information on the Lusion theme, let check it out via the Themeforest!