Add video to Shopify homepage to increase purchase and revenue with the simple way
Continuing the series about Shopify tutorials of Arrowtheme that brings you a lot of helpful instructions for you to work well with Shopify is the blog about inserting video to Shopify homepage. If you don't know how to add video to Shopify homepage, this blog is the right destination for you. Then, let's explore right now!
The reasons why you should add Video to Shopify homepage
In fact, in the e-commerce field, video is undoubtedly one of the most underappreciated and frequently overlooked techniques for increasing sales. If a store owner refuses to use video on their Shopify pages, they are simply ignoring human nature.
Besides, the opportunity to see, touch, and feel things ranks first among the reasons people prefer to purchase in a brick-and-mortar store over online businesses, according to a RetailDive poll. Customers want to handle and inspect a product for a variety of reasons, including learning how it works. This guarantees that they are purchasing the correct solution. So, these are the reasons why we say video can support rounding out that online purchasing experience.
Boost sales
First and foremost, images are an excellent way to demonstrate your goods. But they are static and compel the client to use their imagination. By contrast, a video is a virtual demonstration of your goods.
What's more, when consumers can watch a video demonstrating how to use something, over 75% are more likely to buy it.
Dig down more information without wasting time
Potential clients will compare pricing, research a product, and explore the internet until all of their inquiries are answered. However, people still seek to save time in any way they can. The easier it is for them to do their investigation, the more likely they are to purchase from you.
In addition, customers can easily consume information dumps by including video onto Shopify product pages. In fact, four times as many customers would rather watch a product video than read a comprehensive product description.
Returns from online shopping will decrease
Although e-commerce brings store owners a lot of great outcomes, its returns still are a costly nuisance. According to Invespcro, at least 30% of things purchased online are returned, compared to just under 9% of sales made in brick and mortar retailers.
However, if you can find a method that helps your customers see products being used, understand how it works, and perceive the value offered to them, they will be more likely to be satisfied with your items.
GlamCorner started using user-generated material, such as movies on product pages, as part of an effort to reduce returns. In reality, this method helped them to create more accurate product expectations with their customers, resulting in a 50% drop in returns.
Simple way to add video to Shopify homepage successfully
As part of the product gallery, most retailers want to put a video front and center to make their videos stand out from the rest. In fact, basically, that method isn't wrong, but relying just on that gallery real estate means you're missing out on other ways to use Shopify video.
How to add video to Shopify homepage on any page?
In Shopify, you may embed video on any page of your store. The best part is that you won't have to touch any code.
This section includes pages such as:
For promotional and product launch efforts, you can create custom landing pages.
Descriptions of the collections
Posts on the internet
Likewise, any other content page.
Then, you only need to follow a few basic steps to accomplish this. Now, let's explore the steps below.
#1. Copy the URL of video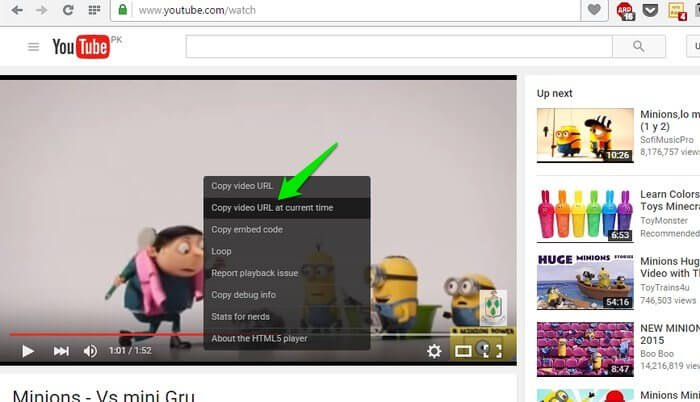 Shopify suggests that you publish your film to a third-party video hosting service like YouTube. You'll want to copy the URL for your video once it's been posted and made live.
#2. Create a Responsive Video
Because you will be embedding the video into your site. So, you should make sure it's responsive and works on any platform, especially mobile.
Embed Responsibly will assist you in creating a fully responsive embed code that will display properly when you insert video into Shopify. Go to the website and paste your video's YouTube URL.
Then, you must select "Embed" from the drop-down menu. So, you will get a sneak peek at how the embedded video will look. Not only that, you will also have freedom to discover the source embed code for your Shopify store, which you may copy.
#3. Copy the Embed Code
#4. Go to the Shopify Admin Dashboard and log in
Navigate to the page where you wish to place your newly obtained video when you log into your Shopify admin. Under Online Store > Pages, you'll discover a list of your current pages.
If you want to edit any page, you can choose it and make a note of the editor toolbar options.
#5. Select "Insert Video" from the drop-down menu
The next step is click the video camera symbol that represents video media in the rich text editor's toolbar.
Then, you have to select "Insert Video" after pasting in the video embed code.
In particular, if you can't do it on your own and need any support to implement it, let's take a look at Shopify website packages of Arrowtheme. Offering three different packages from Basic to Standard to Advance one, we are sure to never disappoint you.
First of all, in case you want to build an eye-catching and functional ecommerce store but don't want to spend lots of money and resources, our Basic package is for you.
As the most popular Shopify solution, our Standard and Advance packages are quite a step up from the Basic package, but you get almost every feature Shopify has to offer.
We are launching a great sale program, so don't miss this rare chance!
How to add Video to a Shopify Product Description?
Aside from adding video to Shopify homepage, you can also embed video in the product description. Simply speaking, this is a frequent approach employed in online retail stores including on Amazon.
Including video on a lengthier product page not only provides the advantages listed above, but it also makes the content easier to skim.
Whitespace is strategically used to break up tidbits of product information that are broken up by content modules, photos, and videos, making it easier on the eyes.
Similarly, 64% of consumers are more likely to purchase a product after watching a video.
In order to add video to your product description, you must use the rich text editor to include a video embed code, just like you did in the previous section. Alternatively, you can use the "split" command within your page content to create a cleaner display of your video. This breaks up on-page content by splitting the product description and giving your video its own part, much like a big, eye-catching separator.
Then, to do so, you have to go to your product page and click Edit.
After that, to "show html" for the product description, let's click the <> icon.
Type in <!– split –> at the conclusion of your product description. After that, add your video embed code exactly below the "split" command.
Moreover, in case you expect to personalize your pages, you can utilize a suitable app. You may use it to update any website and place items using a simple drag-and-drop interface instead of dealing with HTML and embed codes.
In addition, adding and arranging photos, content modules, and, of course, video into your product pages are all part of this.
Start increasing sales today by adding video to your Shopify store
Online merchants and brands are always looking for new methods to engage customers, prevent cart abandonment, and boost conversions and revenue. So, the greatest time to use video to accomplish those objectives is right now.
Thanks to the smart ideas above, you can easily add video to any Shopify page with a few clicks. Testing alternative videos and video positioning over time will help you optimize each page for maximum conversions.
What types of Video can you pay attention to?
The following FIVE stages of the client journey should be included in your product videos.
#1. Interest
These types of videos should be introduced right at the start, when your clients are unfamiliar with your products and have no idea how you may help them. As a result, these videos should focus on their requirements rather than your goods.
If you can ask an expert or a famous host for help to discuss your product, it might help to put a face to your business as well. Some Shopify themes come with built-in video options that make showcasing your Shopify videos a breeze. You can look for Shopify themes with video options in the Shopify theme store.
#2. Research
Customers will try to analyze how well your products match their wants or satisfy their requests as they become more familiar with your brand. Then, you may now use your website to provide informational or educational movies to answer their inquiries. What's more, you should be able to express how your items fit into your clients' lifestyles using this type of product video. In fact, How-to videos and tutorials are wonderful methods to show off your product while providing consumers the knowledge they need without appearing salesy.
#3. Validation
Coming to the next stage where you must instill confidence in your customers' minds regarding your products. So, you should try to use videos to demonstrate those aspects of your items that are otherwise difficult to convey through text and photographs.
For more detail, lifestyle videos can be considered as an exceptional example because they convey the attributes of your products through storytelling. Moreover, it also illustrates how your product is a part of a regular day in the life of your customer.
#4. Decision
In order to persuade customers during the decision stage of the purchasing process, you can take advantage of Shopify product page videos. The primary focus of these videos will be on how your product differs from that of your competitors. As a result, your clients will be able to make an informed decision about which product to purchase. Because the product page is where an online buyer decides whether or not to buy a product, including a product video on a Shopify product page can increase conversions.
#5. Retention
After you've begun selling your products, the next stage is to keep your consumers and increase repeat purchases. User-generated videos are excellent for establishing and maintaining client confidence as well as connecting with them. Customers adore user-generated content because it is genuine and relatable to their lives.
In conclusion
All in all, Arrowtheme hopes you will get various useful information about add video to Shopify homepage through this blog. Then, you will apply them to your working process with Shopify effectively. Besides this blog, you should refer to many other Shopify tutorials including Shopify contact us page, Shopify sections, Shopify trial, etc.