How to buy from Alibaba and manage products safely
When you want to start an online business, it is critical to think about the products and sources to supply. In the previous blog, Arrowtheme showed you how to find trending products to sell. So, in this blog, Arrowtheme wants to tell you about one of the most common sources of suppliers in eCommerce today. It's Alibaba. This blog will clarify what Alibaba is, who should buy from Alibaba and the steps to buy from Alibaba.
What is Alibaba?
In the first place, you need to know how does Alibaba work. Alibaba.com is an online B2B marketplace that allows buyers and sellers from all over the world to connect and deal. It's a safe, reliable platform that tens of millions of businesses rely on.
In addition, Alibaba.com was created by Jack Ma in 1999 and is part of the Alibaba Group. With approximately 5,900 different categories of product offerings, this corporation provides services to businesses in 190 countries. Also, Alibaba is the world's largest eCommerce corporation by revenue, with $78.6 billion expected in 2020. Even more, the platform comes with a number of tools and features that make B2B purchasing and selling easier.
Otherwise, many people can't differ from Alibaba and Amazon. However, there are still main differences. It's the type of customer. While Alibaba focuses on suppliers (B2B business), Amazon aims to consumers (B2C customers).
Who should buy from on Alibaba?
If you meet one or more of the following requirements, Alibaba may be a good option:
You want to buy a large number of items with cheaper price at ones.
You want to purchase customized products or import items at low cost.
Your business can sell bulk products at a competitive price.
To be detailed, Alibaba's customers are major businesses. There are two types of them including manufacturing and trading companies. Firstly, manufacturing businesses that sell raw materials or produced goods are common suppliers. Secondly, retailers, wholesalers, sourcing agencies, and manufacturers are trading companies that are looking for products to resale or private label for their own enterprises.
How to buy from Alibaba
If you don't know how to order from Alibaba, here is the guideline for you to order products from Alibaba.
1. Creat an Alibaba account to buy from Alibaba
Firstly, you need to access Alibaba website to create an account. You can sign in with Facebook, Google, LinkedIn or Twitter account. Or click Join free to register. If you click Join free, you will have to fill in some information including:
Country/ Region
Trade role
Email address
Company name
Create password
Full name
Telephone number
For the trade role option, in case you only need to buy products, select "Buyer". And, if you want to buy and sell on Alibaba, select "Both".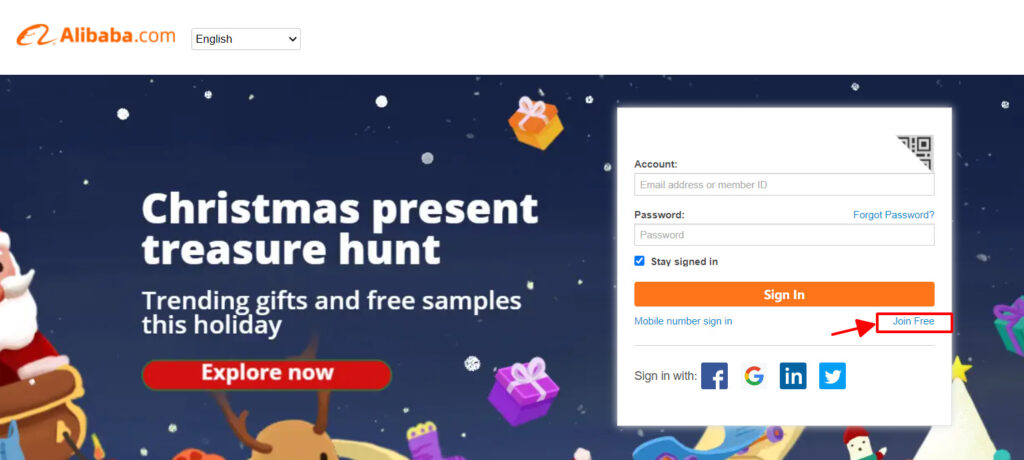 2. Find products in Alibaba
Secondly, it's time to find your products. You have 2 ways to order products.
The first way is to search from the general marketplace.
The second way is to submit a RFQ (Request for Quotation).
The first way is easy and similar to other search engines. You can search both by keywords or images. For keywords, Alibaba will suggest you with some popular searches recently. For products images, you can click at "Upload image" to find products easier.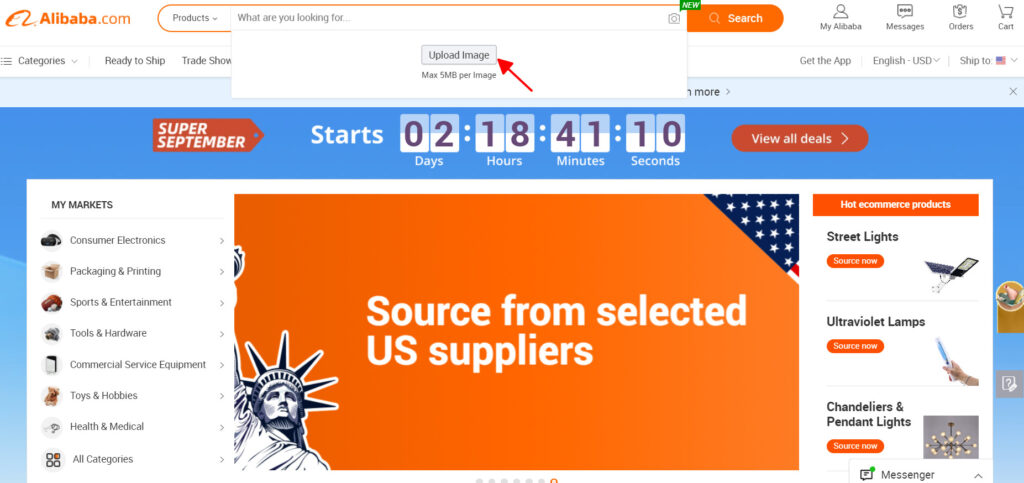 Also, there are some criteria for you to filter products such as
Product type
Supplier type
Supplier country
Minimum order quantity (MQO)
Certifications
Features
If the first way can't help you find the needed products, you can submit a request for quotation in the RFQ market. So, sellers can contact you if they can satisfy your conditions.
3. Make comparisions and select the supplier
Thirdly, you need to find some suppliers and compare them. On Alibaba.com, there are numerous merchants. So Alibaba gives them some certificates to distinguish from others. There are 3 main identifiers including Gold supplier, Verified supplier and Trade Assurance supplier.
Gold suppliers: They are members and had paid for Alibaba. They are confirmed as merchants with industrial or commercial capabilities.
Verified supplier: These suppliers all have the corporate profile, management system, production capabilities, and process controls reviewed. Especially, they are all verified by third-party institutions.
Trade Assurance suppliers: This group use Alibaba's payment. Also, they provide Alibaba.com order protection.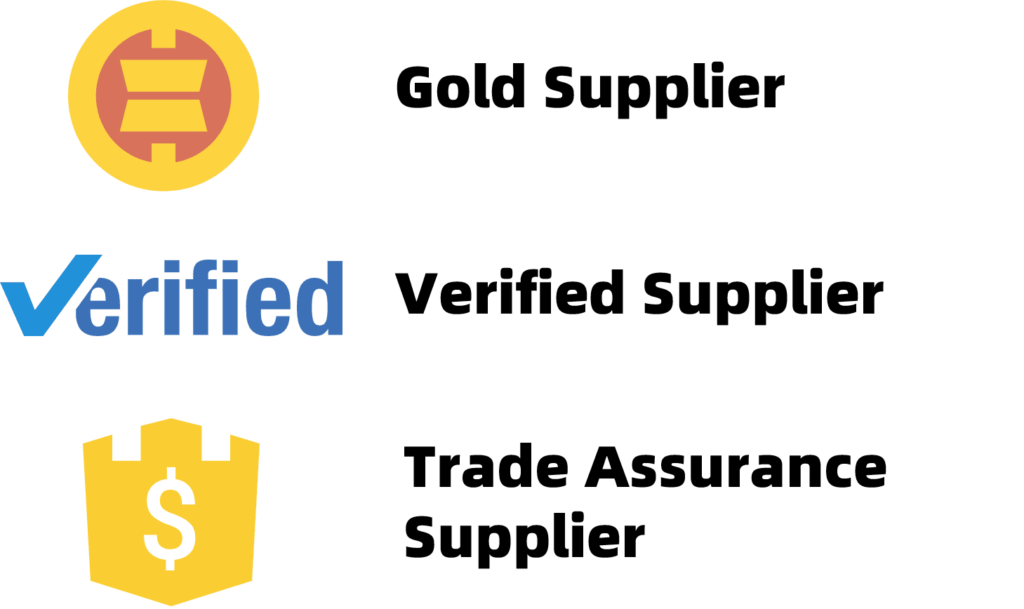 When you search for suppliers, you should see both their certificates and reviews. Additionally, when you don't clear about their operations or issues, you can message the suppliers in private.
4. Buy or negotiate the deal
After you have already selected the products and suppliers, you have 2 options. The first one is to buy immediately. And another is to deal with suppliers. For the first option, you must ensure the products are ready to ship. Then, you can click on "Start order" to buy right away.

Besides, for the second option, you can contact the supplier and use "Chat now" to send requests. You may want to see sample products, offer a lower price, or require some customization.

5. Buy products from Alibaba
After finishing the deal, you can make a purchase. You can pay online or offline. For offline transactions, Alibaba won't guarantee for both buyers and sellers. Thus, it is recommended that you should pay through Alibaba. There are many payment methods including:
Credit Card
Debit Card
eChecking
Wire transfer
You can also use "Pay Later," which enables customers six months to pay for their order with a minimum interest rate of 3.5 percent.
6. Receive your products
At last, receiving your goods is the final step in the purchasing process. Buyers may rely on Alibaba.com Freight for a trustworthy cross-border shipping and logistics service. It transports maritime freight, air freight, air express, and air packages from China to destinations all over the world.
The Trade Assurance service will ensure that this process is completed if you pay through Alibaba.com. As each shipping business is different, the shipping time will be based on each vendor.
You can leave a review for your seller once you receive your order and determine whether or not you'll use them to source your products again in the future.
Some tips to buy from Alibaba
1. Complete your profile
Sellers are not obligated to accept every order. They want to make sure their customers are trustworthy. Thus they can decrease the rate of cancelling orders. So you should fill in enough information in your profile. Then suppliers can believe you more. It means you should include a profile photo and contact details.
Also, instead of using a free account like Gmail, choose a professional email address for your business. Fill in as much information as you can about your company, such as when it was started, how many employees you have, and any sourcing numbers you have.
To suppliers, the more precise information you provide, the better your profile appears. To change your profile, simply log into your Alibaba.com account and select "My profile" from the My Alibaba.
2. Check the seller's profile
When you buy from Alibaba, one of the most important factors is who are suppliers. So a smart way is to check the seller's certificate such as Gold Supplier, Verified Supplier, and Trade Assurance Supplier. After that, you should see their profile on the storefront. Their profile details what type of business they are, who they primarily sell to, whether they provide OEM or ODM services, whether dropshipping is available, how long they've been in business, total yearly sales, and accepted currencies.

In addition, you can see user reviews on their profiles. Reviews show you how previous transactions went and whether or not previous users had a great experience with them.
Moreover, you can discuss with vendors to learn more about their products and manufacturing methods. To feel comfortable buying from them, ask as many questions as you need.
3. Search smartly
As Alibaba.com's marketplace is a search engine, the keyword you search will impact the type of results you see.
For example, If you have a specific colour and style in mind, make a note of it in your search query. When you search for "shorts," you'll get different results than if you search for "black men's shorts."
You might wish to try some more particular and some less specific search inquiries, as you investigate your alternatives. Because some sellers do not fully optimize their listings, your results may differ.
The filters on the left-hand side of the page are another option to narrow down your search results. This allows you to limit down your choices based on seller, product, or both criteria.
4. Ask questions effectively
You've compiled a shortlist of providers with whom you'd like to negotiate a deal or discuss customized requirements. To ensure that you get what you need, you must submit effective, concise, and detailed questions. Here are some information that you should include in your requirements:
Product descriptions and attributes
Quantity
Package
Photos of samples
Safety conditions
The clearer your information is, the more possibility suppliers can adapt to you. Moreover, you should ask suppliers some questions such as:
Price per volume (do they have any discounts)
Products certifications
Ready to Ship
Shiping cost
5. Negotiate a deal smartly
As mentioned above, you can negotiate privately with sellers. To reach an agreement that meets your company's objectives, you must approach them with professionalism, confidence, and fair demands.
If the units are offered for $20 each, don't make a $2 offer otherwise the vendor will dismiss you as a no-show. If you're ordering 1000 pieces, an offer of $17 or $18 could be more sensible.
As a seller may reject your initial offer, so you must ensure that the pricing you choose is appropriate for your company at last.
6. Order sample
There are many suppliers that set a minimum order quantity to apply the wholesale price. On the other hand, suppliers also realize that you may want to view the goods in person before purchasing thousands of units. Therefore, you can require a sample of the product you wish to purchase for full retail pricing
If your supplier is customizing or private labelling your products, such as adding your brand or other particular designs, ordering samples is very vital. When the sample is on your hand, you can decide whether or not you buy this product in a large quantity.
In conclusion, Arrowthem wishes you can confidently buy products from Alibaba and manage them safely.