Shopify product bundles: The ultimate guide with best examples
If you are selling a large number of products yet don't know how to boost sales each separate one, using Shopify product bundles are the most perfect solution for you. If you don't know anything about this method, this is a big mistake for your store. So, this is the ideal time for you to learn about it, especially how to create it and find the best plugin to implement it. All will be in the article below of Arrowtheme. So, explore it right now!
What are Shopify product bundles?
First and foremost, Shopify product bundles are known as a means of selling many separate products as a single combined pack or product through a Shopify site. Besides, bundles are most effective when each item in the bundle sells for less than what the client expected to pay. Then, the gap between the predicted and actual price is referred to as the consumer surplus.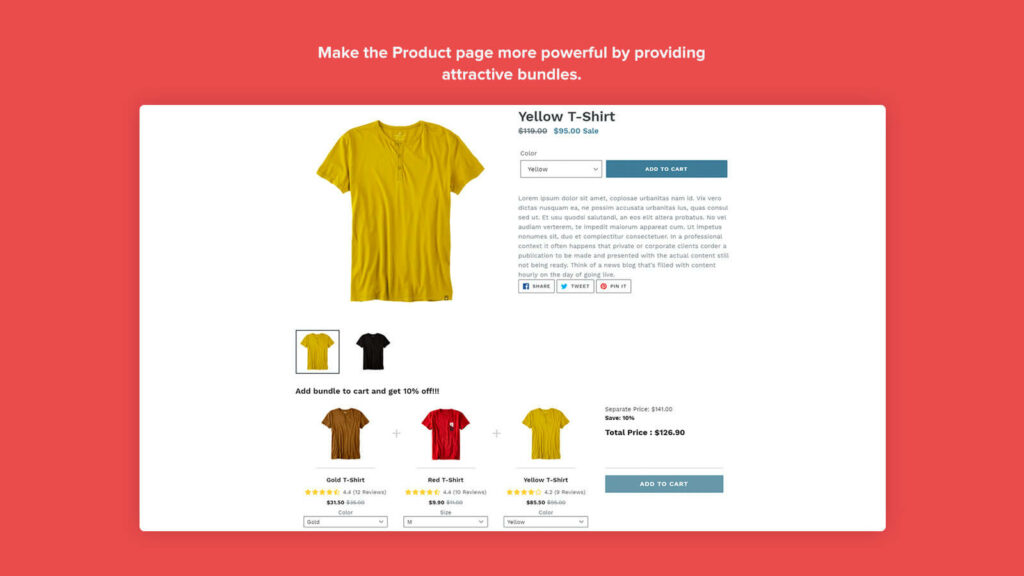 Types of Shopify product bundles
#1. Automated vs. manual bundles
Automated bundles are enabled by default as soon as you install PickyStory. Simply speaking, these bundles are generated automatically by a one-of-a-kind algorithm that analyzes data from previous best-selling product combinations and generates suggested bundles based on it. What's more, based on purchases made in your store, the algorithm is constantly learning and improving its efficiency over time.
In fact, it is really a terrific solution for merchants who have a lot of inventory and need help bundling it. Or even if you are newbie to bundling who want to get started quickly or merchants who want to see which product combinations perform best together, this is also the ideal choice for you.
In addition, you are able to make manual bundles if you wish to take matters into your own hands. Besides, you can mix particular products that you want to sell together and apply a discount of your choice with manual bundles. When you create a bundle, it will appear on the product page under the product. To sum up, this is an excellent option for retailers who want more control over their inventory. Also, especially for those who have an item that you want to sell more of, for example, they can promote it in many bundles.
#2. Mix and match product bundles – Shopify product bundles
Selling mix-and-match product bundles is a fantastic way to sell related items that you don't have to force clients to buy things they don't want. This is accomplished by allowing your clients to select from a variety of products in a single bundle.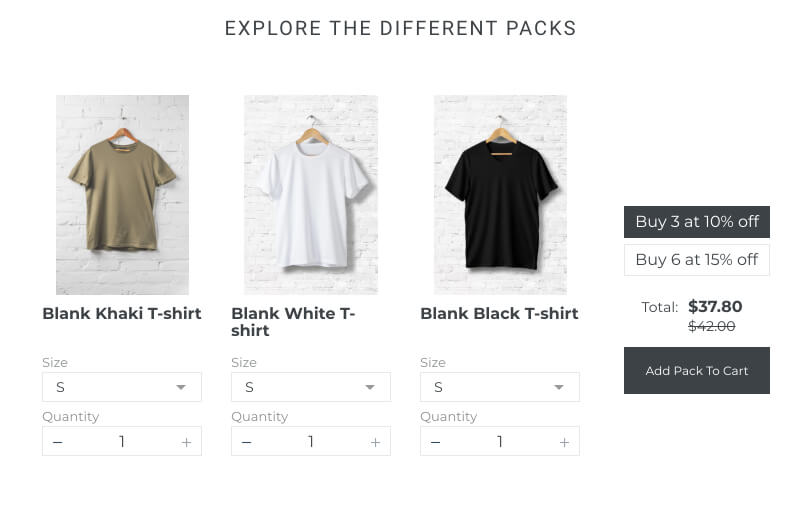 #3. Product Kits – Shopify product bundles
Shopify product kits are a form of bundle that makes the most of the greatest aspects of the preceding features. Thanks to it, you can sell things on a wider scale while offering tiered pricing using product kits. This means that for the same bundle of products, you can offer multiple different degrees of discounts, providing you a lot of flexibility.
Now, let's imagine you want to provide a discount on various bed set combinations. So, you can refer to some examples of discounted product kits below:
Buy three bed sheets and save 10%, or six bedsheets and save 15%.
75 percent off a bedsheet, pillowcase, and comforter cover
For $100, you can get two bedsheets and four pillowcases.
By providing various pricing tiers, the consumer is more likely to find a discount that suits his buying preferences and is difficult to refuse.
#4. Combo bundle – Shopify product bundles
This type of Shopify product bundles lets you present your customers with bundles that include a variety of products at a reduced price. In fact, this is very ideal for merchants who sell things that complement one another. For example, a game console, an extra joystick, and a game are all 25% discounted. Another outstanding feature of this bundle type is that customers won't have to search your store or any other store to find what they're looking for. They will scroll down to add the game console to their cart and see all of the other products they require right in front of them once they have found the game console they want to buy. All customers have to do is click the 'Add to Cart' button to get a great bargain on all of them.
#5. BOGO Bundle
Bundles that include a "buy one, get one" offer are a tried-and-true upselling approach. When a customer buys another product at full price, give them a free or discounted product. When you have a product that isn't selling well, this is a great bundle to employ. "Buy two pairs of sunglasses and get 50% off reading glasses from our limited collection," for example.
In fact, this bundle is also a wonderful method to give away free brand swag. For instance, offer customers who spend $300 or more a complimentary tote with your branding. Not only will the consumer be tempted to raise their order, but they will also be strolling around and promoting your business.
Discounted Shopify product bundles
As you may know, discounted programs are the most perfect ways to attract more and more potential customers. In fact, discounts are an effective way to entice clients to buy in bulk and raise the fear of missing out (FOMO). Besides, they are utilized by a lot of merchants to make the bundle offering more appealing to clients, making it more difficult for them to pass up the bargain, especially if the margin remains enough.
#1. Percentage discount
Percentage Discount is exactly what it sounds like because it gives consumers who add the bundle to their cart a percentage discount. It can be used to make nearly any kind of bundle. For example, if you buy three t-shirts, you'll get a 10% discount.
#2. Fixed value
Customers that add multiple products to their cart will receive a fixed discount if they choose the Fix Value strategy. Usually used in conjunction with Pack bundles. For example, instead of $60, choose any two bottles of wine for $50.
#3. Buy X, get Y.
If you buy X, you'll get Y is the purpose of this type of discounted program. Customers can get a free product when they buy another product or spend a certain amount of money in-store using Buy X Get Y. For instance, when buying a mobile phone, you will receive a headphone.
Simple way to create Shopify product bundles
As previously said, using a dedicated software to create Shopify product bundles is the best approach. Many Shopify bundles apps were created to handle a single use case, which is OK for now, but what if you require more bundle types?
Then, PickyStory, for example, will make it simple to construct a variety of Shopify packages. Thanks to it, you have the ability to bundle your products, exhibit them on numerous pages, monitor performance, and optimize for better results with only a few clicks. Now, we will instruct you how to create Shopify product bundles with PickyStory.
#1: Visit the Shopify app store, search Pickystory, then add this app to your Shopify store
#2: After that, Automated Frequently Bought Together bundles will appear on your product pages under the description section as soon as you install.
#3: Now, you can make manual bundles if you like to have more control over the bundle contents. Then, let's return to the app and select Bundles.
#4: Add a new manual bundle by scrolling down.
#5: Link your items to the new bundle
#6: Now, this is the time for you to freely generate a discount and attach it to the bundle.
#7: Change the discount percentage and the needed minimum quantity of products:
Activate the discount
Adjust the discount percentage by adjusting the percentage.
Adjust the minimum necessary quantity for the discount by adjusting the required quantity.
#8: Return to the bundles page to see a preview of your bundle
Have you created Shopify product bundles successfully? If you can't do it on your own, it is better that you ask a reliable Shopify partner like Arrowtheme for help. For more details, with a lot of experience and expertise, we provide Shopify website packages that can always come up with the best solutions for any of your issues. In particular, the upto 30% discount program for all of our Shopify services are released. Hence, don't miss your chance!
Best examples of Shopify product bundles you can generate
#1. Top selling products
In order to induce a sensation of FOMO, present bundles of your best-selling products. These bundles provide social proof to your buyers, encouraging them to see what all the commotion is about.
#2. Complementary bundles – Shopify product bundles
Moving to the second example in this topic – Complimentary bundles. First and foremost, they are collections of products that complement one another. These could be distinct variations of the same item, separate goods that complement each other, or items that are regularly purchased together. Moreover, PickyStory analyzes data from your business and can construct these bundles automatically using an Amazon-like algorithm.
#3. Least selling products
In fact, product bundles are also a good approach to market things that aren't bought very often. You can do this by putting together manual packages and including these products in them. Selling these items alongside better-selling items and offering a discount increases the incentive to buy them
#4. Promote new collection – Shopify product bundles
In case you want to introduce your newest collection, Shopify product bundles are the perfect choice you can't ignore. Create a unique "New Collection Sale" to advertise a bundle of your newest products at a discounted price. This is a terrific way to make clients feel like they're the first to see the new collection, and it can entice them to want to take advantage of the deal before everyone else.
#5. As a package, promote your consumers' top picks
Make use of your customers' shopping data to generate bundles based on their purchasing preferences. Besides, create bundles based on what your consumer already has in his cart, for example. Also, you can put together bundles of things that your buyer has expressed an interest in.
#6. Bundling new products with current products allows you to test them
In case you expect to promote your new items without making a major splash, you may gradually integrate them into your store and incorporate them into current bundles. Hence, this is a terrific method to introduce your new collection to the store without having to run a large promotion.
#7. Only promote unique products as part of bundles
If you have smaller things or items that you don't want to sell individually, let's group them together and sell them as a bundle. As a result, you will boost sale quickly with ease. For example, give your consumers a discount if they buy a tote and a matching keychain.
#8. Join forces with another comparable company to offer your consumers beneficial bundles
Working with other merchants may seem counterintuitive, yet collaborating with related firms can really increase sales for both parties. According to studies, giving clients more options depending on partner merchants can help them convert at a higher rate of 1% to 2%.
In conclusion
Above all, in this blog above almost all helpful information as well as best practical examples of Shopify product bundles you should know to enhance your store. Arrowtheme hopes you can adapt it effectively and gain significant outcomes soon. Aside from this topic, you should refer to other aspects of Shopify including Shopify tutorials: Shopify recommended product, Sitemap Shopify, How to publish Shopify store, etc and Shopify themes and apps HERE.