Wix vs Shopify for eCommerce Business & Online Store
Wix vs Shopify: Which One Will Win the eCommerce War?
If you are looking for a web builder platform for your eCommerce business, you might wonder whether to choose Wix or Shopify. Both have pros and cons, depending on your business needs and goals.
Wix is ideal for small businesses that want a simple and easy-to-use solution, while Shopify is designed for larger companies that need more features and scalability. That's why some owners prefer to migrate their websites from Wix to Shopify when their businesses grow.
In this detailed review, we will help you decide between Shopify vs Wix by comparing them on various criteria such as pricing, SEO & marketing, UI, and much more. We will explain what Wix vs Shopify can offer and which one is the best fit for your business.
Wix vs Shopify – What It Is?
Before we compare Wix vs Shopify, you should learn or quick look at what they are:
What is Shopify?
Shopify is a SaaS (software-as-a-service) eCommerce website builder that lets you build an online store easily. Shopify is among the world's top shopping cart systems, with over 4 million live stores.
Shopify is suitable for any business size, whether small or large. Its built-in features, functionalities, and scalability are what attract and retain users.
Moreover, it offers a 3 days trial with no charge to fully explore how does Shopify work. Following that, you will be able to take advantage of an exclusive limited-time offer of "$1/month for 3 months."
What is Wix?
Wix is a web builder platform that allows you to drag and drop elements, with over 800 thousand live websites. Wix is well-known as the best online storefront web builder. In 2020, Wix launched a new version called Wix eCommerce. The new version caters to online retailers, brands, and merchants of all business sizes across the globe.
Wix eCommerce comes with amazing brand features, from store management to store analytics, from payments to eCommerce apps, from cate & checkout to products, etc.
If you are using WordPress and study about Wix, you can refer to Wix vs WordPress to get all information you need.
Wix vs Shopify – Detailed Comparison to Keep in Mind
Pricing
Price is the main factor when you buy something. So Wix vs Shopify is more affordable?
Shopify Pricing
Shopify's fees and plans appear to be quite expensive compared to some other platforms. You can find:
Shopify Starter ($5/month): you can share links to sell your products on various channels like social media, SMS, and email. You don't have to waste time creating a full store and you can monitor your business performance via the Shopify dashboard. The Starter plan helps you increase your sales by using a wide range of marketing channels.
Basic Shopify ($25/month): As its name means, you get all the basic eCommerce features. This plan is ideal for merchants who want to create a simple store or have just begun a business.
Shopify ($65/month): This plan comes with the full features you need to expand your business. You can get everything in the Basic plan plus professional sales report features, global selling support, and more.
Advanced Shopify ($399/month): This plan gives you access to all the advanced features. A medium-to-large business can grow quickly, and this Advanced Shopify makes the process even more achievable.
ShopifyPlus: Starting at $2000/month

In addition to the 3 days trial with no cost, Shopify has an exclusive limited-time offer of "$1 for 3 months".
Wix Pricing
Wix comes with 3 business and eCommerce plans that are critical for taking online payments:
Business Basic ($17/month): Providing merchants who are new to business with a set of features to sell online.
Business Unlimited ($25/month): You'll have everything from the basic plan with more storage, pro eCommerce features, and a professional logo. You also enjoy more advantages such as tax calculators, dropshipping, multiple currencies, and much more.
Business VIP ($35/month): The store owners will have all the features of the unlimited plan along with priority support. Another remarkable feature of this plan is the reports which will help you gain valuable insights and make data-driven decisions for your business.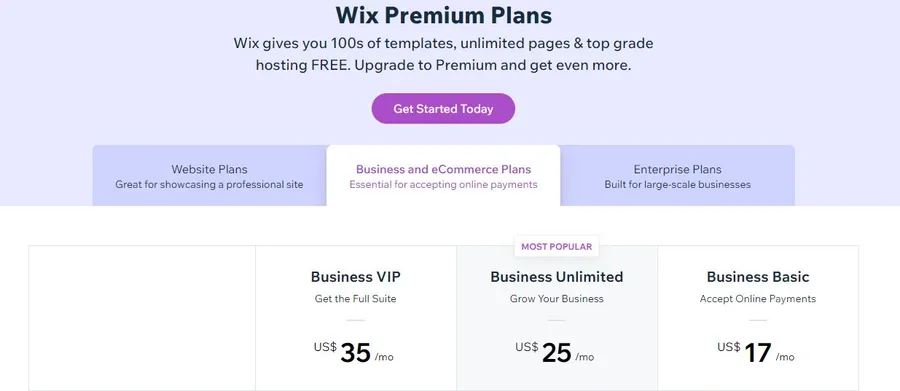 The verdict: Wix is likely to be more budget-friendly for a startup eCommerce site when comparing Wix pricing vs Shopify. But Shopify, with its powerful eCommerce features in the higher plans, may be more suitable for larger-scale businesses.
Ease of Use
User-friendliness is a vital factor that you should never ignore since you have to work with the system daily. Hence, an eCommerce platform that is easy to use will surely appeal to you. Find out how Wix eCommerce and Shopify perform:
Shopify Ease of Use
Shopify has a separate dashboard and editing system. You need to switch between the preview and back-end to see the result and the front-end interface.
This might take longer to set up the site as you want. But Shopify has many pre-made templates to help you make and optimize a professional and attractive storefront. You can easily add products and start selling. These templates are great for medium-to-large businesses in the long run.
So choose Shopify if you want to scale up your business for future growth.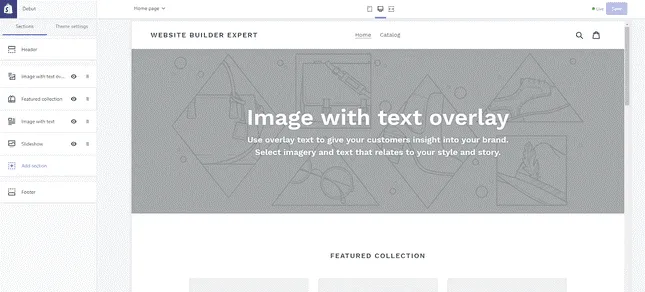 Wix Ease of Use
Wix lets you easily manage your front-end content by clicking and dragging features like images, titles, logos, etc. This is very handy and simple for users who are not tech-savvy.
Wix also uses artificial intelligence technologies, called Wix ADI or Wix Editor, to assist you in setting up your online store.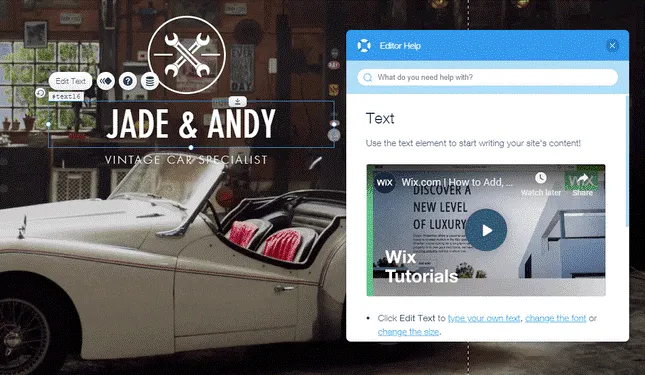 The Verdict: Wix wins over Shopify in user-friendliness and customization, according to our test.
Templates & Customizability
Let's check Wix vs Shopify in this factor:
Shopify Themes
Wix provides all of the templates free of charge, but Shopify offers 110+ themes that are tailored for online stores. The price varies from $140 to $350.
Although they may seem expensive, each paid theme is both aesthetically and functionally valuable. You can view our list of the most useful Shopify themes and the best free Shopify themes.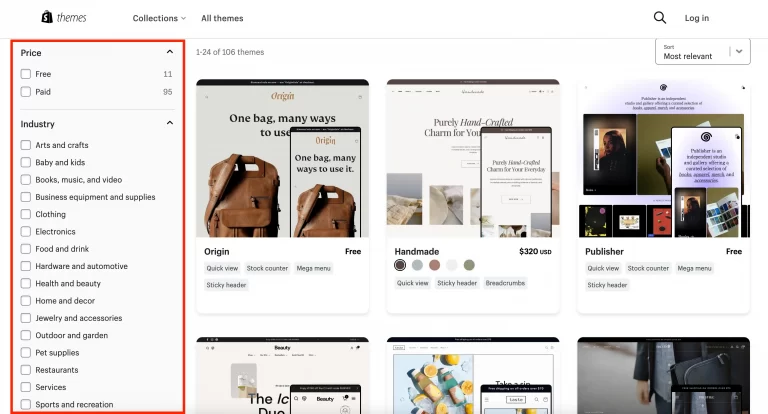 If you want to add or change elements or create a new feature for your website, you can use Shopify Liquid to edit the code. This way, you can customize your designs to fit your needs.
Wix Templates
Wix has over 900 free and stunning templates for different niches that you can easily customize for selling.
If you are short on time, Wix has three built-in design tools: Wix Editor X, Wix ADI, and Editor, to assist you in quickly designing your storefronts.
You can also use Wix Velo, Wix's own coding language, to enhance your storefront.
The Verdict: Wix beats Shopify in website templates when comparing Wix vs Shopify, but Wix has the drawback that you can't change your template once you pick it. This can be a problem if you want to rebrand your store.
Apps Store
Apps can enhance your online store by offering you more resources and features to improve its performance. Shopify vs Wix eCommerce builders both have app stores that provide many free and paid apps for eCommerce in any region. Below, we will compare these two eCommerce platforms.
Shopify Apps
Shopify's App Store enables you to enhance your store with more than 8K apps (including third-party applications). You can access various apps for online selling, such as no-code file uploaders and custom push notifications.
Shopify categorizes these apps into 12 categories and 9 collections to facilitate your search for suitable apps.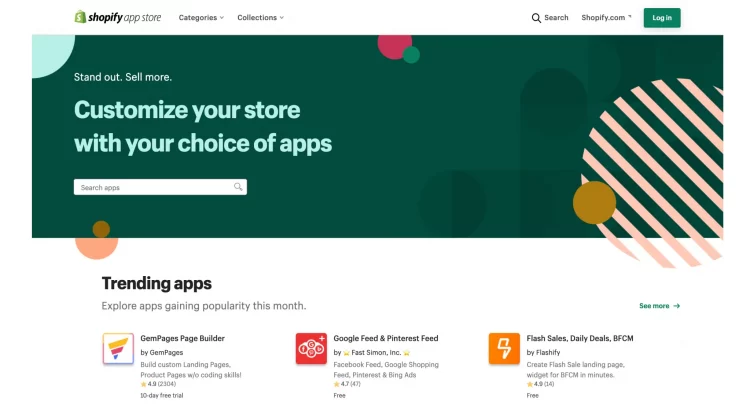 Wix Apps
Compared to Shopify, Wix has fewer apps as well as add-ons, with over 200 in six main categories. These are marketing, selling online, services & events, media & content, design elements, and communication.
Wix Apps has some free apps and some paid ones that cost $5–$30.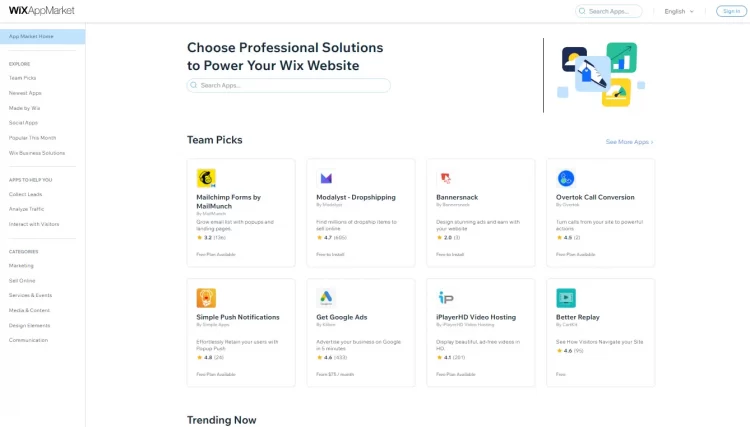 The Verdict: Shopify's app store beats Wix's app market with over 8,000 Shopify apps. This means you can get more features with Shopify!
Loading speed
Shopify Page Speed
Shopify mobile load speeds are quite fast, which keeps customers on your website.
After testing with some tools, it shows that Shopify loads in 1.3 seconds on average! Shopify wins over Wix in loading time, which is very important for any website, especially eCommerce.
Wix Page Speed
But Wix has a solution. Wix has specific guidelines to optimize your homepage and elements like text, animation, and images.
If you follow Wix's tips for site loading time, your website can reach 85% to 90% speed. You can also go over Wix's best practices to boost your site's performance.
The Verdict: Shopify beats Wix with a faster loading speed in this Wix vs Shopify comparison!
eCommerce features
Wix vs Shopify eCommerce features are the most interesting and important aspects we have to mention. It can enhance your business, for sure. What features are:
Inventory Management
Shopify vs Wix both offer inventory management features that assist you in tracking and controlling your stock.
Shopify has benefits like stock alerts, automated purchase orders, and year-end inventory reporting. It also has Stocky, an app that syncs with your online store and provides advanced inventory management.
Wix lets you connect your preferred inventory methods with open APIs and manually set the inventory status for each product or variant. Wix also has apps and tutorials to help you optimize your inventory management.
Report and Analytics
Shopify vs Wix both provide reporting and analytics tools that help you make better decisions for your online store.
Shopify has different levels of reporting features depending on your plan, and you can filter, edit, or create custom reports. Shopify also has a new feature that shows key metrics for all your stores in one place.
Wix lets you customize your reports based on website traffic, revenue breakdowns, customer shopping behaviors, or conversion rates. Wix also has categories of reports that show sales, traffic, and behavior data. You can use apps from Shopify or Wix App Store to enhance your reporting and analytics capabilities.
Payment Methods
Shopify vs Wix both offer different payment options for online stores.
Shopify has its own payment solution, Shopify Payments, that eliminates transaction fees. However, Shopify still charges credit card rates and additional fees for using other payment providers.
Wix supports traditional payment processors like PayPal, Stripe, and Square, as well as pay-later solutions like Affirm, Afterpay, and Sezzle. Wix Payments is a free and easy way to accept secure online payments without a third-party gateway.
Shipping Options
Shopify vs Wix have different shipping options for online stores.
Shopify helps you with every step of the shipping cycle, from shipping free to 3rd-party calculated shipping rates. You can set up your shipping rates based on various criteria.
Wix, however, may require shipping apps to help you with global payments for shipping. Wix also provides a guide to set up shipping delivery and pickup, but it does not offer printable shipping labels or tax rules for each product.
Dropshipping Wix vs Shopify Support
Shopify and Wix both allow you to start a dropshipping store, but they have different requirements and features.
Shopify lets you use dropshipping apps in any plan, and you can source and sell products from various marketplaces.
Wix, however, requires you to upgrade to Business Unlimited or Business VIP plan to use any dropshipping apps, and the Business Unlimited plan has a limit of 250 products.
POS:
POS solutions are important for increasing your sales in both cyber and physical stores.
Shopify POS is a robust and versatile option that works with any Shopify plan except the Starter one. It offers many benefits and analytics for in-person sales.
Wix POS is only available for some US merchants and most Wix users have to rely on third-party integration for POS.
Mobile App
Wix vs Shopify mobile apps enable merchants to manage their online stores from anywhere. Both apps are available on Android and iOS platforms. Wix mobile app also has a QR code feature that makes it easier to access.
SEO & Marketing
Let's see each feature when comparing Wix vs Shopify in SEO & marketing aspects:
Email Marketing
Shopify has a built-in email tool to promote products and updates. You can choose from email templates and edit them. You can process every step, including campaign reports, in your admin panel.
Wix offers high-quality email marketing. You can choose from email templates or create your own to send to customers.
SEO Features
Shopify is effective for SEO when used properly. Some SEO is automatic: canonical tags are added to prevent duplicate content. The theme you use has social media linking and sharing options. But there is a downside to improvement. Some URLs have a mandatory string, which isn't SEO-friendly.
Wix has a great set of SEO built into every Wix Site. It can improve your SEO process. All Wix sites have a reliable infrastructure that satisfies search engines' requirements, giving you a solid SEO base. You can also customize your meta tags, URLs, tags, and more.
The Verdict: Tie – there are no winner between Wix vs Shopify
Multilingual Capabilities
The comparison of Wix vs Shopify on multilingual capabilities is significant because you aim to get more visitors and increase your orders, visitors, and sales, even abroad.
There are three things to consider here:
Languages
Depending on your plan, you can have separate URLs for your site in different languages. Basic Shopify, Shopify, and Advanced Shopify allow up to 5 languages, while Shopify Plus allows up to 20 languages. Unlike Shopify, Wix supports over 100 languages.
Multi-currencies
Shopify has a clear advantage over Wix when it comes to currency support. It can handle 133 different currencies worldwide, while Wix lacks this feature.
Tax Calculation
Shopify simplifies tax calculations for you by using updated default rates and automatic settings. You can save a lot of time with this feature. Wix lets you turn on and off taxes, such as product rates, taxes, and more.
The Verdict: In this round, Shopify edges out Wix.
Wix vs Shopify – Which One is Better?
There is no easy answer to the Wix vs Shopify comparison. Wix is a better choice for general websites because of its low price, user-friendliness, SEO features, and template diversity. Shopify is a better choice for eCommerce websites because of its responsive designs, AMP product pages, multi-currency features, and app integrations. Shopify can help merchants build more suitable and professional online stores.
Read More: Shopify vs Squarespace – Which Platform is Better for eCommerce