Coupon generator app for Shopify : Top 10 best apps to make your eCommerce store better
Do you manually give a coupon to each customer when running promotion programs? Or do you give all customers the same coupon? If the answer is yes, a coupon generator app for Shopify is a great solution for your business. Now, Arrowtheme shares with you the top 10 best coupon generator apps to make your eCommerce store better.
Why do you need a Shopify coupon generator app?

Firstly, Arrowtheme will explain more about the function of a coupon generator app. Normally, store owners often attract more customers by offering coupons on special occasions. Besides, coupons are used as a gift for loyal customers. Therefore, the Shopify coupon generator app was born to save your time. It customizes the coupon and increases your conversion rate.
Here are the top 10 best Shopify coupon generator app.
Prices: Free
Bulk Discount Code Generator is a completely free Shopify coupon generator app. This app creates unlimited discount codes in a matter of second. Hence, you can take care of loyal customers and give them special codes. Besides, each code is only used once. Therefore, you are not worried that codes can be shared widely. Also, this app allows the Shopify admin to set up and manage easily with handy shortcuts. Moreover, Bulk Discount Code Generator was highly reviewed in Shopify.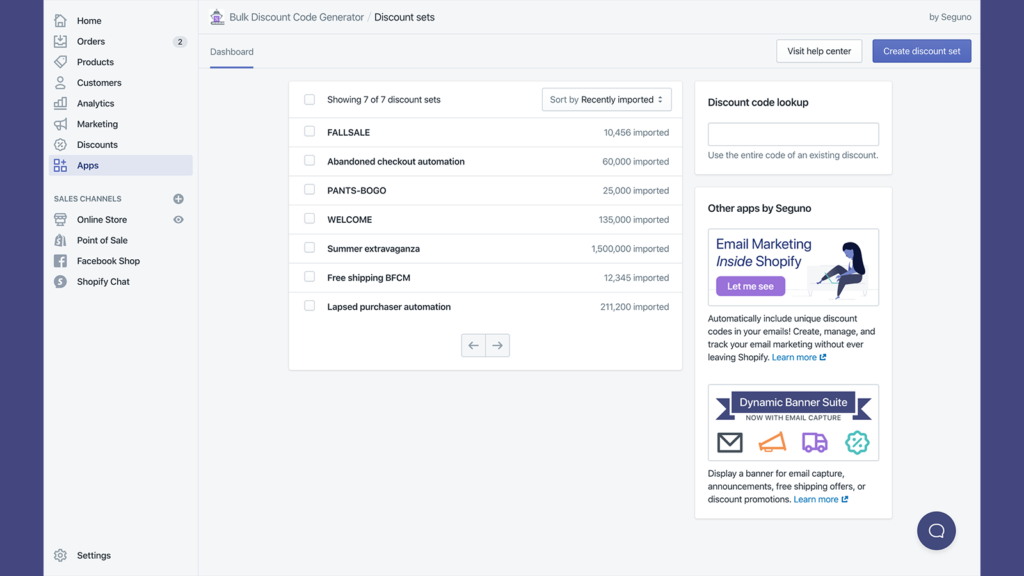 Highlight functions:
Firstly, generate unlimited codes
Secondly, each code is unique
Thirdly, codes are used for multiple situations: campaigns, transactional emails, loyalty programs, cart and browse abandon,…
Next, completely free
Also, a high rating in Shopify
At last, customer service within the app
Prices: Free plan available or from $15/month with 30-day free trial
ONE+ SMS, Pop Ups & Discounts consists of 11 apps in one. This provides many functions such as emails & SMS marketing, discount code generator, live social proof, product recommendations, …The differences between this app and other coupon generator app is that it combines coupon generator with gamification option and email marketing to serve customers better. Moreover, this app uses social proof to build trust and attract customers. Hence, it is a multiple-function app to improve the marketing of your business.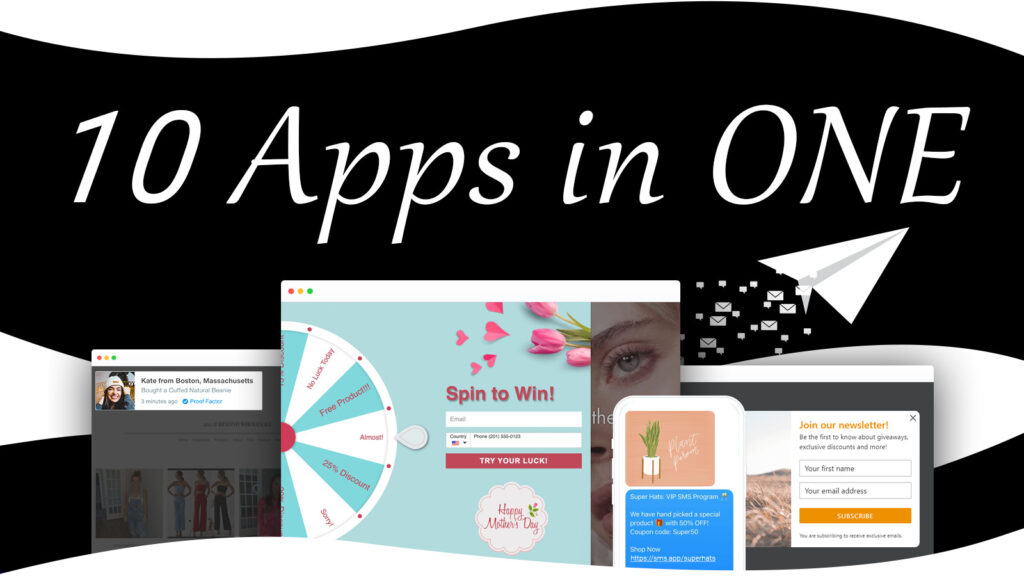 Highlight functions:
Firstly, 11 apps in one
Secondly, combinations of coupon generator, gamification and email marketing
Thirdly, unique code
Next, compatible with mobile devices
Also, social proof notifications
At last, live chat support 24/7
3. Shopify coupon generator app: Personal Discount (by Solvenium)
Prices: Free plan available or from $19/month
Personal Discount creates unique and customized discount codes for your customers. You can use these codes as a present of birthday, a reward for email subscribers or an incentive to repurchase. You can choose to include the name of customers in these codes. Also, this app generates coupons with a limited time to urge customers to buy now. Moreover, it tracks the code to analyze the customer's behaviours and understand them better.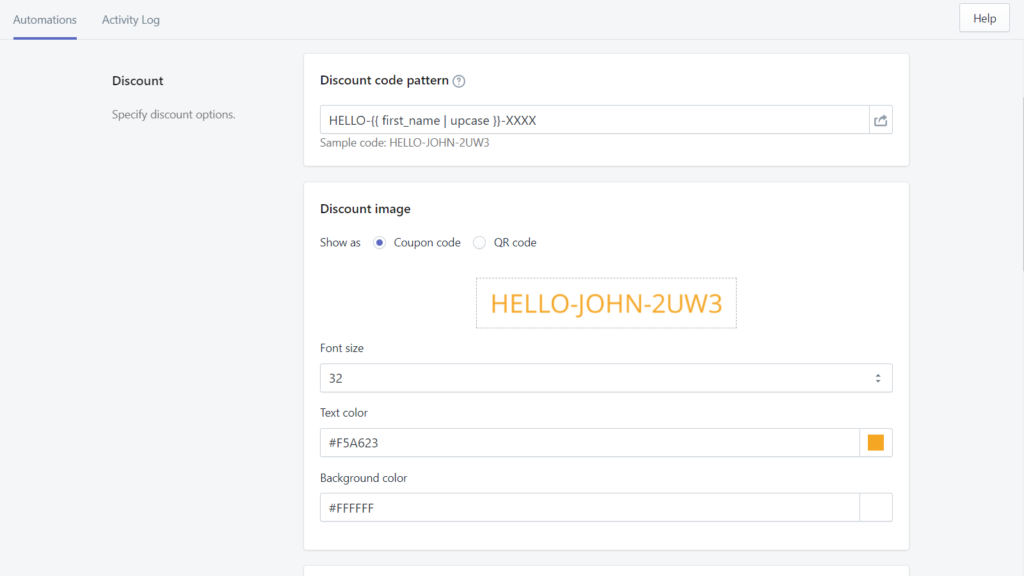 Highlight functions:
Firstly, unique code for each customer
Secondly, customize codes
Thirdly, code tracking
Next, connect with email marketing services
Also, notification of customer activities related to codes
At last, live chat support 24/7
Prices: Free
Abandoned Cart Recovery Hero helps you recover the abandoned cart and increase the conversions. This app uses push notification to remind customers about the cart. So they do not forget to checkout. Also, it contacts customers automatically via Facebook, Messengers, Push notification to save your time. Moreover, it generates unique codes and uses them to encourage customers. Additionally, you can use this app for free.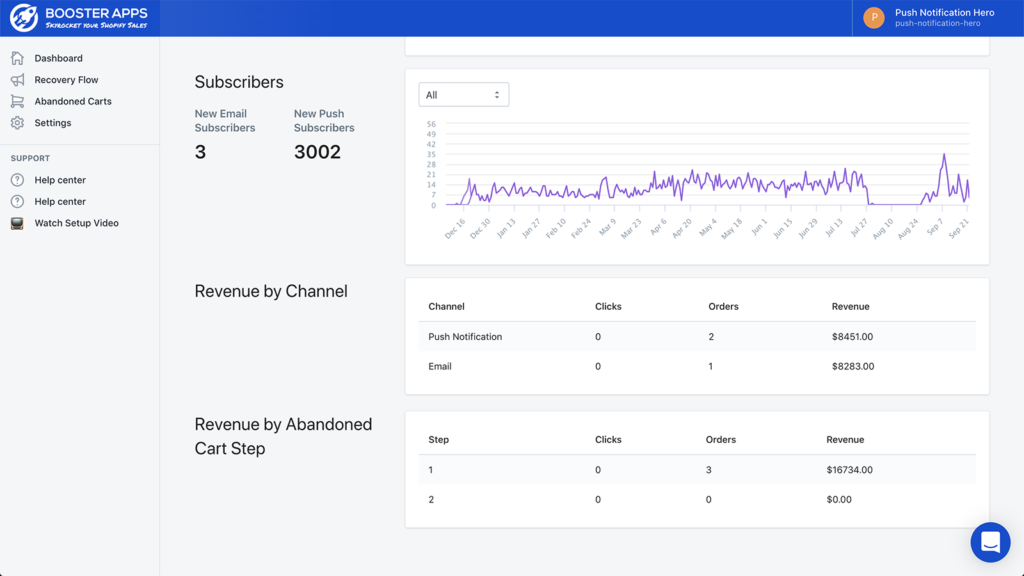 Highlight functions:
Firstly, unique code for each customer
Secondly, push notification to remind customers to check out
Thirdly, easy installation
At last, send the coupon to encourage customers
Prices: Free plan available or $9.97/month for the pro edition
RewardReach:Social Coupon rewards customers with discount codes for sharing the products before buying. This app will create a share button on the product pages. When customers share your products, they will unlock a coupon. Hence, it motivates customers to buy and to share. Furthermore, your conversion rate also increases. Also, you can change the text and colours of coupons related to your brand. So more people know your brand. Additionally, you only pay the fee when it brings revenue to you.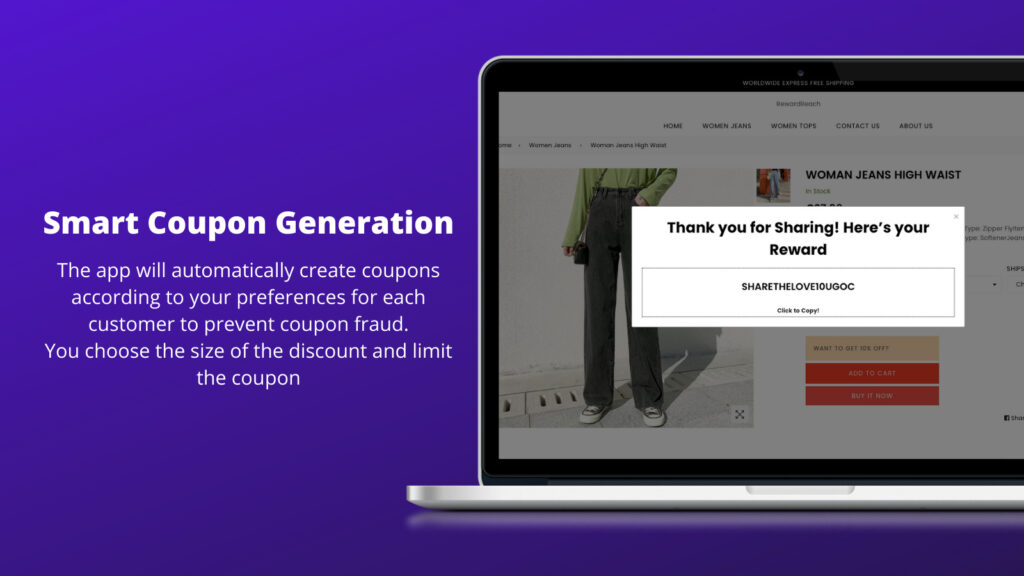 Highlight functions:
Firstly, implement easily
Secondly, unlock a code when sharing
Thirdly, measure the ROI
Next, change the design of the codes
Also, responsive with mobile devices
At last, only pay the fee if it is effective
Prices: $19.99/month, 14-day free trial
Bold Discounts ‑ The Sale App runs the flash sales for your stores in one click. Unlike other coupon generator app, it creates the discount directly to products. Hence, this attracts more visitors and converts to customers. You can give a discount to a special brand, a given type of products or a collection. From that, this app automatically tags these products on sales. Moreover, you can set up the flash sale in advance with a countdown timer.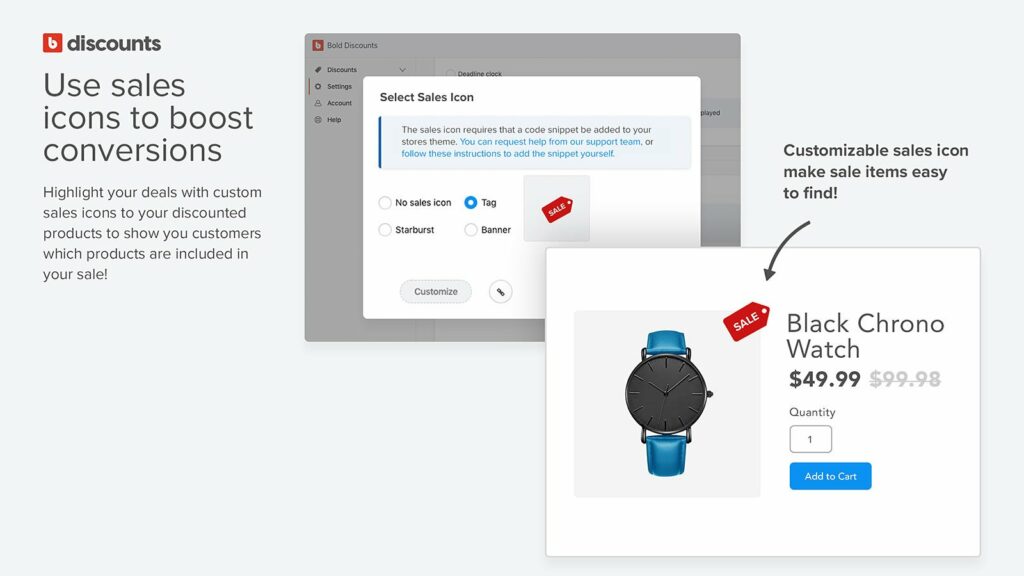 Highlight functions:
Firstly, beautiful sales icons
Secondly, provide a countdown timer
Thirdly, tag the sales products
Next, schedule the flash sales
At last, an unlimited promotion at one time
Prices: From $14.92/month, 7-day free trial.
Original Wheelio spin pop‑ups gives your customers coupon in a more attractive way. Instead of giving discount codes freely, this app creates spin pop-ups. Hence, customers can relax and feel a bit challenging. They also think that this discount code is their reward and valuable. From that, they tend to use this code to buy your products. So the conversion rate of your store increases. Additionally, this app collects the information of customers from gamification. Then you can contact and send emails to the visitors.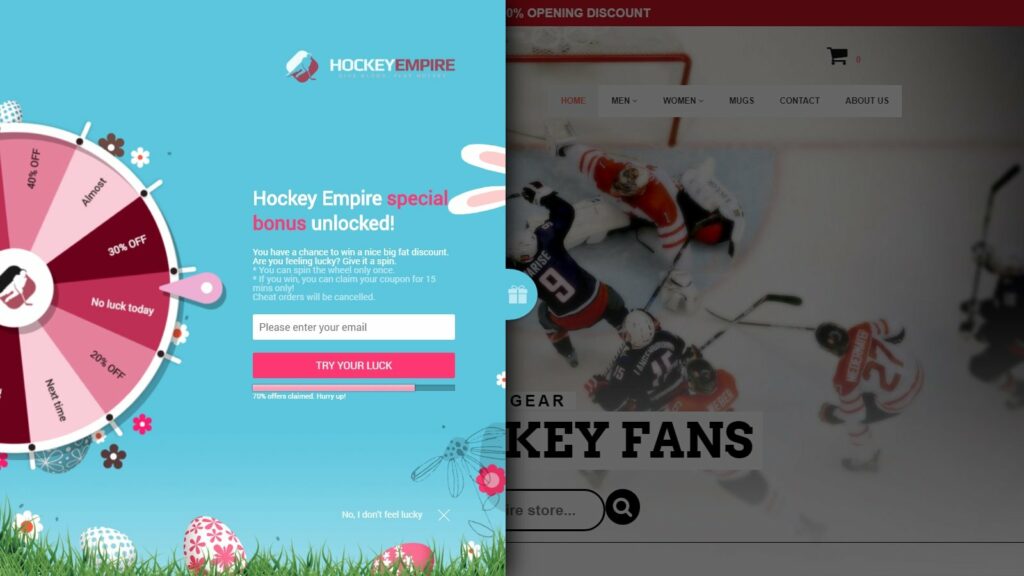 Highlight functions:
Firstly, give coupon by gamification
Secondly, connect email, SMS numbers, messengers with Push notification
Thirdly, increase the visitors to your store
Next, compliant with Google
At last, track everything happening in the campaigns
Prices: $9.99/month, 7-day free trial.
Last Second Coupon ‑ Exit Pop helps your store gain more revenue by providing discount code for customers. Because there are many visitors leave your store without purchasing, this app displays coupon to encourage customers to buy. Also, to avoid fraud, each customer will receive a unique discount code in real-time. Additionally, this app designs event themes for your store to impress customers. Furthermore, they do not attach the app logo so your store looks more professional.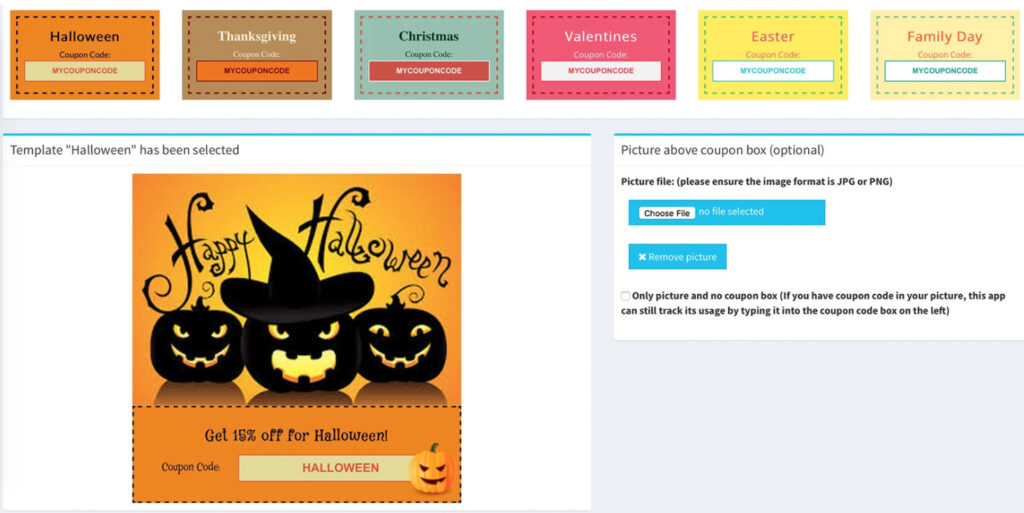 Highlight functions:
Firstly, display coupons in popup
Secondly, customized codes
Thirdly, offer many holiday and events theme
Next, no brand logo
At last, advanced targeting options
Prices: Free plan available or from $9/month
Discount Code, Discount Pop Up reduces cart abandonment for your stores by providing discount codes and countdown pop-ups. Also, this app increases your email subscribers by awarding them a special coupon offer. Besides, you can customize your pop-ups that have your discount codes and coupons. Moreover, you can choose the target customers to display these codes. For customers, they can copy the code with just one click.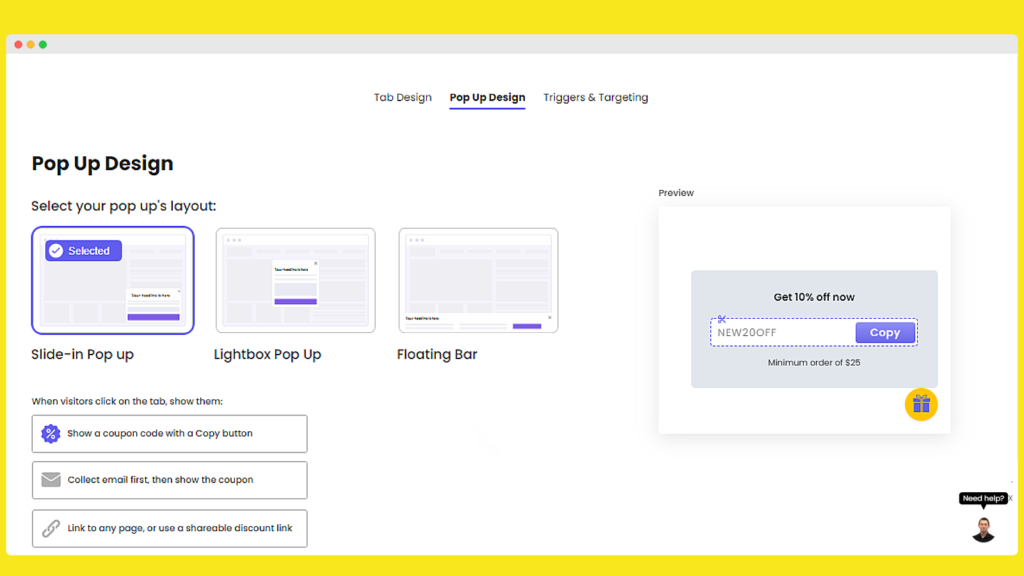 Highlight functions:
Firstly, tab design customization
Secondly, pop-ups design customization
Thirdly, automatically collect emails
At last, display code for targeting customers
10. Shopify coupon generator app: Simple Discount Code Generator (by FelixD)
Prices: Free
Simple Discount Code Generator is a simple Shopify coupon generator app for users. This helps you generate multiple discount codes at one time. These codes are random or optionally specified with a prefix. Furthermore, you can import a CSV file with ease. Besides, this app automatically updates the status of these codes for you. Specially, you can install it without fees. So you can try it now!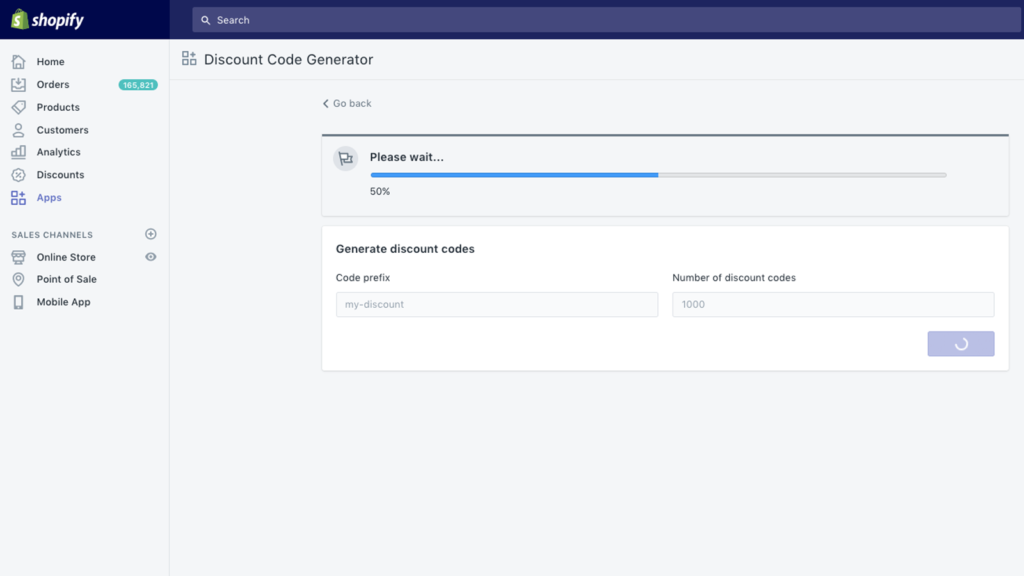 Highlight functions:
Firstly, completely free
Secondly, generate multiple codes at one time
Also, add the prefix to the codes
Next, update the status of the codes
At last, simple installation
In conclusion, thank you for reading our review. Arrowtheme wishes you a good choice. For more useful reviews, come here.